The bohemian lifestyle emphasizes diversity, with a variety of concepts coalescing to promote an inspired way of life. As an aesthetic ideal, bohemian style accomplishes the same by drawing on a wide array of philosophies and sources of inspiration from all around the world. The far-reaching beauty of this look can be seen in fashion, fabric, and furniture — but it's especially impressive when incorporated into tile.
While the bohemian look has gone in and out of fashion over the years, it always eventually makes a much-deserved return. Recently, we've observed this approach at several trade shows, with many of our favorite designers making a point of integrating aspects of numerous global styles into their most eclectic and artistic designs.
Given the sheer scope of styles categorized as bohemian, this concept can be difficult to define — especially when tiles are involved. In general, however, we've observed the following qualities in our favorite bohemian looks:
Handmade Finishes
Handcrafted tile isn't an ideal choice in every location, but it can add a personalized effect when integrated strategically into the right space. Ideal for adding texture and dimension, handmade tiles deliver an artisanal look that is especially suited to rustic or nature-oriented spaces. It's a great option for making the most of the textured tile trend.
Given the versatility of handmade finishes, it can be difficult to settle on the right choice for your project. Consider using glazed zellige tiles. Often referred to as Moroccan tiles, they provide instant charm with their perfectly imperfect design. In Morocco, this look represents a prized tradition that has been passed down through many generations.
Not ready to take on the zellige look? You'll also find plenty to love about cement tiles, which are especially memorable when they feature a chalky appearance. This slightly chalky look is common for encaustic cement, which, despite its many classic elements, holds a decidedly contemporary appeal.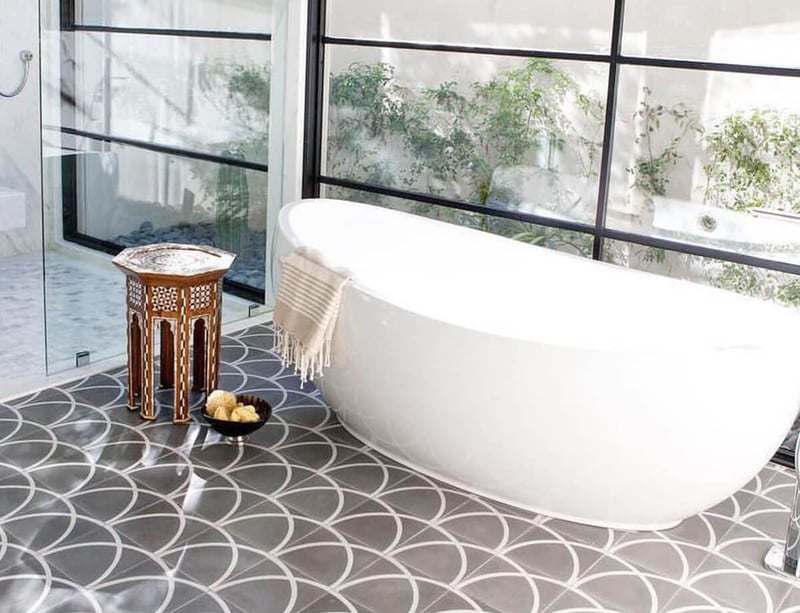 Exotic Patterns
The bohemian look would not be nearly as evocative without the style's exotic patterns. These grant bohemian designs plenty of flair while also delivering an artistic edge.
The exotic look is exemplified by New Ravenna's Glazed Basalto, which is available in several shapes and sizes. Featured at the Coverings virtual event of 2020, this look is a top option from the New Ravenna Bright Young Things collection. The waterjet mosaic designs from this series were inspired by the looks of the 1920s — an era in which the boho concept dominated.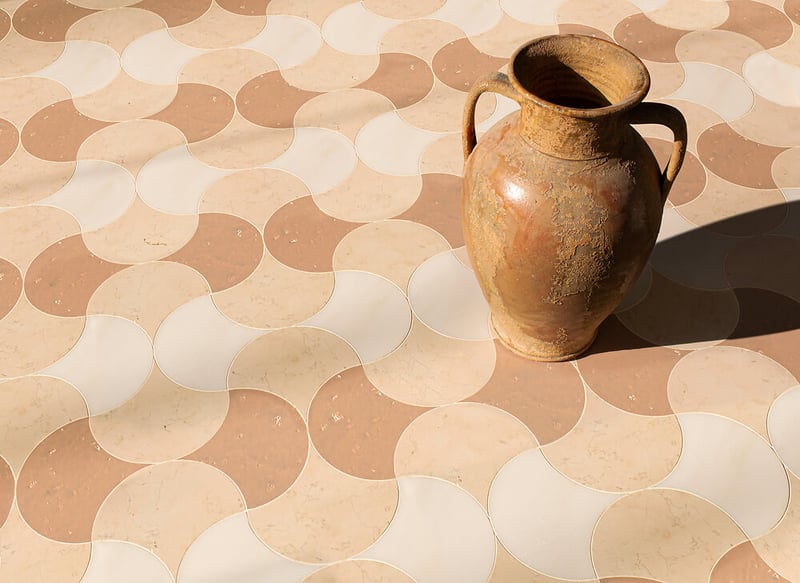 Another great example of exotic style in mosaics? Stems and Leaves by Allison Eden. A gorgeous option for a bathroom backsplash, this mosaic holds elegant appeal. It features just enough intricate details to captivate without overwhelming streamlined bathroom designs.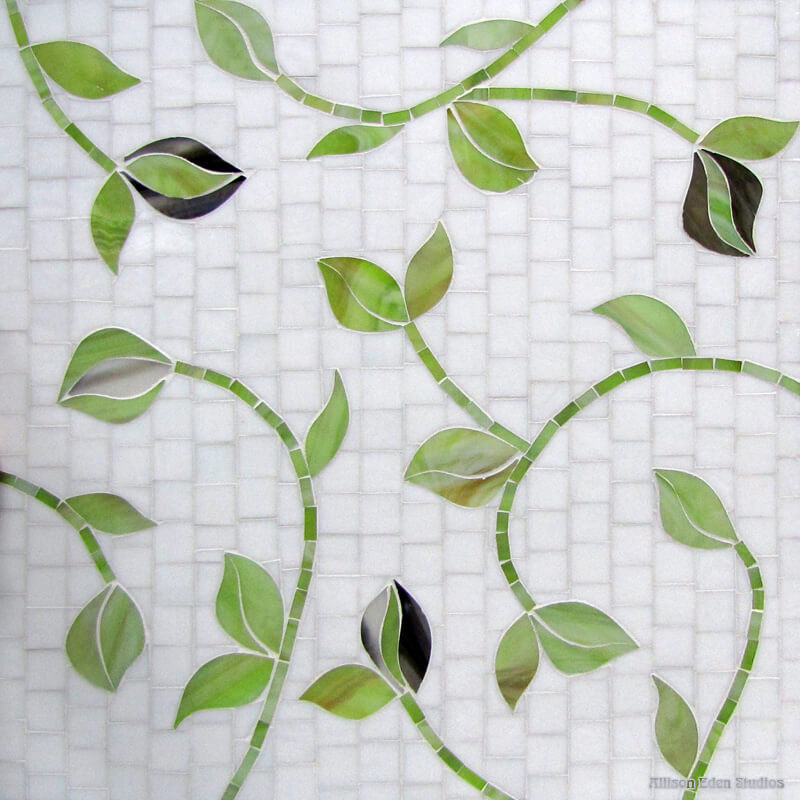 Color Palette
When most people think of the bohemian look, they imagine vibrant colors. Jewel tones, in particular, exemplify this style. That being said, success with the bohemian theme is most within reach when bright colors are used in moderation.
Too many competing colors can quickly overwhelm the eye and create a cluttered effect. This distracts from the artistry evident in the tiles' unique textures and patterns.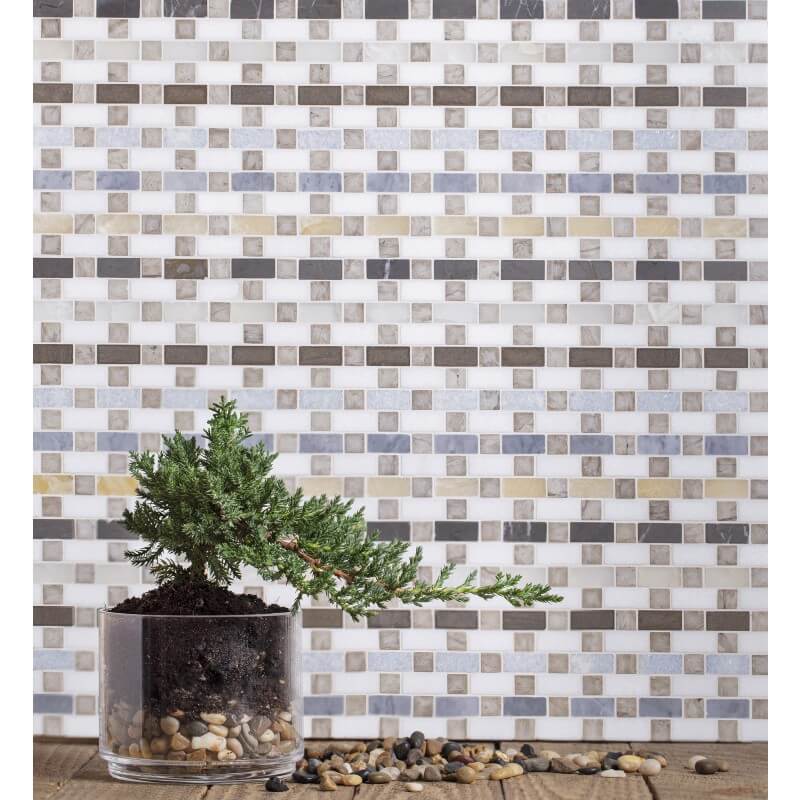 To avoid an excess of bright colors, feel free to infuse earthy hues. These tone down vibrant looks to draw the eye to carefully integrated pops of color. A hint of metallic will complete the effect by adding the perfect amount of sheen. Remember: color isn't the only option available for creating a bold look. Textured tile can accomplish the same goal without feeling brash.
Bohemian style grants you the freedom to incorporate global designs as you see fit. Take advantage of this exciting opportunity to play with a variety of unique design concepts. A little creativity can go a long way as you incorporate exotic patterns, colors, and textures into your next project.
On the hunt for additional inspiration? You'll love the gorgeous looks featured in our guide to Tiles Trends Around the World. You can also see our favorite aesthetics in person while visiting our showrooms. Feel free to contact us today to learn more.