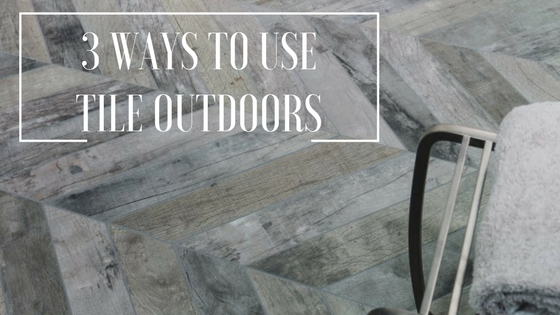 Whether you are a trade professional or homeowner you can appreciate the importance of patio flooring. A rough or slick concrete patio without tile, no matter how beautifully designed, feels bare and unfinished. Sand and chipped-rock patios give visitors a sense of the patio being separate from the house, but a patio should be an extension of a home's accomplishments inside, thus integrating outdoor living.
Outdoor tile provides a durable, long-lasting solution for your patio. Tile or pavers are also the aesthetic element of a patio. Everything else on an outdoor patio is just a garnish.
If the tile is done right, it can accentuate the strengths of a patio — the view, the motif, the shape and size — and diminish blemishes like small size, poor lighting and lack of character.
1. Exterior Stone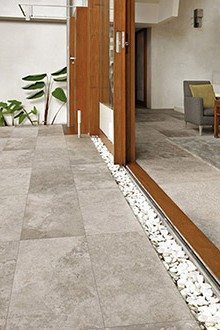 Stone tile is a popular choice for patio flooring, and for a very good reason. Under heavy traffic and abrasion, stone is extremely durable. Stone is available in a variety of textures, tones and colors, and it has tremendous aesthetic character overall.
Options include light-colored stone — slates, greys, creams, taupes and whites — that add visual space to a patio area. On the other hand, darker grays, browns, reds and greens give an elegant feel to a patio that is sufficiently large, and these colors require less maintenance.
It is important that the stone tile you select — as it is for all tile types — is rated for exterior use, for example, heavy traffic and freeze /thaw if applicable in your climate. Exterior rating covers the stone type as well as its thickness.
2. Pavers
2cm porcelain pavers are popular because they give a patio a clean, refined look and are so easy to work with. Due to their thickness they can be installed traditionally or they can be set in leveled sand for an alternative look. 2cm pavers are usually available to coordinate with standard thickness porcelains so you can achieve a seamless transition from interior to exterior. One of the most impressive attributes of 2cm porcelain pavers is the extensive variety of color and sizes as well as a grip finish.
Naturally textured and inherently rated for exterior use, pavers work well for entryways, patios as well as exterior paths throughout the property.
3. Porcelain for Exterior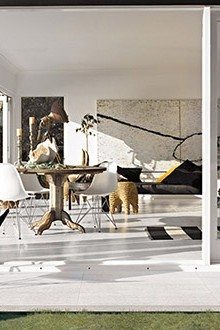 Today's porcelain easily meets exterior ratings when manufactured for that intended use. Select porcelains are available in a "grip" or outdoor finish for increased slip resistance.
Porcelain tile offerings have vastly expanded to include high variation as well as replication of slate, granite and marble. Within a single tile, there can be marbling, faded shades, spotting, lines with incongruity, waves and curves. The tones of porcelain range from cool to warm to dark. In addition to colors and patterns, porcelain is available in more than just squares and rectangles, hexagons and planking are also popular choices.
Magnificent wood like porcelain tile is also available. Options include multiple widths and lengths as well as a variety of wood species, even those that replicate petrified and fossilized wood. Porcelain wood tile offers far more types, colors and patterns than traditional wood decking and eliminates all the maintenance associated with natural industrial wood.
If you want to know more about our exterior porcelain and stone options or our products and services, explore our inspiration gallery or contact us today.