It's no secret that the design of your hotel lobby is one of the most important factors when it comes to determining what impression your establishment will make on its guests and visitors. As a visual statement, hotel lobby design can establish the aesthetic of the entire building, and send a message about the quality and type of service you provide.
When choosing the best tile for your hotel lobby, keep these factors in mind to ensure you make a choice that suits your desired aesthetic and design characteristics.
Porcelain is the Preferred Material
While the appearance of your chosen tile material is largely a matter of preference and taste, porcelain is hands down the most preferred material for tiles in a commercial setting. This is chiefly due to porcelain's high durability, which — when coupled with its ease of cleaning and simple maintenance requirements — can help you establish hotel lobby designs that will stand the test of time.
Along with being durable, porcelain has a very low porosity, meaning it contains few pores and imperfections that can accumulate dirt and grime over the years, leading to a grungy appearance even after the floors have been cleaned. Best of all, those characteristics are innate to porcelain, which doesn't require expensive waxing or other maintenance routines that can easily double or triple the true cost of a flooring material over the years.
Come explore the different types of porcelain tiles that are suitable for hotel lobbies.
Larget Format Porcelain Tiles
For decades, porcelain tiles have been associated with small tile dimensions, from the classic 1-inch hexagons of turn-of-the-century bathrooms, to the more contemporary 3- and 4-inch square tiles that feature in bathrooms around the world.
However, in recent years manufacturers have perfected the design of ultra-thin large format porcelain tiles, with sizes up to 36"x 72". These large format porcelain tiles provide an ultramodern appearance and can even be manufactured to mimic the look of less durable materials like natural stone or marble. The most cutting-edge designs even let porcelain look like wood, so you can create an organic lodge-type room that's easy to clean and maintain.
Large format porcelain tiles are a great muse when you're looking for hotel lobby inspiration, since these tiles are flexible enough to create a huge range of aesthetics while keeping the durability and maintenance characteristics that make porcelain perfect for commercial settings.
Choose a Color and Pattern That Hides Scuffs
Scuff marks are the bane of any floor material that will need to endure heavy foot traffic. For that reason, it's crucial that you pick a color and pattern that can hide scuff marks. While an ultra-glossy snow white tile might look amazing, the first hour of guests walking across its surface is likely to leave a trail of cloudy scuff marks, ruining the appearance you worked so hard for.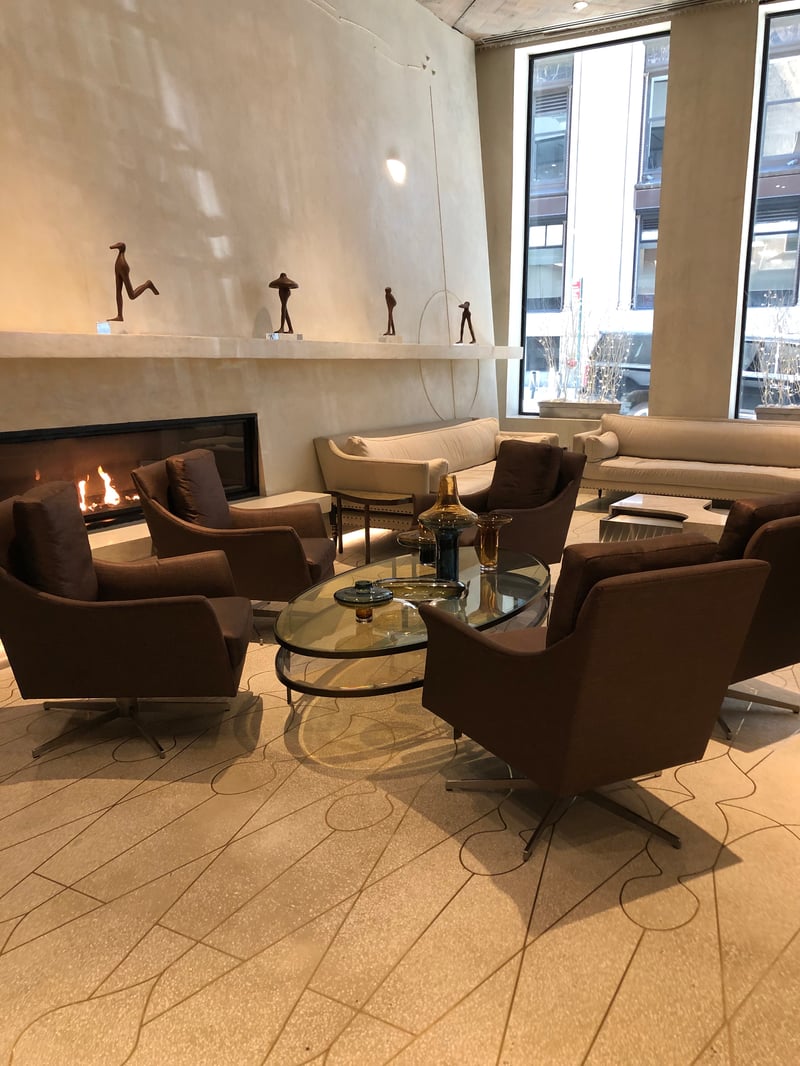 Accordingly, it's best to find a color and pattern for your hotel lobby tile that will not just achieve your desired appearance, but also be able to maintain it throughout the day. If your guests typically wear sneakers or loafers that leave black scuff marks, you're probably better off choosing a dark color. Alternatively, if you're in a resort location where sandals and cork-bottomed loafers are the typical footwear, your guests are probably leaving lighter scuff marks, which will be less visible on lighter floor colors.
Porcelains That Look Like Stone
Modern porcelain tiles can be designed to look like nearly any materials, but they're particularly good at mimicking the appearance of natural stone. In addition, porcelain is available with subtle texturing common in many natural stones.
While natural stone can provide a very modern appearance, it's a poor fit for commercial use in hotel lobbies. Natural stone is not a very durable material and is guaranteed to begin showing wear and tear in the most heavily trafficked areas before long. Additionally, natural stone usually has a fairly high porosity and will become more difficult to keep clean with each passing year.
In contrast, modern porcelain tiles can achieve the visual appearance of natural stone, while keeping the low-porosity and easy-cleaning characteristics that you need to run your establishment effectively.
Choosing the Best Tile for You
Ultimately, choosing the best tile for your establishment means finding a balance between your desired aesthetics and the performance characteristics that will determine your flooring maintenance and upkeep requirements. Fortunately, porcelain can usually satisfy both requirements at once.
Are you looking to find the best tile for your hotel lobby floor? Whether you're planning a retro design with stylized tiled, or want to explore hotel lobby tiling ideas that can create a more organic design while standing up to the rigors of commercial foot traffic, we've got the tile for you.
Come explore our stock collection today, and get inspired by our wide variety of porcelain tiles that are suited for hotel lobbies.