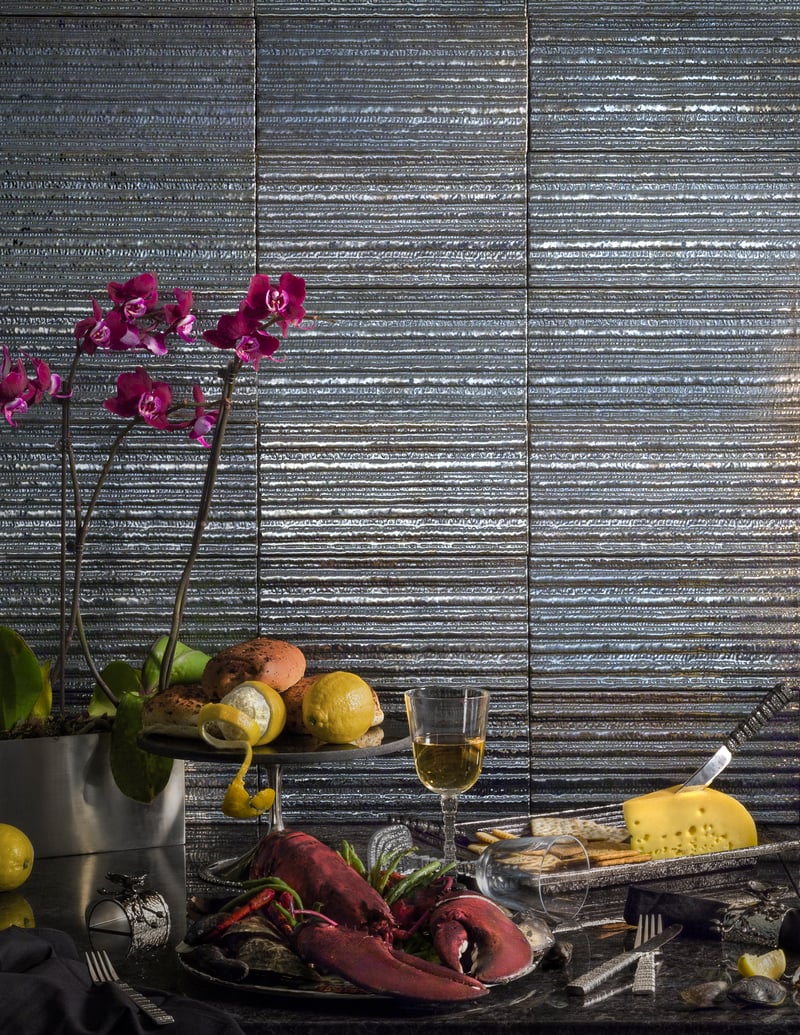 Beautiful, versatile, and highly durable, ceramic tile is a wonderful option for creating a practical and aesthetically pleasing space. Unfortunately, choosing ceramic is just the beginning. Once you've decided to install ceramic tile in your project, you'll need to delve into the details. Their finish will quickly become one of your chief considerations; the same ceramic designs can look and feel completely different depending on whether they are glossy, glazed, textured or matte. What's more, textured finishes can take otherwise ordinary tiles to a whole new level. Below, we highlight the top finishes, as well as considerations worth making as you choose the right finish for your favorite ceramic tiles:
Glazed Finish
If you dread cleaning, a glazed finish could be your dream tile solution. Known for its non-absorbent nature, glaze holds up well to spills and other mishaps. Glazed tiles are also notoriously easy to clean. With the right glaze, maintenance can be kept to a minimum without negatively impacting the look of your tiles.
Of course, there is more to glaze than practicality alone. Glaze offers a classic and cheery look that is right at home in a traditional kitchen or bathroom. It's a versatile option that fits in with several styles.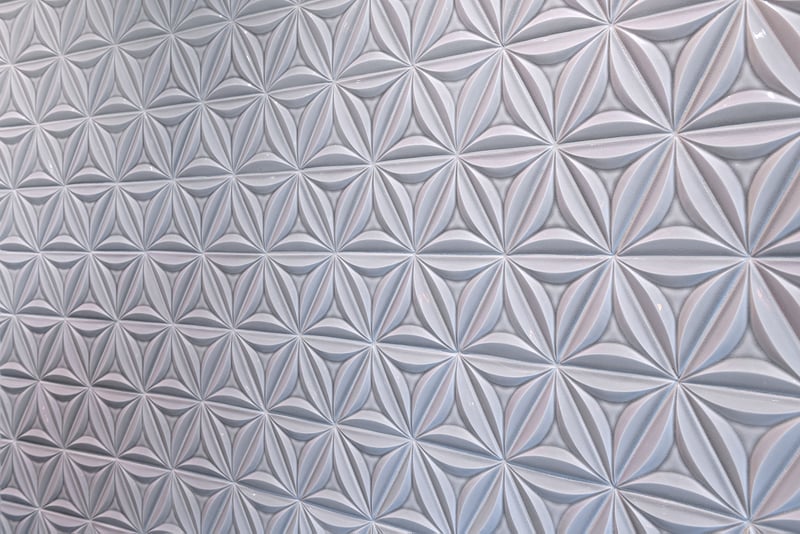 While we've observed several beautiful glazes as of late, we're particularly impressed by the Stellar Maria from Sonoma Tilemakers. This finish highlights the intricate beauty of the tile's floral shapes without ever coming across as gaudy or overbearing.
Glossy Finish
The drabbest of spaces can quickly become bright and cheery when the right gloss is applied. Glossy finishes are especially ideal for small, dank areas that need freshening up. A little shine can accomplish wonders, especially when applied to walls and floors. Glossy finishes tend to accompany contemporary designs. They work well with neutrals; white gloss has been a top contender for years, although grey, beige, and even some brighter colors can also play into a glossy look.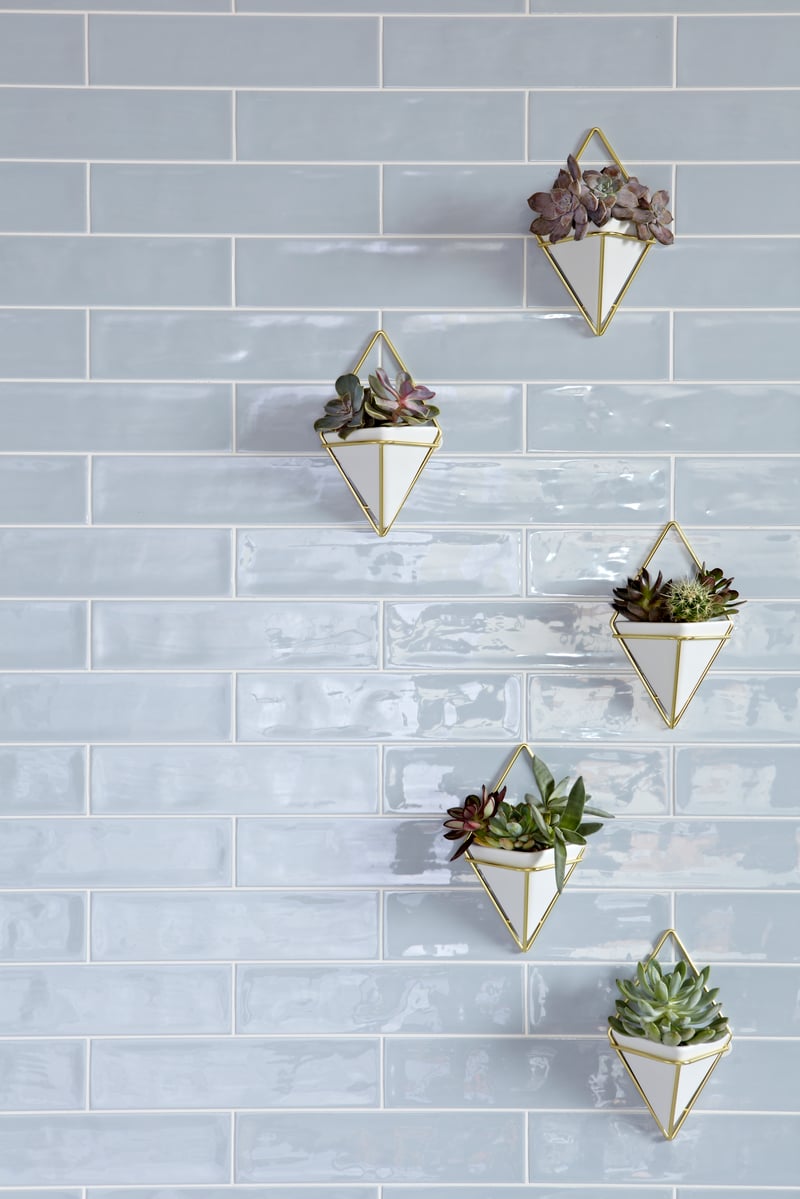 AKDO perfects the glossy style with its Origins collection, featuring offset subway tiles brightened with a beautiful gloss. These tiles could create the perfect bathroom feature wall.
Although gloss holds several notable benefits, its downsides are worth considering as you select the perfect finish for your interior space. While gloss is easy to clean, you might find yourself cleaning more often if you apply this finish, as its shine can quickly highlight stains or imperfections.
Matte Finish
Rustic, yet classy, matte offers a nice contrast to the gloss that has dominated so many kitchens and bathrooms for so long. Matte offers a simpler, more traditional look that can still come across as fresh and modern if integrated correctly.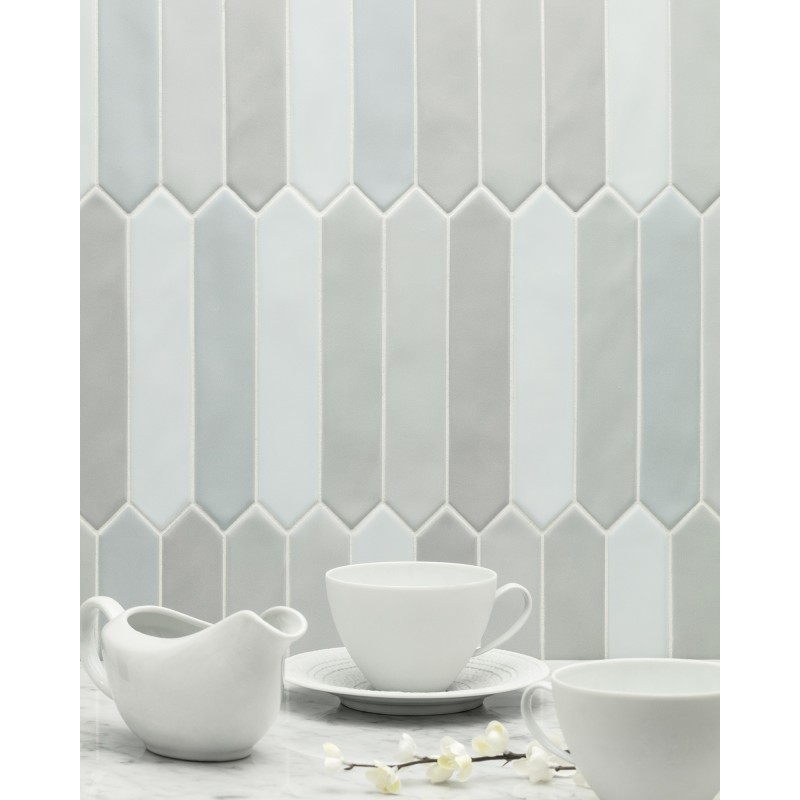 Not only do matte finishes look lovely, they are highly practical. Slip-resistant matte finishes work wonderfully well in the great outdoors, where precipitation can make it difficult to navigate others surfaces. For this reason, matte should be your go-to solution for patios, walkways, and other outside spaces. Matte can also work well inside.
Textured Finish
Textured tile is a huge trend right now; for the past several years, bold textures have made their mark at the CERSAIE tile show. Textured finishes provide a visually impactful look without relying on bright and potentially overwhelming colors. Texture suits those who adore neutrals but still wish to make a statement in their home. The right texture can also grant otherwise ordinary ceramic tiles a unique feel — also in keeping with recent tile trends.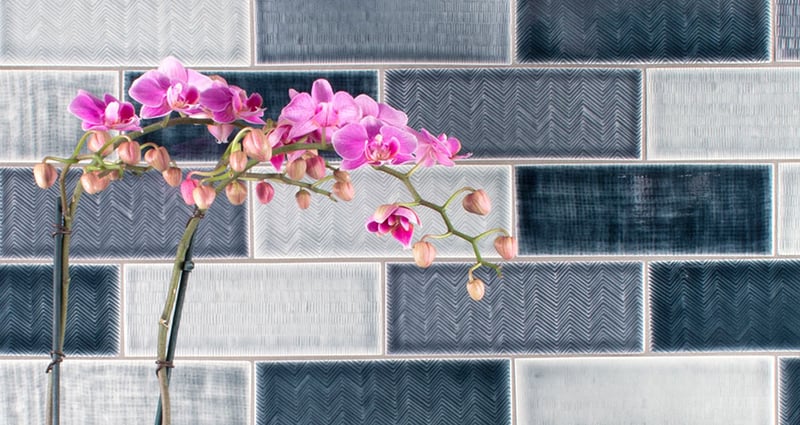 Tilemakers Pratt and Larson excel at textured designs, which incorporate subtle patterns such as a chevron-inspired look to deliver instant intrigue. Don't be afraid to take Pratt and Larson's lead with contrasting textures and differing colors, which can simultaneously come across as eclectic and cohesive.
Depending on the context, mixing and matching may be possible or even preferable. For example, one gloss or glaze can be used for flooring, while another can take over the backsplash or shower wall. If you're feeling bold, mix a gloss or glaze with a textured, matte, or unglazed finish. Contrasting finishes instantly add depth and dimension.
No matter which style you favor, the right glaze can do wonders for your interior design. At Decorative Materials, we're happy to help you brainstorm ideas for your next tile project. Check out our Tile Trends Around the World map to learn more about the tiles and glazes that dominate in different regions. Stop by one of our showrooms to see our favorite glazes in action or contact us today to learn more about our offerings.