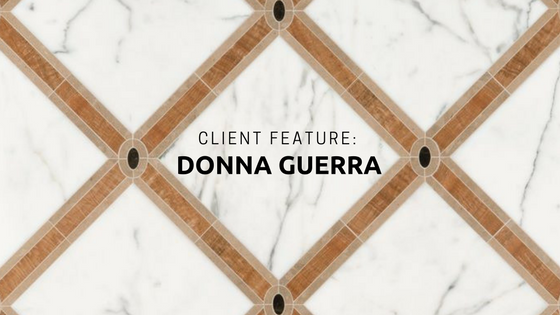 Seemingly subtle details in modern flooring can make all the difference in sophisticated bathrooms, even when rooms are limited by size or a desire for eco-conscious design. This is especially evident in the recent completion of an ambitious project from Donna Guerra of DG&A Interior Design.Donna Guerra is a valued and founding member of the Decorative Materials Loyalty Club honoring Colorado's most accomplished trendsetters + design thought leaders. The talented designer applied her passion for mountain-inspired design to the ambitious Aspen Park Project. Tile selection played an integral role in the project. The result? Gorgeous and unique bathrooms featuring clean lines, sophisticated tiles and an airy look that exemplifies simplicity without ever feeling sparse.
Background: Donna Guerra and DG&A Interior Design
Boasting nearly three decades of experience in design and architecture, Donna Guerra is the owner, founder, and principal of DG&A. She specializes in 'mountain modern,' with an emphasis on indigenous materials. Her motto? "As natural as possible." As a result, her work often features stone mosaics and other distinctive stone tile designs.
Guerra strives to bring a modern edge to the highly sought-after rustic look, thereby producing a unique story in every room. Continuity and cohesiveness are chief priorities; although each room she designs boasts a distinctive atmosphere, all fit together under the umbrella of the home's overarching theme.
DG&A Interior Design may be based out of Dallas, but Guerra works extensively in the Aspen area. She adores the region's natural scenery and the inherent challenge of fitting her designs to natural wonders. Whether in Dallas or Aspen, her work is exemplified by clean lines offset by rustic elements. She knows exactly when and where to incorporate "rough" aesthetics into modern designs.
Inspiration
Presided over by Charles Cunniffe Architects, the Aspen Park Project was born out of the Florida-based homeowners' desire to combine Art Deco and contemporary elements in a stunning Colorado home. The owners also desired to pay homage to local mountain vistas by incorporating carefully chosen stone designs and several species of wood. Additional challenges accompanied the unique site, which featured an unusually narrow building envelope. Furthermore, the project aimed to carry out these demands in as environmentally-sensitive a manner as possible.
What We Did
With the Aspen Park project, our chief goal was to let the floors do the talking. Each bathroom is characterized by unique flooring selections that complement one another while still granting every space a distinctive feel. All bathrooms were designed to reflect Aspen Park's overarching mountain modern aesthetic. They infuse elements of Art Deco -- as desired by the owners -- without ever drawing viewers out of the 21st century. The result: welcoming bathrooms that are at once on-trend and timeless. We're proud to see selections from our Aspen tile showroom in such a stunning home. Read on to learn how our modern flooring serves as centerpiece for three distinctive bathrooms.
Guest Bath
A top trend at the latest CERSAIE trade fair in Bologna, the chevron pattern offer an excellent alternative to herringbone. Although frequently used for accent walls in bathrooms, a chevron floor can add significant interest when incorporated into modern flooring.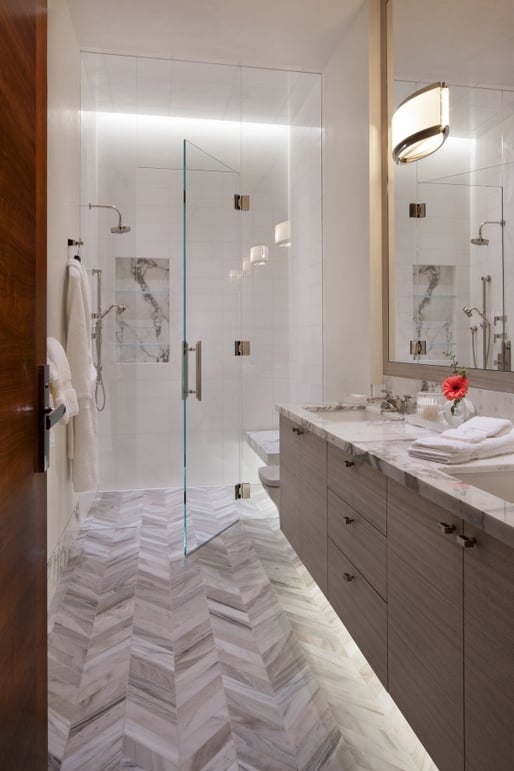 The vein cut linear pattern is what makes this chevron pattern the perfect complement to the Aspen Park Project's guest bathroom. The tile's direction and orientation draw guests in, while the Bosphorus shade grants the room a light and airy, yet distinctively modern, vibe. The chevron tile visually lengthens the room and seamlessly transitions into the shower area, which features thassos stone on the walls. This pristine and simple tile makes the shower feel larger, without distracting from the centerpiece chevron flooring.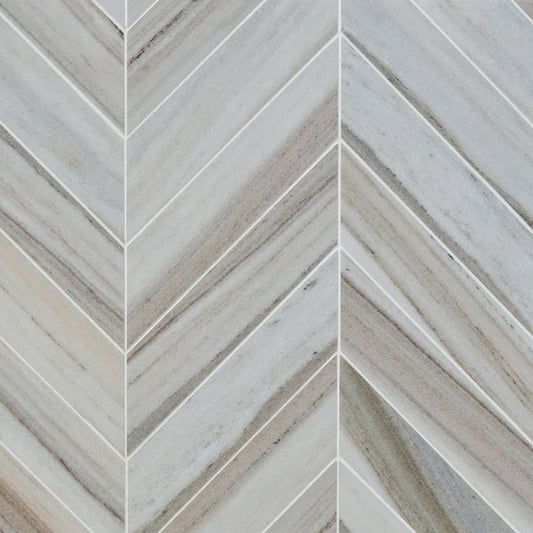 Guest Master
Elegant but not overly ornate waterjet mosaic flooring attracts attention without detracting from the magnificent view outside the master bathroom's large window. Polished Asian Carrara with a classic Cinder Grey trellis pattern matches the bathroom's fixtures and visually expands the space.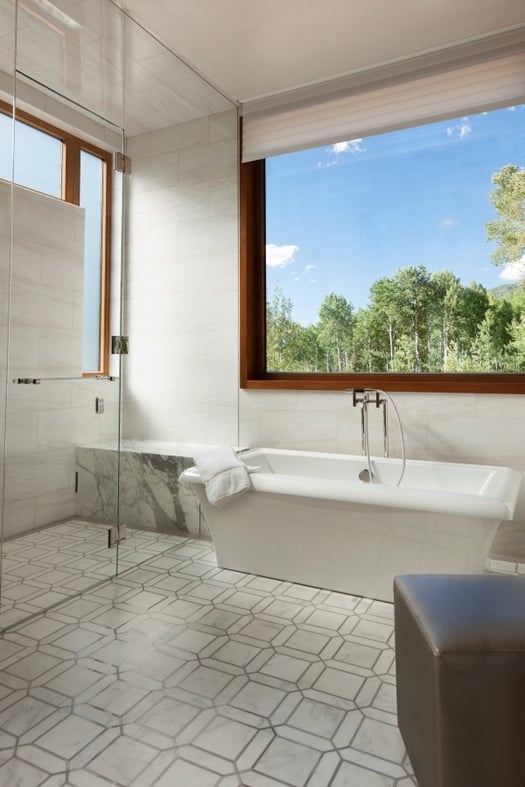 Although they have a timeless feel, the white and grey tones of these mosaic tiles grant them a contemporary feel in keeping with Aspen Park's mountain modern theme. This is the perfect bathroom for a modern woman, one who enjoys feeling ladylike while projecting an air of quiet confidence. The serenity of this bathroom is undeniable, thanks to the timeless waterjet mosaic floor.
Master Bath (His)
The second master bathroom from this project constitutes the epitome of refined modern. The thoughtful flooring selection paired with exquisite slab featured in the shower provides plenty of visual interest without drawing attention away from the chief focus: unmatched natural beauty right outside the door. The goal was to complement the gift of beautiful scenery in a sophisticated, yet minimalist manner. This was accomplished through a classic waterjet pattern featuring Statuario Honed, Mount Grey, Borealis Blue and Indigo Granite.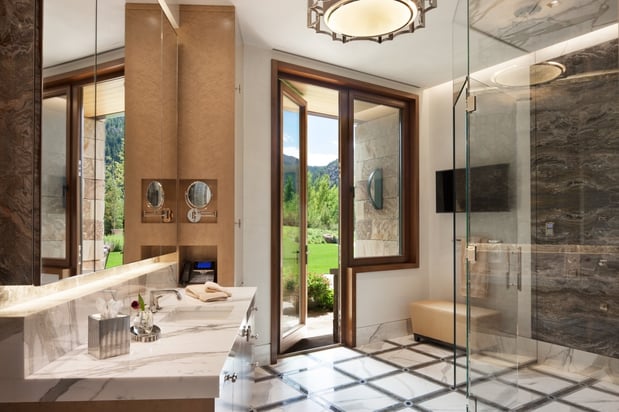 From modern chevron to classic mosaic, the right tile can promote a unique aesthetic exemplified by both modern and rustic elements. With the Aspen Park Project, appropriate tile selection ensured a timeless look while maintaining a true focus on the awe-inspiring mountain views that only an Aspen home can provide. These bathrooms provide the perfect example of how careful tile selection can complement a region's natural characteristics, no matter the scope of the project or its apparent limitations.
Ensure you are prepared for your Decorative Materials visit by checking out our guide. Feel free to contact us with any questions so we can get your project started as soon as possible!