Tile design trends change significantly from one year to the next, but select patterns deliver long-term satisfaction. When hunting for a new look, it's important to consider not only what will feel fresh at the moment, but also what will continue to make a statement in years to come.
Thankfully, some of this year's finest looks deliver the best of both worlds. With the right design, any kitchen, bathroom or office can instantly become a work of art worth showing off.
2018 Tile Trends
Change is afoot, and 2018 promises to be the year that contemporary and classic join forces to form daring new concepts in Denver and Aspen tile showrooms.Large format has dominated the tile landscape for years, but it is now sharing the stage again with mosaic tile patterns.
Large tiles are no longer necessary for a space to be deemed "sophisticated." In fact, some of the most elegant tile designs of 2018 feature diminutive tiles arranged in mosaic patterns. Each individual tile may be small, but together they create a larger-than-life aesthetic. Perfect place for villa mosaic image.
Square and rectangular tiles once reigned supreme, but homeowners and commercial designers alike are quickly growing more adventurous. Although they were once avoided, geometric shapes are gaining favor, with chevron and zig zag proving particularly popular as of late. These bold shapes instantly add dynamic energy to any room. Hexagons, already quite popular in 2017, will continue to pick up steam in the new year.
Subtle is no longer a priority for tile shape, and the same can be said for color. Contrasting hues are hot right now. Few color combinations match the class of black and white, which looks particularly appealing in zig-zag, chevron or triangular patterns.
Subtle shades of green and blue are also quite common; both colors were seen regularly at the 2017 CERSAIE (also known as the International Exhibition of Ceramic Tile and Bathroom Furnishings) in Bologna. As the tile version of New York Fashion Week, CERSAIE sets the tone for the year ahead. Green played a prominent role at CERSAIE, as did fabric-inspired tiles. Expect both to hit their stride in 2018.
Our Top 7 Eye-Catching Tile Designs
Gorgeous tile designs abound this year, but we're especially excited about these looks:
Lauren Harper Collection: Stained Glass Mosaics
Both feminine and strong, Lauren Harper's jewelry exemplifies what it means to be a modern woman. Artistic Tile's Lauren Harper Collection draws from the best of Harper's work to form mosaic tiles just as daring, yet timeless, as her jewelry. We particularly love two designs inspired by Harper's jewelry:This first example of the Lauren Harper Collection exemplifies the jewelry theme with handcrafted Symphony Glass mosaics. Square, but featurin rounded edges, these tiles are inspired by asscher cut stones.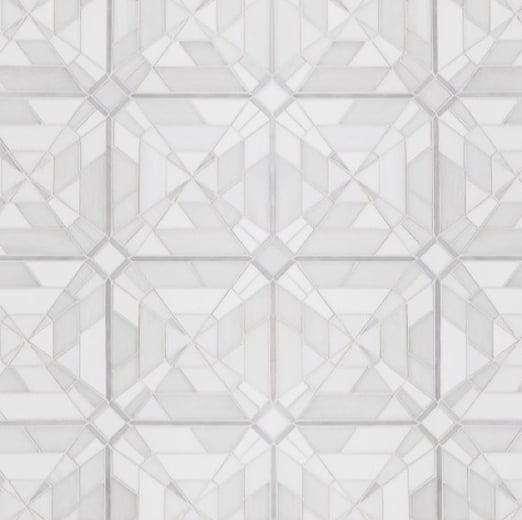 The daring second design from the Lauren Harper Collection takes on a more natural aesthetic, with wavy patterns in green and neutral colors overlying compelling hexagonal shapes. This tile was inspired by natural agates and is the perfect look for anybody who embraces artistic statement jewelry.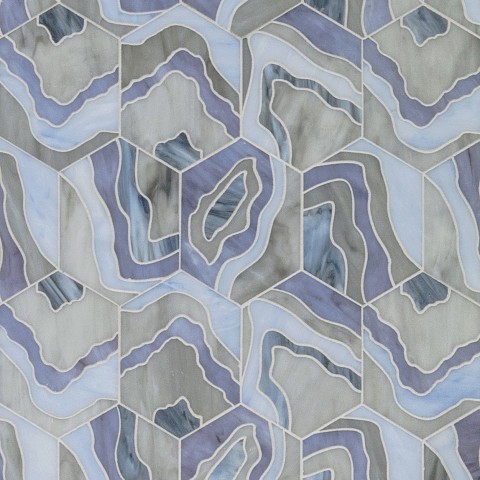 Black and White Holiday Fragrance Window Display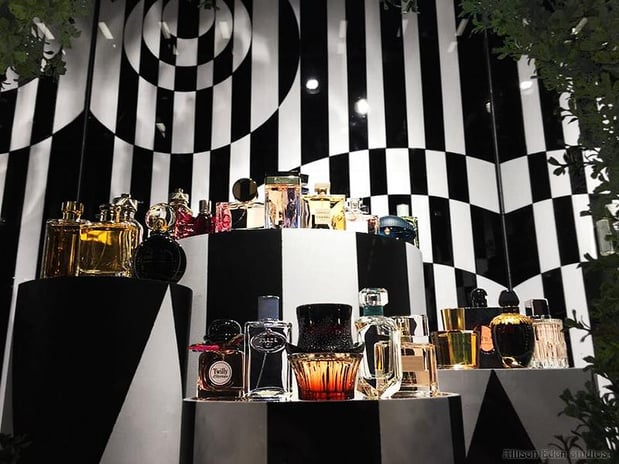 Although designed for a Bloomingdale's holiday window display on Lexington Avenue in New York City, this bold look suits any season. Alternating black and white shapes form a compelling geometric profile featuring swoops and swirls. With a tile design this distinctive, there's no need for wall decor. It's a distinctively cosmopolitan look that's perfectly in keeping with this year's turn toward bold sophistication.
Pucci-Inspired Glass Mosaic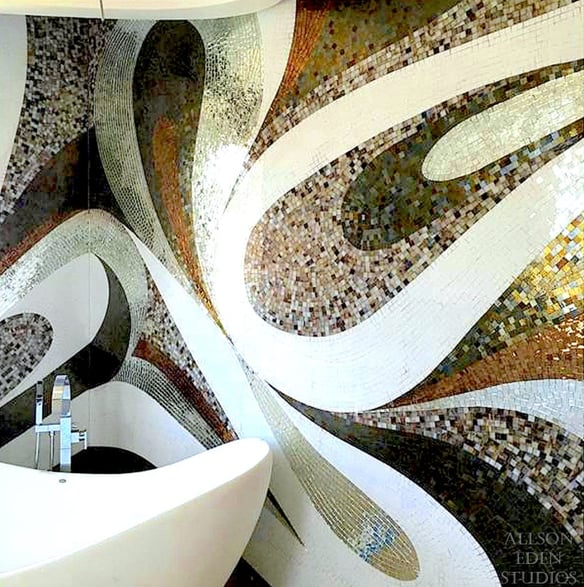 Recently, many top designers have sought inspiration from the runway and the world of high fashion. This is certainly evident in this design from Allison Eden Studios. Inspired by a gorgeous Pucci scarf, the mosaic pattern takes on a life of its own. Drawing on the fabric and fashion-inspired trends seen at CERSAIE 2017, this memorable tile design will please the inner fashionista.
Gatsby Mosaic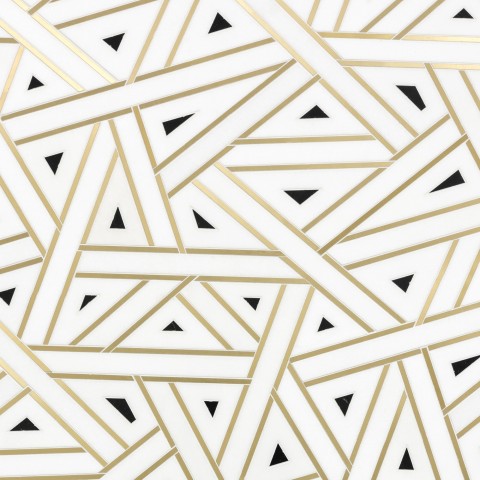 Artistic Tile captures the spirit of the Roaring 20s with a mosaic worthy of Jay Gatsby's most off-the-wall parties. The design's dramatic geometry features enticing brass details, which grant it a modern appeal. Polished Thassos marble delivers true luxury, as does polished Nero Marquina triangles.
Zig-Zag Mosaic

Mosaics are currently in the midst of a much-deserved revival. As this classic style re-emerges, watch for creative designs. The geniuses of Allison Eden Studios are particularly fascinated by the zig-zag aesthetic, which plays a prominent role in several of their most impressive designs of the past year. This particular mosaic brings glitz and glamour to the office setting. Alternating black, white and silver provide a distinctive sheen.
Black and White Chevron
This gorgeous handmade chevron backsplash was constructed in Brooklyn by the acclaimed Allison Eden Studios. It makes the most of the chevron trend, incorporating simple, yet sophisticated, black and white to great effect.
If you prioritize artistry in your kitchen, bathroom, office or entryway, 2018 is your year to shine. From modern chevron to classic mosaics, there's a unique style available for aesthetic. This year, don't be afraid to go bold -- you won't regret it.
For more savvy designs, explore our inspiration gallery. Contact us with any questions you may have and ensure you are prepared for your visit to Decorative Materials with our guide.