Stone selection may be our forte at Decorative Materials, but we know that the journey doesn't end after you've discovered the perfect natural stone surface. These materials may be durable, but they still require care and maintenance after installation.
First, you need to know how to clean natural stone. The wrong approach could damage otherwise lovely surfaces. To help you avoid common problems such as etching and discoloration, we've compiled a detailed guide to stone care. We'll answer common questions such as:
Do you have to seal marble tile?

How do you remove hard water stains from natural stone?

What does it take to remove oil stains from stone?
Keep reading to discover everything you need to know about natural stone care:
First: Get to Know Your Stone
No single cleaning regimen is universal to every type of stone. As such, it's important to understand what, exactly, keeps specific materials looking pristine. First things first: the two main categories of stone composition. Known as calcareous and siliceous, these stones have structural differences that play heavily into maintenance.
Calcareous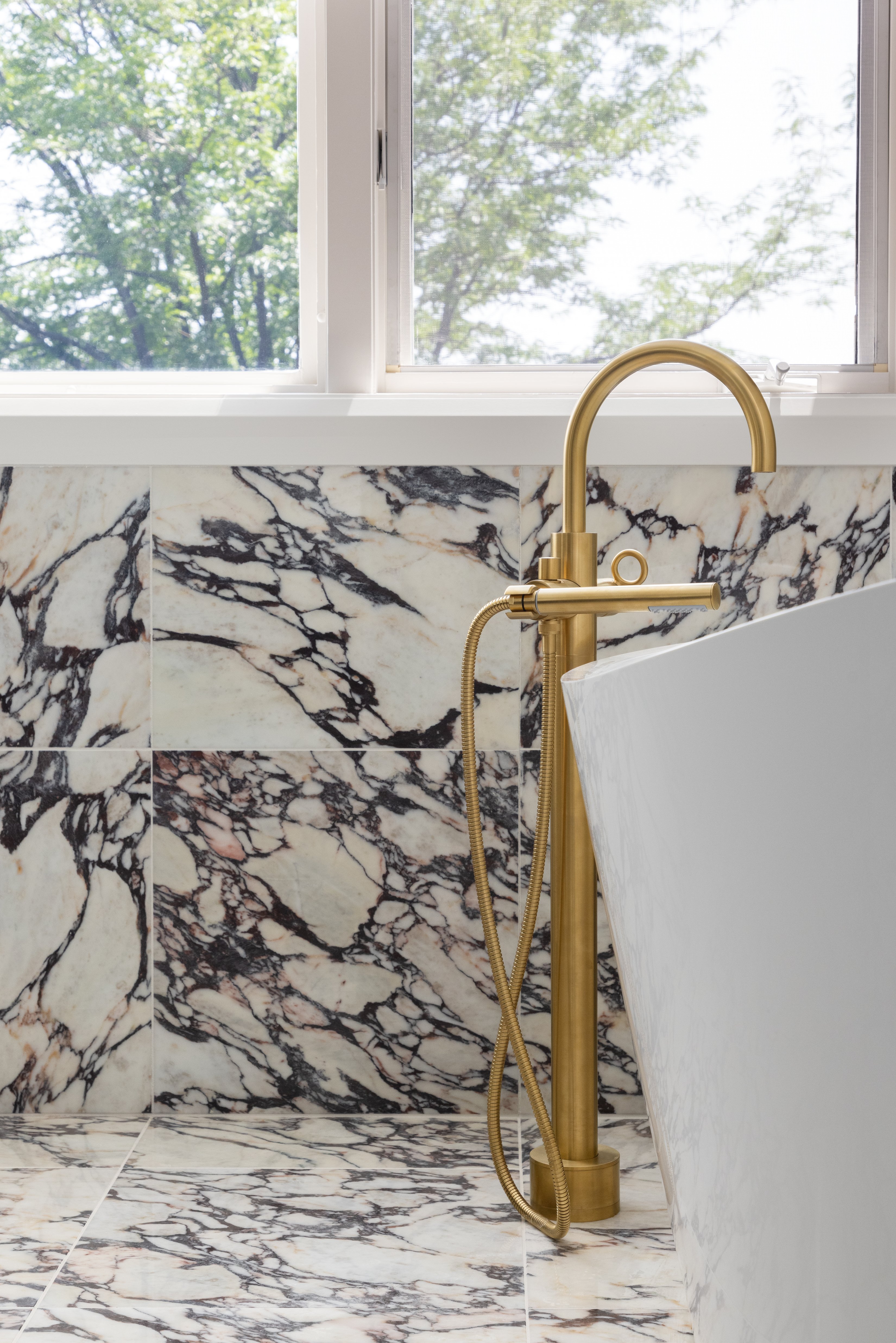 Breccia Capraia is a marble and therefore a calcareous stone. Design credit: Studio Lambiotte. Photo Credit: Kylie Fitts.
Primarily derived from calcium carbonate, this category includes such familiar stones as marble, limestone, travertine, onyx and serpentine. Sleek and sophisticated, these products can instantly level up any space. Unfortunately, the very qualities that make them so attractive bring extra care requirements to the table.
The vulnerability of calcareous stones can be blamed on their susceptibility to acid. Choose the wrong cleaning solution or sealer, and these stones will suffer irreparable damage. Commit to sensitive and highly targeted treatments, along with a gentle cleaning regimen.
Siliceous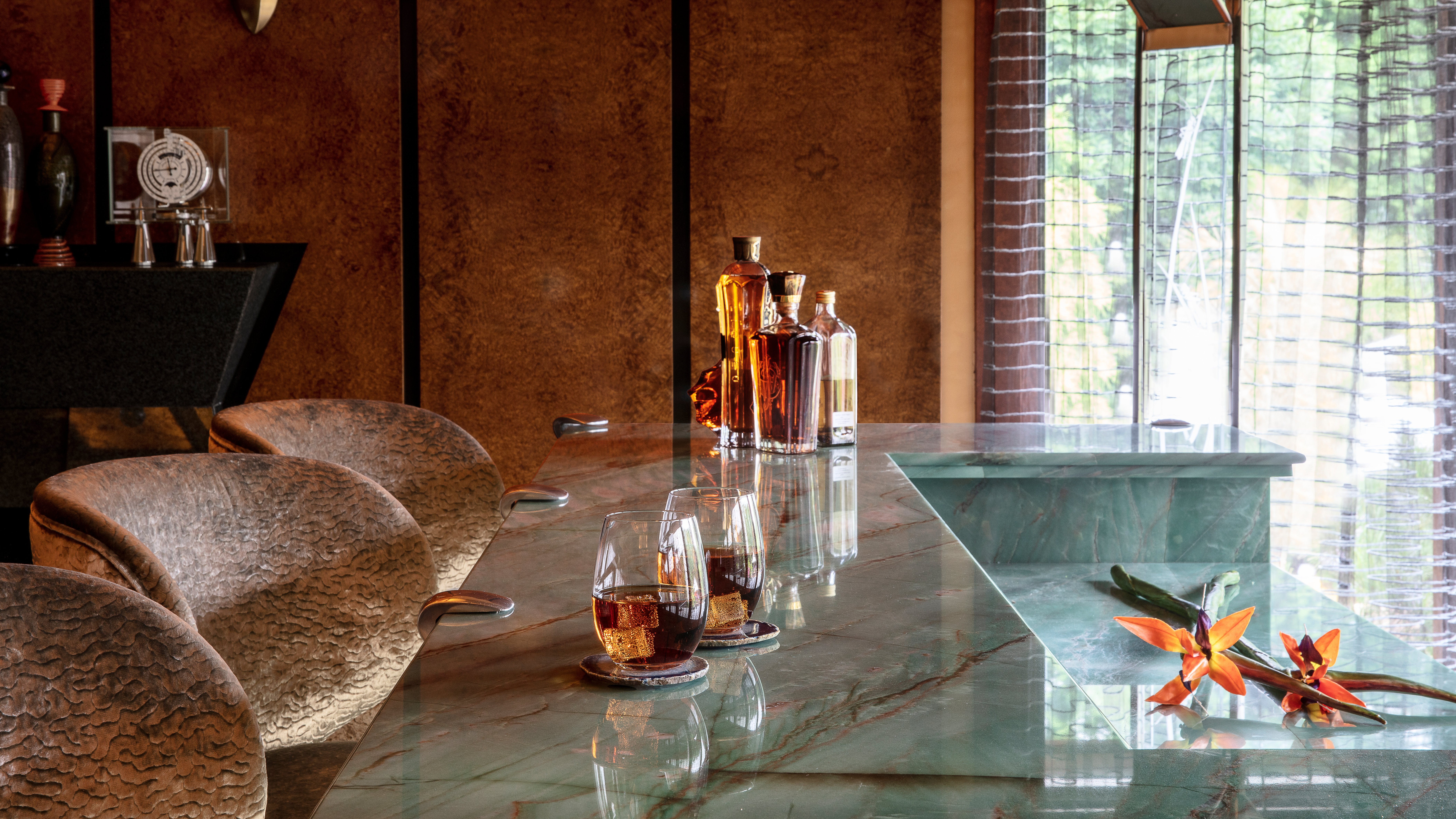 Botanic Green is a quartzite and therefore a siliceous stone.
Made possible by silicates such as quartz or feldspar, siliceous stones tend to be more durable than their calcareous counterparts. Acid is less of a problem for these stones, but acidic cleaners should still be avoided. Some siliceous stones contain trace minerals that are sensitive to acidic solutions.
Types of siliceous stones that you may have in your home include sandstone, slate, quartzite, soapstone and granite.
How to Clean Natural Stone
While variations will exist based on the type of stone you select, a few universal cleaning concerns apply to all varieties. Above all else, it's crucial that you select cleaning products carefully. Not just any solution can provide both the cleaning power and long-term protection that stone surfaces require.
Clean stone surfaces with a neutral cleaner, stone soap, or a mild liquid dishwashing detergent and warm water. pH neutral stone cleaner works great and is safe for all surfaces in the bath and kitchen.

Similar to any item cleaned in your home, an excessive concentration of cleaner or soap may leave a film and cause streaks. Follow manufacturer recommendations.

Use a clean rag mop on floors and a soft cloth for other surfaces for best results.

Rinse the surface thoroughly after washing with the soap solution and dry with a soft cloth.

Change the rinse water frequently.

In the bath or other wet areas, soap scum can be minimized by using a squeegee after each use. To remove soap scum, use a non-acidic soap scum remover.

Sealing Your Stone
Stain prevention begins with sealing stone surfaces. This can dramatically slow the pace of absorption, giving you more time to clean spills before they cause permanent damage.
Keep in mind that many types of stone are highly porous, and therefore, vulnerable to stains if not sealed properly. Resin and wax seals also provide valuable protection against surface-level scratches. Stone sealing can be a time-intensive process, so some people prefer to get professionals in on the action. If you opt for the DIY approach, check ventilation to limit your exposure to toxic fumes.
Select sealers targeted at specific types of stone. Some products have acidic solvents that cause etching. Others experience yellowing when exposed to linseed oil treatments. Many surfaces are best protected by acid-resistant, oleophobic sealers.
Be sure to clean stone surfaces thoroughly before applying sealer. Next, perform a spot test to determine whether the sealer in question might cause etching or discoloration before moving forward. Apply according to the sealer's directions, leaving plenty of time for it to dry when you're finished. Depending on the type of sealer, you may need to use a special applicator – or an old rag may be perfectly acceptable.
Stain Removal Steps
What if, despite your best efforts to keep stone looking pristine, it ultimately succumbs to stains? There's no need to despair – with the right approach, you can ditch stains and make stone surfaces look good as new. Keep in mind, however, that your approach will vary based on the nature of the stain. Below are some of the most common types of stains that people experience with natural stone, for a more extensive list of recommendations, see our digital Stone Care Guide.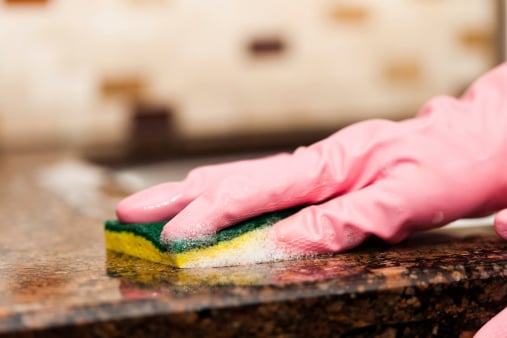 How to Get Oil Stains Out of Natural Stone
An oil-based stain will darken the stone and normally must be chemically dissolved so the source of the stain can be flushed or rinsed away. Clean gently with a soft, liquid cleanser with one of the following: household detergent, mineral spirits, or acetone. These products will remove sealer and may require stone to be resealed.
How to Remove Hard Water Stains from Natural Stone
If you've tried gentle cleansing regimens and are still stuck with stubborn hard water stains, it's time to level up your approach. Refer to our Stone Care Guide for specifics on how to remove water spots and rings from your natural stone.
How to Clean Organic Stains on Natural Stone
Many people wonder what to do if they spill red wine on their countertop or other natural stone surface that leaves behind a large, noticeable stain. Wine spills fall under the category of "organic stains" which also includes stains from coffee, tea, tobacco, paper, food, urine, leaves, bark and bird droppings. These stains may cause a pinkish-brown stain and may disappear after the source of the stain has been removed.
Visit the Stone Care Guide to learn how to best remove these difficult stains.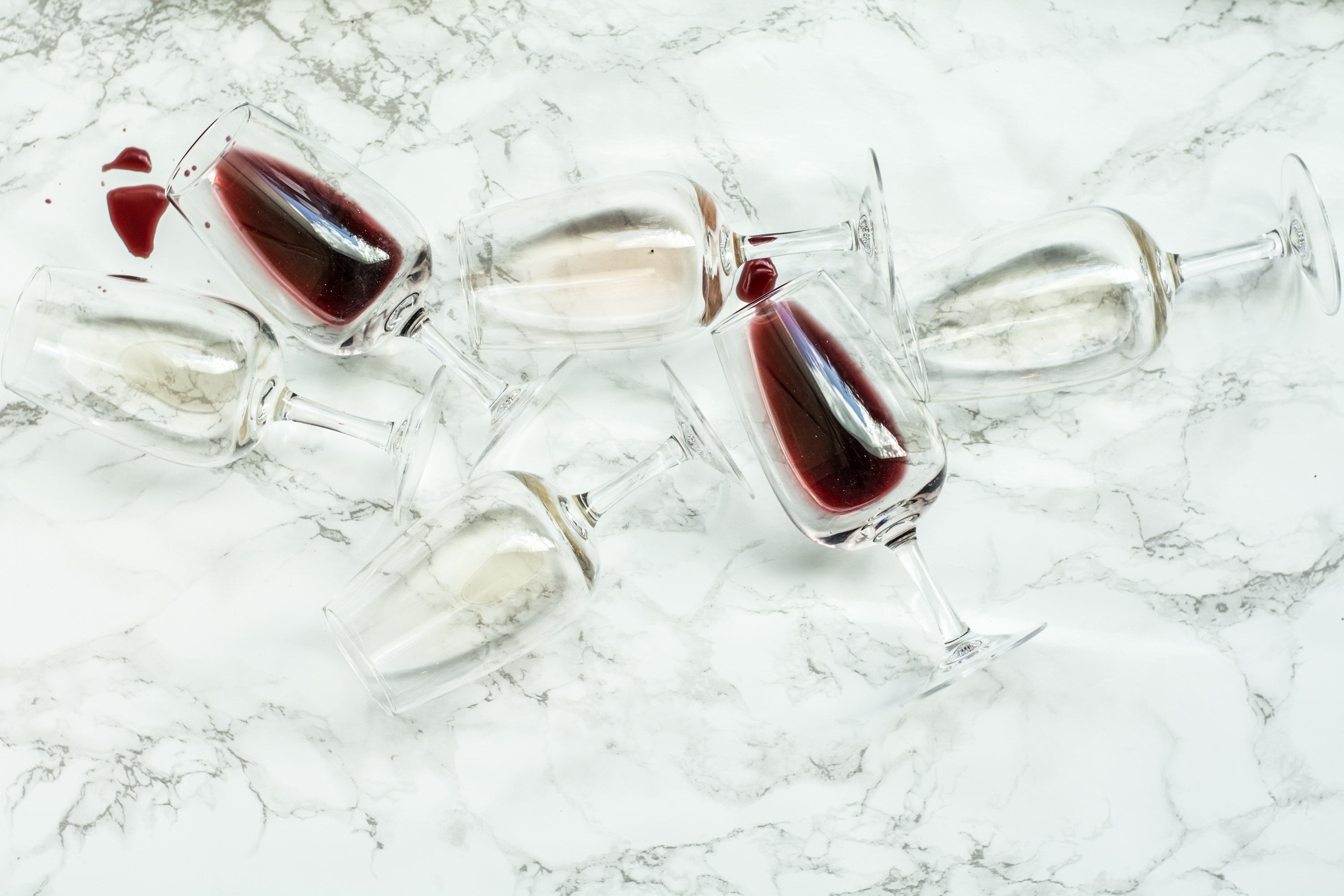 Decorative Materials: Your Resource for Beautiful and Durable Stones
If you're on the hunt for the most durable stones available or looking for expertise on how to remove stains from your natural stone surfaces, look to Decorative Materials for insight. We'll provide targeted suggestions based on your unique needs and preferences. Contact us today to set up a showroom appointment.
Check out the full Stone Care Guide for a comprehensive guidebook on caring for, sealing and cleaning stone.