Your bathroom should be more than an afterthought. It should be a place to seek respite from the stresses of everyday life. Interior designer Chris Powell and Decorative Materials brought this concept to life to create a stunning, yet serene bathroom for a project highlighted in Mountain Living. The featured bathroom is a place where these lucky homeowners can retreat and instantly feel at ease.
The peace prompted by Mountain Living's 2017 Home of the Year can be achieved in any home, no matter its size or location. From luxury tile to ambient lighting, a few simple interior design updates can transform this oft-forgotten room from hopelessly drab to serene. Even a tiny bathroom can feel like an oasis when designed correctly. The following are a few of the most tried-and-true methods for transforming any bathroom into paradise:
Incorporate Natural Elements
Bathrooms often lack the ample natural lighting enjoyed in other rooms. This can make even the most elegant bathroom feel hopelessly dreary. Strive to counteract this effect by bringing the outside in by using natural elements. For example, high-quality wood cabinetry can grant your bathroom a serene feel. If possible, choose cabinets that reflect local species.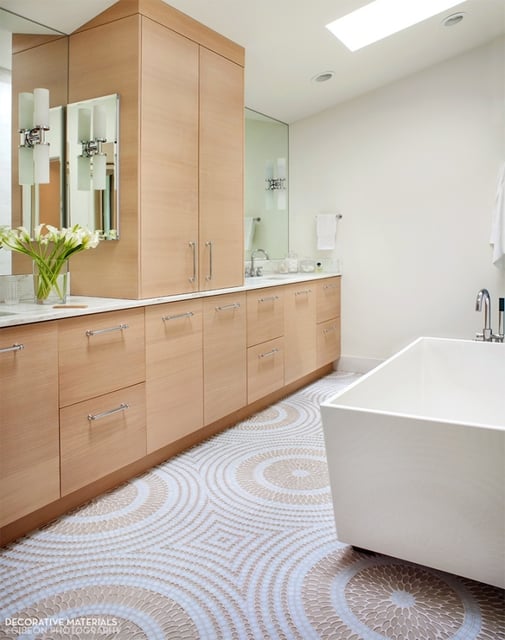 If your goal is a natural feel, resist the urge to cover the natural grain of the wood with Pinterest-y paints; although trendy, white or pastel paints can't match the timeless feel of quality wood cabinetry.
Flooring should also be natural, whenever possible. Stone tile holds timeless appeal and looks especially sophisticated in a bathroom setting. Long regarded as the pinnacle of tile glamour and quality, Italian stone tile prompts a calming, yet elegant aesthetic.
Add Texture to Your Design
An increasingly important element of modern bathroom design, texture is best implemented via tile selection. Thankfully, textured tiles are currently trending in the world of interior design.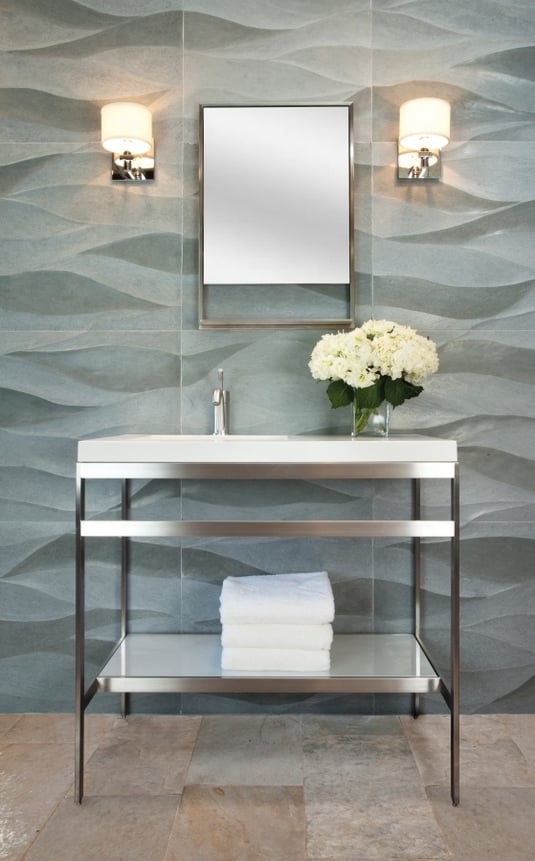 Consider implementing textured tile as a backsplash for your shower or elsewhere in your bathroom. Different textures in the same room provide layering, which is particularly valuable in monochromatic or neutral dominated bathrooms.
Pick the Right Countertop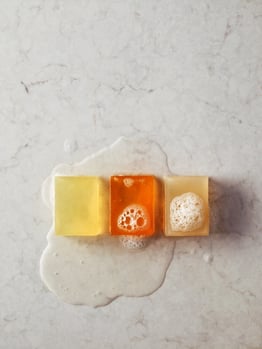 Beautiful counters are more than a holding place for your toiletries. The right counter will add visual interest to your bathroom, serving as a functional form of decor. Aim for counters that are not only aesthetically appealing but also durable. Granite and Caesarstone are popular for a reason; they look amazing but also stand the test of time.
As with color selection for floor tile, counters should be guided by your bathroom's theme. Many homeowners prefer soft neutrals, which match virtually any style imaginable. Others opt for darker hues in the interest of contrast or sophistication.
Add Decorative Lighting
What's the point of updating your bathroom with new tile flooring or counters if you can't even see the changes? Your bathroom lighting should draw attention to the most beautiful elements of the room, while still maintaining a relaxed setting. Ambient lighting sets the stage by reflecting off the ceiling and providing a soft glow. Add accent lighting to grant your bathroom further depth. Ideally, accent lighting will draw attention to the room's most important features.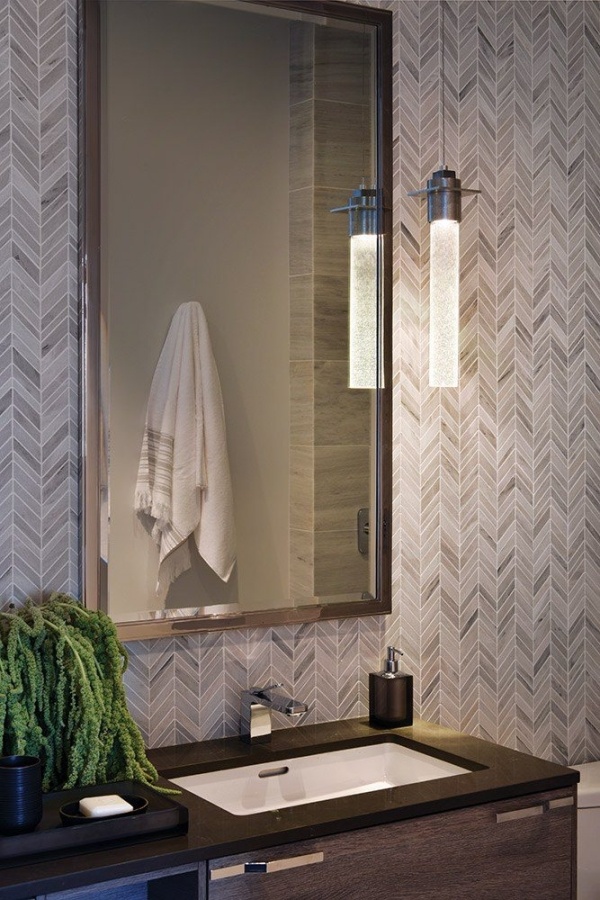 Lighting should be not only attractive but also functional. Task lighting is a critical element of any bathroom. Bathroom users must be able to see sufficiently to shave, brush teeth, or apply makeup. Separate controls for various light can ensure that bathrooms provide full functionality when needed or serve as an oasis when the prime objective is relaxation.
Don't Forget Artwork
For some reason, homeowners tend to highlight beautiful artwork in entryways or living rooms, but not in their bathroom. Without decorative elements, however, bathrooms feel incomplete - and far from serene.
The right work of art can amplify the atmosphere you've so painstakingly crafted by choosing the right flooring, counters and lighting. A beautiful painting or statue can serve as a focal point, or guide attention towards other key elements.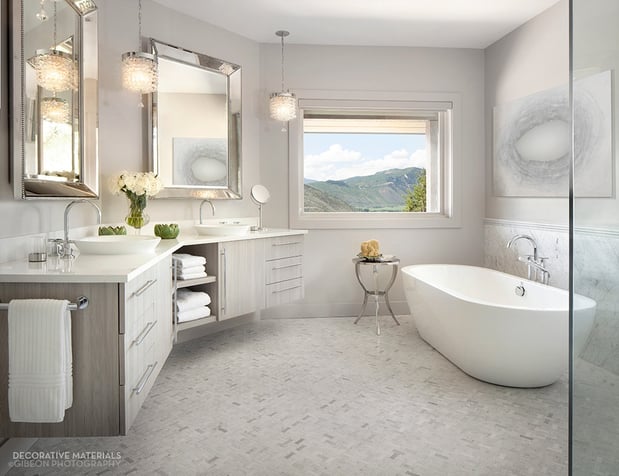 In many cases, artwork can be both beautiful and functional. For example, intricate light fixtures that hang from the ceiling make your bathroom feel more glamorous while also providing a critical source of lighting. Likewise, modern mosaics and tile motifs can provide built-in artistry. Such is the case for a gorgeous bathroom in Mountain Living's 2017 Home of the Year. The bathroom's backsplash features a lovely tile motif that effectively captures the tranquil feel of Aspen, Colorado.
Of course, bathroom artwork necessitates a few unique considerations. For example: if you hang paintings, be sure to seal and treat them appropriately to prevent mold and mildew.
Your goal in designing your bathroom should be to promote a warm and welcoming atmosphere. Once finished, this should be a place where you're happy to relax, rather than a space purely driven by function. A few small details can make all the difference.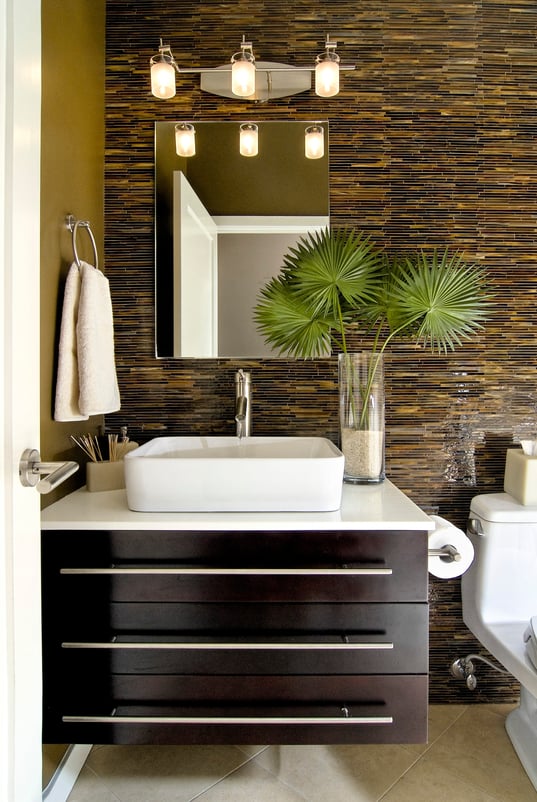 Ready to create your dream bathroom? As you plan your new oasis, be sure to avoid common tile purchasing mistakes. Not sure where to start? Explore our inspiration gallery for more tile ideas. Contact us as soon as possible so we can create the space of your dreams.