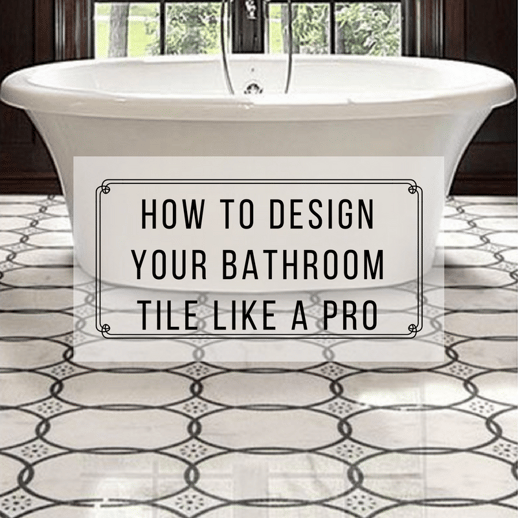 Choosing bathroom tile can be a fun and rewarding experience, but the last thing you want is to regret your decisions after the fact. Fortunately, most of the decisions you'll be required to make are fairly straightforward, and as long as you choose a tile that's a good fit for your planned use, you can ensure a satisfying outcome.
Here's what you need to know when it comes to selecting tile for you bathroom.
Choose Your Tiles Wisely
The most important factors in choosing your ideal bathroom tile are its aesthetic appearance and durability. Once you've found a design that suits your taste, you want to make sure it will last a long time and maintain the same ideal appearance throughout.
The material your chosen tile is made from will be the determining characteristic where durability is concerned, and in that regard, you have three primary choices.
Ceramic Tiles
Ceramic tiles are made from clay and a mixture of other materials, usually containing additional minerals that affect its durability and texture. Although more expensive than porcelain, ceramic tiles are a great way to add a traditional touch of style to your bathroom.
Ceramic tiles can be prone to chipping and can become slick if wet so it may not be the best choice for a heavily used bathroom, such as the one in your master bedroom suite or one that will be used by children. Fortunately, in many cases, you can mitigate those characteristics by choosing a glazed ceramic tile that will be installed with sufficient gout lines to prevent slipping.
Porcelain Tiles
Porcelain tiles are made from clay mixtures that are both finer and more durable than the materials used in traditional ceramic tiling. Due to the finer texture and higher quality of the clay, porcelain is much less prone to chipping. moisture and staining absorption than standard ceramic. Indeed, the finest types of porcelain will be effectively impervious to any absorption and offer the longest-lasting durability.
Porcelain is a great choice when you want to maintain a high-quality visual appearance that withstands heavy usage, although it usually comes at a premium price point. If you're looking for a compromise between price and quality, porcelain can be an especially good choice when tiling a small bathroom floor, as you won't require many tiles to complete the job.
Stone Tiles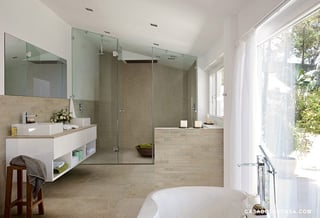 Stone tiles offer a more organic appearance in contrast to porcelain and ceramic tiles. Stone is an especially popular choice in more modern design aesthetics that seek to meld natural and artificial components.
When using stone tiles for a bathroom, it's important to choose a product that's appropriately textured to prevent slipping. You also want to ensure you choose a type of stone that isn't too porous or difficult to clean — although engineered stone can often improve the durability and stain resistance of stone types that are porous in their natural state.
Color and Style Considerations
Once you've picked your ideal material, it's time to brainstorm around your desired end result. Browsing online resources such as Pinterest or Houzz as well as scanning through magazines for design inspiration is a great place to start. A professional design consultant is a proven way to achieve your dream bathroom.
Powder rooms and backsplashes are a great place to incorporate that "wow" factor you've been dreaming about.
Grout Selection
Grout is the material laid down between your tiles to help secure the tiles both to each other and the floor substrate and to provide an additional barrier for moisture and other substances.
Along with serving a mechanical purpose, grout has as much impact on the visual appearance of your floor as the tiles themselves do. Since grout is available in a wide range of colors, you won't have any difficulty finding one that matches your desired aesthetic. Remember that darker grout hides stains better and is easier to keep looking clean than white grout.
Small or Large Tiles
Tiles in today's market come in a huge variety of sizes, from the tiniest mosaic and penny round tiles to large format tiles that can be 48 inches or even larger.
Smaller tiles are best when you're designing a more traditional or retro appearance, while larger tiles offer a more contemporary and clean look.
From a utility standpoint, remember that grout adds slip resistance. Since small tiles require more grout than large tiles, they can be a better fit when your top priority is to guard against slipping on wet floors.
Are you getting ready to select your bathroom tile? Come explore our stock collection and find the right tiles for your bathroom floor today!
Related Articles: