If your kitchen seems a bit humdrum or monotonous lately, there's no need to renovate it completely. Something as simple as new tile can do a lot to make your kitchen pop. After all, tile is one of the most practical kitchen materials you can use. Sure, kitchen tile is versatile, easy to clean and lasts a long time, but it's also capable of being impeccably stylish.
This article will show you how to make a boring kitchen stand out just by updating your tile. The sky's the limit when you're using modern kitchen tile. Vibrant colors, bold textures and inventive materials are all becoming increasingly popular in the world of kitchen renovation. Whether you'd prefer to update outdated floor tile or put in new backsplash tile, just a simple change or two can refresh the look of your entire kitchen.
Try Colorful and Exciting Tile Instead of Monochrome Tile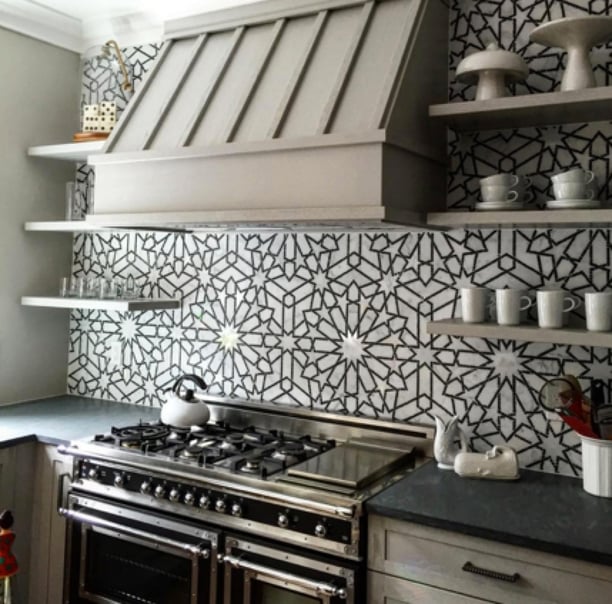 If you're tired of seeing the same monochrome tile in every kitchen, why not try something different? Contemporary kitchen tile is anything but boring. Adding tiles with different designs, textures and colors is one of the easiest ways to breathe new life into a previously monotonous kitchen. Consider putting in a new kitchen backsplash with vibrant colors to make your kitchen look even more bright and inviting.
If your cabinets, counters and appliances utilize traditional materials, like wood, slate, chrome, stainless steel or marble, then a colorful new tile floor or backsplash will be even easier to match. Adding yellows and oranges can lend a cheerful twist, while blues and soft purples cultivate a calming atmosphere. Perhaps coordinating slate gray cabinets with forest green tile for a surprising twist on a classic kitchen design.
Multicolored patterns could also give your kitchen a more modern and up-to-date appearance. Whether you prefer cool colors, warm colors or dark colors, it's possible to find a tile that matches your style. Porcelain, ceramic, stone and glass can all be found in various multicolored designs, so just choose the tile that's right for you.
Pair Simple Cabinets With a Bold Patterned Floor
While simple and elegant cabinets will never go out of style, why not switch up your kitchen's traditional aesthetic with a bold patterned floor? You can use ceramic, stone or porcelain tiles to add different textures and patterns to a lackluster kitchen floor.
If you're a diehard fan of traditional kitchen tile, you don't have to stick with the same old brick and square patterns. Think about trying a herringbone design for something that's both classic and cutting edge. Or, go with a curvaceous marble pattern to add variety to an otherwise conventional kitchen.
Consider going with an unconventional pattern if you're on the hunt for a stylish kitchen that's astonishingly contemporary. Art deco designs may be more than a century old, but they're about to make a big comeback. Porcelain tiles in various geometric shapes will make any kitchen floor look instantaneously avant-garde.
If you're looking for something completely new, you can create a kitchen floor that's unlike any other by using porcelain tiles with fire-baked glazes in a vast array of colors. Whether you're searching for tile that's midnight blue, ruby red or lime green, there's one that's sure to match your personal vision of what the perfect kitchen should look like.
You can even use natural stone tile with no specific pattern for a design that's completely unique to your kitchen. Since stone is natural, there will always be distinct differences in every single tile. Try marble or travertine tiles, both of which work wonderfully to add an idiosyncratic grace to your kitchen.
Use Glass Tile to Class Up Your Kitchen
Are you looking for a tile that will make your kitchen look utterly sophisticated? Then you can't go wrong by adding glass tile to your cooking room. Whether you're searching for an elegant backsplash or a chic new floor tile, glass is the perfect material to class up any kitchen. Glass tile is fresh, contemporary and easy to clean, making it one of the best modern floor tiles to use.
Create clean lines to give your kitchen an elegant aesthetic. Go for a tile that combines jazz glass with slightly off-kilter thin lines to put some pep into your kitchen while simultaneously matching almost any cabinet design. The Satchmo Sticks Mixed Glass Mosaic tile pattern is perfect for this.
Or, you can pair glass tile with a surprising pattern to make your kitchen really stand out. Try out multicolored glass in a color combination that will match your kitchen, and consider a herringbone pattern for a new twist on an old classic. The Hip Herringbone Glass Mosaic kitchen tile blends both of these design elements beautifully.
Adding a few creative touches to your kitchen can really make it stand out and feel like a brand-new room. Whether you're looking for a simple update or a complete revamp of your kitchen, there's a tile that's sure to match your personal style and plans. Explore our Inspiration Galley, or contact us for more design insights.