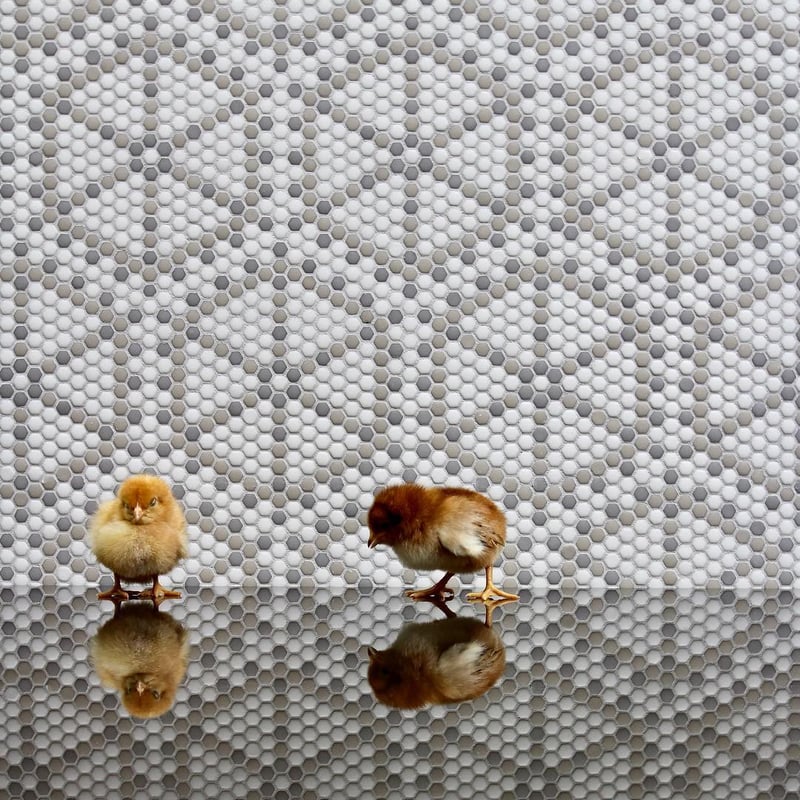 At Decorative Materials, we're proud to work with some of the world's most innovative designers. We love the unique visions that our favorite designers bring to life — particularly when they infuse classic concepts with new elements. Hence our current enthusiasm for Maison, which has long been regarded as a creative force in the tile industry. Maison's looks draw on a variety of intriguing concepts, bringing fresh ideas to design elements we'd assumed were long forgotten.
If you're ready to embrace a bold, yet accessible tile design, you'll find plenty to love about Maison Surface. Read on to learn why we're so in love with Maison's tiles — and to discover how they can best be incorporated in your classically modern design.
The Power of the Color Palette
At weddings, on the runway, or in your home, you've likely been exposed to the concept of the color palette. This tool plays an integral role in everything from painting to furniture selection. It allows you to get a better feel for which hues go best together — and which should be avoided. Color, however, is just one of several elements that can be mixed and matched in a stylish setting.
Maison offers a new take on the color palette with its unique collection of stones and finishes. Always evolving, this palette includes a variety of styles. It demonstrates how a variety of distinctive looks can be mixed and matched to form a cohesive, yet visually intriguing end product.
Our Favorite Maison Surface Collections
As you explore the Maison Surface palette, you'll note a variety of collections, each with its own trademark personality. The right collection could form the basis of your next design, delivering elegance and artistry to your space. Maison boasts several collections worthy of praise, but we're especially excited about the following:
Muziek: Art Deco for Modern Times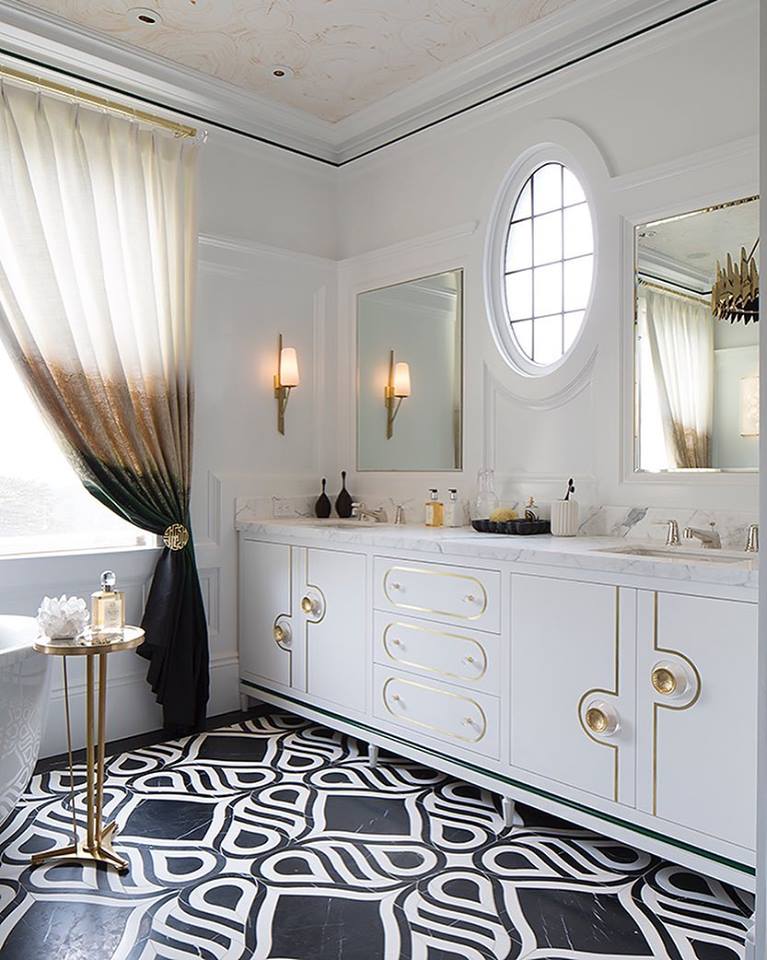 Renowned interior designer Tineke Triggs is to thank for this exquisite collection, which highlights the best of the Art Deco movement in twelve distinctive designs. Each of the collection's looks may be unique, but these designs also share several commonalities. Chief among them: bold geometric forms, which can serve as the ultimate statement piece. The collection's large-scale patterns aren't merely ambitious; they provide an alluring sense of movement that can feel downright exotic.
Geometro: A New Take on Turn-of-the-Century Aesthetics
Observing the Geometro collection feels a bit like stepping out of a time machine and into the early 1900s. This turn-of-the-century inspired collection amps up the nostalgia with micro glass hexagons. These beautiful shapes combine the intricacy of classic styles with the daring feel of today's most ambitious tile designs. The Geometro tiles have a textured, almost three-dimensional feel, bringing a much-needed sense of depth to any space.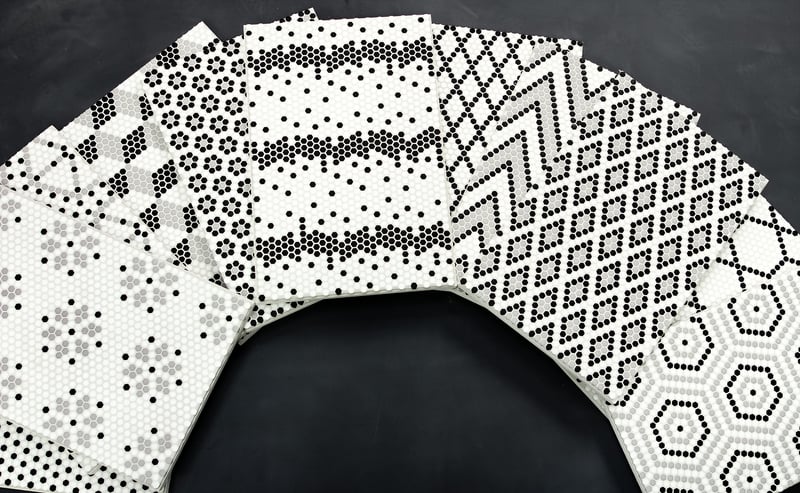 This particular collection comes in several lines, which reflect some of today's hottest color palettes. The Classic line, for example, includes blacks, whites, and grays that simultaneously feel classy and modern. The Country line takes the Geometro concept in a rural direction, offering homey vibes with its feel-good blend of cream, white, and gray. With the Coastal line, you'll always feel as if you're on vacation; this whimsical collection highlights the blue and white colors you associate with the seashore.
Parquet
Maison's Parquet collection brings an elegant, yet slightly whimsical look to your home. As its name suggests, this collection was inspired by the beautiful wood parquet patterns that once dominated Versailles masquerades. This design isn't exclusively about nostalgia, however; it offers a fresh take on a familiar concept, with different shapes, sizes, and colors breathing new life into a classic look.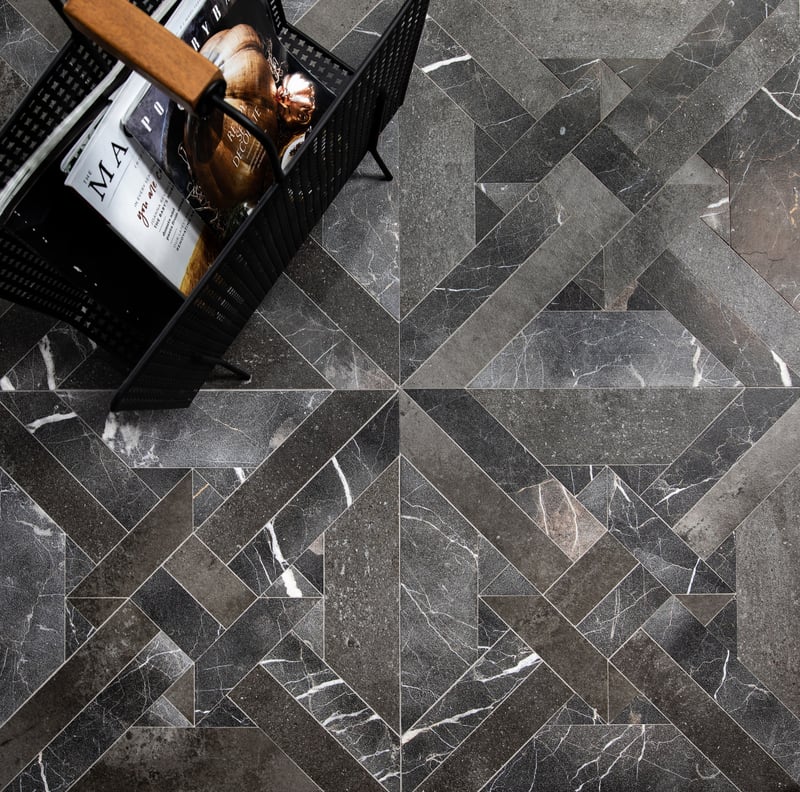 Traditionally, small shapes and patterns have dominated parquet design. With this unique Maison Surface version, however, it's all about size: specifically the impressive scaling of this tile around 18" repeat, as well as 9"x18" transitions. While you'll enjoy the familiarity of parquet, you'll also appreciate the larger format, which reflects the modern trend of expansive tiles. This collection offers an open look in keeping with today's sleek aesthetics.
Maison's Parquet collection appeals most to those who enjoy playing with shapes but favor subtle style. These Parquet tiles stand out while still managing to blend in with surrounding design elements. They're the perfect option for developing a cohesive, yet striking look. And with over twenty designs available in this vast and versatile collection, you're bound to find a style that fits your vision.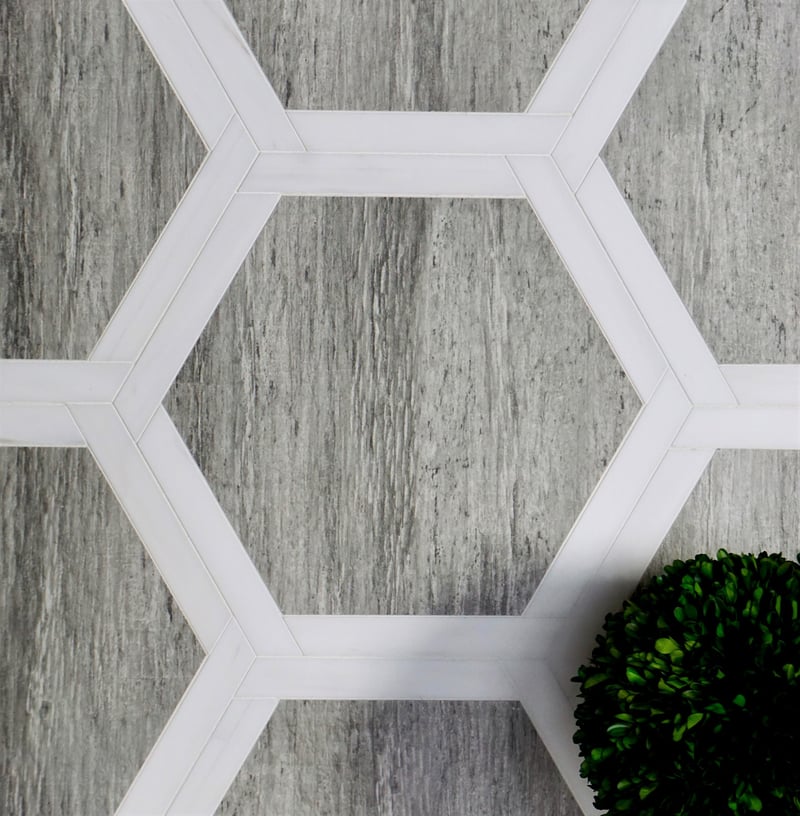 If you favor bold, artistic designs that simultaneously feel classic and trendy, you're the perfect candidate for Maison tiles. The right collection could bring a new element of sophistication to your project, all while paying homage to the stylistic geniuses that have come before. Treat yourself to a decadent tile design that is guaranteed to attract attention.
We're loving everything about the trend forward styles from Maison Surface — especially the way they draw on themes from around the globe. For even more international inspiration, check out our Tile Trends from Around the World Map. You're also welcome to stop by our showrooms, where you can see both trendy and traditional styles on display. Contact us today to learn more about our tile collection — and to see how it can be integrated into your dream interior design.