There's no denying that mosaics are hot right now. We like to think we're ahead of the curve, however, we've long regarded mosaics as one of the most intricately beautiful options for adding a touch of artistry to any space.
Another longtime enthusiast? Allison of Allison Eden Studios, who deserves credit for pushing the envelope with this classic, yet trend forward look. She's made a name for herself as one of the most creative and talented artists to work with glass mosaics. We're proud to say we've supported her from the beginning.
A Fascinating Origin Story
Allison may be a mosaic aficionado, but she initially had all the makings of a fashion maven. She boasts excellent training, having attended the Fashion Institute of Technology (FIT) and interned at Nautica.
She was on track to make her mark in the world of fashion, but a chance encounter changed everything. One fateful day, she spotted a store that looked a lot like a candy shop but actually sold glass. Intrigued, she bought some, broke it with a hammer, and glued the fragments to cardboard.
Initially, Allison put her glass-based masterpieces on display at Nautica. Eventually, however, she took a leap of faith and brought her creation to a tile showroom, where she asked whether something similar might work as a finishing for walls. The answer? An unequivocal yes! In fact, the store assigned her ten showroom walls.
Realizing that mosaics were her destiny, Allison headed to the Garment District to open her studio. After placing an ad, she received a request from Burger King to create a Brazilian wave mosaic for their flooring. She took on this early job with the same enthusiasm that continues to help her stand out in a competitive industry.
Today's Style: Colorful and Flamboyant
Since her early days as a self-starter, Allison has maintained a spirit of innovation. This continues to set her apart. Currently, her style can best be described as flamboyant. She still draws a great deal of inspiration from the fashion world, but avoids most trends in interior design — they come and go too quickly for her liking. Instead, she strives to find inspiration from several areas of everyday life in hopes of infusing each look with functional artistry.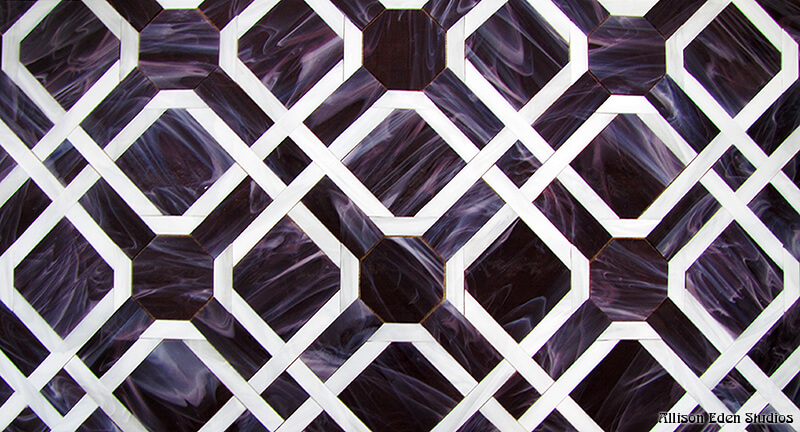 While Allison favors a bold aesthetic, she also emphasizes a classic feel that will remain relevant long after her mosaics are installed. She strongly believes that even the newest installations should hold some sense of permanence. She wants to make her mark on a cherished tradition while still maintaining all the qualities that have consistently made mosaics stand out through countless generations.
The cheerful, yet upscale quality of Allison's mosaics makes them a great fit in a variety of residential and commercial settings. Her work can often be found in restaurants, community centers, and even hospitals. Wherever she's commissioned, she exhibits true dedication to her craft. She is willing to do whatever it takes to produce gorgeous works of art that will brighten the days of her varied clientele.
Allison struggles to highlight a favorite project — as far as she's concerned, this is akin to choosing between children. That being said, she's proud of her work with Bloomingdale's, where she's received the exciting opportunity to work on sculptures resembling shoes and perfume bottles. She loves working with the department store and knows that the appreciation and respect go both ways.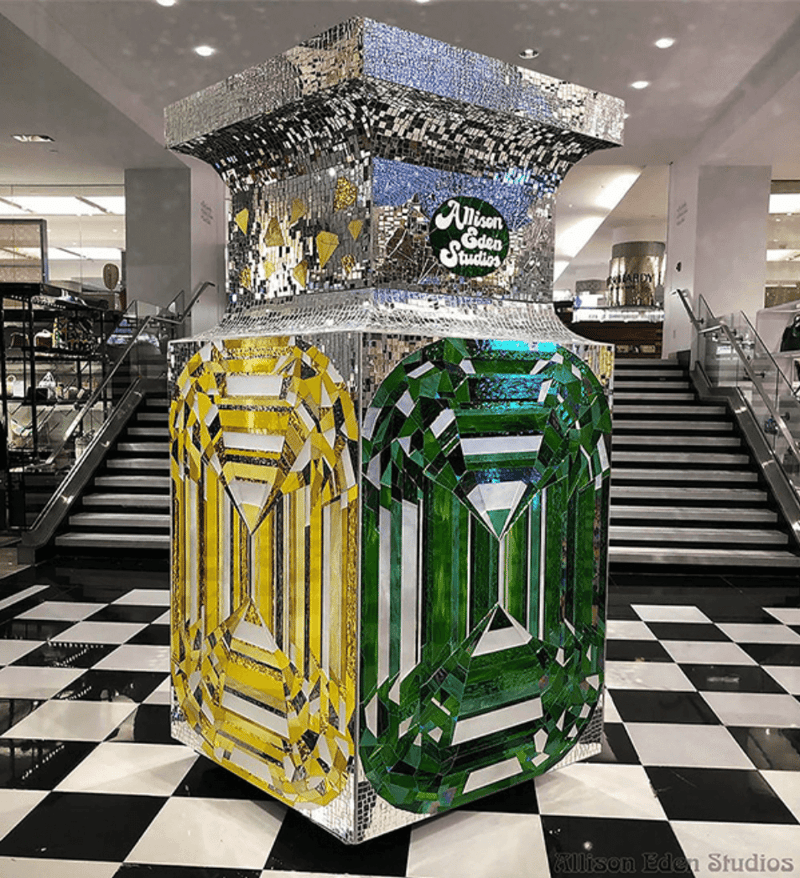 The Power of a Strong Team
Allison isn't willing to let just anybody in on her unique mosaic installation process. She's worked hard to build a team that she trusts. Hence, the close-knit nature of her studio, in which all team members have been around for well over a decade.
The basic quality needed to join the talented group of artists behind Allison Eden Studios' success? A red-hot passion for glass. Only those who love glass as much as Allison can be considered worthy of this acclaimed team. This discernment has allowed Allison to build a cohesive group with several decades of collective experience.
Mosaics for the Stars
While Allison and her fellow artists delight in serving all kinds of clients, it's fun to learn about her work with celebrities. Her masterpieces have repeatedly attracted attention from big names, including several discerning stars who will not entrust their interiors to just anybody.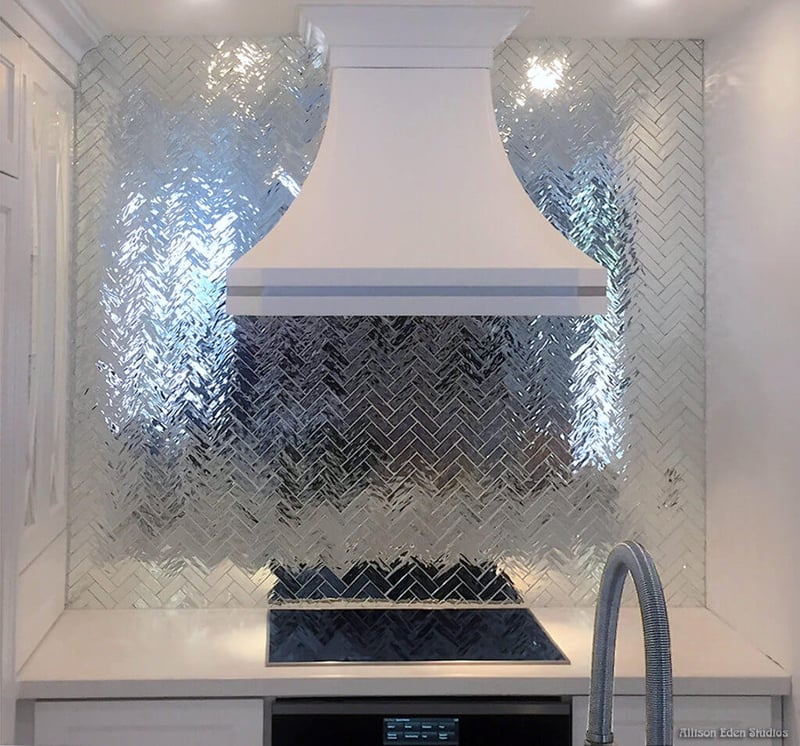 One of the studio's most notable installations? Kris Jenner's backsplash. This project's iconic style is still requested all the time. Allison's work for Elton John is also noteworthy, especially as it was featured in Architectural Digest. Other celebrities served by Allison include Rihanna and Pink.
Allison Eden and Decorative Materials: A Match Made in Heaven
Early on in her adventures in design, Allison joined forces with Decorative Materials. She thrives on the consistency made possible by maintaining this key relationship. The choosiness that makes her team so impressive extends to her partnerships, so it's truly an honor to be one of her most trusted resources.
If you're interested in learning more about Allison Eden Studio's work or discovering the many other design studios with which Decorative Materials collaborates, don't hesitate to get in touch. Visit a showroom to see our favorite looks for yourself or contact us online to discuss your options.