Between our high elevation and inland location, there's no denying that we deal with a seriously dry climate in Colorado. There are definite perks: plenty of quality time outside and lots of vitamin D, to name a few.
The downside? Dry skin, allergies, and a whole host of other respiratory complaints. In these arid conditions, a steam shower can feel like a dream come true. As a tile dealer in the Rocky Mountain region, the Colorado interior designers we work with often come into our showrooms with clients who are looking to combat the lack of humidity with a steam shower at home. These spaces provide a brief reprieve from our dry environment and an amazing opportunity to discover a true personal oasis.
Steam Room Benefits
The difference between a steam room vs sauna is that steam rooms create heat through humidity from water vapor and saunas provide dry heat from infrared light, electric heaters, or hot stones.
Good news for anyone interested in exploring the exciting world of steam showers: a growing body of research indicates that steam therapy can produce a variety of health benefits, especially if you deal with dry skin or respiratory issues. Steam also improves wellbeing by aiding with allergies, relaxation, cardiovascular health, muscle recovery, hair nourishment, and it even promotes anti-aging.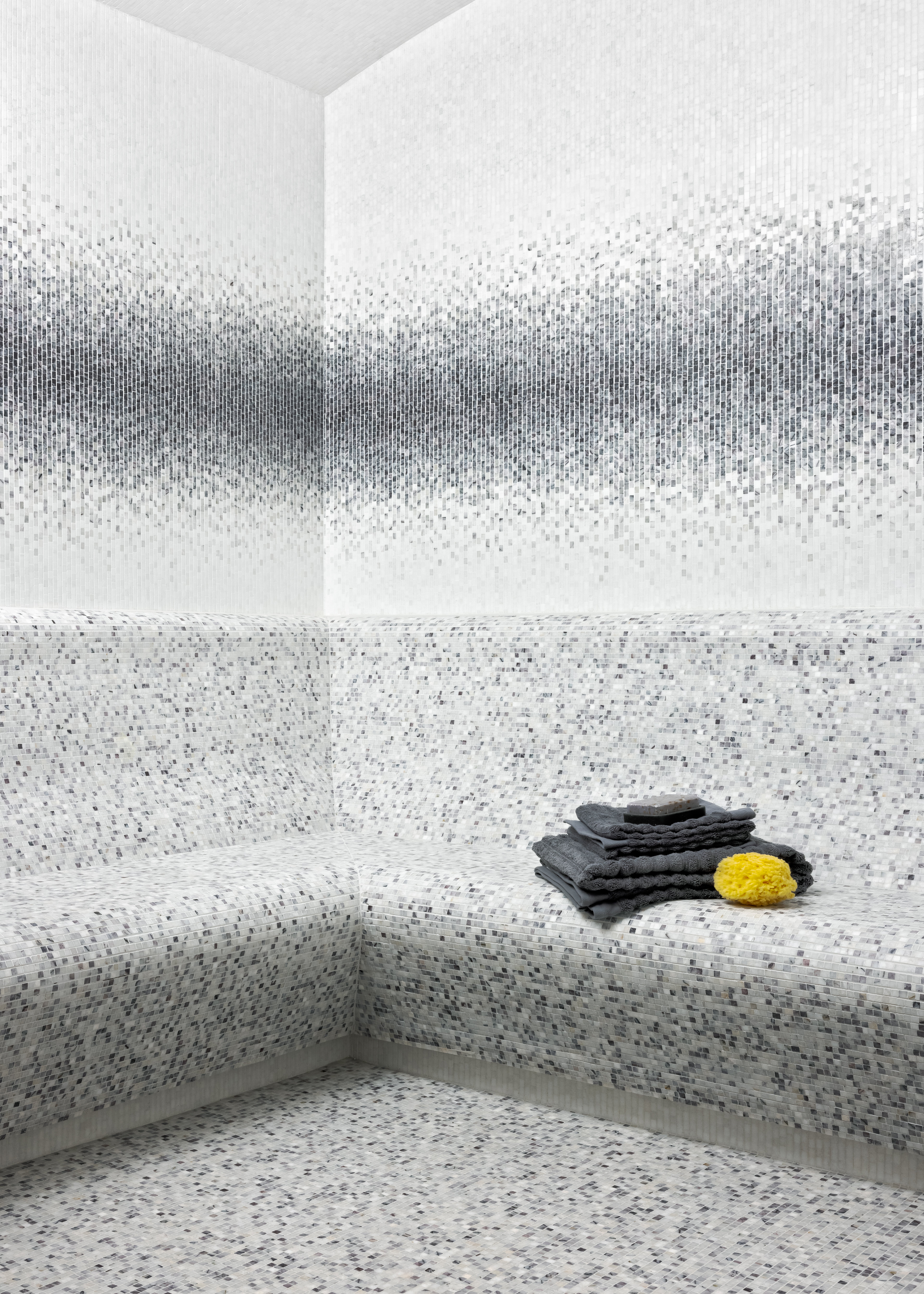 These healing and beautifying advantages derive from the simple power of water vapor and heat:
Don't underestimate the value of a solid sweat session. This is essential for balancing your skin's natural pH. Sweating also naturally hydrates the skin and even improves circulation. Promising research suggests that the sweat response may even remove toxic elements, such as arsenic, cadmium, lead, and mercury.

Anti-aging is a big perk of a good steam. Skin creams only go so far when you call the great state of Colorado home. If you crave a youthful glow, you're in luck: you can achieve a dewier look by using the steam-prompted sweat response to flush out toxins – and even to boost collagen production. Not only does a steam shower benefit skin, but it adds moisture to your hair while nourishing, repairing and helping to prevent frizz.

Steam therapy is said to dilate the small blood vessels to facilitate increased blood flow. This facilitates muscle recovery and pain relief which is why it feels great to hit the steam room after a good workout. Steam-enhanced blood flow can even produce feelings of euphoria connected to the rise of beta-endorphins.
Want to learn more about why steam rooms are a powerful complement to Colorado living? Check out the Mr. Steam blog for more information on the most impressive steam shower benefits.
Sizing for Steam Room Generators
Steam shower generator requirements can vary dramatically based on the cubic footage of the space and the preferred materials. We will delve into this in more detail below, but for now, remember: different materials have different heat retention properties and absorption rates. In general, steam showers featuring natural stone will require larger generators than ceramic, porcelain, or glass tile alternatives.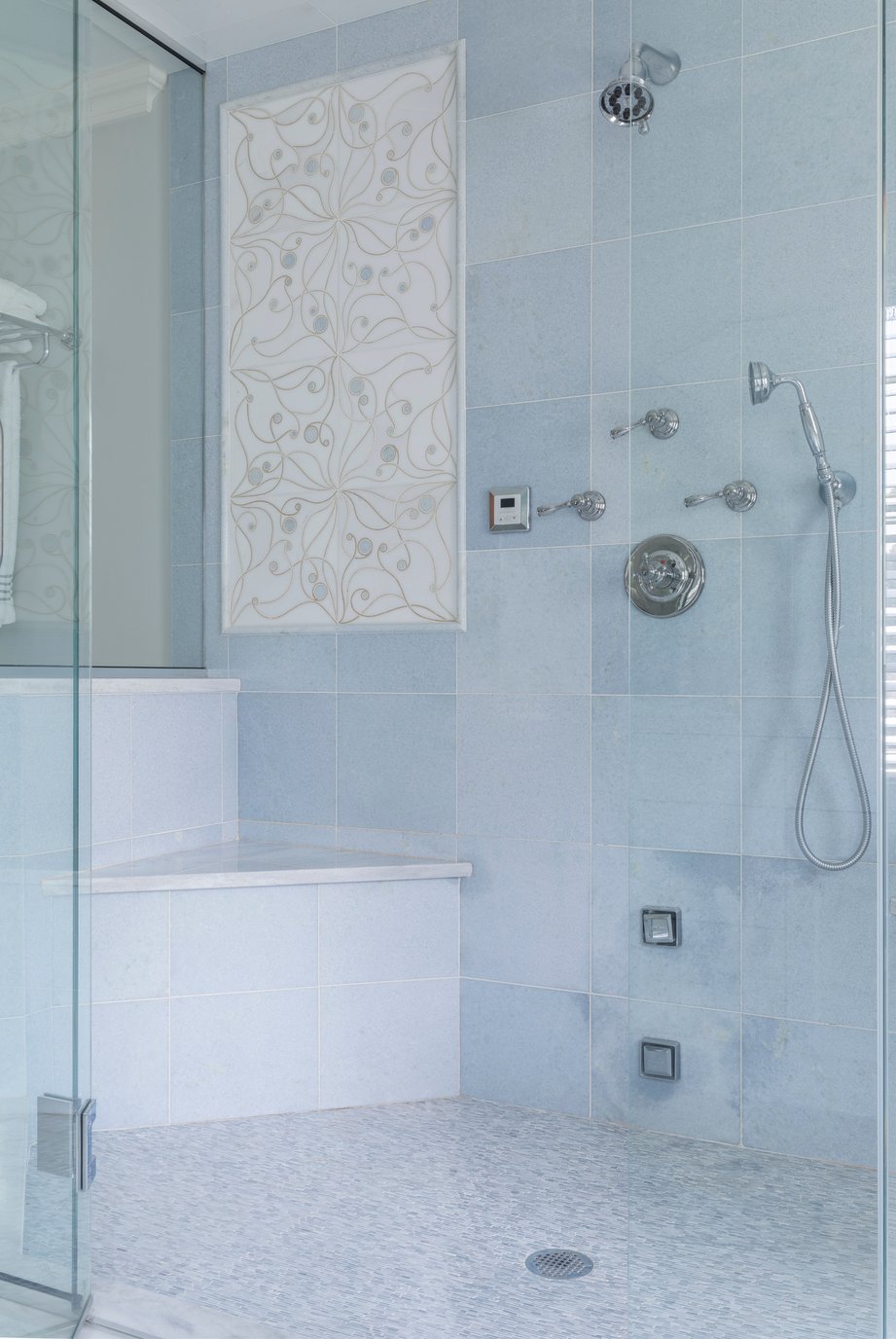 Choosing the Right Materials
Not just any material can be used in steam shower application. Testing is conducted by the supplier or manufacturer to verify that the material in question is suitable for use in steam showers or other high-moisture environments. Test methods identified by ASTM cover procedures for determining water absorption, bulk density, apparent porosity, and apparent specific gravity. Only materials passing these strict guidelines should be used in a steam application.
Mesh backing on wall and floor cladding is only suitable when the appropriate setting materials are used.
Preferences will be dictated not only by the absorption rate of the material, but also by aesthetic considerations. Mr. Steam refers to this as a "symphony where a wrong note in one section can impact the overall performance." In other words, strategic material selection is critical! When it comes to steam shower tile requirements, top considerations include:
Porcelain. Defined by ANSI as an "impervious tile with a water absorption of 0.5% or less, porcelain provides an ideal blend of style and function. Not only does it effectively retain heat, this perennial favorite is notoriously versatile.

Glazed ceramics or glass. Also boasting low absorption rates, most glazed ceramic or glass tiles are stunning to behold. Because they bounce light so effectively, these materials can make your steam room feel larger or more open.

Natural stone. It's not exactly a secret that our Decorative Materials team adores natural stone, but we're also willing to admit that it's often not the right material for every setting or situation. Case in point: most natural stone is best avoided in frequently used steam rooms, as many varieties are prone to damage caused by a higher absorption rate. The wrong stone could also lead to discoloration, debonding or decomposition with expansion of minerals in the stone. Please connect with one of our showrooms for more information on suitable natural stone options for your steam shower.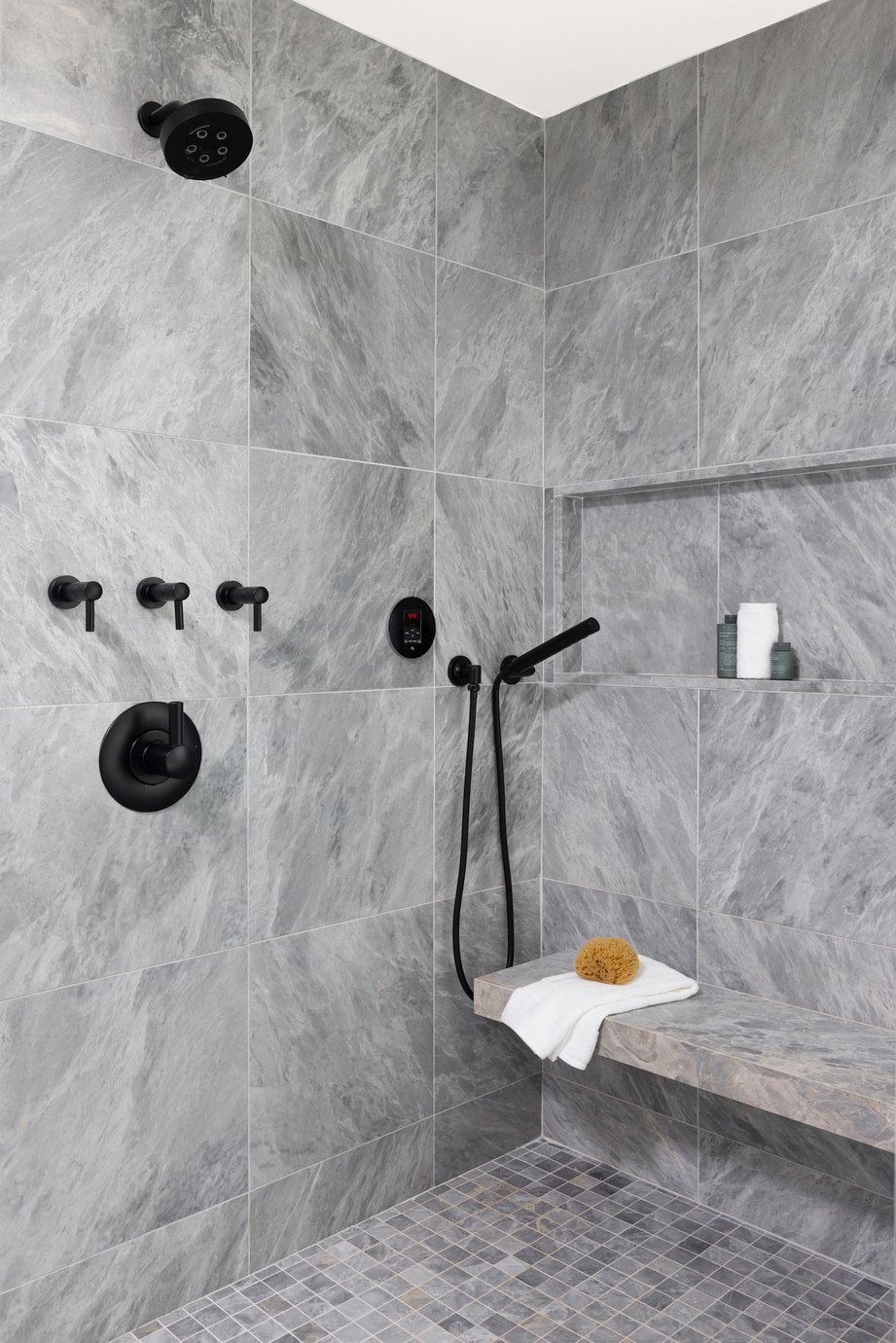 What You Need to Know About Installation
If you thought material selection was complicated, watch out! Installation brings a whole new level of challenge to the table for steam shower design plans. To ensure proper installation, trade professionals must refer to the TCNA Handbook for detailed guidelines.
In general, there is no substitute for a highly skilled installer who possesses a detailed understanding of steam room applications. What's more, your preferred installer must have a wealth of experience with the specific materials requested.
No matter which installer you select, you will want to feel confident that your steam room project abides by these key requirements:
The ceiling should be sloped at least two inches per foot to allow for the evaporated water to drain properly and avoid cold water from dripping overhead.

Your installer must use steam appropriate setting materials, including moisture barriers and grout to allow for proper steam room waterproofing and moisture control.

Proper cleaning and maintenance are necessary to ensure your steam shower lasts for the lifetime of your home.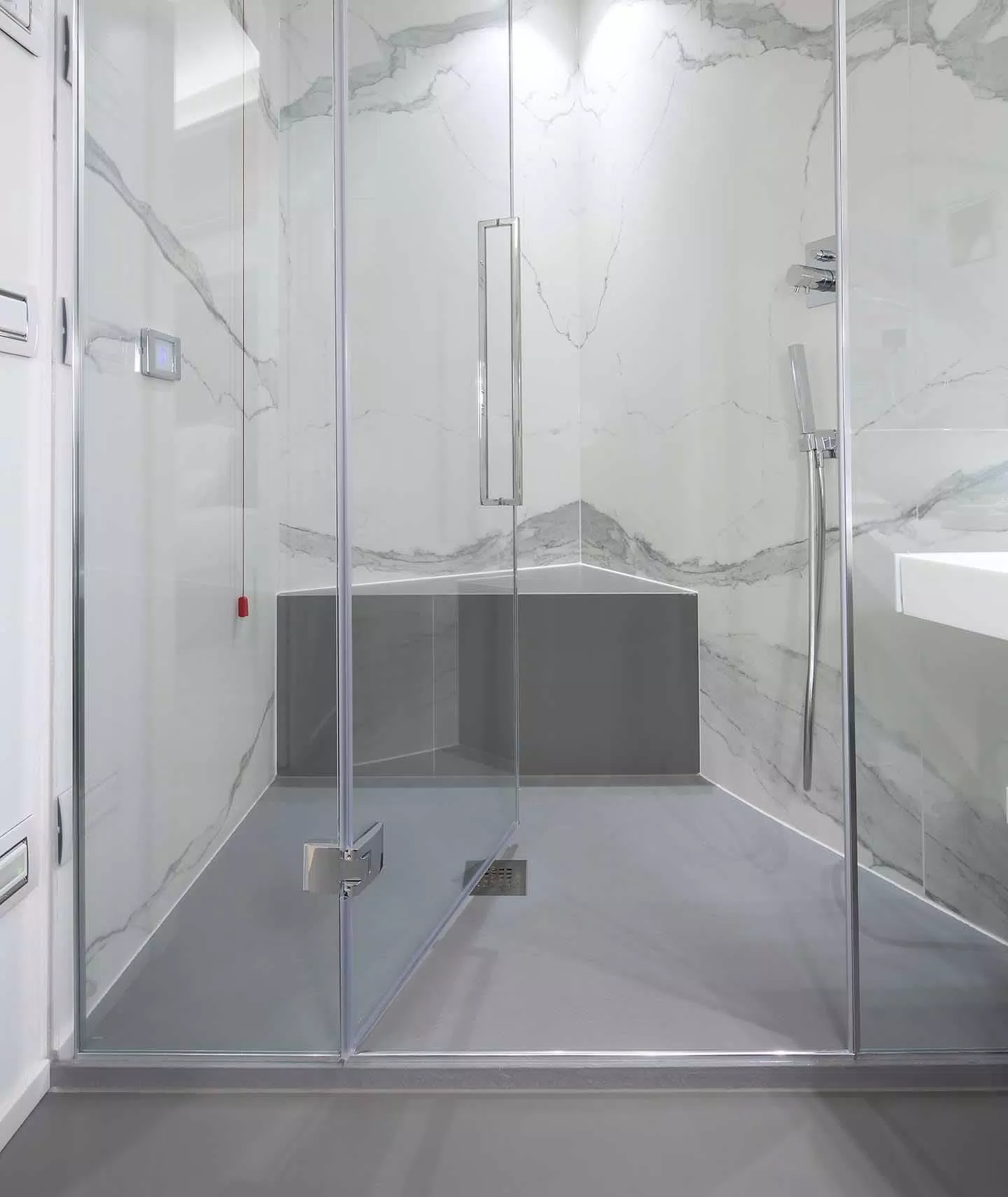 Don't Stop at the Steam Room
The steam shower is just one part of an intricate equation that also encompasses the remainder of the bathroom environment. Remember: When you open the door to a hot steam room, you are creating a temporary micro-climate of 100% humidity and very warm temperatures in an otherwise dry environment. That being said, it's important to be mindful of the finishes in the rest of the bathroom as wallpaper and other adhered finishes are generally not designed to withstand extreme temperatures and humidity. Proper ventilation and durable finishes throughout the room are essential elements of a successful, lasting steam shower installation.
Elevate Your Steam Shower Designs
Done right, steam showers can be a luxurious addition, promoting wellness and relaxation to your home.
We want you to feel confident as you move forward with steam room installation, so don't hesitate to seek our guidance and support every step of the way. Contact us to learn more about steam room tile selection – or for insight into other key considerations for selecting material when installing tiles in bathrooms.