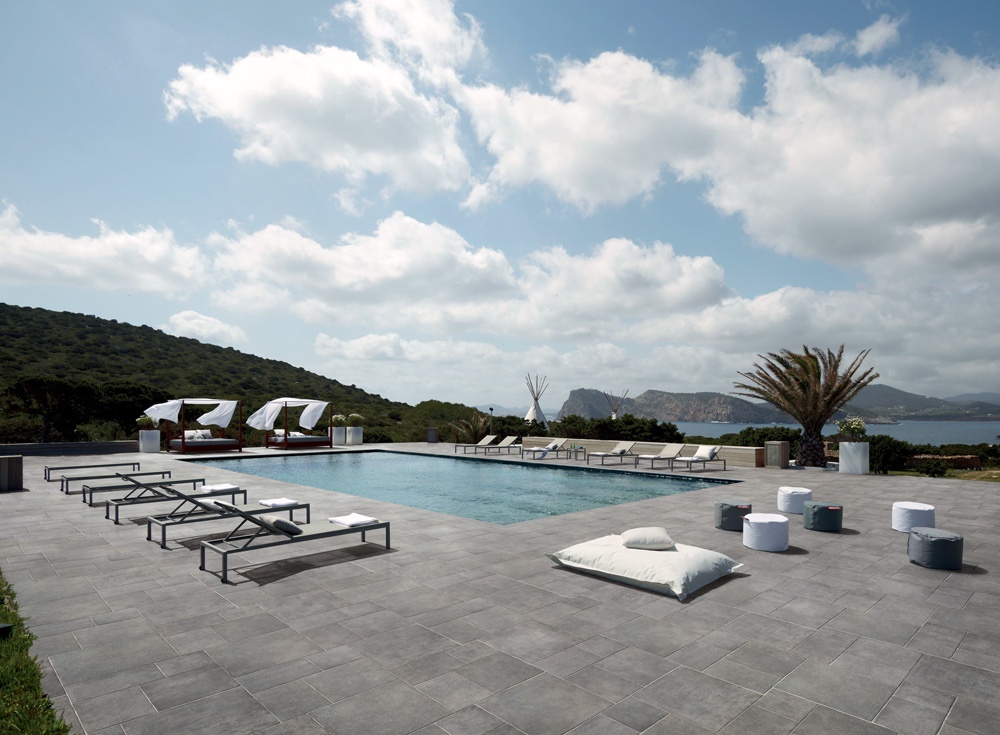 The good life awaits on your patio. Increasingly viewed as a livable space, a carefully designed patio allows you to embrace the natural world while remaining comfortable.
The more time you spend on your patio, the more functional, yet stylish a design it warrants. As you conceptualize an ideal outdoor space for hanging out or entertaining guests, consider the versatility and durability of thick porcelain.
All About Porcelain Tile
Tile trends come and go, but porcelain continually is a top option among homeowners in all settings and at all price points. Constructed of natural materials such as clay - and fired in a kiln - porcelain is similar in many respects to ceramic. The main difference? Porcelain is denser and less porous, and therefore more durable.
Porcelain tiles tend to be larger than their ceramic counterparts, making them a popular option in an age of large-format tile. Fewer grout lines ensure a cleaner look, while also visually expanding the space in which porcelain is installed. Outside, this means that a small, largely enclosed patio can feel surprisingly spacious.
Not only does porcelain boast fewer grout lines, the spaces between tiles tend to be quite small due to the typical process of cutting porcelain to size post-firing. As a result, porcelain tiles are more consistent in sizing and fit together better. With ceramic, the cooling process can cause shrinkage, leading to large or uneven spaces between tiles.
Notoriously durable, porcelain can hold up to heavy use. It's an ideal option for high-traffic kitchens, bathrooms, and, of course, patios. With minimal maintenance, it's possible to keep porcelain in excellent shape, even if it takes a beating in everyday life.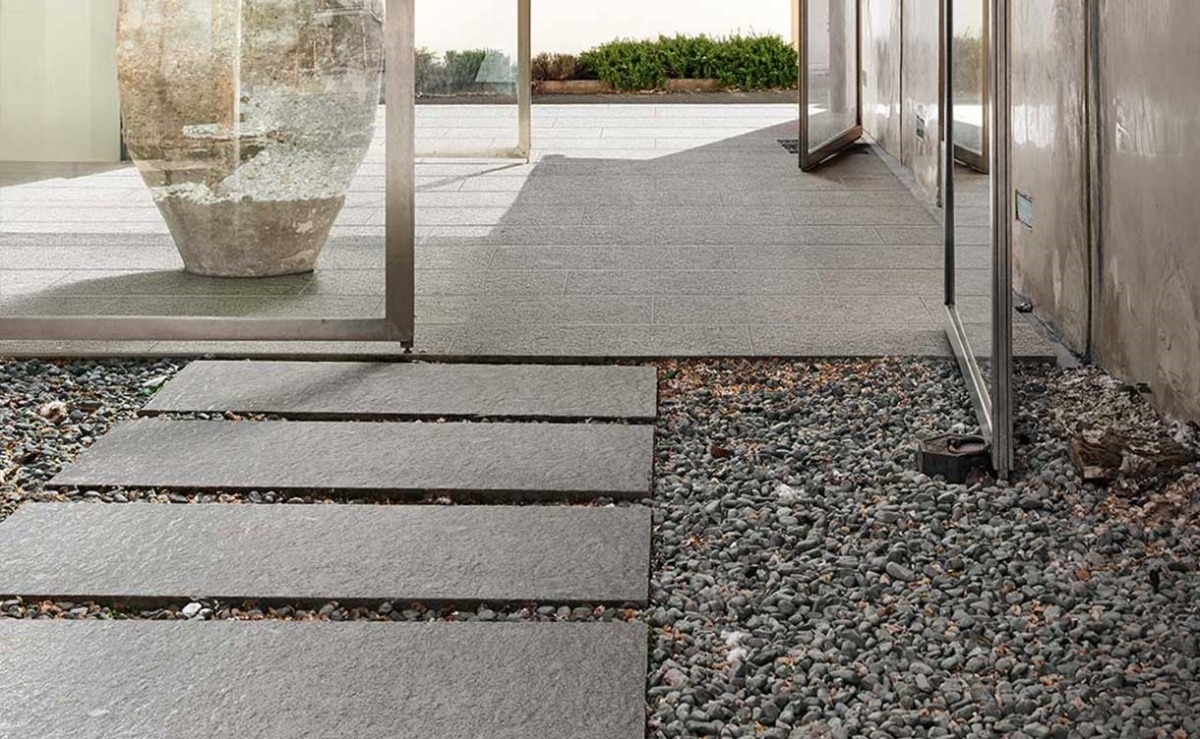 If you dread investing time or effort in tile maintenance, porcelain is definitely for you. Boasting an incredibly low rate of water absorption, porcelain is uniquely hygienic. You can therefore spend less time cleaning and more time enjoying your beautiful and sophisticated home.
Porcelain tile provides the most impressive return on investment in the tile sphere. At the outset, it's not necessarily the most affordable form of tile; ceramic tiles tend to have a lower upfront price tag. Porcelain costs a bit more, but nearly always lasts longer. It's less costly than natural stone, but nearly as durable. If you have a moderate budget set aside for an exterior tile project and are eager for a one-and-done patio update, porcelain should be your go-to solution.
Thick Porcelain Tile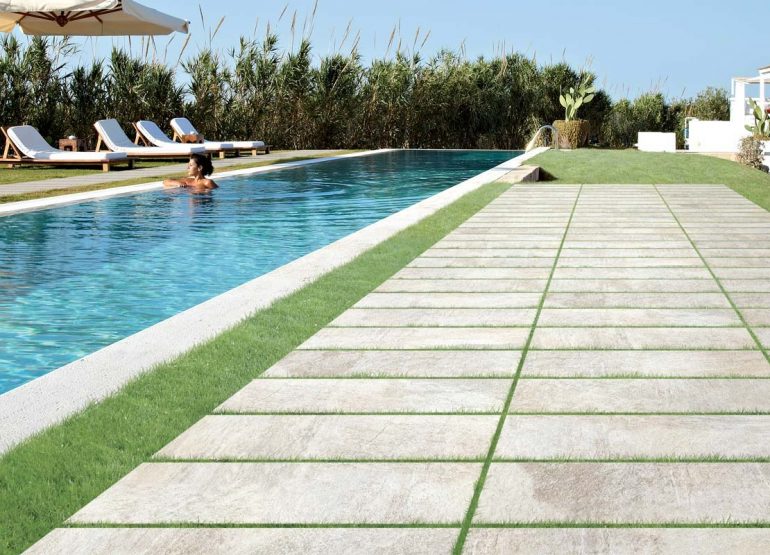 Porcelain is a broader tile category than you might initially expect. Some homeowners prefer matte, while others opt for heavy glazes. With color body styles, the glaze extends beyond the surface to maintain full consistency if the tile eventually chips. Furthermore, porcelain can come in a variety of textures and finishes.
In addition to a myriad of glazing and texture options, porcelain comes in several different thicknesses. Although always thicker than ceramic, porcelain can range from 3/4 centimeter (typically for indoor tile) to a full 2 centimeters when used outside.
No one porcelain variety will be ideal in every situation. With exterior spaces, thick porcelain can be a prudent choice, as it requires minimal maintenance. Don't worry about the elements destroying your carefully installed flooring; all porcelain is resistant to frost. Human action also is unlikely to harm your tile, as thick porcelain resists stains and chemicals with surprising ease. The beauty of 2cm porcelain is that you can easily set in properly compacted sand with no grout. Spaces between tiles can be easily filled with sand or small plantings. Installation and maintenance is paramount, complied with frost resistance, 2cm pavers are a durable solution.
Thick porcelain tile is increasingly trendy, especially among European style designers. Modern cutting and pressing technologies allow designers to produce thicker tiles without compromising ease of installation or maintenance.
Patio Ready
Ready to outfit your patio with a stylish, yet durable flooring option? Thick porcelain is an ideal option. Although favored for its durability, thick porcelain is also ideal in that it can be installed quickly and with minimal hassle. If installed on gravel, sand, or a grass lawn, porcelain of sufficient thickness can be applied without adhesive. Oops- sorry if this is a repeat from above! You could also talk about the fact that many of the porcelains come in a textured option which is ideal for slip resistance outdoors!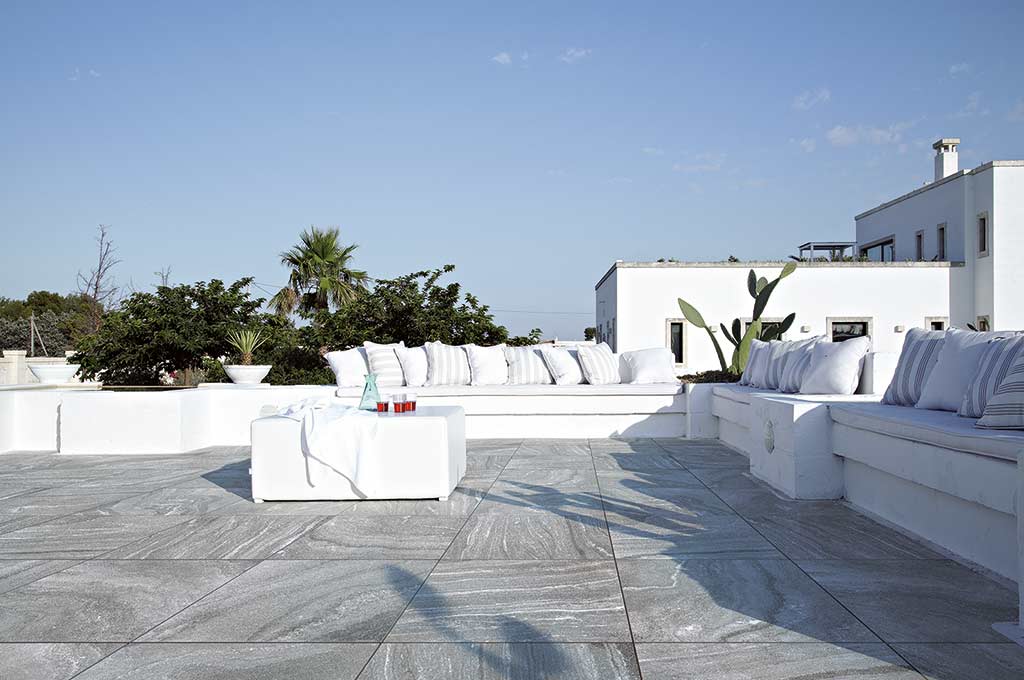 Another advantage of thick porcelain? Versatility. Traditionally, porcelain has been regarded as a material strictly for indoor spaces such as bathrooms or kitchens. Because it's so durable, thick porcelain means extending your favorite form of tile to the great outdoors.
With the right tile design, you can maintain continuity between your home's inside and outside designs, making for a seamless experience as guests move from one space to the next. This makes it easier not only to plan your patio, but also to design your home's interior. When in doubt, opt for porcelain throughout. You'll find it far easier to maintain when you only have to consider one type of tile. Continuity is also a plus if you're aiming to create a more livable outside space. With one continuous design, you'll be more inclined to think of your patio as an actual part of your home, as opposed to a mere extension.
Thick porcelain tile delivers the best of both worlds to your patio: it's durable, but also undeniably sophisticated. It doesn't cost a fortune to install, but will last far longer than cheaper options. Why compromise? With the right approach, porcelain means having it all as you design, develop, and enjoy your dream patio setting.
Are you looking forward to updating your patio? If you need ideas, check out the awe-inspiring spaces in our inspiration gallery. Feel free contact us with any questions you may have; we're eager to help you get your design project started as soon as possible.