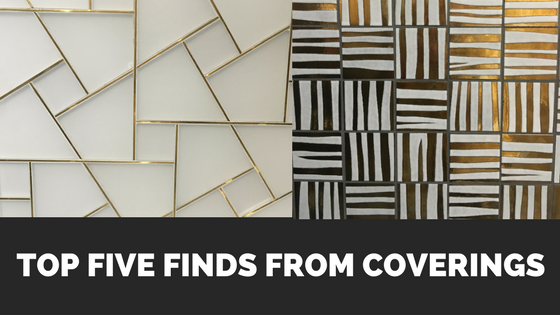 We just recently returned from our annual trip to Coverings 2017, the largest tile and stone showcase in North America, and here is a sneak peek at the colors, textures and tile for 2018! . The four-day annual event, held in Orlando, featured more than 1,100 vendors from around the world in more than 430,000 square feet of exhibition space. We truly didn't know which way to turn first.
Whether you're looking for floor covering, a dramatic new look for your bath or a modest but sensational backsplash for your kitchen, we think you'll love all of the information and products that we brought back from the show. Below is just an overview of our absolute favorites.
1. Wood Porcelain Tile in Parquet
Parquet floors are lovely. You can find them in Newport mansions, elegant Paris apartments and European palaces. Historically, parquet floors have been very expensive to create, requiring the talents of a team of skilled craftsmen to create the intricate designs inherent in this type of flooring. It isn't unusual for a single floor to take months of work.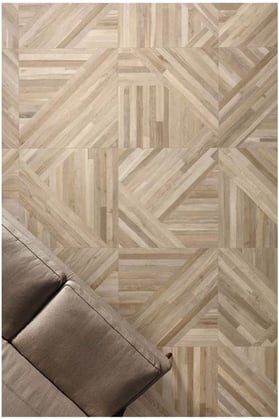 However, beautiful parquet flooring is now available to almost every homeowner. New at Coverings this year were porcelain tiles designed to look just like real wood parquet flooring without the expense and hours of specialized labor.
This new tile product mimics the look of grain lines and the color variations found in real parquet flooring. Not only is a wood-look porcelain tile floor less costly than traditional parquet, but it's easier to maintain and can be quickly wiped clean. You also don't have to worry about dirt and debris getting lodged between the parquet slats and marring the look. Porcelain wood tiles are available in a variety of colors and patterns with looks that vary from rustic to formal.
2. Hexagon-Shaped Tiles
Six-sided (hexagonal) ceramic tiles are another popular new tile trend. These tiles evoke the mystery and design style of Turkey, India, North Africa and the Middle East. You can opt for solid-colored tile or those with more intricate designs. Our favorite pattern is Blue Carpeta, a blue and white textile inspired design.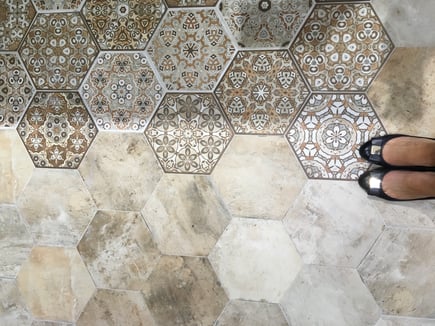 Hexagon tiles come in almost every size, from tiny 1-inch tiles to large 2-foot pieces. They are extremely versatile and are suitable for adding pattern to a small area, such as a vanity feature wall or covering apatio floor to give your outdoor space that Mediterranean look and feel.
3. Bold Porcelain Tile Colors and Patterns
Another exciting way that porcelain tiles are being used in modern flooring is to replicate the look of traditional terrazzo tile floors, those elegant floors you find in many grand office or government buildings. Traditional terrazzo floors are made by sprinkling marble chips onto fresh concrete, allowing the concrete to set and then polishing the surface until it is smooth and shiny.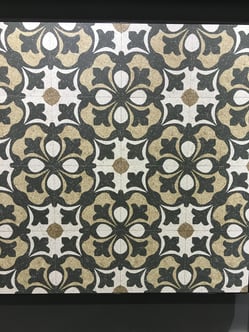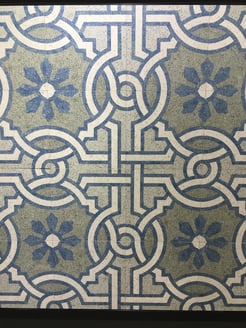 Modern porcelain tiles mirror that terrazzo look with its bold colors and patterns without the lengthy (and costly) installation necessary for a true terrazzo floor. In addition, porcelain tiles are less slippery, and thus less hazardous, than the highly polished concrete on a true terrazzo floor.
Porcelain tiles are also more versatile and can be used in both small and large spaces. These tiles are ideal for creating a simple, repeating design as well as more elaborate, multi-square designs.
4. Handmade Glass Mosaics by Allison Eden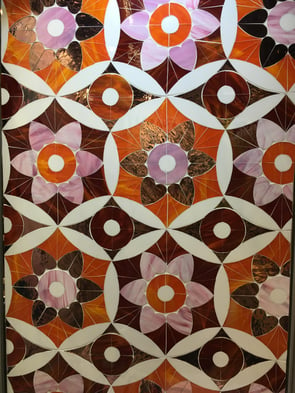 Allison Goldenstein of Allison Eden Studios and her team of artisans create handmade glass mosaic tiles in her Brooklyn, New York, studio. Her designs are based on textiles and fashion. Her small tiles can create a mélange of subtle, neutral tones for spaces like backsplashes or be used to form dramatic, colorful panoramas that can cover an entire wall or floor. Allison Eden mosaics are available in organic colors or bold, statement hues inspired by textiles, jewels and nature
Previously more popular in commercial spaces such as casinos and restaurants, Allison Eden studios has recently branched out into residential design.
5. Refined Rustic Tile With Organic Finishes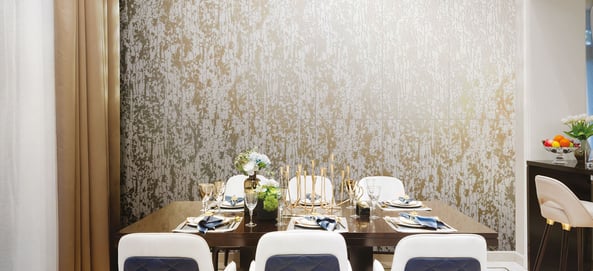 Refined rustic tiles are yet another sleek yet organic, modern product for your home. These porcelain tiles take on the look of genuine wood, stone, brick and even hammered tin. As we discussed above with parquet tiles, these porcelain tiles give you the look of authentic organic materials at a lower cost, and they require less maintenance and care than real wood, stone or brick. This type of tile can be used to cover a floor, create a dramatic backdrop in your living or dining room
We wish we could have brought all of you along with us to Orlando for the Coverings 2017 show. Talking and writing about these products just can't quite convey the beauty and glamour of these new tile trends. However, we would like to invite you to contact us today to learn more about these exciting new tile trends from Coverings or, better yet, come visit one of our tile showrooms to see these products in person.