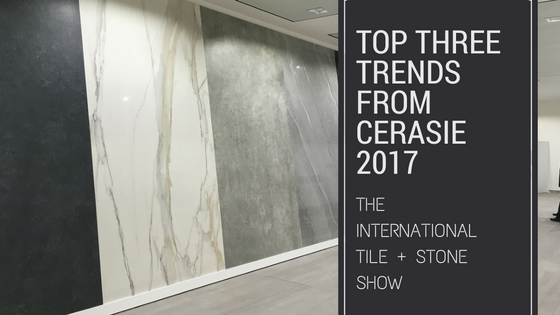 At the end of September 2017, designers from around the world convene in Bologna, Italy to share the hottest tile and stone trends of the season. Some of the most exciting looks are expected to include tribal prints, large format tiles and natural stone. Read on for a sneak peek of the upcoming trends at Cersaie this year.
What Is CERSAIE?
CERSAIE is a key event in the calendar for anyone involved in the tile and stone industry. It's an international tile and stone show held in Bologna each year, where companies gather to show products from around the world. It's a great place to go to learn about the latest tile and stone trends and get inspiration for projects involving these products.
CERSAIE gives companies an opportunity to gather feedback on their products. Based on the feedback they receive, companies choose which products to manufacture and sell. This is the place to come if you want to see the cutting edge of tile design.
Tile and Stone Trends at CERSAIE
CERSAIE revealed some tile and stone trends that are emerging in the home decor industry. Companies are moving away from traditional tile designs and are instead choosing to produce fresh, new styles. Here is a look at the most popular tile and stone trends this year. If you are planning a tiling project in the near future, you may find inspiration in these latest trends.
1. Tribal and Organic Prints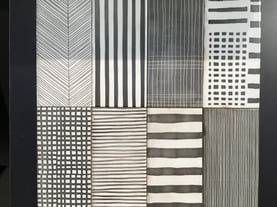 Over the last few years, global migration has blurred cultural lines, bringing together people from all four corners of the map to share their traditional designs and styles. As a result, tribal influences have been scattered around the world. The tribal prints that have already become popular on clothing and home fabrics are beginning to make an appearance on tiles. You can now extend the tribal aspects of your home decor into the tiles on your walls or floor.
This year at CERSAIE, we witnessed tribal prints in a variety of formats and colors. In particular, look out for jewel-toned organics, created using large format agates. Many of the designs on show at CERSAIE are two-tone, featuring colored patterns against a white or ivory background.
2. Large Format Tile and Ceramic Slabs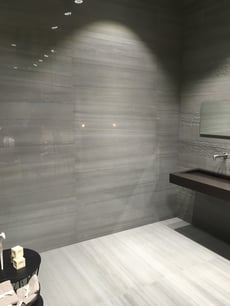 In 2017, designers are thinking big — really big! The largest porcelain slabs on the market just keep getting bigger and bigger. Today, the largest slabs available measure 63 x 126 inches. That's more than 10 feet tall! There are some fantastic photos of visitors standing close to these slabs, looking ant-sized in comparison to the towering slabs of porcelain. These slabs are 6 mm thick, making them suitable for a wide range of tiling applications.
Two years ago, tiles measuring 24 x 48 x 3/8 inches were considered oversized, but now they have become the norm. Most manufacturers are producing tiles of this size, giving everyone the ability to decorate their homes and other spaces with wide expanses of tile.
Large format tiles are available in a multitude of colors, including stone and wood grain replicas. You can choose large format tiles to cut down on grout lines and joints between tiles, which creates a cleaner look. This effect works very well with tiles that feature natural stone or wood patterns, where too many right-angled lines can spoil the naturalistic effect.
3. Return to Natural Stone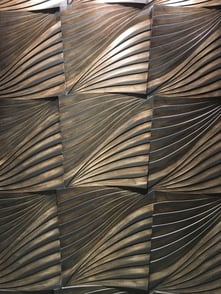 Many manufacturers are going one step further than simply using stone effects on their tiles. They're manufacturing tiles from natural stone, evoking the passions that consumers and home decor experts alike have for natural materials.
In embracing natural stone, tile manufacturers are returning to their roots. For many decades, natural stone had a stronghold on the market. However, when wildly innovative porcelain technologies started to dominate, tile manufacturers were able to create porcelain products that replicated the look of natural materials, such as stone and wood.
However, manufacturers have never completely lost their passion for stone. Although porcelain tiles with wood and stone effects can look very attractive, they don't have the authenticity of natural stone. That's why it's so exciting that manufacturers are returning to natural materials.
One of the best things on show at CERSAIE was an extensive collection of textured stones and mosaics. The newest generation of products combines the natural beauty of stone with the flair of modern design, showing off innovative patterns and textures carved into natural stone.
Natural stone needs particular care to keep it looking good. This Decorative Materials Stone Care Guide can help you care for natural stone to preserve its patterns and textures.
Are you inspired by these trends to begin your next home tile design project? If you're keen to start choosing tiles for your kitchen, bathroom or any other part of your home, come and explore our stock collection. With tiles in a range of sizes and designs, our collection will give you the inspiration you need to begin your project in style.