"Whimsical" really is the best word to describe the Kiddo Collection of custom mosaic tile designs by Cean Irminger for New Ravenna. There are no boring swaths of uniform mosaic tiles to be found here. Instead, Irminger has created intricate tile patterns that are stunningly unique. These mosaics are perfect for bathrooms, but they could also be used as feature walls in creative agencies, publishing companies, hospitality or any business that embraces a child-like imagination.
Stone and Glass Mosaics
Mosaic is the art of decorating a surface with patterns or pictures made of small stone or glass tiles, known as tesserae. New Ravenna, located in Exmore, Virginia, is America's premier designer and manufacturer of handcrafted stone and glass mosaics. The company makes custom, one-of-a-kind works of art in mosaic tile, often incorporating the designs of architects, interior designers and their clients.
For the Kiddo Collection, Cean Irminger used stone, jewel glass, gold glass and Serenity glass mosaic tiles in many colors and shades. Because she worked with tesserae, switching colors is easy.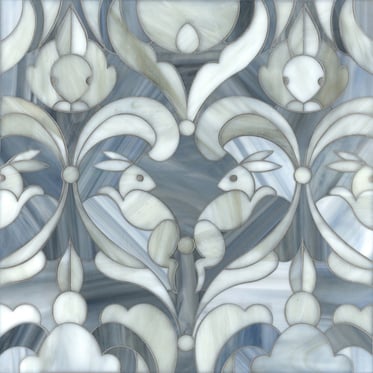 She carefully monitored the intricacy of her designs according to her knowledge of mosaics so that the trained mosaicists at New Ravenna could easily cut the tiles using waterjet and hand-cutting techniques. Waterjet cutting is ideal for achieving graceful curves, and it results in tiles with a cleaner, more modern feel than traditional mosaic. By combining these techniques with many varieties of stone and glass, she was able to achieve the soft curves and crisp lines her designs require.
About the Designer
Cean Irminger has worked at New Ravenna for many years, learning and testing the limits of tesserae and waterjet precision cutting. She also applies her whimsical artistry and love of bright colors to textile design, which suits her highly intricate designs well. She has developed a devoted following for her custom printed fabric, wallpaper and gift wrap designs.
Sara Baldwin, the founder of Ravenna, suggested to Irminger that she translate her textile-design aesthetic into mosaic art, focusing on the less traditional areas of mosaics for commercial and children's spaces. The result is the Kiddo Collection.
Kiddo Collection by Cean Irminger for New Ravenna
Cean Irminger has released seven joyous designs that combine elegant patterns with elements of child's play:
Creatures of the Night: This design features clever hand-shadow puppets highlighted in circles of "light."
Fleet: Origami sailboats float across mosaic waves in this hand-cut and waterjet design.
Hare Apparent: This seemingly traditional damask is populated by frolicking bunnies cleverly worked into the design.
Loop de Loop: This deceptively simple design features paper airplanes tumbling across a mosaic sky.
Otomi: This mosaic is based on a fabled Mexican textile design, where hand-cut glass replaces embroidery stitches and stylized llamas and foxes prancing amid flowers.
What's in the Box: In this design, an ancient Roman pattern is transformed with various creatures peeping out of a grid of geometric blocks.
Wild Ones: This jungle-themed design has sloths, lions, toucans, tigers and monkeys peeking out of the foliage.
Irminger's designs are whimsical, but they are not childish. They inject a spirit of fun and innocence into sophisticated mosaics, and they would not look out of place in any high-design space where the owner wants to add a touch of playfulness. Describing her work, Cean Irminger says that "like a mosaic dust covered Pied Piper, I want to lead the design community to a playful world full of whimsy, bold color, and joyful surprises."
Customizing the Kiddo Collection Designs
Cean Irminger designed her patterns for the Kiddo Collection so that they can be made from a wide variety of stone and glass mosaic tiles. They can be installed on floors as well as walls, inside or out — depending on the materials — and sized to fit the scope of any commercial or residential project.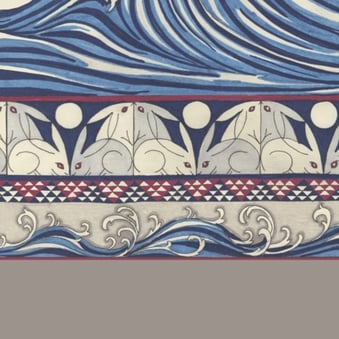 Because the designs can accommodate so many different materials and encompass the entire color spectrum, they can be completely customized to your preference. Any one of the mosaics can be warm or cool, multicolored or monochromatic — whatever your space demands. Irminger says, "Children are drawn to brighter colors, but this will attract everybody. It [the design] will still work in a neutral palette, but color is the eye candy that will grab attention."
You can choose dazzling, iridescent glass tiles to emphasize certain portions of the design, while filling in the context with monochromatic stone. Or you can use all glass or all stone; it depends entirely on what mood you want to convey. The beauty of Cean Irminger's designs is that, by choosing stone from New Ravenna's wide selection, your mosaic tile project will truly be one of a kind.
Are you intrigued by this fabulous mosaic collection? Unfortunately, words aren't enough to describe the Kiddo Collection. You really must see the designs or, at the very least, view photos of various installations from the collection to appreciate the artistry.
Decorative Materials is proud to make New Ravenna's Kiddo Collection available to our customers in Colorado. Come visit one of our showrooms or explore our inspiration gallery. Contact us today with any questions.