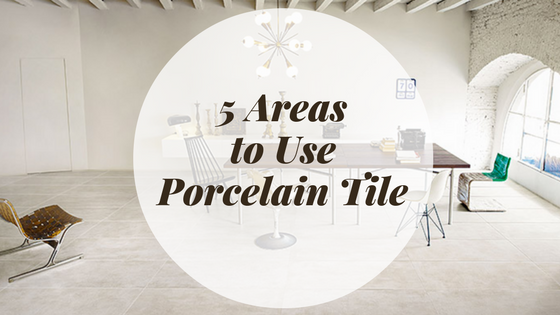 When you hear discussion of porcelain, your first instinct might be to imagine a delicate plate or perhaps a collectible or vintage doll. However, porcelain is surprisingly adaptable and comes in many forms, including those suitable for flooring. A porcelain tile floor gets its start as natural clay and ground sand; the material then undergoes a heat treatment process that eliminates the water and hardens the clay. Porcelain tile flooring is suitable throughout your house, but it is ideally suited to the following five areas.
1. High-Foot-Traffic Areas
Porcelain tile is good for entryways because it comes with an anti-slip rating. When you enter your home from rainy or snowy weather conditions, you don't need to worry about sliding around as you remove your shoes. This flooring is also well suited for large family households: it will not scratch and can hold its own against the increased foot traffic.
2. Porcelain Tile Bathroom Floor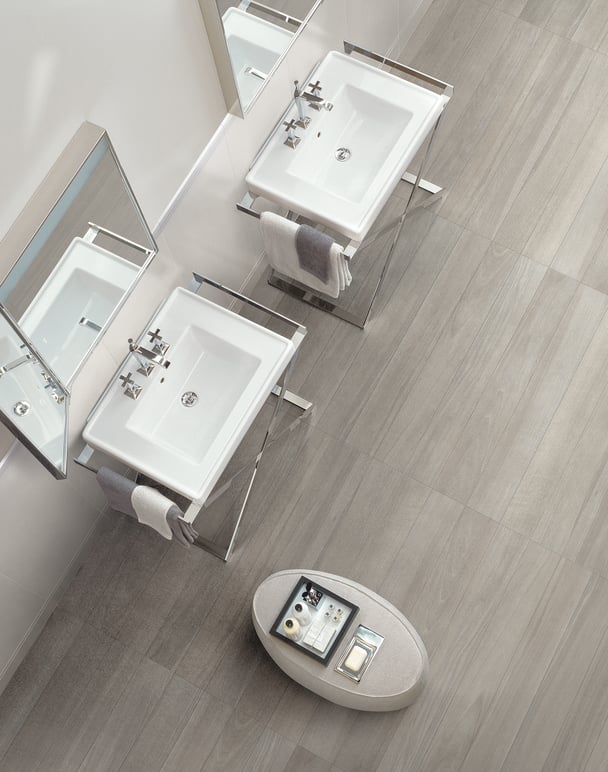 Your bathroom is a relaxing oasis away from the stress of the world, and your flooring should reflect that feeling. Porcelain bathroom tile has a good PEI rating, which measures how much wear it can take before you start to notice visual differences. High-traffic bathrooms, such as the ones for guests or kids, benefit from porcelain bathroom floors. You can relax when you know your beautiful floor will last for a long time and still look attractive. Porcelain tiles are low maintenance, and they do not require annual sealing. Water and other spills won't have a negative impact on your porcelain tile flooring.
3. Bathroom Walls
Water and humidity in the bathroom is a challenge that must be considered when you choose wall materials. Porcelain is non-porous, so it does not absorb any of the moisture. It also repels water. Mold and mildew require a moist environment to grow, but this problem is prevented proactively with the use of porcelain tiles. Since porcelain bathroom tile has many design options, it can transform the look of any room in which you install it. Do you want a bamboo floor but not the risk of mold growth? Get porcelain tile that looks just like bamboo. You can even have an under floor heating system with this material, which is perfect for those cold winter days when you're using a hot shower.
4. Porcelain Tile for Stairs
Porcelain tile comes in many styles, including flooring options that look identical to wood. Unlike wood, however, it is extremely durable and doesn't require frequent refinishing to handle the daily wear and tear.
5. Home Exterior Applications
Your home's exterior walkways, patios and similar areas may have material that absorbs water, develops cracks and quickly looks worn down by the foot traffic. Porcelain tile is not porous, so it repels liquid. The primary advantage of this feature is applicable during the fall and winter seasons. Since there is no water inside the tile to freeze into ice, the tile will not break down due to the expansion/contraction cycle that affects other exterior materials.
Compared to wood planking or stone veneer, porcelain tile also comes out on top in affordability. You can get the large entertaining patio you always dreamed of without needing to take out a second mortgage.
A Review of Porcelain Tile's Pros and Cons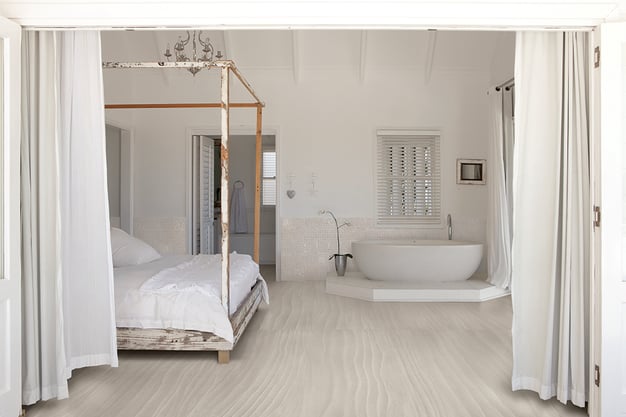 Porcelain tile offers many advantages for your home. It is non-porous and repels water, so liquid doesn't have a way to get into the tile. You don't have to worry about trapped moisture offering a welcoming environment for mildew, nor can ice form within the material. Porcelain's durability also makes it suitable for a range of applications, especially when paired with low-maintenance requirements.
A helpful side effect of the porcelain's lack of absorption is that it is difficult to stain. You will not need to stare at a wine stain for years or go through a refinishing process because a party got out of hand. You simply enjoy your flooring.
Porcelain does have a few cons, primarily in the price compared to alternatives such as ceramic. However, the advantages far outweigh this drawback, especially when you consider the durability and flexibility of the tiles.
Porcelain Tile Cleaning
You don't need to go through an arduous cleaning process when you maintain your porcelain tile. You only need a microfiber dry mop for the day-to-day cleaning. Since porcelain is scratch-resistant, it will retain its beautiful exterior even after a regular mopping. You will find it easy to sweep through the area with a microfiber mop to pick up most dust and debris; you can also use a vacuum cleaner to make the process even faster.
Sometimes you need more cleaning power than what a mop or vacuum has to offer, such as after rainy days or a lively party. Your porcelain tiles do not require a specialty cleaner, although you can get formulas made for this material. Simply use this porcelain cleaner on the floor, walls or countertop, and scrub with a mop or sponge. Rinse the cleaned areas with water, and then allow the floor to dry or use a microfiber cloth to absorb the moisture.
Porcelain tile can be placed almost anywhere in your home. Contact us today to learn more and to explore our Stocked Collection.
Related Articles: