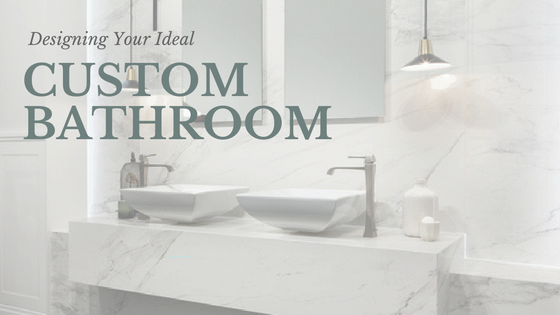 Are you bored with your bathroom? Updating your bathroom tile is the perfect way to give this cherished space the attention it deserves since it's used daily! Let's take a look at some of the best bathroom tile options available today.
Modern Sophistication
Using marble tile in your shower can help to give it a classic and sophisticated style. Marble is synonymous with luxury, which means that it can make your morning routine feel truly special. Whether you choose to use genuine marble tile or a porcelain tile with a marble effect, you can transform your bathroom into a high-end space that makes you feel like a star every day.
Today, marble tiles come in a range of colors, from neutral to rich browns, so you can choose the shade that best matches the look that you are trying to create. You can select marble bathroom tiles in a range of shapes, including the standard square, rectangle, mosaic and subways shapes. There are also unique wave and linear patterns that you can use to create a unique look in your custom bathroom.
Go Edgy and Bold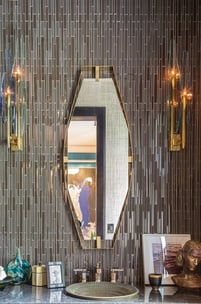 You don't have to stick to traditional designs when making over your bathroom. Dare to be different with eye-catching glass tiles, which you can use in your shower to create bold focal points that enhance your overall design.
If you want to be even bolder, why not use a glass mosaic on your shower floor? This design draws attention to an often overlooked part of the bathroom, showing an incredible attention to detail that your guests are sure to admire.
For a more subtle edge, use small amounts of glass tile to create bold focal points throughout your bathroom. For example, you can update plain walls of simple glazed tile with a few bright glass tile inserts. These inserts catch and reflect the light, creating eye-catching flashes when the wall is viewed from various angles.
Another option is to use glass tiles to create a border that runs around your bathroom. This is a great way to include tiles in your design when they are too bright or too expensive to use all over the walls. You could also use bold glass tiles to create a feature wall for your shower.
C'est Chic!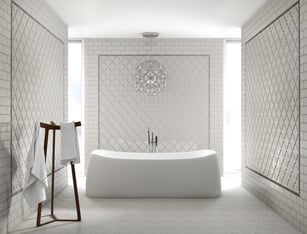 Innovative bathroom tiles are "tres chic" this season. Use black, grey and white tiles to create a timeless monochromatic look that will turn even the most boring bathroom into a stylish haven. Contrasting monochrome tiles can create a very eye-catching design that will wow everyone who comes into your bathroom. Meanwhile, subtle shades of gray can produce a calming effect that shows off your sophisticated and understated sense of style.
A good place to look for inspiration is the latest generation of patterned wall tiles, many of which will be unveiled at the 2017 CERASIE International Tile and Stone Show. This show provides an opportunity for bathroom tile manufacturers to show off their most innovative products and gives designers a glimpse into upcoming trends in contemporary home decor.
Do you want to create a bathroom that has a truly up-to-the-minute design? Why not go all out and tile the wall behind your bathroom sink with Ambra in Bianco Carrara? This textured bathroom tile can create a unique look for your bathroom. Why restrict yourself to designing just for your eyes when the unique textures on modern bathroom tiles can give your custom bathroom a new style that entices your sense of touch as well?
Zen Inspired Bathroom Tile
Perhaps what you really need from your bathroom is a peaceful oasis where you can relax and indulge in some personal pampering. If you lead a busy life, turning your bathroom into a tranquil state can help to ensure you enter into a Zen state of mind when you take your morning shower or relax in the bath at the end of a long and stressful day.
Bringing a touch of nature into your home is a tried-and-tested way to create a more calming environment. In other rooms, this might involve nurturing plants or letting in natural light. To create a natural and relaxed atmosphere in your bathroom, you can use porcelain tiles that look like natural stone, textiles or wood. These tiles come in various shades, which you can use to add a soothing, calming touch to the space, no matter what color scheme you want to use to complete your design project.
Porcelain tile offers great value for money compared to genuine stone. Porcelain is also easy to maintain and keep clean. That means you don't have to worry about maintenance needs interrupting your Zen-inspired paradise.
The first step to coming up with a brilliant bathroom design is to gather inspiration from expert sources. Come and explore our Tile Inspiration Gallery for bathroom tile ideas that can help prepare you to create your own ideal custom bathroom. You're bound to find inspiration for the bathroom of your dreams.
Related Articles: