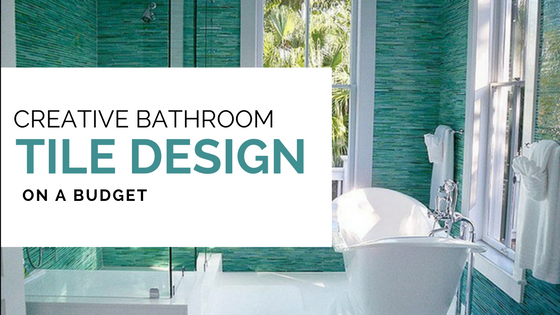 Is it time to upgrade your bathroom? Follow this detailed guide for getting creative, even while on a budget.
Lifestyle & Budget Considerations
It is important to keep your lifestyle and budget in mind. Ask yourself, is this a bathroom that is used frequently? Who uses this bathroom? Should this bathroom be a jewel of a powder room or a bathroom for storage and durability? Slip resistant flooring is also an important consideration if there is a tub or a shower. But always keep your budget in mind. There is nothing more disappointing than falling in love with a tile and then finding out that it is way out of your budget.
Value First: Porcelain
If you need to stick to a budget, it doesn't mean you have to downgrade aesthetics. Choose porcelain tiles for your bathroom, as they tend to be inexpensive and require low maintenance to keep them looking great.
Porcelain has a classic look, and tile made of this material are functional and beautiful. Porcelain also has the advantage of recreating the look of a natural material without the price tag and commitment to maintenance. It can replicate high=end marble tile without the expensive price tag, and it can even imitate bluestone or other natural stones, even wood planking.
Porcelain is popular because it's easy to clean and maintain. The last thing you want to do is spend a ton of money on tile that will require maintenance that you are not committed to.
Flashy Floors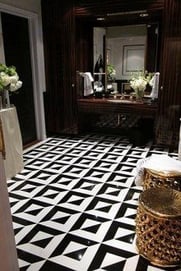 You can re-tile your floors in a visually appealing way and still save money. Since bathrooms have less square footage in general, you can forgo wall tiles and invest in the floor space instead. Choose something artsy and fun looking, such as a mosaic design.
This is the time to get creative! Check out design magazines for inspiration, or visit hotel and resort websites, checking out their bathroom features for a free dose of inspiration.
One way to make your bathroom more attractive and elegant is to put a lot of thought into the color combinations. This is where glass tiling has an advantage. You can play with tiles of various colors and their effect when light reflects off of them.
How to Play with Texture
Textured tiles do give you that safety factor while allowing for creativity. A popular trend right now is to use three-dimensional patterns, which are achieved with marble and limestone. Different designers have various takes on preferred patterns, but it's an exciting trend to watch and derive inspiration from. The most intricate ones feature carved marbling, don't stick with straight tiles, and have raised surfaces. They give your bathroom an intriguing feel.
Decorative Borders and Accents
A great way to use expensive products in your bathroom while maintaining your budget is to keep details to a minimum and highlight the borders and accents instead.
For example, rather than using mosaics on the entire bathroom, decide on one small space to draw focus to. This could be something like an accent wall or a glass tile arrangement for visual interest. Yes, glass tiles are more expensive, but if you just use a few for a backsplash or feature wall, it'll be just gorgeous.
Another good place to highlight mosaic tiles is in the shower. You can make the design stand out even more by tiling the walls in contrasting shades of color.
Go Bold
Even on a budget, here's how you can add wall color for a bold result. Think about the effects your colors will have on your home. For instance, use dark subway tiles if you want to create drama. Also, remember that reds create warmth, while blue and green tones feel cool and natural. When choosing a color, this is the time to let your personality come out. Don't ever limit yourself to following the current trends.
Choosing the right colors for bathroom tile is not that complicated — it all depends on your personal taste. Use a strategy that will bring homey feelings to this very private space in your house.
One Bathroom, One Color
Have you ever considered using monochrome tiles? It's a popular choice for designers on a budget. When going for a sleek bathroom look, you can choose to tile your bathroom in complete black or white. A monochromatic theme is at once both dramatic and classy.
Decide Where to Create Your Focal Point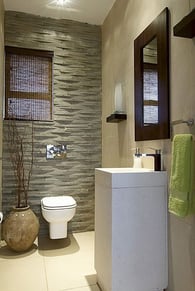 If you decide on bathroom floor tiling that's on the showy or loud side, go easy on the walls. Stick with calm colors for contrast.
On the other hand, if you want your bathroom walls to be an expressive tile focal point, you can save money by not tiling your floors, sprucing them up instead with beautiful rugs and other bathroom accents.
Looking to tile your bathroom, but you don't want to break the bank? The best way is to see the tile options for yourself and get a personal price quote by emailing us directly or stopping by our showrooms.
Explore our Tile Inspiration Gallery or come visit one of our showrooms: Vail Tile Showroom, Denver Tile Showroom, Basalt or Telluride.
Related Articles: