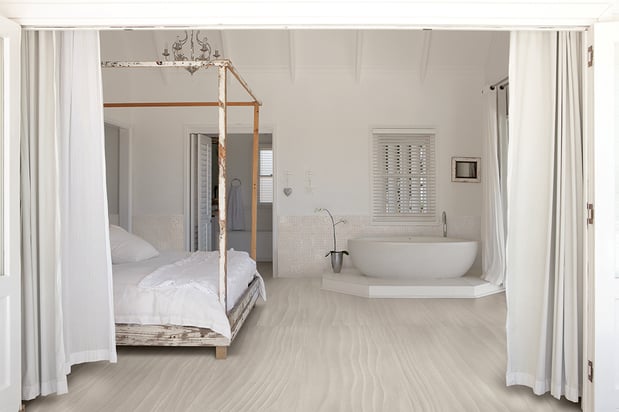 A subtype of ceramic tile, porcelain is one of the most popular tile materials in the residential market due to its design potential and durability. If you are planning to renovate your home or considering new places to live, you'll need general knowledge of your choices to make the most of your flooring selection. Here's why many homeowners choose porcelain for their bathrooms, and other areas of the home.
But First: What to consider when choosing tile
There are many factors to contemplate when choosing new tile, which is why this task is often underestimated until the process of selecting has begun. There's color, style, pattern, size, shape, maintenance, durability and practicality, among other things. Instead of going in uninformed, you can make the process less overwhelming with a few considerations already in mind.
Tile choice might vary depending on what room you're installing the tile. For example, tile for rooms that see a lot of moisture (such as a bathroom) should have grout with enhanced moisture resistance and antimicrobial properties. For bathroom tile, consider getting a matted or textured surface so it's safe to stand on in bare feet.
Think about the end product when making your selections – not just in terms of how the tile will look, but the kind of upkeep it requires (especially in larger rooms) and the foot traffic it will receive. This will help you prioritize things other than design that you're looking for in a tile, such as easy upkeep and/or durability.
When choosing a grout color, it might be smart to pick a few shades darker than what you have in mind in order to help hide foreseeable stains (especially prevalent in the kitchen).
If eco-friendliness is at the top of your list, be sure to know your options in this area as many tiles incorporate recycled materials. Keep in mind that this might be reflected in the price, however.
You might love the look and design of a tile, but find out it's not as durable and easy to install as you hoped. Or, the tile may have everything you're looking for, but be difficult to clean along with an expensive price tag. By sorting through your priorities on the front-end you'll be able to find the tile that's right for you.





The pro's of porcelain tile:
The great thing about porcelain (and the reason it's such a popular choice) is that it encompasses many of the priorities people have for their new tile – in a sense, porcelain tile has it all. Here's why:
Ability to replicate natural material. Porcelain can offer the natural aesthetic of stone and other natural materials with a much more sensible price point. The innovation in Italian technology has enabled high-end manufacturers to produce porcelain imitations of bluestone, marble and more. Not only is the price of porcelain tile lower, but the upkeep needs are much less than their authentic counterparts – you get the best of both worlds.
Low maintenance. Porcelain floors require very little cleaning (with the exception of spills, of course), and do not require annual maintenance such as sealing. This time-saving aspect is one reason it's so attractive; for most people, busy schedules trump excessive cleaning and scheduling maintenance any day.
Durable with high water tolerance. Porcelain does not scratch or stain, and is considerably more durable than other flooring options such as vinyl, hardwood or carpeting. It is also highly resistant to water, which is one reason why porcelain bathroom flooring is so popular. Little known fact: porcelain tiles were first intended for commercial use in public spaces, hence the resilience. However, the unlimited design potential has made this material very popular for residential use.
Design potential. With porcelain, one does not have to forgo style in order to achieve durability and practicality. There are endless looks with a broad assortment of textures, styles, sizes, shapes and colors.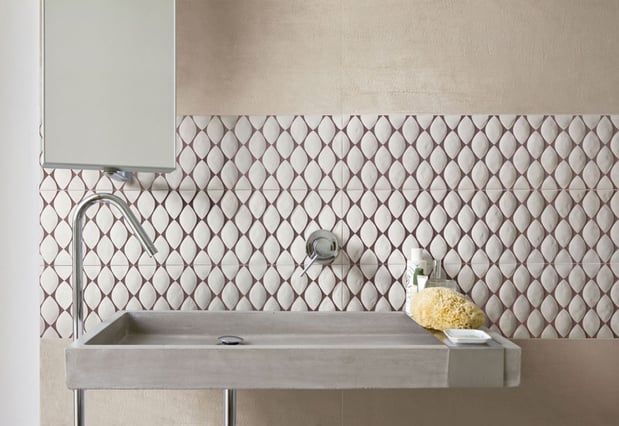 The con's of porcelain tile:
The list of pro's for choosing porcelain tile is long, but there are a few potential setbacks to keep in mind.
Do-it-yourselfers tend to have a more difficult time installing porcelain than they would an ordinary ceramic tile. Porcelain's low porosity means it requires a special compound for setting. Furthermore, the tile installation involves using special saws. Once the mortar begins to dry, it is very unforgiving of rookie mistakes. In order to give these tiles a flawless end product, a trained professional with extensive experience and the right tools should be brought in. You get to dream up the design, but in terms of installation, porcelain bathroom projects are sometimes better left to a professional.
Repair is not a simple process. It is not easy to fix small chips because the top finish of the tiles is typically a coating or a glaze with a different color on the lower layer. This means the whole tile would likely need to be replaced to ensure exact match though body porcelain tile would be the exception. If it were to chip, the color of the body of the tile almost matches the top color. On the flip side, porcelain tiles are easier to repair than wood, and the durability aspect makes chips very uncommon.
Other disadvantages of porcelain tile floors are more preferential, such as temperature, slipperiness and noise. The noise issue can be remedied with a strategically placed rug. Textured tiles can make them slip-proof. And heated floors can solve the problem of cold floors on bare feet.



Additional tips:
As mentioned before, different flooring scenarios highlight the different benefits of porcelain – it all comes down to your personal priorities and preferences. These additional tips can help you make an informed choice.
If you're tiling a smaller room, consider using small tiles such as mosaics (a hot trend right now for bathrooms). In addition to a beautiful appearance, mosaics are the more useful choice for moisture-prone baths– more grout and smaller tiles mean better traction. Believe it or not, mosaics can also be less expensive to install since they come in sheets rather than individual tiles.
Laundry rooms or mudrooms tend to get a lot of foot traffic, so the durability factor of porcelain is key. Since most people don't want these rooms to have the same look and feel of their bathroom, they will often go with a natural aesthetic porcelain choice. Again, moisture-proof is important in these rooms as well, and the ability to endure washing machine vibrations or herds of people moving through.
If you're planning to finish a basement, porcelain floors may seem like the unlikely choice, but you might be surprised. While weight of too much tile could be a structural issue in other areas of the home, this is not the case for basements. You can even get porcelain tile with a wood-like aesthetic for a warm and casual look. Just remember to wait at least a year before installing basement tile to give the house a chance to fully settle.



Summary
Beauty, sensible pricing and easy upkeep are often cited as the chief reasons to choose porcelain over any other material. Porcelain flooring is versatile, and especially popular for residential bathrooms due to its moisture-resistance and slip-proof textures. This floor material can also increase the value of your home – so whether you're renovating to stay or renovating to sell, porcelain is an inexpensive means to get a high-end look in your most beloved spaces.
Decorative Materials not only provides customers with passionate expertise and personalized service, but our extraordinary collection of tile, stone and bath products create indelible and timeless results to fit your needs. If you're ready to get your renovation out of your head and into reality, check out the porcelain tile project inspirations below in our image gallery.