Functional and fashionable, a decorative tile backsplash serves many functions within the modern kitchen environment. Yes, it acts as a protective barrier, but it also reveals distinct styles and personalities.
The right backsplash will elevate an entire kitchen. This is where the eye is immediately drawn when you step into the heart of the home. It can form the ultimate statement piece — or complement other dominant features, if desired.
Unfortunately, this wealth of opportunities comes with a caveat: so many choices can feel overwhelming at times, even if you have a general vision for the overarching kitchen aesthetic.
To help, we'll explain how to choose tile for kitchen backsplash. Below, we will touch on patterns, colors, and materials. Also covered? Key considerations as you calculate backsplash square footage and personalize each design to cultivate the ultimate Colorado kitchen.
Where to Start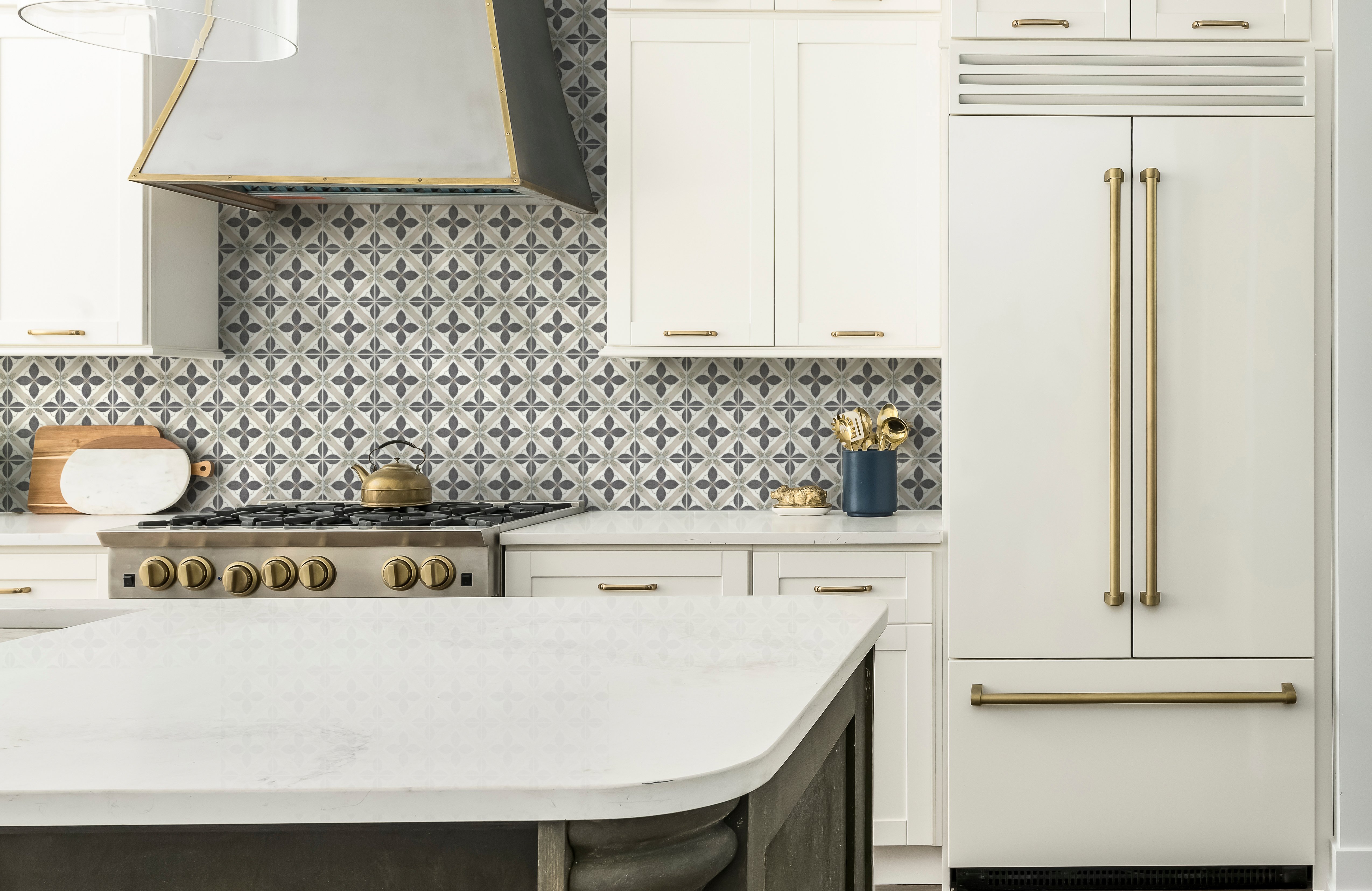 You've noted the need for an upgraded backsplash and have a few distinctive ideas in mind. First, however, you'll want to set a few basic parameters. Keep in mind that your options will be dictated, in part, by the allocated budget for the project in question, plus the proposed size of the backsplash 'canvas.'
Begin by calculating the square footage of the area. Sizing considerations should include not only the width and height of the space that will be tiled, but also overage. We recommend that each order include a minimum of 20% overage on any tile product. This is important should any material be damaged in transportation, if you need it for repairs later, or if you just like the look of some pieces more than others, it's good practice to have a bit extra on hand to avoid a headache down the road. Add on orders placed later on may not be identical or the product you need may no longer be available if you don't include overage in your original order.
Remember: backsplash designs that work wonders in a vast, open-concept space may not be ideal in a smaller galley kitchen or a dedicated wet bar. The goal is for the backsplash to look amazing on its own and also within the context of the entire kitchen or living area.
Subway Tile Backsplashes
Clean, classic, and versatile, subway tile is a safe bet for any kitchen remodeling project. White subway tile has remained on-trend for years and is always a dependable option if you prefer to keep it simple. If you crave something a bit more daring, however, you can defy expectations by playing with color, shapes, or even orientation.
No matter your preferred aesthetic, sizing should be a key concern. The most common options for ceramic field tile you will encounter include 3x6 and 3x12 subway tiles. Both have distinct advantages, but your final decision may be dictated by the previously calculated backsplash square footage.
If backsplash dimensions are less of a concern, the size of the individual tiles may be determined by your desire (or lack thereof) for a classic look. Traditional styles typically feature 3x6 subway tiles, while larger tiles may promote more of a sleek, contemporary aesthetic.
Don't forget that subway tile doesn't have to be ceramic. Look to different materials like glass or stone for a new take on the classic look.
When it comes to subway tile with a twist, we're especially fond of Quintin, a perfect depiction of, "not your average subway tile." With custom colors, finishes and sizes available, this style looks especially remarkable with metallic liners, giving the dressed up subway tile an Art Deco vibe.
Mosaic Masterpieces
There's nothing wrong with classic styling, but what if you want to make a statement? Look to bold mosaics for a vibrant aesthetic. These can be strategically selected to capture any aura or vibe imaginable. Incorporate metallics or pops of color to take this to the next level.
Surprisingly versatile, today's evocative mosaics work wonders in contemporary kitchens but can also be incorporated in traditional spaces. This where the Japanese concept of wabi-sabi can be deeply impactful: the acceptance and appreciation of imperfection as a unique and wonderfully meaningful source of beauty. There is an entire collection called Rêve d'Orient that is made up of breathtaking mosaics inspired by the beauty of Eastern Asian culture and the spirit of wabi-sabi.
Go for a pop of color to make your backsplash the focal point of your space. Or, if you want contrast to be integral in your kitchen design, pair a dark mosaic with a white countertop or cabinets. Another option is to go with a tried and true classic pattern - either with or without pops of color!
Perhaps you're all in on the concept of daring backsplash but not quite ready to incorporate it within the contemporary kitchen environment. This is where bar backsplash is at its best. As a more laid-back and even playful setting, the wet bar calls for experimentation in all its forms. When in doubt, this is the best place to go big and bold with today's most revolutionary mosaics.
Neutrals With a Twist
Timeless and trendy, neutrals are always a safe option. That being said, these don't have to feel dull or uninspired. If you're ready for something new, look to subtle mosaics or gorgeous ceramics to reveal the power of simplicity.
Neutrals can bring a cleaner feel to intricate offerings such as zellige mosaics, which draw on the power of variation. This effect is also achieved with kintsugi – an ancient practice meant to bring newfound beauty to broken pottery via stunning lacquers. With neutral colors, kintsugi tile adds variation but avoids the perception of clutter.
Another advantage of sticking with neutrals? They provide ample opportunities to play with blended materials while still achieving a cohesive effect. The Next Collection, for example, blends contemporary concepts with the enduring power of terrazzo.
Marble Slabs
On the hunt for a sleek and decidedly elegant aesthetic? Marble slabs are a reliable option that never fails to deliver upscale vibes. Available through Decorative Materials, these are the epitome of timeless sophistication. They're highly durable, yet remarkably individualized.
Every slab tells a story and feels exclusive to the kitchen in which it's featured. Darker marble works well for a dramatic space, while lighter colors visually expand the kitchen. Amp up the luxury with gold tones or extend the marble to the counters to boost the already upscale effect.
Elevating Your Colorado Kitchen Backsplash
As you play with timeless, trendy, and artistic designs, look to Decorative Materials for inspiration and support.
We are consistently in awe of the gorgeous aesthetics that today's top tile designers deliver – and we would love for you to discover the same sense of wonder. The best timeless yet trendy tiles are best seen in action within our curated showrooms. Feel free to get in touch to schedule an appointment.