Many of today's loveliest ceramic tile designs draw on ancient concepts and artforms to deliver classic aesthetics. These styles can often be traced back to Japan, where design takes on a spiritual element while also highlighting the value of imperfection.
Kintsugi, in particular, reminds us that 'broken' elements are often more powerful and beautiful than their supposedly perfect counterparts. This classic Japanese artform involves damaged pottery, which can be repaired with help from a special lacquer dusted in powdered silver, gold, or platinum. Once applied, this lacquer helps pieces tell a story.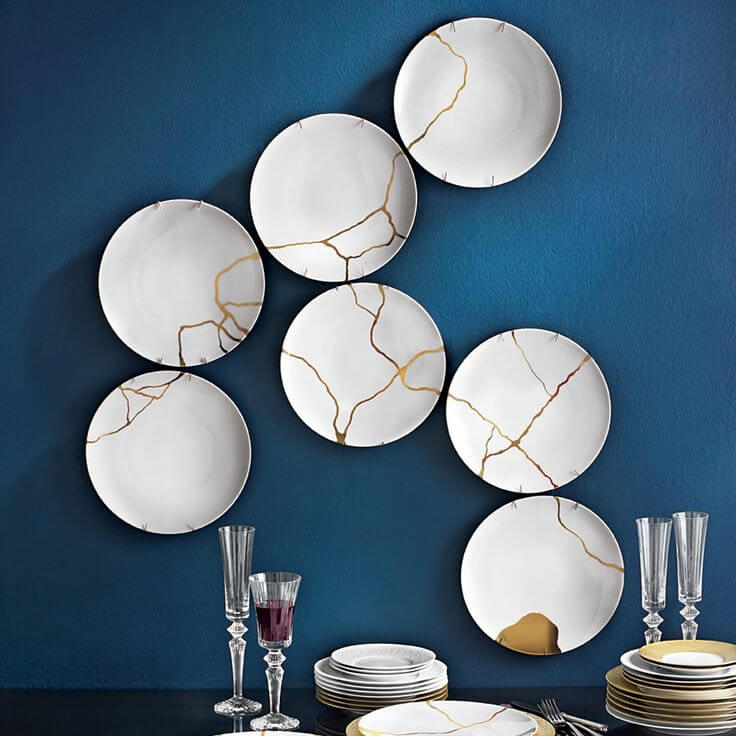 Kintsugi's Origin
Some historians believe that the artform of kintsugi began with the shogun Ashikaga Yoshimasa, who reigned during the late 1400s. Legend claims that he sent a tea bowl back to China for repairs. He was disappointed to find the supposedly fixed product stapled with unsightly metal pins.
Not ready to give up, the shogun charged local craftsmen with the task of repairing the bowl in a more aesthetically pleasing manner. They responded by using golden lacquer to fill the bowl's crack. The final product became the shogun's favorite piece and launched a new artistic practice.
The Philosophy Behind Kintsugi
The concept of kintsugi feels a bit like the modern cliche about the journey being just as important as the destination. Yes, the final result of a kintsugi vase or tile design may be gorgeous, but it's also important to pay homage to the inspiration and craftsmanship that go into these stunning designs.
Kintsugi falls under the scope of Wabi Sabi. This Eastern philosophy regards imperfections as not only acceptable, but beautiful in their own unique way. With kintsugi, however, imperfections aren't taken at face value, but rather, played up to create an entirely new masterpiece.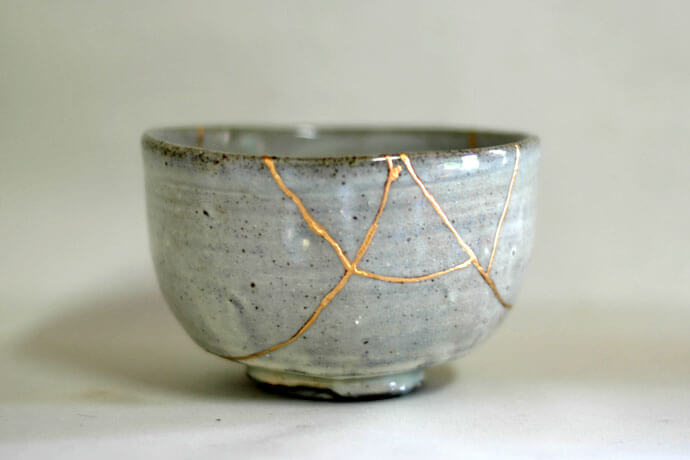 Incorporating Kintsugi in Tile
Kintsugi may chiefly be associated with pottery, but the concept can be integrated into a variety of practices. Recently, we've spotted it in several beautiful tile designs, where it holds an appealing sense of simplicity but also feels elevated enough for sophisticated settings.
Examples of gorgeous kintsugi-influenced tile abound, but we're especially impressed by the following:
Kintsugi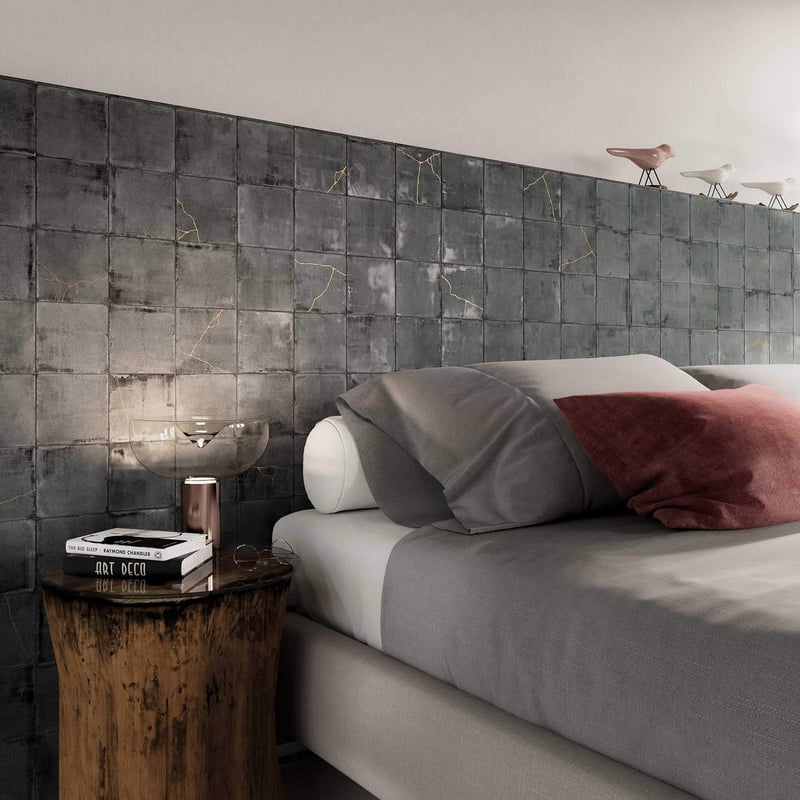 With kintsugi right in the name, the tradition this style is meant to evoke should instantly be clear. The term 'enso' references a circular form, as well as the embodiment of perfection, in which nothing is lacking.
Nakama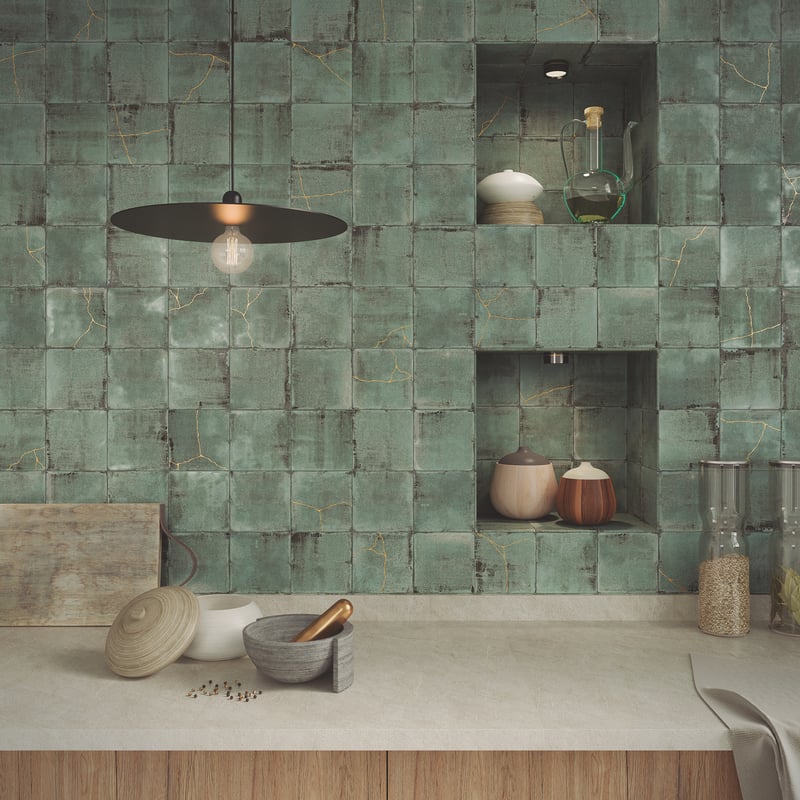 Rough around the edges, Nakama tiles capture the true meaning of Wabi Sabi. Close up, the tiles feature intricately weathered details. From afar, however, they take on a dynamic appearance that makes an instant statement.
Belike Blue Patch Gold
When most people imagine kintsugi in tile form, the visual that comes to mind probably looks a lot like Belike Blue Patch Gold. This classic kintsugi dynamic features rich shades of blue and gold, which grant it a royal feel. An entire backsplash made up of this tile takes on the look of a slowly crumbling and cracking ceramic vase.
Belike Brown Patch Gold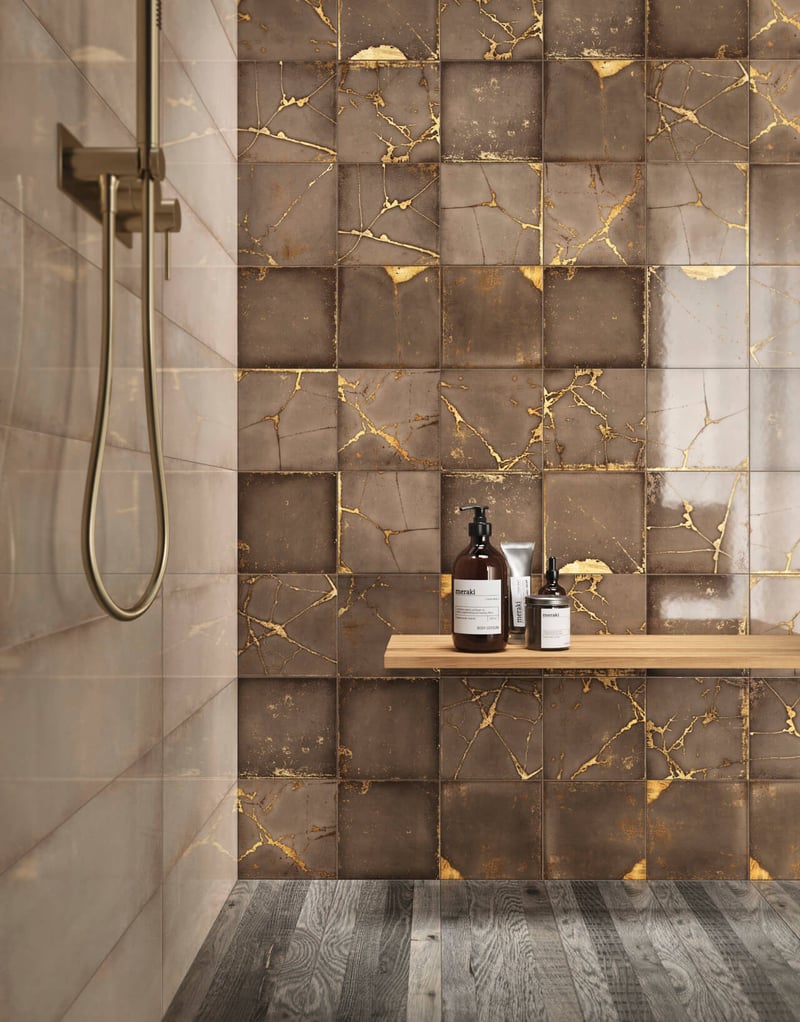 This take on the Belike tile replaces deep blue with a warm shade of brown that has an almost molten feel when combined with its trademark gold swirls.
Whether it mimics the classic pottery-based artform or takes on a completely different aesthetic, tiles influenced by the concept of kintsugi hold great appeal as a tribute to minimalism and beautiful imperfection. Take a risk and incorporate this uniquely gorgeous look in your next renovation.
At Decorative Materials, we find inspiration in several ancient artforms. We're all about integrating the best of classic and modern design, as you'll discover while visiting our showrooms. To get a better sense for how we infuse cultural concepts into our designs, take a look at our resource on Tile Trends Around the World. To learn how we can integrate these and other concepts into your next big project, contact us today.