Mosaïque Surface never disappoints with its mixed-material mosaics. The high-end manufacturer has taken another step up with its latest offering: Rêve D'Orient. This remarkable collection demonstrates why Mosaïque Surface remains a leader in the mosaic world.
Inspired by Eastern Asian culture, the Rêve D'Orient Collection takes on the spirit of Wabi Sabi — an inspiring philosophy that emphasizes the acceptance and even embracing of all that is imperfect and impermanent. Within this collection, the irregularities of nature are not meant to be removed or covered up, but rather, celebrated for the intricate beauty they deliver.
The Rêve D'Orient Collection reflects the recent resurgence of nature-oriented minimalism. Many people are beginning to discard the over-the-top, ornate designs of yesteryear in favor of something a bit simpler. The beauty of such pieces comes not in decadent features, but rather, from the organic 'flaws' that add so much personality.
In keeping with Wabi Sabi's emphasis on all things natural, Mosaïque Surface's collection highlights materials such as stone, metals, and glass. These are beautifully woven into a variety of designs, which deliver a timeless look while still managing to feel fresh. Liberating interior design from the limits of conformity, these tiles redefine the concept of beauty.
Wabi Sabi
Wabi Sabi is so central to Rêve D'Orient, it's included in the names of two of the collection's designs: Wabi Sabi Petite and Wabi Sabi Grande. Both patterns hold a lot of appeal in modern bathrooms, where they simultaneously feel simple and sophisticated. They can also be used in entryways, hallways, and a variety of other settings. No matter where they're found, these designs exemplify the collection's spirit of perfectly imperfect design.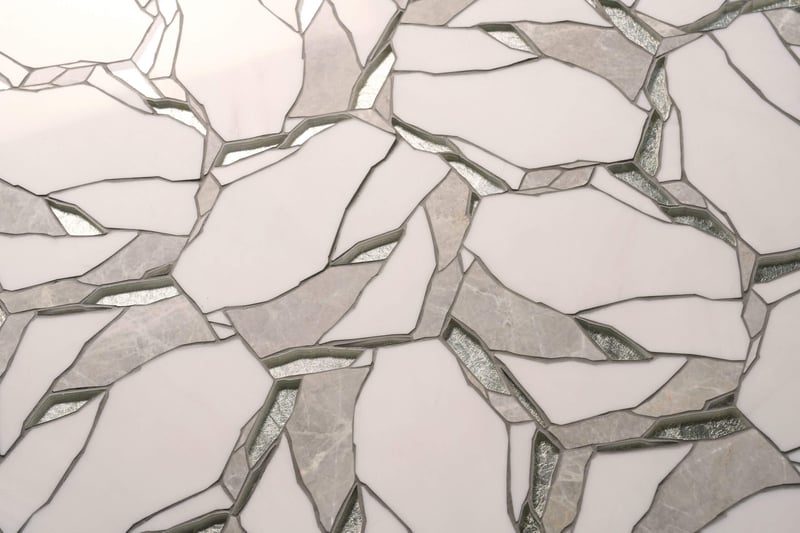 Featuring polished Arctic White and Chantilly Grey along with hints of gold or silver glass, this pattern stands out but is also versatile enough to incorporate in a variety of locations.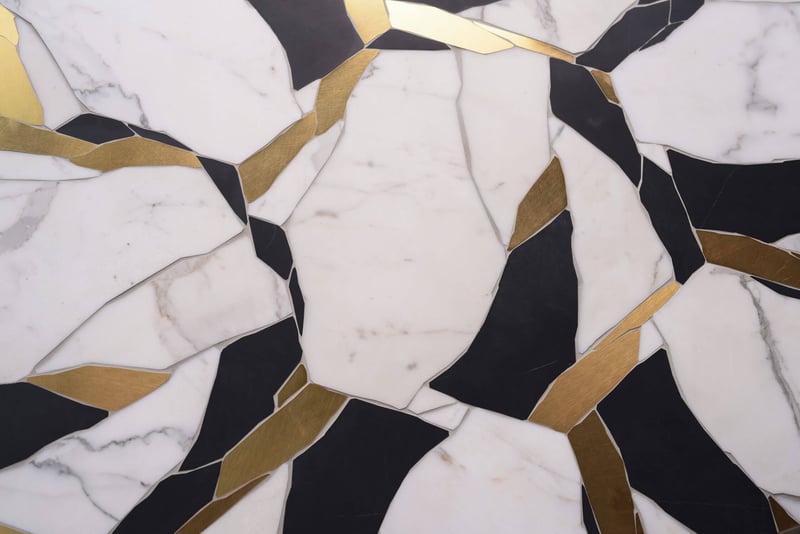 Go bold with a style that replaces the polished look of Wabi Sabi Petite with honed materials. The Grande design also diverges from its Petite counterpart in that it includes stainless steel instead of silver or gold. It's sure to make an impression wherever it's installed.
Emperor's Walk
The iconic imperfection of Rêve D'Orient takes on an extra element of elegance with Emperor's Walk. Like the Wabi Sabi style, it's available in Petite and Grande editions. Both highlight the power of geometric minimalism while evoking a sense of movement.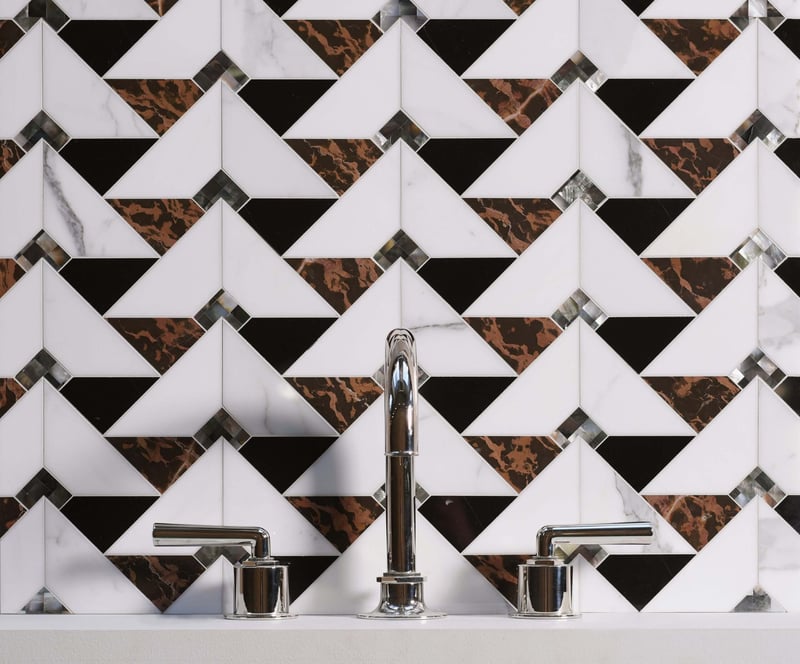 Featuring the beautiful veining of Calacatta Oro or Bianco Perlino and the simple luxury provided by mother of pearl, this offering can be found in several attractive colorways.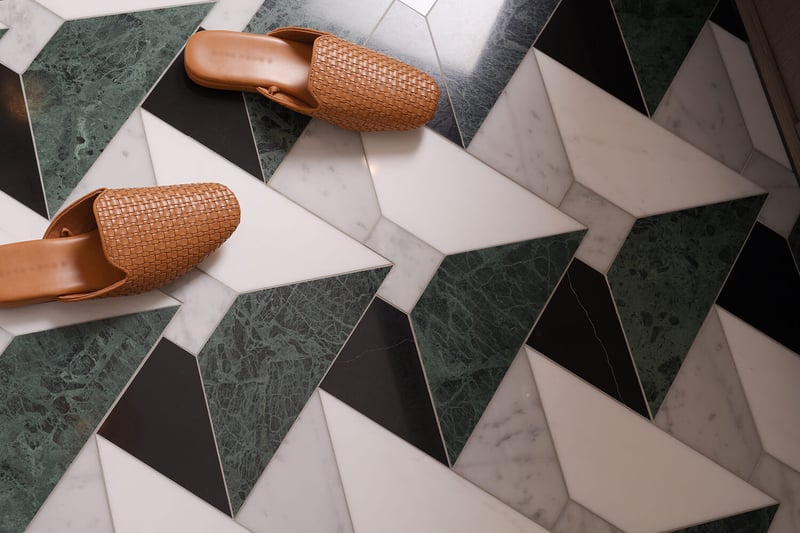 A wide array of distinctive shapes set this look apart, as does the gorgeous presence of veining. Larger tiles allow these details to shine through.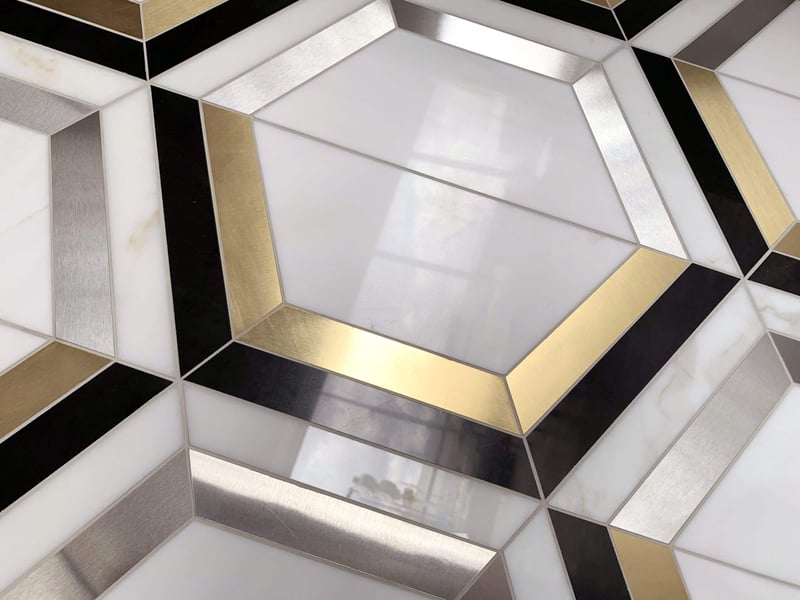 Natural metals such as brushed stainless steel and brass take center stage with this unique design, which uses split hexagons to great effect. One of the colorways takes the eclectic look up a notch by incorporating terrazzo.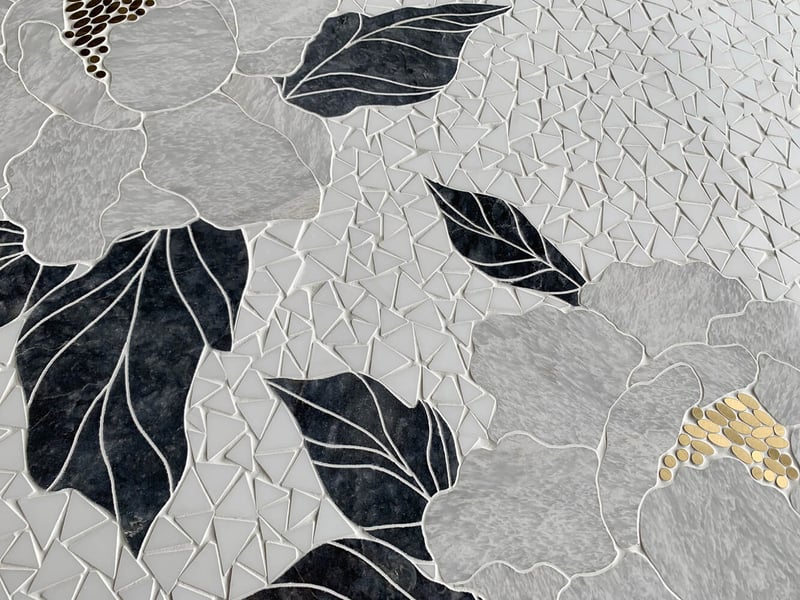 As its name suggests, this option emphasizes floral design while still capturing the spirit of minimalism. From mother of pearl to brass, numerous materials are carefully incorporated to bring the serene feel of a garden inside.
If you're eager to integrate the philosophy of Wabi Sabi into daily life, interior design is a great place to start. It's all possible when you work with the talented team at Decorative Materials.
Our showrooms feature mosaic tiles and other looks from today's top manufacturers and designers. Stop by for new ideas or feel free to check out our Fresh For Spring Lookbook. Contact us for more information.