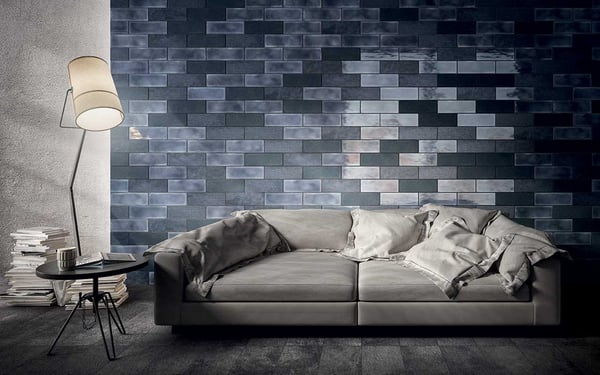 For years, white dominated the interior design scene. From painted white cabinets to white subway tile, homeowners couldn't get away from what they perceived as a clean, modern color. Today, however, a new theme is taking over: darkness. The timeless elegance of the little black dress is beginning to enter our beloved interior spaces, bringing a fresh, yet elegant feel into designs that might otherwise feel uninspired.
Far from drab, dark styles can be dramatic and sophisticated. They require more thought than white, but their visual impact can be far greater. Often, the risk is worth the reward. Currently, it's tough to make a statement with traditional white subway tile, but infuse a darker color and you're bound to attract attention.
While dark tiles can look gorgeous or sleek in the right context, they can also potentially make a room appear small or dreary. With a darker palette, it's critical that colors and patterns be carefully mixed and matched to ensure that the vibe remains sophisticated and not depressing. Thankfully, this balance is far easier to strike than you might expect. Below, you'll find clever ideas for making the most of the latest dark tile trends:
Grunge Palette
If you're looking to break away from white or beige but aren't quite ready to embrace dark colors, the grunge palette may offer the comfortable transition you desire. Designs that incorporate this palette typically come across as subtle, yet undeniably modern. This is the perfect approach to conveying the clean feel of white tile while departing from the backsplash status quo.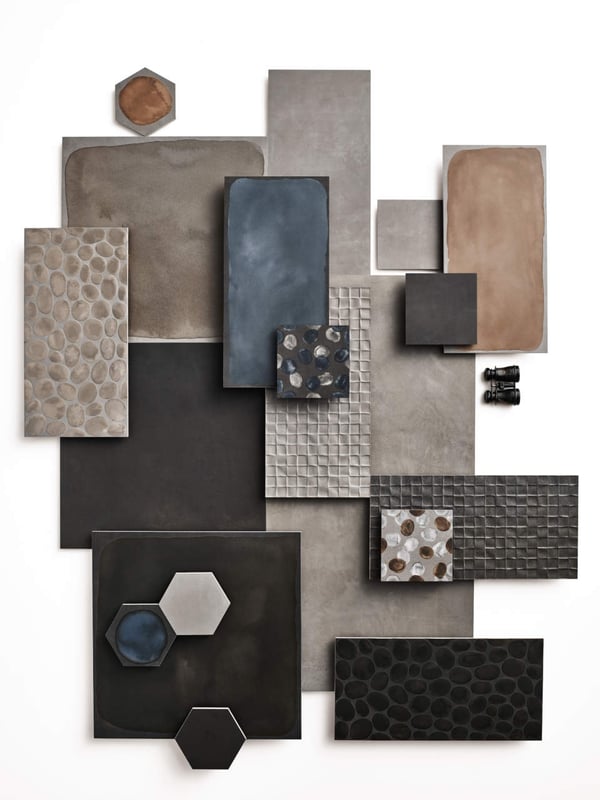 The grunge palette typically incorporates shades of grey, black, blue, and taupe. Because grunge colors tend to be subtle, they are ideal for playing with unexpected patterns, such as hexagonal or chevron tiles. Combined grunge shades can also deliver an unexpected edge to mosaic tile designs.
Another option: experimenting with texturized tile, which is also currently on trend. Different textures can grant the same grunge palette a radically different vibe. Compare, for example, glossy grey tiles to a fabric or metal-inspired look in the same hue: three distinctive outcomes.
Blue and Black Tones Together
At one time, blue and black were a taboo color combination. We're thrilled to announce that this arbitrary style rule has been officially banished. Today, blue and black can be effectively combined to create an unforgettable look. This fashion 'don't' has turned heads on the runway again and again, and now, it's about to take over in kitchens, entryways, and bathrooms all around the world.
When combining blue and black, it's important to distinguish tones just enough to prevent visual confusion. In other words: navy blue and black remain a less-than-ideal combination, as this pair tends to look slightly 'off.' Lighter or more vibrant shades of blue, however, look remarkable when paired with black.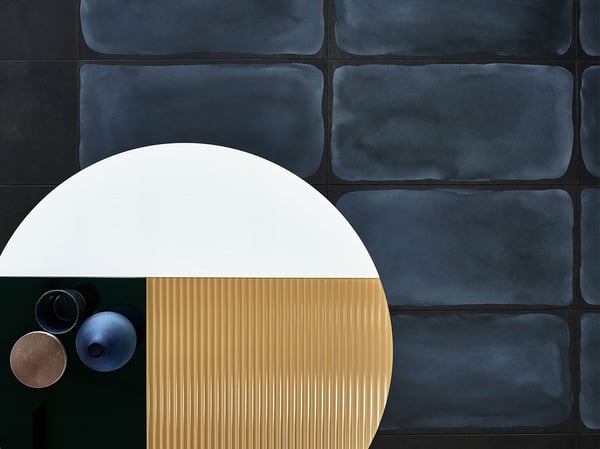 If black and blue pairings feel a bit too risky, consider lightening up one of the tones just a bit. Blue and charcoal, for example, provide the visual intrigue of black and blue -- but none of the controversy. The black and blue concept can also be softened by sticking with traditional patterns. Alternating black and blue subway tiles, for example, can freshen up a familiar aesthetic.
Another subtle way to combine black and blue: make the most of grout. For example, instead of opting for the usual contrasting white grout, take a risk and incorporate dark grout. This darker look feels sleeker and more sophisticated. It's the perfect option for experimenting with a darker palette if you're not entirely ready to make the plunge.
Blueprint - Behr Color of the Year
Behr recently released its annual Color of the Year: Blueprint! This mid-tone blue is simple, yet effective. It looks wonderful when incorporated into tile backsplash in a bathroom or kitchen. Although impressive on its own, this delightful color is particularly valuable for mixing and matching with other shades of blue. It's no secret that black goes with everything, but this may be even more true of Blueprint -- the ultimate versatile color. If you're on board with the dark tile trend, Blueprint is your ideal hue for blending with black, grey, or charcoal.
It's time to stop fearing -- and start embracing -- darker palettes. When integrated correctly into a sophisticated design, dark tiles can bring a delightful new ambiance to any interior space. There's no need to go straight to all-black tile; various shades of blue, grey, and even taupe can be incorporated to grant your space a clean, yet edgy look. Even a few small details (such as the use of dark grout) can instantly transform interior aesthetics. Don't be afraid to step into the dark side and bring this refreshingly modern trend into your home or business.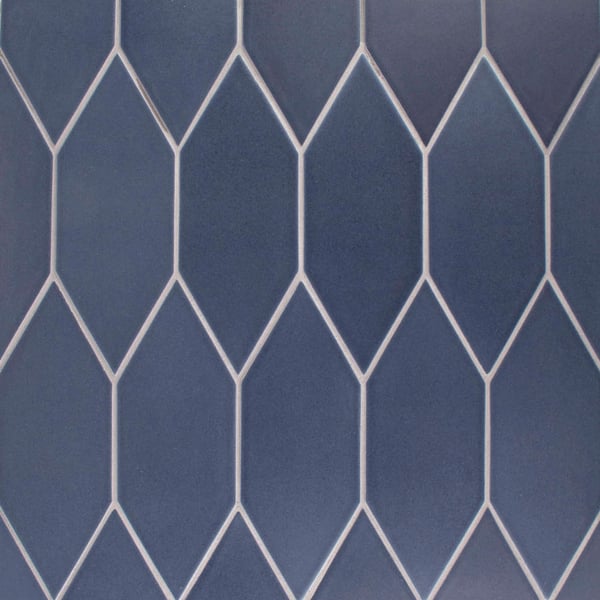 Are you ready to experiment with dark tile and other daring design elements? Be sure to check out the possibilities in person -- you'll find plenty of great ideas at our showrooms. Feel free to contact us to learn more.