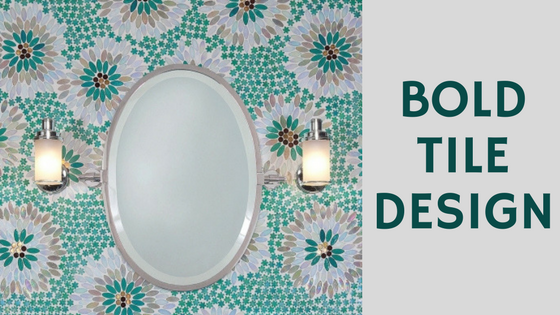 When it comes to incorporating tile into your home, there are endless possibilities. Tile gives you the opportunity to add color, texture and beauty that are just not possible with other mediums. Many people, however, opt for very simple designs. While there is a time and place for all kinds of different tile, trying out a bold tile design as a unique accent piece in your home can add a wow factor that is truly incredible.
Why You Should Take a Chance with Bold Tile Design
While it can be overwhelming to try to figure out how to incorporate that bold and eye-catching tile into your house or business, it is truly worth the risk. Not only can a bold tile statement add a splash of color to a room, but it can also help direct the attention of visitors to a certain part of the room that you want to highlight. Adding a statement wall also breaks up the look of a room and adds an aesthetic element. It's great for people who like minimalist looks or who don't have a lot of artwork to fill the walls but still want to add some color to the room.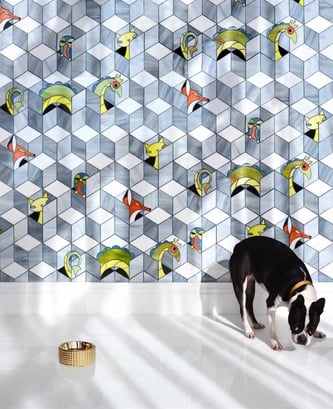 Decorative porcelain tiles are a great option for a bold tile accent wall because they offer so many different and unique patterns. Porcelain tile is harder than ceramic tile, so it offers much greater design flexibility, giving you tons of different options to choose from. The clay used to make porcelain is more refined and purified than ceramic giving it a beautiful, clean look that will add an amazing touch to any room.
Popular Places to Add Statement Tile
While the idea of adding a statement tile wall might sound great, you have to know where and how to incorporate them, and that can be the tricky part. There are many ways to add an accent wall that suits your style and taste. Here are some of the more popular places to add statement tiles to your home or business.
Powder Room
The bathroom is a great place to integrate a bold tile design. Decorating a bathroom can be a real challenge, because generally it is one of the smaller rooms in the house and often has less natural light. You want to find a healthy balance of interesting, beautiful decorations without overwhelming the space. This is why an accent wall or decorative tile can be a great way to accomplish both. You can keep the rest of the space relatively simple but brighten things up with a unique bold tile design.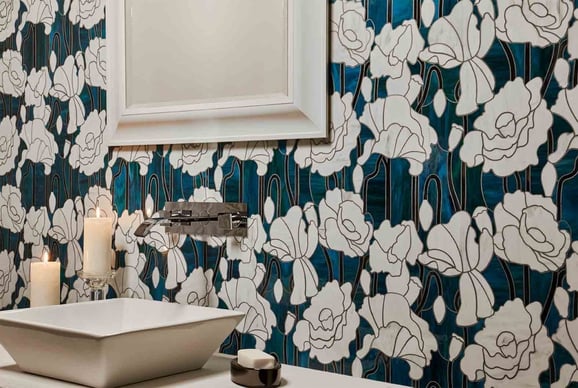 Bar Backsplash
Tile is ideal for a bar backsplash because in all likelihood you'll want to protect the wall from spills and splashes. A bar can also be a gathering point in a home and having an interesting eye-catching backsplash brightens up any bar area. Using something interesting like mirrored tile can visually enhance the size of the space.
Outdoors
Outdoor patios present incredible opportunities for a variety of floor tiles. This exterior area can become a unique oasis with bold patterned tile. Porcelain, which is much more resistant than many of its counterparts, is a great option for exterior use. Porcelains today are available in a multitude of colors and bold patterns. If you choose a more playful pattern, you can always incorporate simple clean lined patio furniture to counter balance the bold tile design.
Entry Wall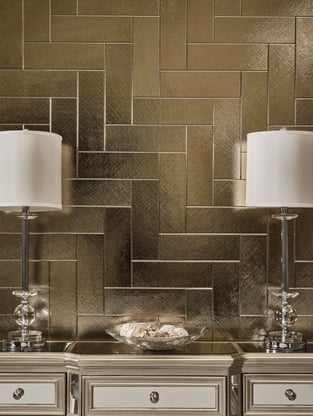 There is nothing like a first impression. What better way make a design statement than a feature Entry Wall? In addition to residential applications, this is an impactiful tactic for businesses that want to set the mood and tone of their establishment right from the get-go. There are a multitude of options ranging from patterns to textures, and because the entry way is often pretty simple and devoid of furniture, a unique bold tiled accent wall can be the perfect way to make that first impression a memorable one!
Kitchen Backsplash
The kitchen backsplash is the classic location for a bold tile statement — and for good reason! Having wallpaper or simple paint running along the counters can easily get stained or warped, whereas tile is easy to clean. The backsplash is also often shrouded in shadow because of kitchen cabinets, so adding a bold tile design can help brighten that space up. It is also an easy way to incorporate more color into your kitchen without overwhelming the space. It can often be hard to decorate in the kitchen, but with a creative tile design, you can add a nice color pop without having to carve out new space. If you need some ideas for what kind of kitchen backsplash might work for you, check these out.
You can now see the benefits of adding a unique bold tile design to your home and business. They are practical, beautiful and very modern. If you're struggling to figure out what type of design might suit you best, check out our inspiration gallery or contact us today!