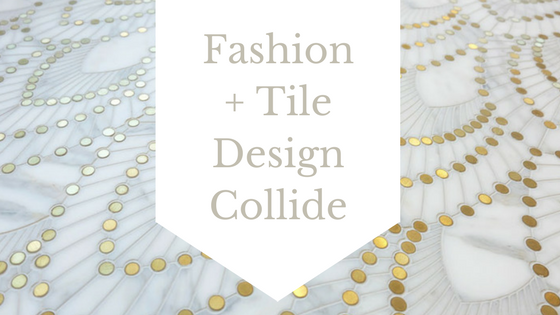 In any industry, there are trends that come and go — just like fashion — and tile design is no different. Because tiles are a base material, like textiles that make up larger functional pieces, we often see significant overlap and borrowing in the fashion and interior design industries.
The top tile trends have been unveiled for 2018 and showcase a range of textures, shapes, colors and materials, many of which take cues from the fashion world. In addition, many of these trends are based around natural, earthy tones and materials, with tiles emulating natural materials such as stone, wood and brick. The tiles give the rustic, homey feel without the higher cost of natural stone. Other tile trends feature bold or intricate patterns that recall other cultures, and an intense influence from textiles is reflected on the tiles.
Fashion + Tile
Certain aesthetic trends have the habit of becoming pervasive in all areas of life. While most people interact with design through clothing, patterns and images appear in a variety of different forms. Textiles and fabrics, just like any other visual item, are designed by artists and as these patterns or color palettes become popular, they blend into the design of tiles as well. Sometimes the trends go the opposite way, too, with tiles and architecture influencing fashion. Le Corbusier is an excellent example of an architect who greatly influenced the fashion world. These visual themes are constantly borrowed and reinterpreted for different mediums. We particularly love Dolce + Gabbana's reinterpretation of Byzantine Mosaics.
Designer Collaborations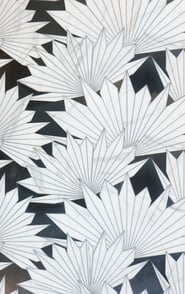 Fashion, textile, as well as home accessory designers have collaborated with tile manufacturers around the world to design a tile collection. This provides a fresh perspective to tile design. These guest artist collaborations sell a story and communicate a feeling. Working with talented designers who specialize in working with alternate mediums, it can help to stretch the boundaries of what is expected and possible. It also helps to meld and solidify the relationship between fashion and tile by creating a crossover in style.
Michael Aram for Artistic Tile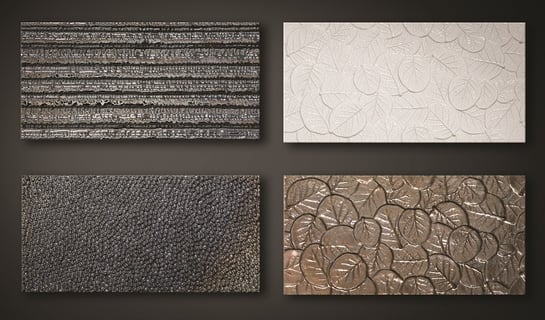 Michael Aram, known for his bold, high-style dishware and decorations in gold and silver that evoke opulence while tying in elements of nature, had a seamless transition into tile design. His new tile collection, which draws on his well-known ones — Molten, Botanical Leaf and Gotham — offers a distinct aesthetic to make a bold statement in any home. The modern porcelain tiles are glazed in gloss white, metallic bronze or steel and would make a perfect modern kitchen backsplash or decorative shower tile.
The Atelier Collection Between Blazys Gerard and Mosaique Surface
The collaboration between Blazys Gerard's bold, edgy designs and Mosaique Surface's commitment to custom stone mosaics is truly breathtaking. The modern flooring is evocative of French art deco, using natural stones, Venetian glass, and intricate metal inlays. The collection pays tribute to many of the world's top fashion houses, with inspiration from architecture in each designs being at once elegant and fun and clearly evocative of outside influences.
Valentino
Over 40 years ago, Valentino entered into a partnership with Ceramiche Piemme, allowing his elegant taste and style to influence the design of tiles. The simple yet luxurious tiles are still widely known and utilized by many different companies around the world. The timeless design of these tiles, which locked into most important stylistic phases of fashion, has endured because of the keen eye that was used in their creation. From stark black and white, to earthy stone, to soft blue, Valentino's influence on the design of tiles remains firm all these many years later.
Diesel Jeans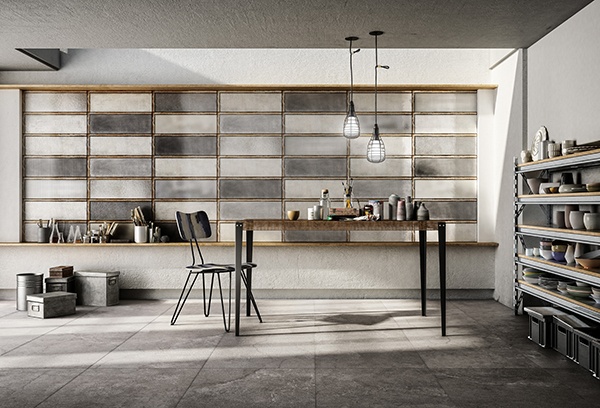 Diesel Jeans has recently partnered with Iris Ceramica to create exceptionally modern floor and wall tiles. The tiling evokes the feel of canvas and industrialization associated with the grunginess of jeans. The collection demonstrates this dedication to a vintage, industrial feel: concrete, industrial glass, camp, stage, hard leather grunge concrete, combustion crackle, Arizona concrete, ribbed, fence, and shades of blinds, ribbed oxide. The lines, mostly in grays and earth tones, create a perfect modern aesthetic, while still hearkening back to the origins of the creation of jeans.
There is a lot of overlap between the fashion design world and the tile industry. They have each learned and borrowed from the other and helped to create new ideas and expand on old ones. This is the beauty of design: the interplay between great minds.
Decorative Materials embraces this mentality, seeking to provide the highest-quality tiles in line with the newest trends and utilizing the best of the innovation in the tile design world to keep the ideas fresh. We of course have a wide variety of styles and don't shy away from the classics. Come check out our stocked collection to learn more about what we have to offer. If you have any questions, do not hesitate to contact us. We are always here to help you find the best collection for your needs.