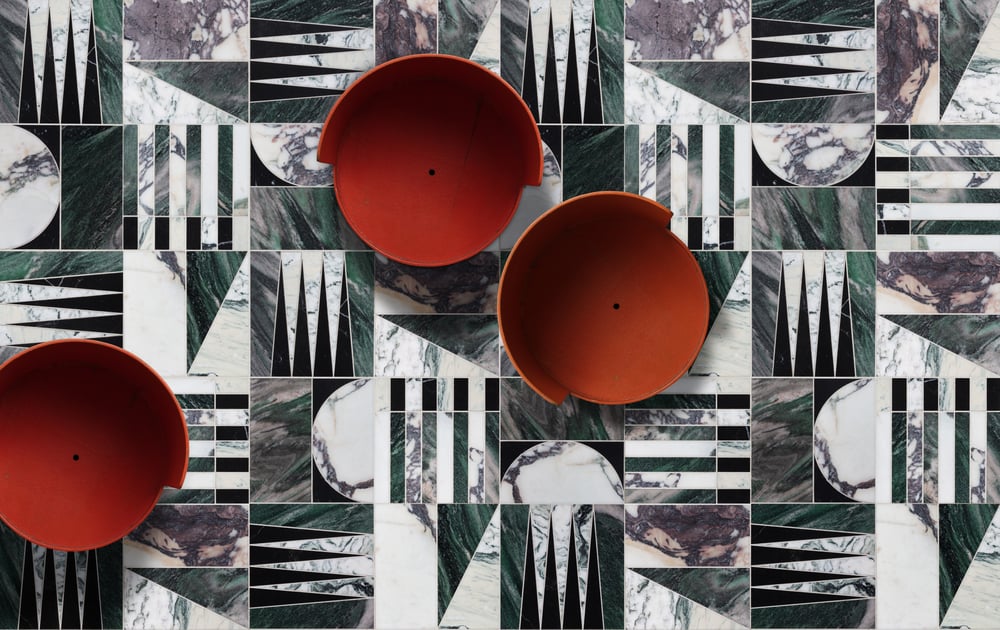 At Decorative Materials, we're all about experimenting with bold designs as we integrate fresh new ideas with traditional concepts. We're always on the hunt for new talent, but we also find ourselves returning again and again to a few reliable designers. Chief among them: Artistic Tile, which has long been a favorite among the interior design enthusiasts who frequent our tile showrooms.
Artistic Tile founder Nancy Epstein knows a thing or two about luxury tile — and it shows. Over the years, she and her fellow experts at Artistic Tile have delivered upscale, yet accessible designs that have been carefully crafted to evoke a sense of awe. When the Decorative Materials team catches sight of Artistic Tile's latest creations, we come away feeling inspired to take on ambitious projects.
Recently, we've enjoyed playing with ancient statement stones, which look especially stunning when interspersed into trend forward mosaic designs. We're especially loving the unique mosaic looks Artistic Tile brings to the table. Incorporated strategically into modern spaces, these tiles can add an instant sense of dimension and sophistication.
We're thrilled to introduce a few of our favorites below. You'll notice that, at first glance, these styles vary dramatically. However, all three share the same exceptional craftsmanship and attention to detail that has long set Artistic Tile apart. Read on to learn more about Artistic Tile's latest and greatest design offerings:
Sail Fete
Sail Fete allows you to take a seaside vacation without ever leaving your home. Nautical imagery takes over with this lovely design, which was inspired not only by seascape visuals, but also by the sleek beauty of Italian Cosmati floors. The nautical theme is evident not only in triangular tiles that evoke sails catching the wind, but also in their unique multi-color orientation. Each triangle is split into two smaller triangles of contrasting colors or patterns. This approach adds both variety and dimension.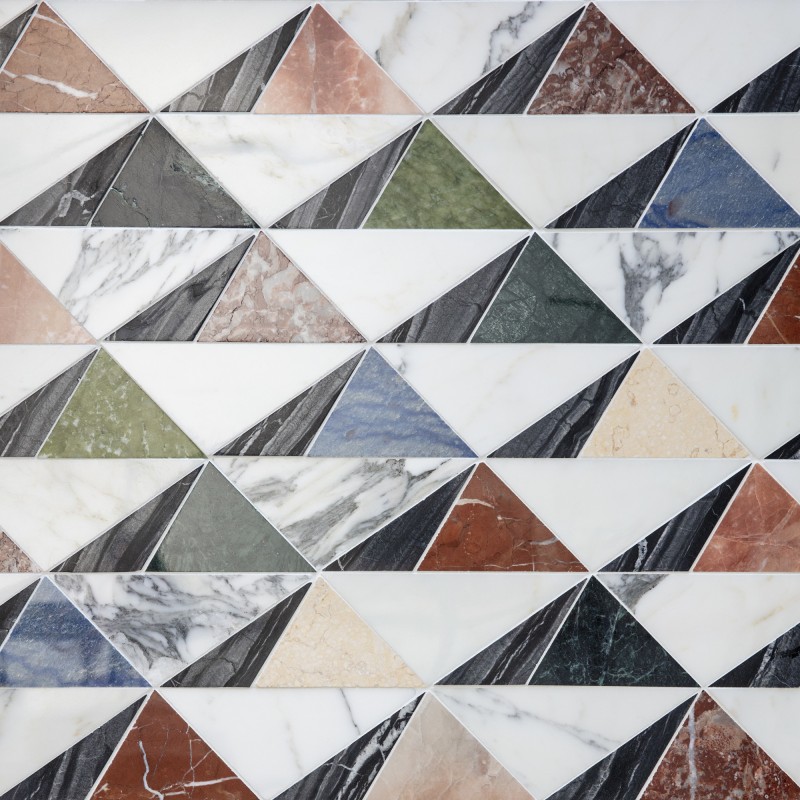 Artistic Tile's Sail Fete collection is available in multiple colorways, which blend various tile designs to great effect. Sail Black, for example, combines China Black, Silver Wave, and Bianco Carrara, while Sail Grey keeps Bianco Carrara but adds Thassos and Bardiglio.
Both Sail Black and Sail Grey are at home in neutral-dominant bathrooms. These colorways can be used to grant bathrooms an almost three-dimensional aesthetic. The collection's multi-color offering combines the best of nautical and patchwork concepts to create an eclectic and visually pleasing look.
Tappeti
Making the most of the latest textile-inspired trends, Artistic Tile's Tappeti design combines four unique and vibrant stones to mimic the look of fabric. The end result: a smooth and polished surface that reflects the aesthetics of ornate wall hangings and embroidered rugs. Unlike hangings and rugs, however, these tiles are not prone to stains.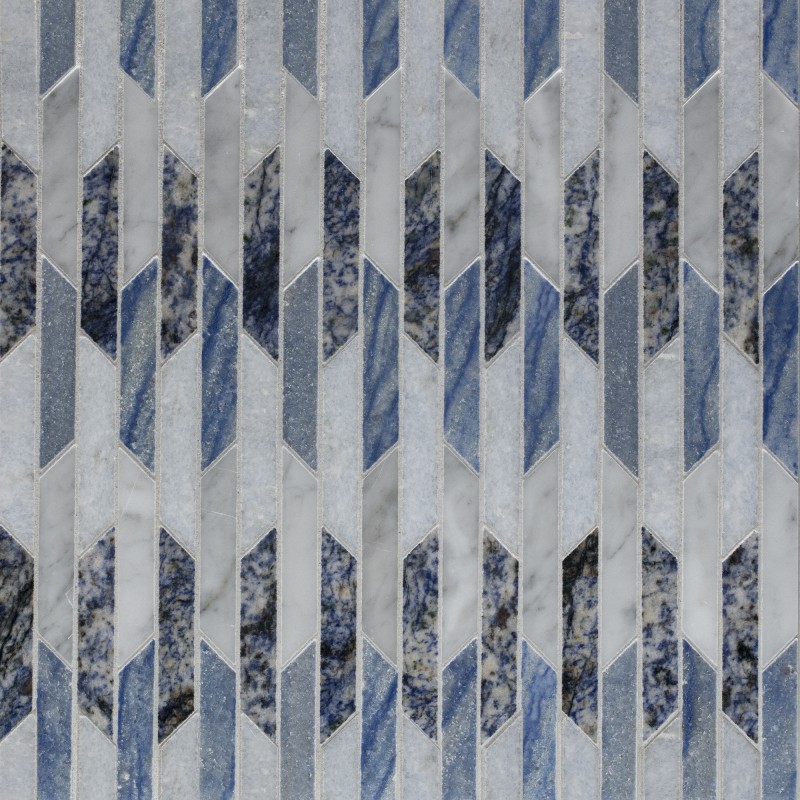 The Tappeti collection comes in several color blends, each of which infuses the design with a unique feeling. The blue blend has an almost icy feel, while the green collection evokes earthy vibes. Beautifully polished, Tappeti tiles can be used for interior walls and floors. They are especially at home in powder rooms or bathrooms, where they can form the basis of a memorable backsplash or shower wall.
Euclid
The creative geniuses of Artistic Tile are perfectly capable of developing amazing designs on their own, but we're especially impressed with their collaborations. Combine the talent at Artistic Tile with that of the industry's most promising professionals, and magic ensues. This is especially evident with Artistic Tile's Euclid collection. Featuring classic marble, these tiles are all about customization. Each Bauhaus-inspired creation holds its own unique personality; no two look exactly alike.
Each of Euclid's custom designs is produced in Artistic Tile's mosaic studio, which is situated just minutes from the design mecca of Manhattan. This location grants designers easy access to the finest materials available, while also ensuring that they oversee every step of the production process. The end result? Indescribably beautiful tiles that infuse glamor into every space in which they are installed.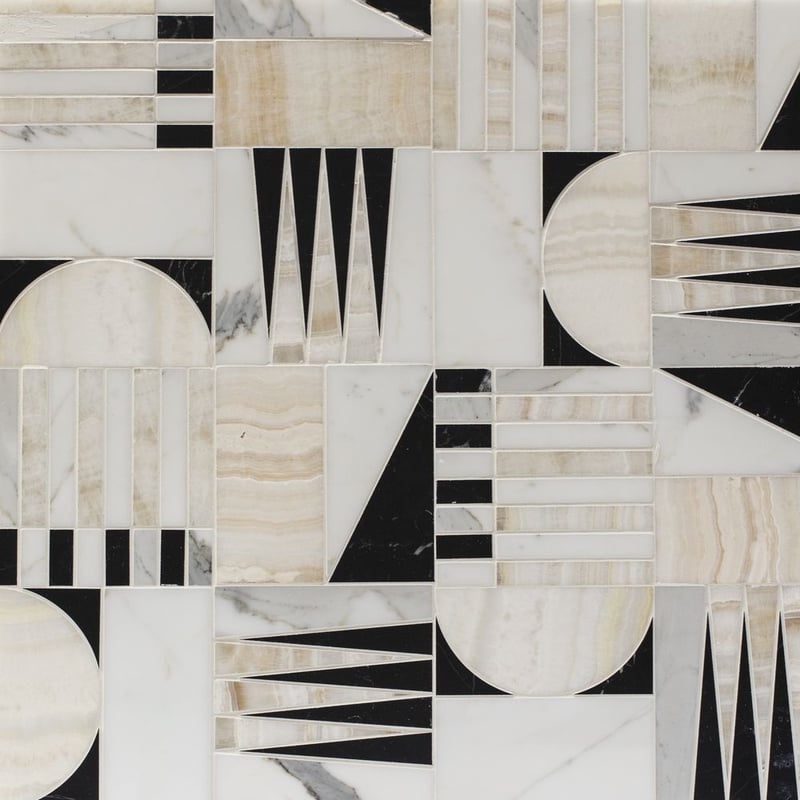 Euclid's designs vary dramatically, with different sizes, shapes, and colors delivering a wide range of aesthetics. What all tiles share, however, is the influence of beloved designer Alison Rose. A master of proportion and scale, Rose refers to Euclid as her alphabet. Each tile is a geometric masterpiece, and each is bound to make a statement when incorporated into your home.
From texturized tiles to marble-based sophistication, we are head over heels in love with Artistic Tile's latest offerings. The designer's attention to detail is immediately evident in all three of the looks we've highlighted, as well as in Artistic Tile's many other beautiful designs. Whether your preferred aesthetic is bold, subtle, contemporary, or old-world glamor, you can easily find an Artistic Tile design that matches your grand vision.
The tiles outlined above are just the beginning. If you love Artistic Tile's designs as much as we do, don't hesitate to check out our Denver, Vail and Aspen tile showrooms for more examples of how these looks can be integrated into your home. Contact us today to learn more about our favorite tile designers and the many tile collections we offer.