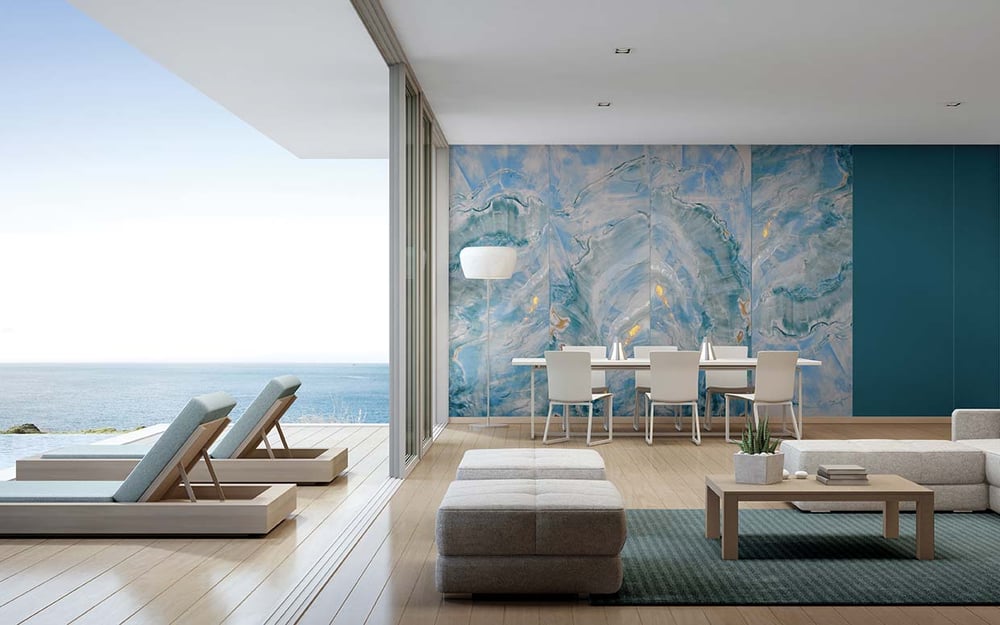 Some interior design concepts are timeless — and some come and go in waves. Wallpaper definitely belongs in the latter category. While it has seen some significant booms, it spent the early 2000s out of favor among most design enthusiasts. All that is about to change, however, wallpaper is currently making a long-awaited comeback. Large patterns were an especially big deal at 2019 Coverings, where bold and decidedly vibrant looks captivated design enthusiasts.
There is plenty to be said in favor of wallpaper. It adds instant visual interest to any space and can be used to achieve a variety of patterns and styles. Wallpaper can also deliver an element of depth that cannot be achieved with paint alone. However, wallpaper's downsides should also be considered long before it's installed.
Choose the wrong pattern, and wallpaper can look too busy or cluttered. This, in turn, can make small spaces look far smaller than they really are. Wallpaper is also prone to damage. Ceramic tile is great for wet areas, like bathrooms and kitchen backsplashes, where it truly stands the test of time.
Thankfully, it's possible to achieve the best of both worlds—- a look in keeping with the latest wallpaper trends but also capable of standing the test of time. Large format ceramic and stone tiles provide the expansive, grout-free look of wallpaper, but with a classy edge that is sure to endure. Read on to discover why these approaches are far preferable to wallpaper: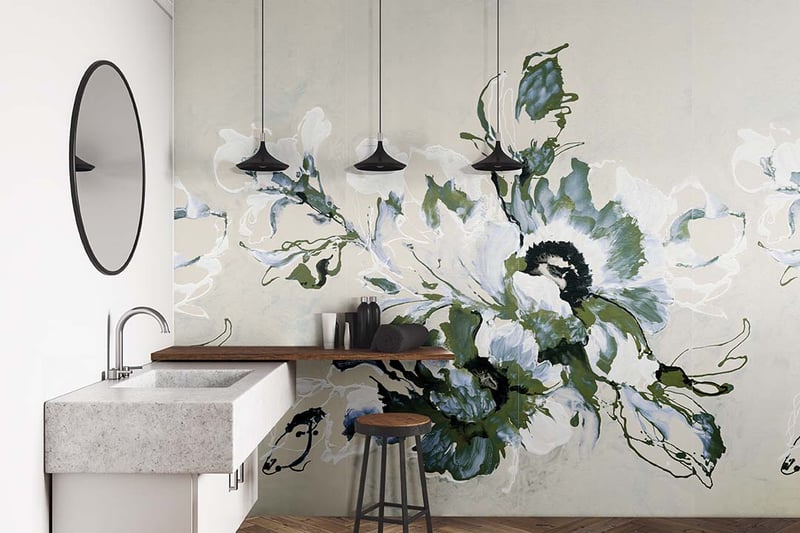 Large Ceramic Surfaces
Large format took over several years ago — and it's never really left. While smaller tiles such as mosaics are back in style, large format remains an appealing look capable of visually expanding virtually any space while also upping the elegance factor.
Often reserved for flooring, large format ceramic is now making its mark on interior walls, where vast tiles can be used to mimic the look of wallpaper patterns. Unica Ceramiche, for example, makes a statement with its delightful Bloom tile, which captivates with large flowers in bold, contrasting colors.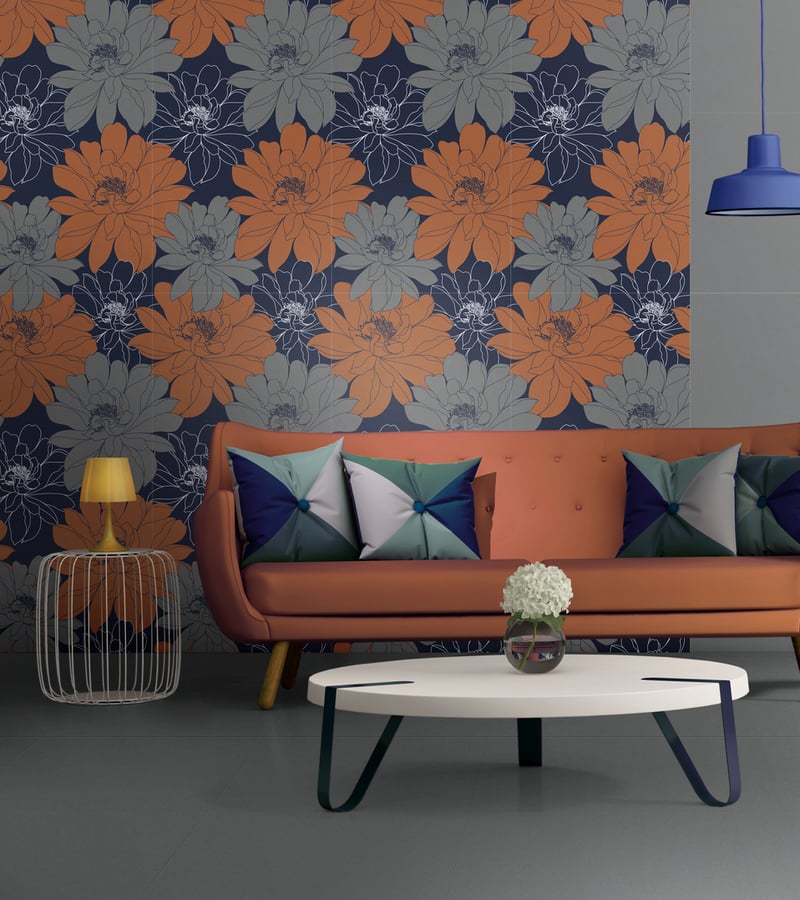 Large ceramic tiles are especially ideal in moisture-prone areas, where wallpaper may be susceptible to damage. These tiles are right at home in modern kitchens, bathrooms, laundry rooms, and a variety of other spaces.
Large Format Stone
Ceramic is by no means the only material that works well in a large format style. It's impossible to go wrong with stone, which remains as classy as ever. Revolutionary technology makes it increasingly possible to incorporate vast slabs of tiles on walls, where they can instantly deliver a sense of sophistication. Marble, in particular, can elevate any space in which they are incorporated. Other stone varieties can mimic the patterned look of wallpaper — but with an even greater wow factor.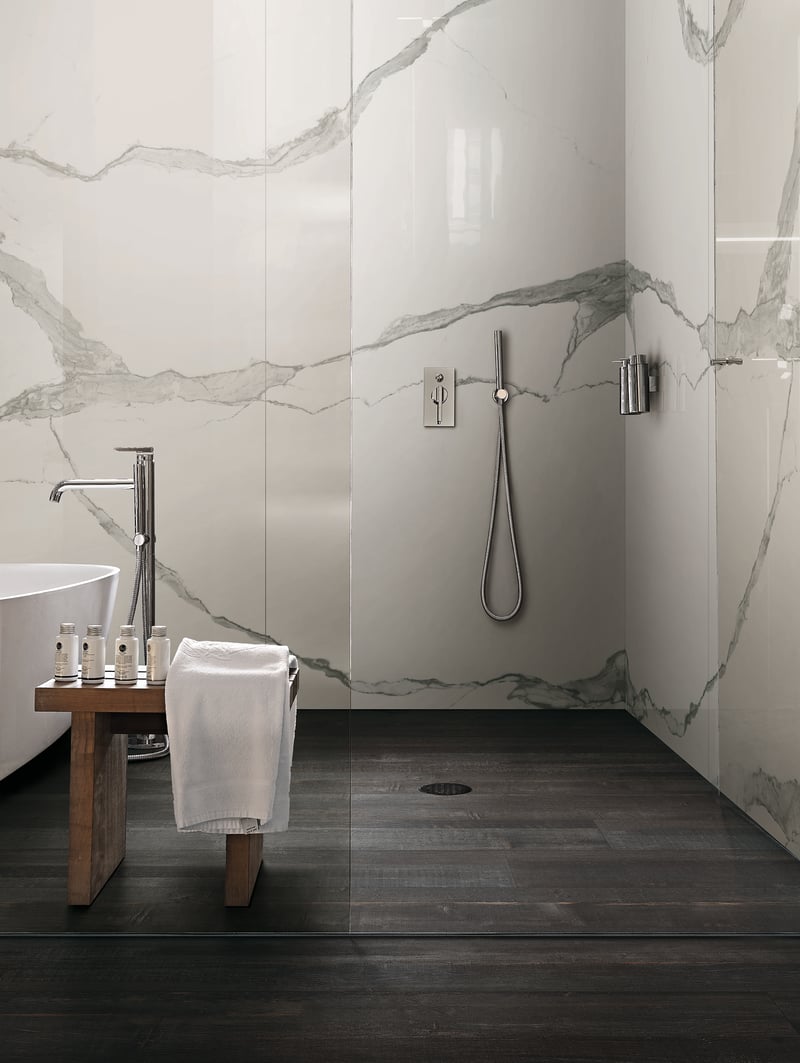 There's no substitute for an elegant ceramic or stone design featuring large format tiles, which can be counted on to remain both stylish and functional in years to come. If you're determined to bring the patterned look of wallpaper into your home, don't hesitate to class up your space with visually appealing wall tiles.
Ready to make the most of large format ceramic or stone tiles? Don't hesitate to seek assistance from Decorative Materials. We're happy to provide design ideas that will make your space pop. Check out our 2019 Product Lookbook to get a better sense of the latest styles. Don't forget to stop by our showrooms to see our designs in action. Contact us today for more information.