Black and white is an inherently classy color combination, but it briefly fell out of favor during the all-white craze of the past decade. Thankfully, this gorgeous pairing is in the midst of a well-deserved comeback — spurred, in part, by an ongoing preference for neutrals. Today's black and white designs allow homeowners to move beyond white-dominant looks while continuing to harness the versatility of the neutral approach. Bold and luxurious, this color combination is guaranteed to make a visual impact without looking cluttered or dated.
Interested in taking your love for neutrals in a new direction? Keep reading to learn more about the latest developments in black and white design.
Modern Takes
There's plenty to love about vintage black and white, but today's designs go beyond the looks of yesteryear. While the mere thought of black and white tile may evoke mental images of delicate mosaics, today's looks tend to be far bolder. Luxury is the name of the game for modern black and white, with new designs infusing larger-than-life graphics and patterns.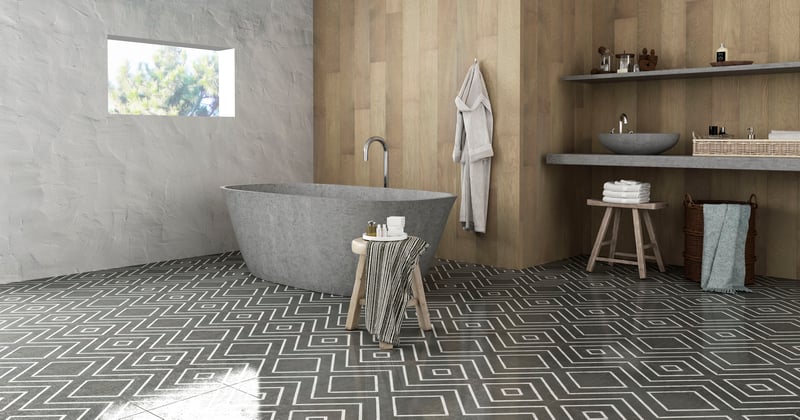 Examples of today's bold black and white designs are abound, but we're particularly obsessed with the crisp look of Encaustic 2.0. This large format porcelain ups the ante with eye-catching geometric patterns featuring sharp lines and plenty of contrast. Encaustic 2.0 instantly adds dimension to any room in which it is installed.
Another excellent option: Bahia mosaics from Encore Ceramics. These tiles incorporate several beautiful shapes rarely seen in classic mosaics. Bahia's Milk gloss is especially gorgeous, as the color contrast draws additional attention to the mosaic's unique shapes.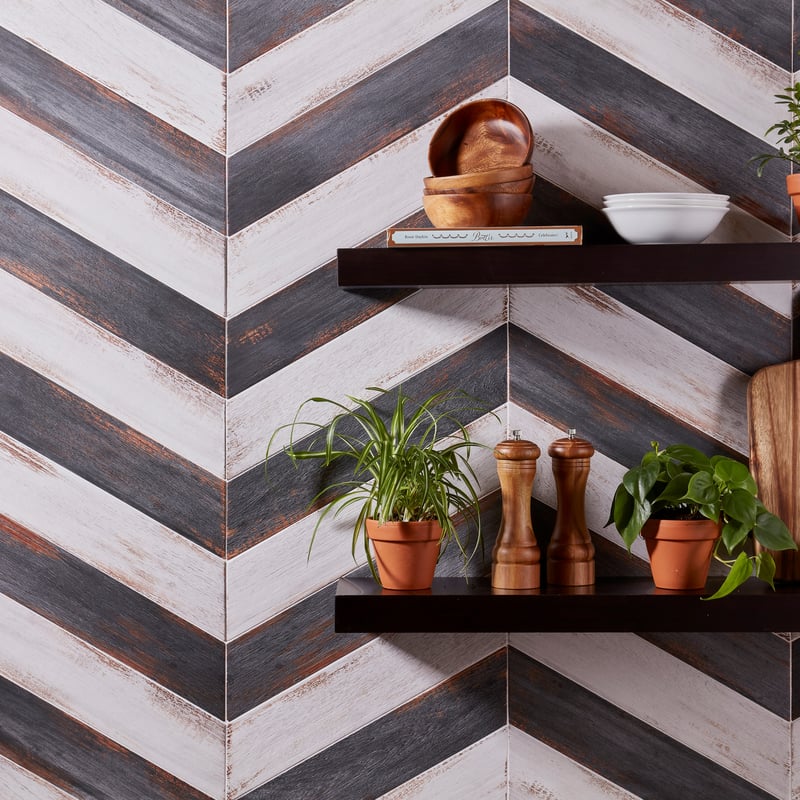 AKDO is an undeniable leader in the modern black and white movement, and with good reason: the designer offers a versatile array of elegant, yet trendy patterns. Neutrals dominate AKDO's collections, with black and white, in particular, featured on a regular basis. Texture also plays a significant role in AKDO's unique look.
Graphics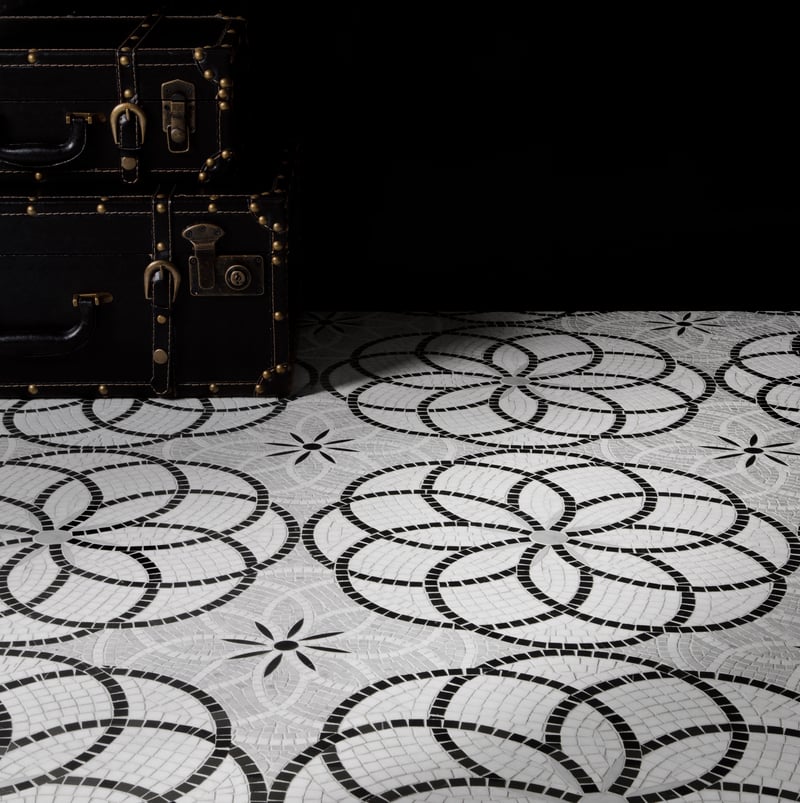 Large format tile is increasingly common in black and white spaces, but it is by no means the only option for integrating a modern look. Even small tiles can be used to create highly graphic patterns in black and white — and without opting exclusively for familiar vintage designs. This is best evidenced by Artistic Tile's statement mosaics, several of which are available in black and white. Artistic Tile's Villa design, for example, delivers on the artistic designation in the designer's name by incorporating stunning floral spirals. This tile brings a notably modern edge to classic Romanesque design.
Like Artistic Tile, New Ravenna delivers with its Diamont mosaics. While these small triangular tiles are available in several colors, they look especially impressive in polished Calacatta and Nero Marquina — beautiful shades of black and white. The angular style breathes new life into the mosaic concept.
The right black and white design can deliver a sophisticated and artistic edge to any space. Don't be afraid to go bold with these classy colors. Whether your dream tile features bold graphics or intricate mosaics, black and white can elevate virtually any look. Feel free to experiment with unique styles that make the most of this exciting trend. You'll never regret bringing the luxury of black and white into your life.
Ready to make the most of today's black and white trend? You'll find plenty of ideas at Decorative Materials showrooms, where you can see bold patterns in action. Ample inspiration is also available in the 2019 Product Lookbook. Don't hesitate to contact us online for more information.