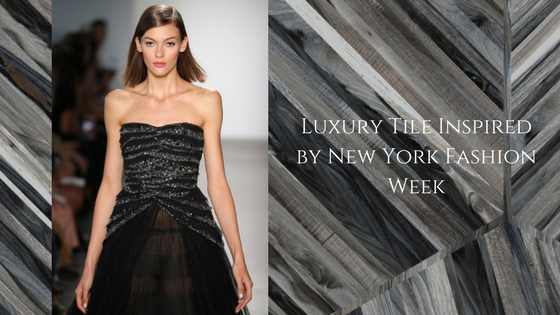 Every year, fashion aficionados from all around the world flock to New York City to prove that they remain at the cutting edge of modern fashion. Some recycle styles from seasons past, but others draw on fascinating artistic concepts to create truly original pieces. Their efforts ultimately inspire artists in a variety of other industries. Elements of New York Fashion Week even end up in the bold tiles everyday homeowners install, including traditional kitchen tiles and contemporary bathroom tiles.
The Artistic Elements of New York Fashion Week
Art influences many industries and is visible in many mediums. New York Fashion Week is of particular influence; this is where the world's most cutting-edge designers flock to show off their latest creations and learn from one another. Seemingly minor details can provide major inspiration for fellow artistic types, who then use their unique perspective to develop a completely new style. Artist inspires artist, with concepts ultimately transcending setting or material.
If you take a close look at the luxury tiles in your life, you may gain a greater appreciation for the deep care that went into their production. Long before they made their way into a luxury tile showroom in high end towns such as Vail or Aspen, these contemporary tiles were merely an idea in a designer's head, sparked by a beautiful painting or a fashionable gown.
Your beloved decorative glass tile or modern wall tile may very well have been conceived during New York Fashion Week. Detailed below are several of the most notable pieces from the latest NYFW, and how they correspond to some of the most exciting new indoor and outdoor tile designs:
Thinking Pink
When designing her eye-catching 2018 Ready-to-Wear collection, Pamela Roland drew inspiration from the elegance of Monaco, known for its stunning stone mosaics and glass mosaics. Pamela Roland's pale pink dress may appear delicate at first glimpse, but its strength lies in its details. Beading on the top half of the gown contrasts the bottom ruffles.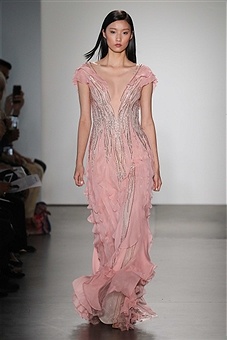 Contrast also abounds with Pratt + Larson's Blossom Tile, which effectively combines the seemingly opposite concepts of dainty and bold. The ceramic tiles' rounded shapes and intricate pattern provide the same ruffly impression seen in the full skirt from Pamela Roland's pink piece. While the dress packs a pop with its contrasting silver detailing, the same contrast occurs in white with the Pratt + Larson design, which is ideal for decorative kitchen tiles.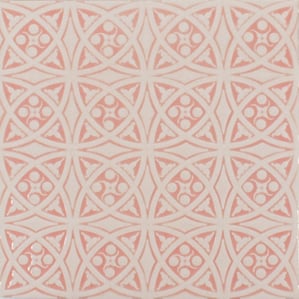 Black Is Back
Black has always been the most classic and yet most modern color. It never fails to make an impression. However, instead of resting on the strength of the color alone, today's designers are committed to adding new elements, both for dresses and for modern flooring.
No color is as effortlessly chic as black, as evidenced by yet another flirty number from Pamela Rowland. This particular dress features grey detailing, turning horizontal stripes from nautical to evening wear trendy. This sleek feel is also evident in the KAURI Collection from Artistic Tile, which features highly polished porcelain tile that resembles petrified wood. Like Pamela Rowland's black dress, the black and grey tile from the KAURI Collection is undeniably versatile. Depending on the setting in which it's used, it can appear either elegant or exotic. Its pattern lends the illusion of movement, just like the surprisingly similar dress from Pamela Rowland. If you're not enthusiastic about strictly black or gray tile flooring, you'll be eager to see this remarkable tile on sale.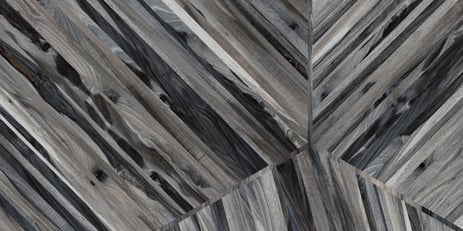 Metallic Dreams
Although it retains a modern edge, metallic is far from new on the runway or in the world of decorative kitchen tiles. Both, however, have benefited from fresh ideas, which make them even more sophisticated but also easier to pull off than in the past.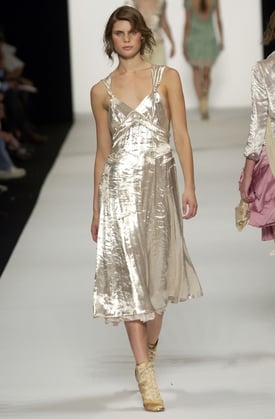 Marc Jacobs' 2018 Ready-to-Wear collection prompted the re-imagining of seasons past somewhere beyond the urban landscape of New York City with an unforgettable metallic sheen. Structured and edgy, the runway dress demonstrates clear parallels with the Metal 2.0 collection from AKDO. Like Marc Jacobs' latest metallic creation, these contemporary tiles are sleek and simple.
Marc Jacobs is by no means the only designer determined to bring metallic back in 2018. Anna Sui jumped in on the trend as well, capturing the fascination of fashion lovers and history buffs everywhere with her perfect mish-mash of historical periods. For example, with this outfit, she brings the Bronte sisters into the contemporary world, combining their delicate sensibilities with the modern sheen of metallic. While Marc Jacobs focuses on the futuristic side of metallic, Anna Sui seeks to play up the luxurious element, hoping that customers who witness her designs in stores will "feel transported into a world of treasures."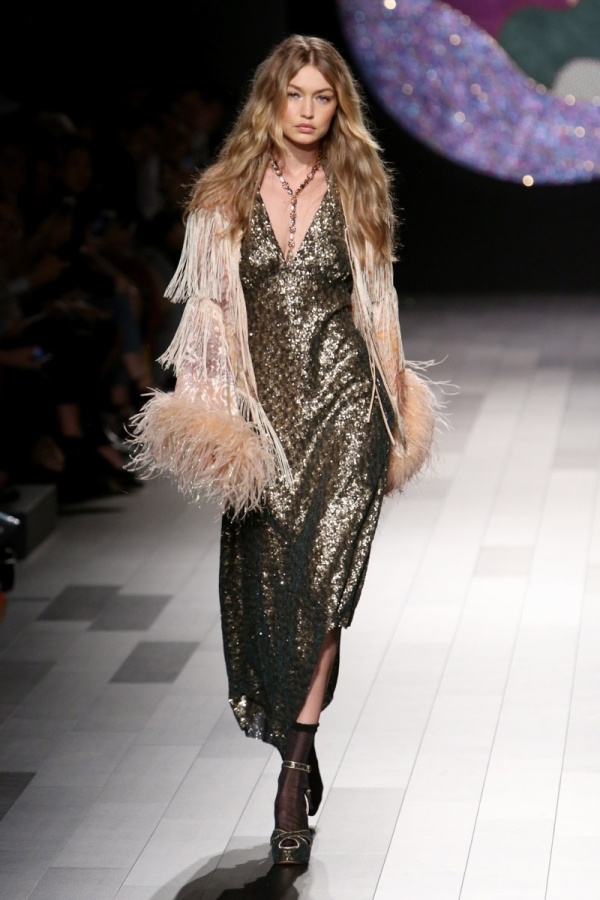 Anna Sui's mix of elements is evident not only in her metallic dress from New York Fashion Week, but also this similar metallic tile, which is at once stately and edgy. The luxury tile features a smooth, gilded surface that captures light spectacularly. One could imagine it in a historical novel or as decorative mirror tiles of today's era; it would be equally at home in both environments.
Artists and fashion aficionados have inspired one another for millennia. Through appreciation and incorporation of concepts across mediums, art enthusiasts in both the fashion and interior design worlds can deliver the best of their respective passions to other areas of the artistic landscape, including travertine stone tile, decorative limestone and even polished concrete tiles.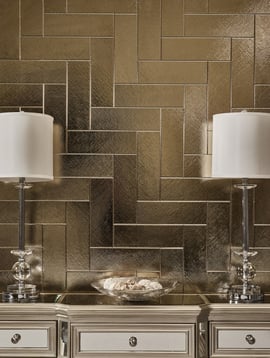 Ready to learn more about the fashion and artistic elements underlying the latest stone and ceramic tile designs? Explore our inspiration gallery or contact us for more information.