From international exhibitions to client demands from our Aspen tile showroom, it's clear that rustic is on the rise. We see it in furniture, decor, and even on the runway. But rustic in 2018 doesn't look exactly like the log cabin stereotype you might initially picture. In keeping with the current 'less is more' mantra, today's take on rustic is slightly refined. If you're intrigued by the idea of rustic but worried about falling out of style when new trends inevitably emerge, be comforted: done right, rustic looks timeless and refined.
Rustic Tile Is Trending
Take a quick look at interior design magazines, decor exhibitions, or HGTV. Interspersed amongst the jewel tones and metallics of 2018, you'll see plenty of rustic elements. Homeowners are all for making their environments cozier while still remaining undeniably trendy. They've discovered that rustic doesn't automatically mean kitsch; in the right context, this beloved style can be simultaneously on trend, elegant, and homey.
Despite its current trending status, rustic offers the ultimate in timeless style. It may currently be 'in,' but really, it was never 'out' in the first place. With a simple, clean look, it can be tough to tell whether a home has truly earned the label 'rustic' over the years, or if it's in keeping with current trends.
Features of Rustic Tiles
Rustic evokes a comfortable feeling. It's all about getting back to nature, even when you're stationed inside. A truly rustic home brings the outside in by incorporating natural, unrefined elements throughout. Often, this means wood paneling (or, in an age of HGTV, shiplap), log cabin-inspired decor, and found objects such as vintage barrels or even interesting tree branches.
For most people, the term 'rustic flooring' brings wide wooden planks to mind. But not everybody is willing to put up with the upkeep of hardwood - especially in kitchens or bathrooms. While tiles might not initially seem to fit the rustic concept, many varieties are the very definition of rustic - constructed from natural materials and minimally finished to evoke a quaint, outdoorsy feel. Like other features, rustic tiles typically come in earthy colors. Large format is typical, in keeping with the rustic's chunky, oversized focus. Above all else, rustic style should feel rugged and unpretentious. The less finished, the better.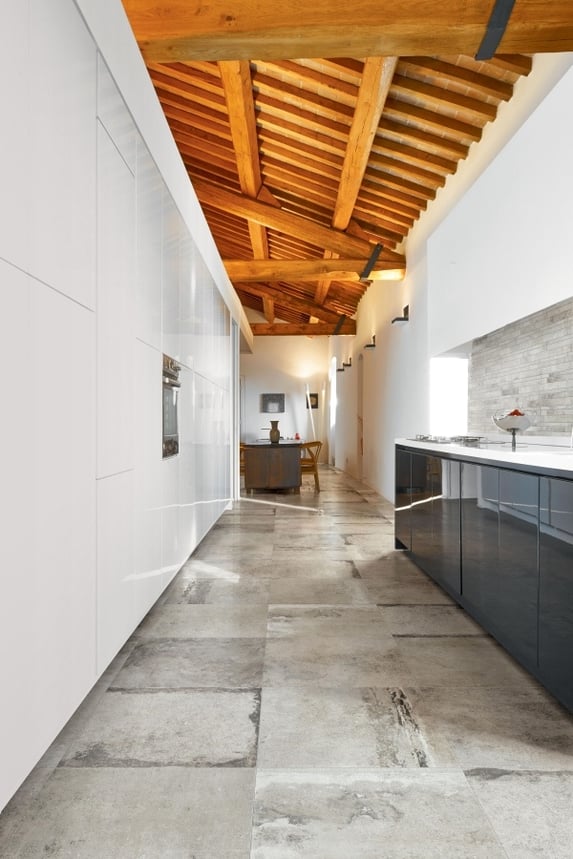 Rustic Tile Ideas for Your Home
You've known for some time that you want to incorporate elements of modern rustic style into your home, but you're not sure where to get started. Translating an interior design concept into action can be tricky; new tile is a great place to start. Read on to learn how you can incorporate rustic-inspired tile into your home without making it feel out of date.
Achieving Refined Rustic
You desire a rustic look for your home, but aren't willing to go full hunting lodge. No worries; it's possible to incorporate rustic elements while still retaining a contemporary edge. Think of rustic and refined as a spectrum; on one end you have the glitz and glamour of an opulent design, and on the other, a perfectly distressed, unfinished appearance. Bring that balance somewhere in the middle to achieve a modern trend known as 'refined rustic' or 'rustic chic.'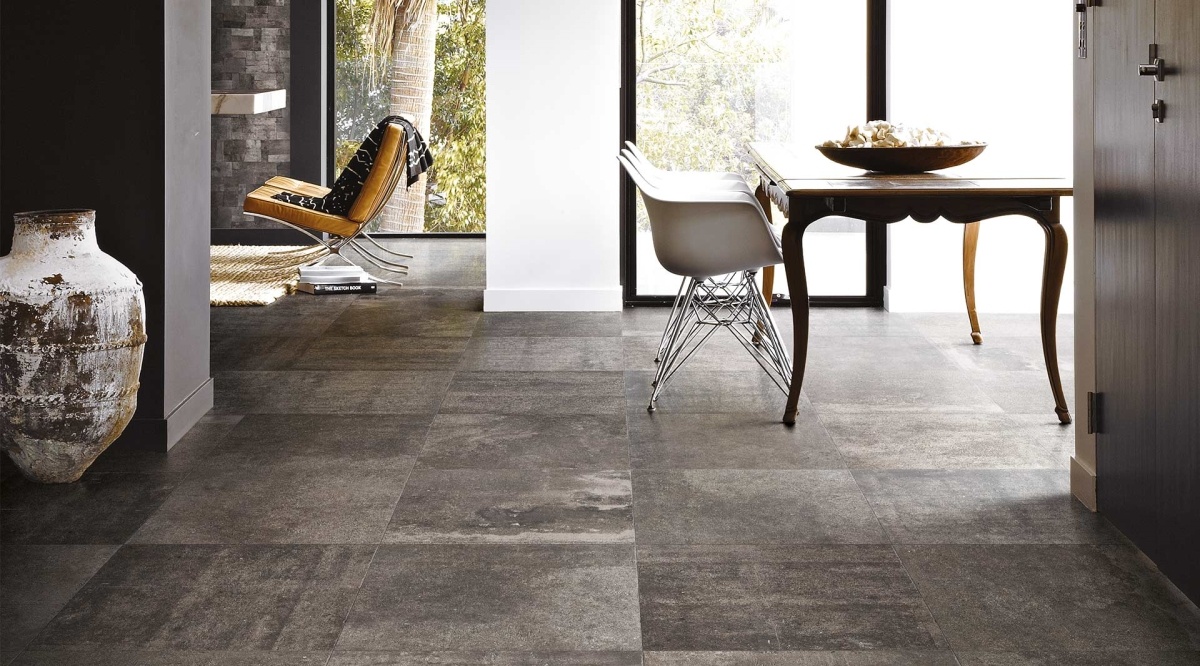 Rustic French Country
An appealing take on the rustic concept worth trying in your home: rustic French country. Instead of evoking a log cabin in the Yukon, this trend hearkens to the simple, yet elegant style associated with the French countryside. Don't rely solely on wood; instead, mix it up with stone and bronze. For example, stone floors in earthy tones mix complement bronze light fixtures and antique wood doors.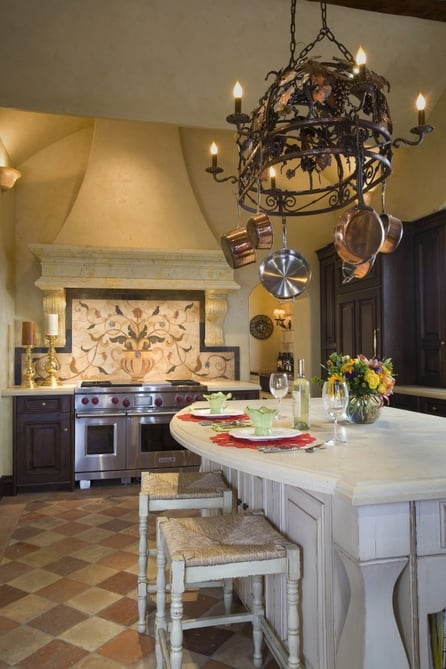 Several types of tile invoke a rustic feel in an otherwise modern home. If you're struggling to choose, consider travertine as a practical, yet beautiful option. A beautiful variety of limestone formed near mineral spring deposits, travertine effortlessly spans the divide between rustic and elegant. It's exactly what you'd expect to find in a tasteful French cottage.
Embrace the Rustic Beauty of Terracotta Tiles
Interested in incorporating a more sophisticated take on the rustic trend? Opt for terracotta tiles, which deliver a classic, yet elegant atmosphere. This versatile form of flooring works with a variety of styles, including Mediterranean, farmhouse, and yes, full-on rustic.
Picture your favorite flower pots. In all likelihood, they're made from terracotta - so you're already intimately familiar with this material. Terracotta is a distinctive form of earthenware with a brownish-red hue. The term literally means 'baked Earth.'
If installed and maintained correctly, terracotta can last decades, even centuries. It's notoriously durable, especially if treated with the appropriate glaze or finish. Although more susceptible to the elements , unglazed terracotta delivers a weathered, quintessentially rustic appearance. While it's currently enjoying a moment in the limelight, this type of tile never fully goes out of style. You never need to worry about your terra cotta floors looking outdated.
Whether your dream rustic home includes travertine stone or terracotta tile, you can easily bring an elegant edge to an otherwise unpretentious look. Fill your home with the warmth and character that only rustic elements can deliver.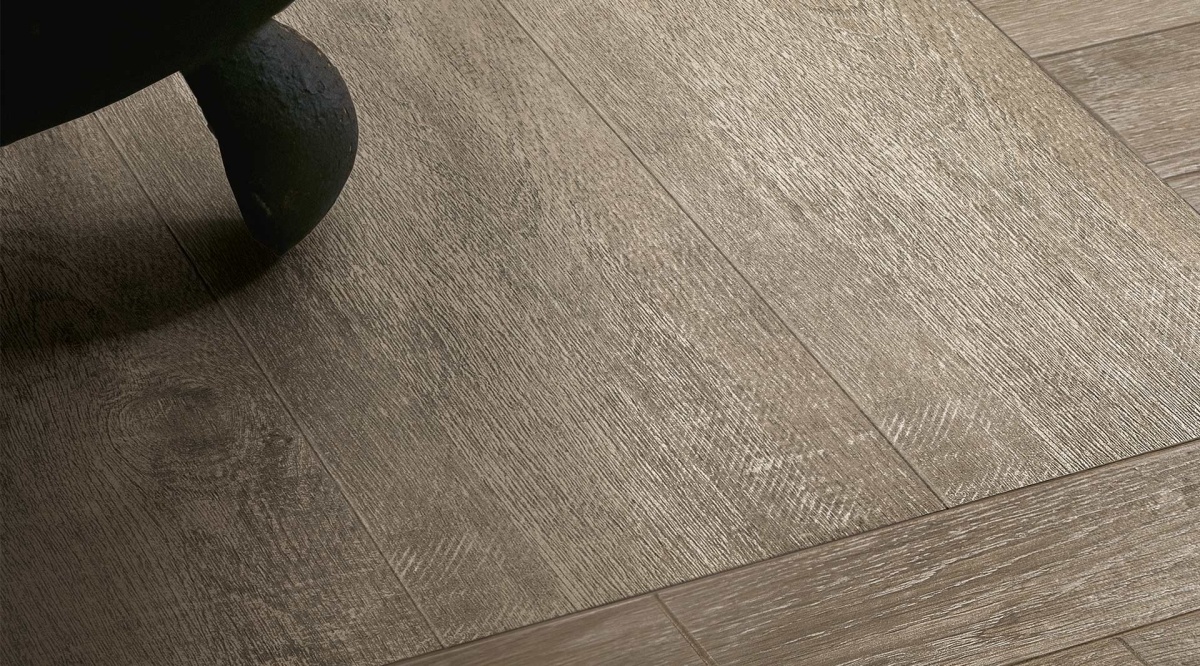 Ready to update your home? Feel free to check out the awe-inspiring spaces in our inspiration gallery. Don't hesitate to contact us with any questions you may have; we're eager to help you get your design project started as soon as possible.