Contrast is a big deal in modern tile design. The most impactful looks balance elements that seem, at first glance, radically different. This infusion of multiple colors, patterns, or textures can quickly make a statement while also granting your space an undeniable sense of personality. Why stick with the status quo when you can make your mark with a complex, yet visually impactful look?
While contrast can keep spaces from feeling stale, it carries its fair share of risk. When taken to an extreme, this approach can veer into clashing territory, delivering a messy and distracting look that holds little visual appeal. The right forms of contrast, however, reduce this risk, allowing you to up the artistry of any space without making it seem haphazard.
Incorporating a Variety of Materials
One of the easiest and most sophisticated options for infusing contrast without overwhelming the eye? Material variety. The right blend of materials can add instant depth to any space without compromising its contemporary feel or sophistication. In fact, carefully blended materials provide an elevated look that often feels more elegant than single-material counterparts.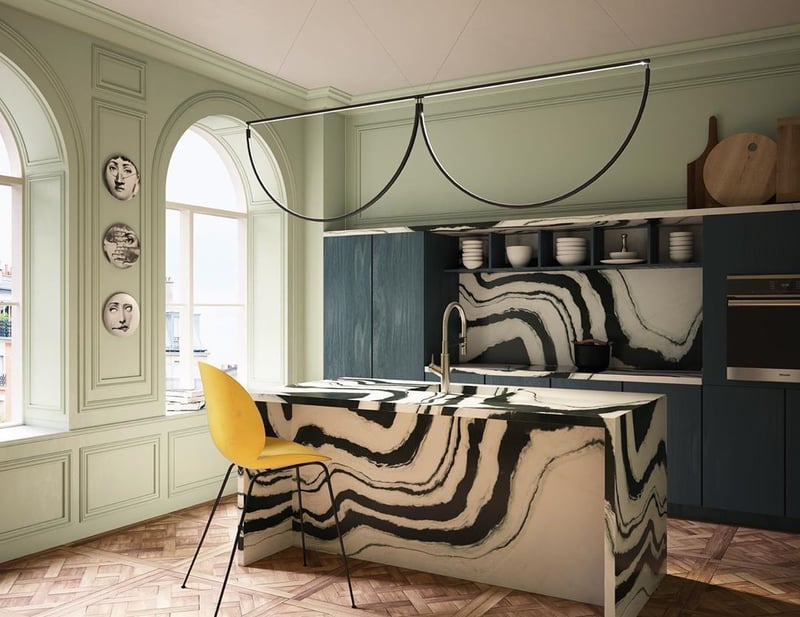 Of course, not just any materials can be highlighted in the same design. Ideally, various materials will simultaneously contrast and complement one another.
When in doubt, opposing textures are a safe bet. Glossy surfaces such as marble, for example, are that much more impactful when featured alongside matte designs. Likewise, smooth surfaces look best if contrasted against rough options such as brick.
Artistic Tile's Caiman design is a great option for infusing texture into spaces otherwise dominated by smooth looks. This tile offers a unique take on the concept of reptilian skin while still delivering all of the advantages of ceramic. Both bold and earthy hues are available, so you can also incorporate contrasting colors if you desire.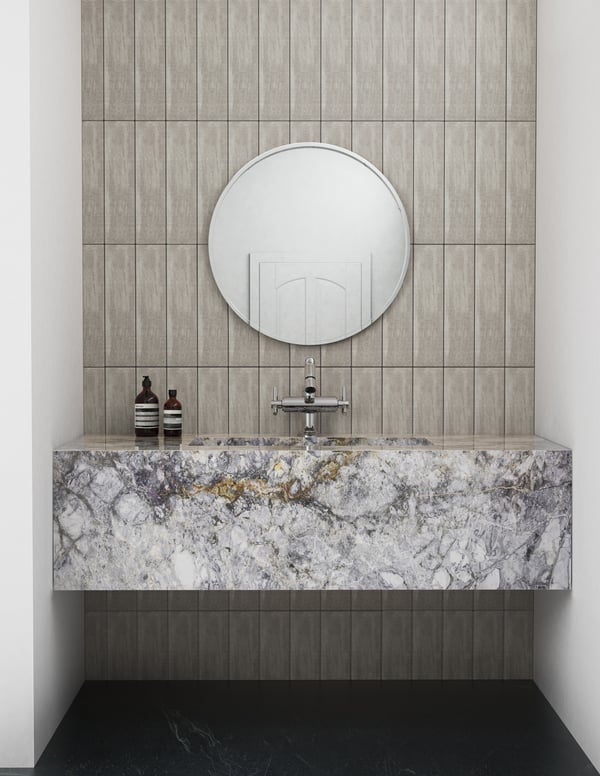 Consider integrating the Caiman look into backsplash, which can easily be contrasted with a glossy marble counter, sink, or even bathtub to achieve a sophisticated, yet edgy aesthetic. This versatile design can be infused into a variety of spaces — but it looks especially impressive in bathrooms and powder rooms.
Transitioning Inside and Out
Contrasting elements need not be limited to a single room. This concept works especially well for spaces that transition from inside to the great outdoors. In such situations, contrasting designs can prove both aesthetically pleasing and functional. For example, smoother natural surfaces may be highlighted inside, before transitioning to a rougher design for patios and other outside spaces, where additional texture can provide greater stability.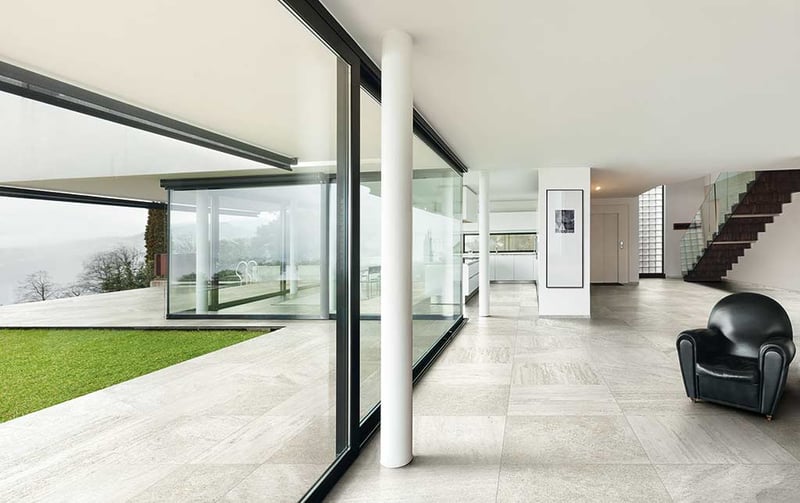 We are currently loving the subtle, yet impactful transition from inside to out achieved by acclaimed tile manufacturer Florim. Their Airtech collection allows adjacent indoor and outdoor spaces to interact with one another while also feeling distinct. A variety of surfaces, sizes, and colors are available, making it easy to play with contrast in different locations. Cosmopolitan, yet clean, these contrasting looks hold clear contemporary appeal.
A little contrast can make a world of difference. Don't be afraid to experiment with a variety of materials to achieve a distinctive, yet integrated look to elevate your favorite spaces.
We're in love with the many intriguing looks made possible by the infusion of contrast — and we expect you will be as well, once you've seen our favorite looks in action at our tile showrooms. You can also check out our most impressive designs while examining our Product Lookbook. If you're ready to learn more, don't hesitate to contact us online or over the phone.