Inspiration can be found in all corners of the globe, but nothing quite compares to Italian finery. From textiles to stone and everything in between, Italian professionals set the stage for some of the most exciting and impressive trends.
Given the far-reaching influence of Italian design, we decided to take a trip across the pond to learn firsthand from some of the world's design thought-leaders at FuoriSalone. Held in Milan, Italy, this event brings several of the industry's most noteworthy names together for an explosion of inspiration. The event corresponds with the Salone Internazionale del Mobile, which has, for decades, been relied on to promote the most exciting new concepts in residential and commercial design. We were privileged to attend this year — and we definitely made the most of our time there.
At FuoriSalone, our team enjoyed the wonderful opportunity to see the year's most daring designs on display. We were also able to interact face-to-face with the famous professionals responsible for these intricate works. We returned home feeling newly inspired by all that we observed abroad — and ready to make the most of today's exciting new techniques and concepts.
Salvatori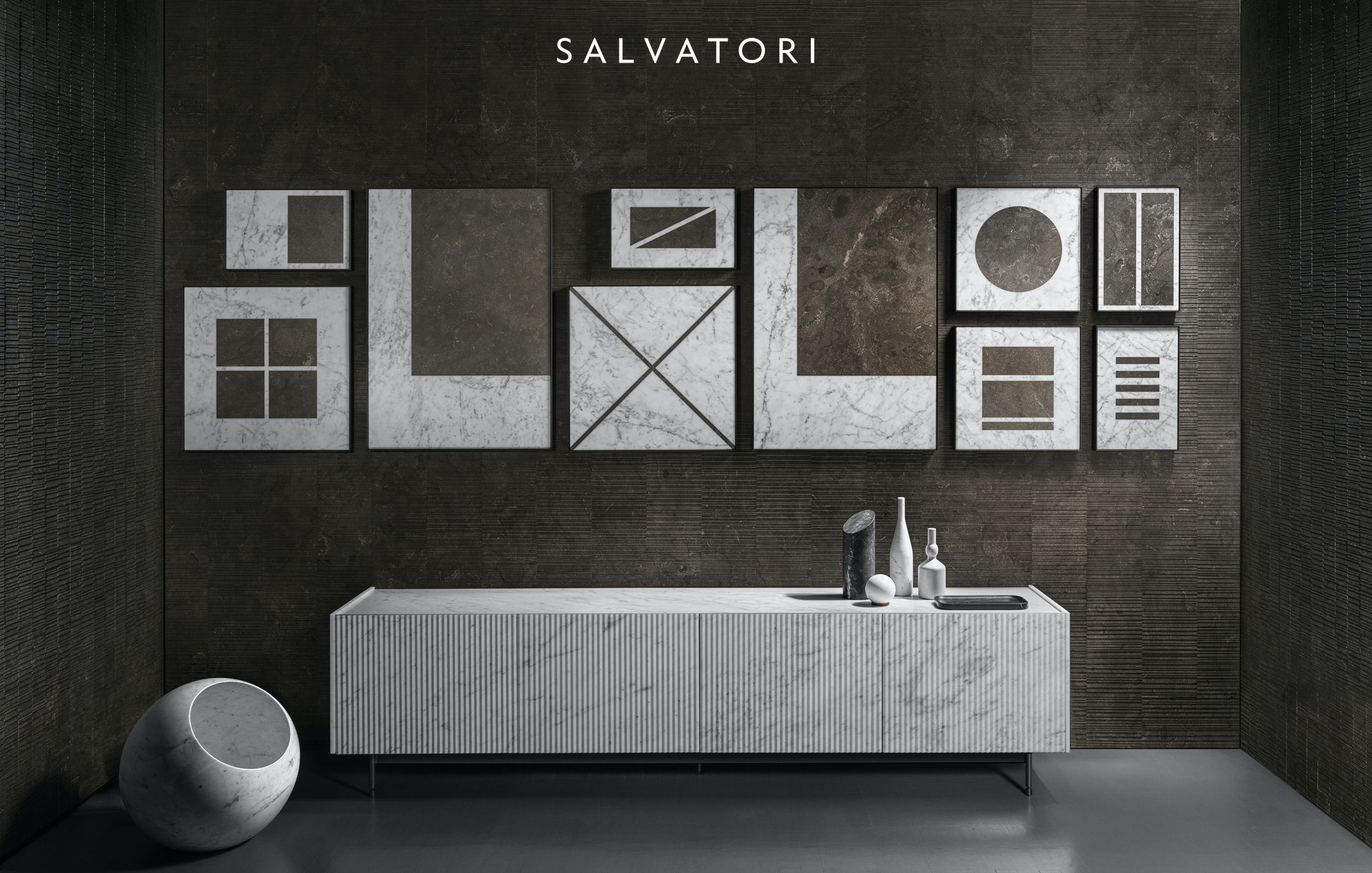 Photo of the Salvatori showroom in Milan
Our love for Salvatori knows no bounds. We appreciate Salvatori's attention to detail, as seen in the designer's iconic split face finishes. Innovation is also a Salvatori hallmark, with the revolutionary Lithoverde paving the path for the surge of recycled stones we now see today.
This year, Salvatori has collaborated with several acclaimed designers and architects to develop an initiative known as The Village. This effort aims to drive a different perspective on the many contemporary issues we currently face.
The Salvatori flagship showroom is located in Milan, where it integrates a variety of the designer's products to form a thoughtfully curated exhibit. From flooring to wall coverings and even lighting and vanities, every detail makes a difference.
During FuoriSalone, we were honored to meet with the Salvatori team — including Gabriele Salvatori — on the rooftop terrace, where Decorative's own Kirsten Schmit and Margot Hampleman enjoyed an inspiration discussion on design.
SICIS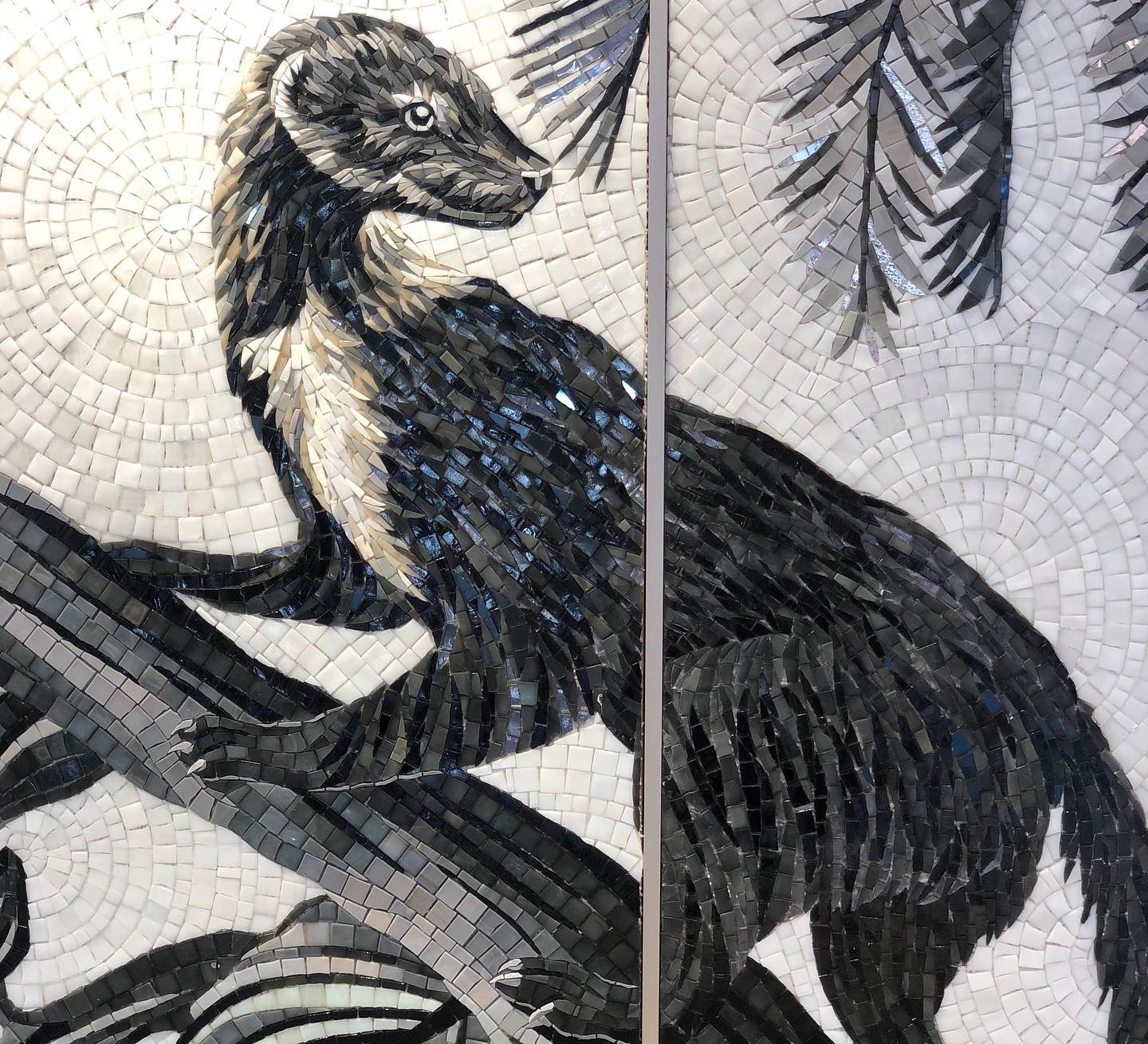 Intricate mosaic design by SICIS
As one of the world's most respected suppliers of artistic glass mosaics, SICIS showcases gorgeous products such as Vetrite glass slabs — cutting-edge suspensions of ultra-thin glass panels which incorporate the veins of precious gemstones, the hues of volcanic rocks and the depth of lunar landscapes.
We discussed the most exciting work from SICIS during Denver Design Week but were also fortunate enough to view it in person in Milan. We were especially impressed by the mosaics we encountered, which transformed practical tile wall coverings into breathtaking works of art.
In addition to showing off the most exciting concepts in modern tile design, SICIS took this opportunity to display trademark lighting, fabrics and furniture.
Antolini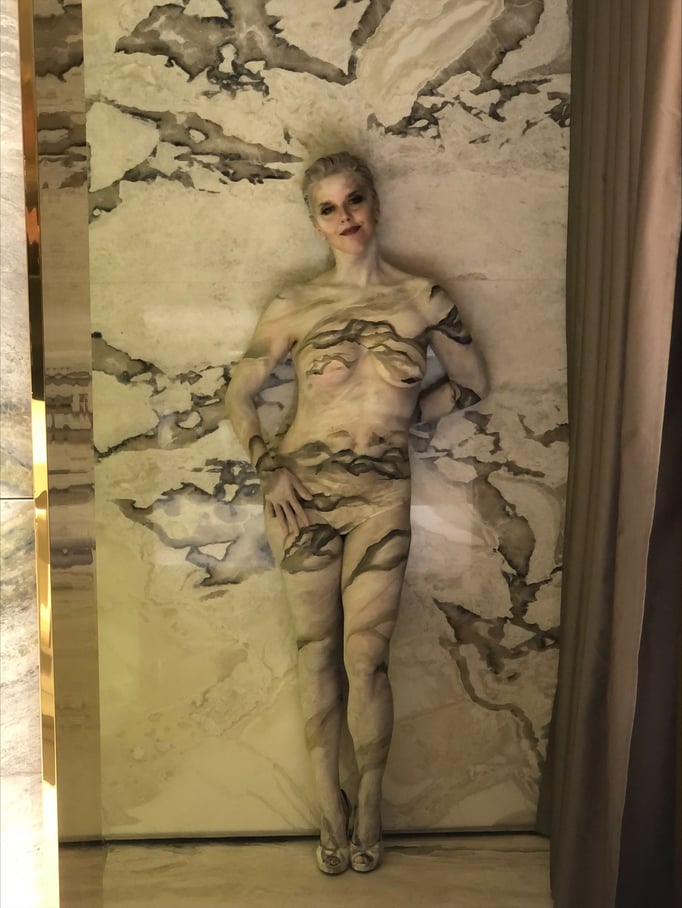 Model blends into a marble wall at Antolini
Glamour was the name of the game at Antolini's exquisite showroom event. Who can say no to bottomless prosecco — or delectable cuisine prepared by a premier Italian chef? This memorable showroom visit even included body-painted models who blended in beautifully with Antolini's gorgeous marble.
Florim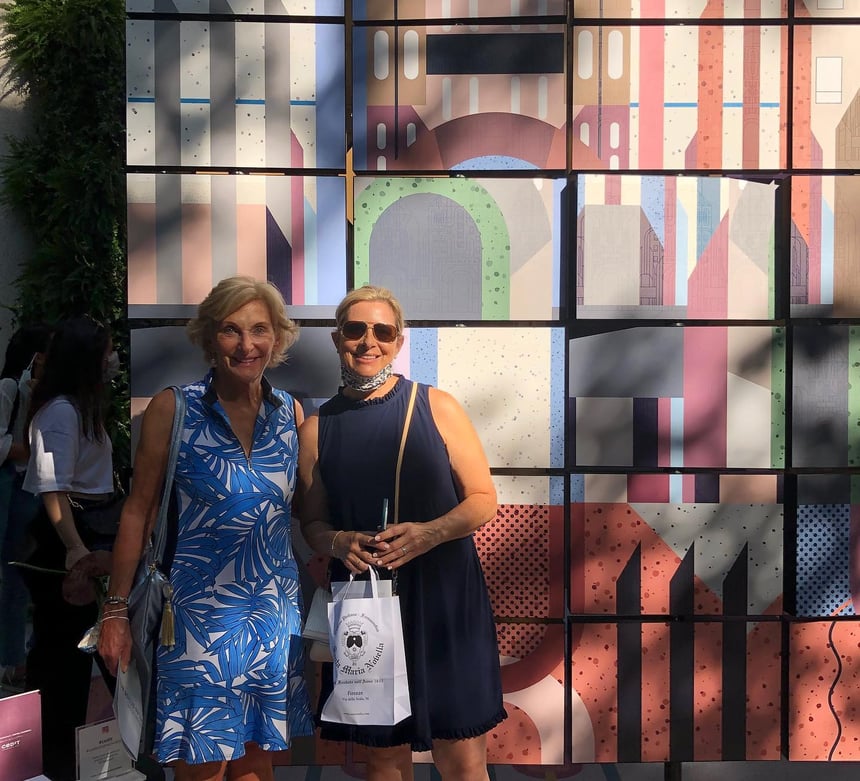 Margot Hampleman and Tanya Baldwin pose at the Florim exhibit
Florim's memorable outdoor exhibit brought the edgy sensibilities of street art to the forefront. We were astounded by the creativity of Florim's Chimera, a collection featured in our Tile Forecast Lookbook. The collection was uniquely presented in a vertical display that resembled a larger-than-life puzzle.
Designed by the talented Elena Salmistraro, this display formed a re-interpretation of the Hotel Chimera — a concept meant to help us "escape from and evade reality."
Survival Exhibit at University of Milan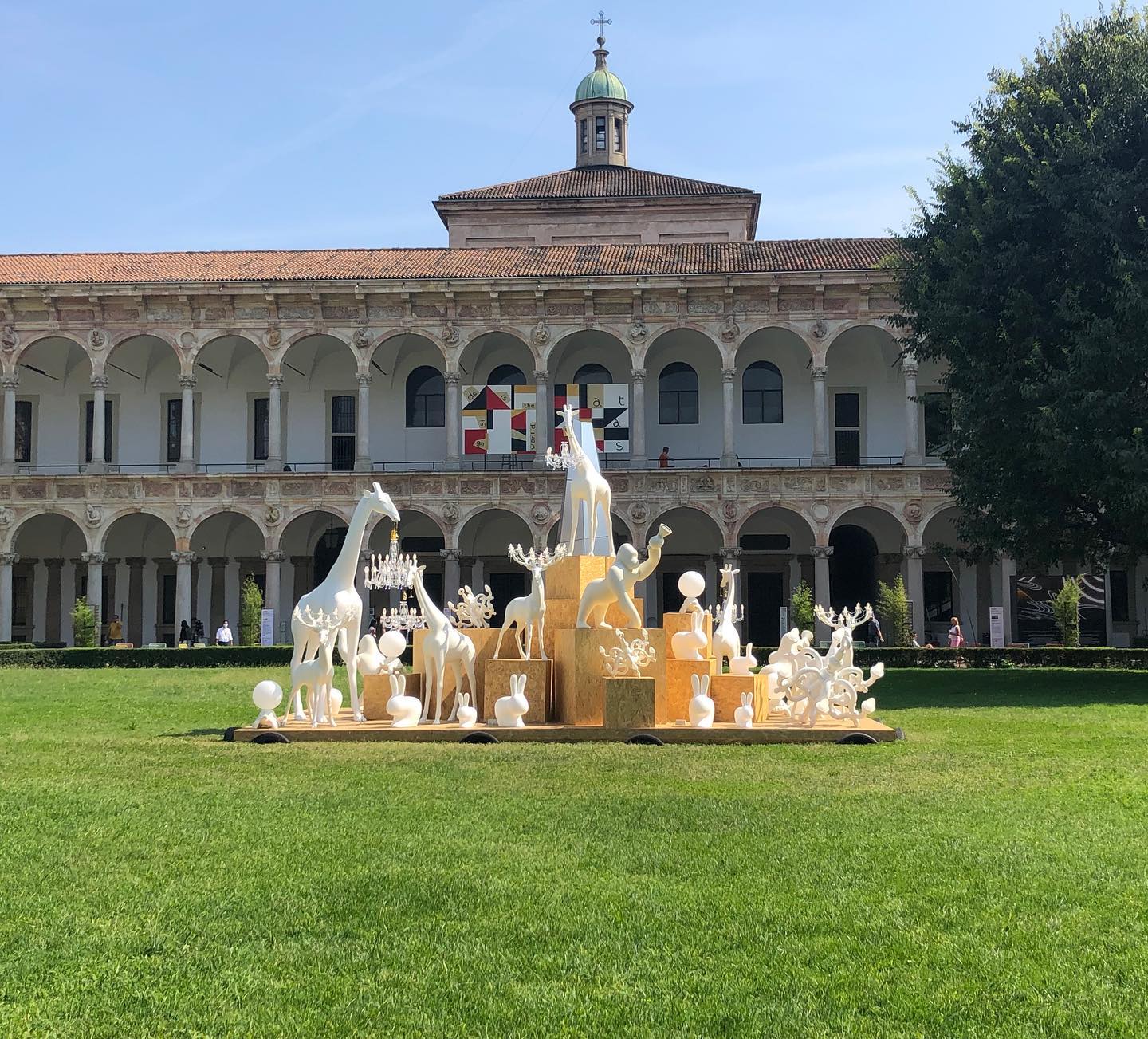 "Survival" outside the University of Milan
As tile enthusiasts, we always appreciate artistic uses of natural stone. That being said, we can also be wowed by many other forms of artistry, as we were reminded when checking out the University of Milan's animal exhibit.
Known as Survival, this collection of animal lamps was designed by Stefano Giovannoni. Integrating Biblical stories with the modern plight of climate change, the display highlighted not only the challenges of our time, but also, the opportunity for rebirth.
Our experts at Decorative Materials make a point of keeping up to date with the latest tile trends. The concepts we encounter at events such as FuoriSalone influence our work with local designers and other artistic types. To learn how you can benefit from our in-depth insight, call or email our team today.