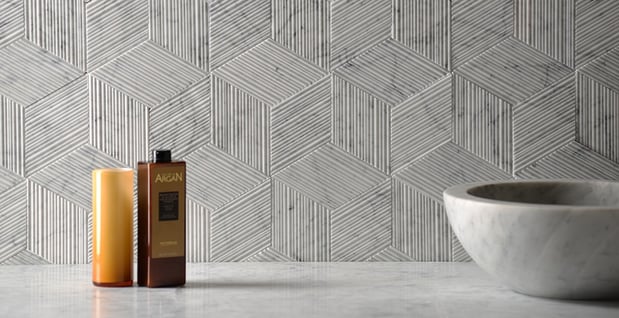 Is dirty grout and tile in your bathroom cramping your style? You're not the only one. Between all the self-proclaimed tile cleaning products and grout cleaning products on the market, it's hard to know which ones are really the best cleaning products for your bathroom. This article discusses several ways you can clean the stone tile and grout in your bathroom.
Cleaning Your Stone
When it comes to cleaning natural stone, you can us a mild dishwashing detergent with warm water. Stone soap – a product made explicitly for cleaning stone – is best, but mild dishwashing soap also can be used in a pinch. The best product for cleaning natural stone tile is one that is "ph neutral" (it will say so on its label). You also can use the ph neutral product on stone in your kitchen. Never clean your stone with bleach or a product that has bleach in it. (You also should never use a mix that contains ammonia with bleach, as this could give off toxic and perhaps even lethal vapors.)
For best results, use a clean rag mop on stone floors and a soft cotton cloth on other stone surfaces. Be careful about how much cleaning product you use as even ph neutral products could leave a film and/or cause streaks if you use too much.
Rinse whatever surface you're washing thoroughly with a clean, soft cotton cloth and be sure to frequently change your rinse water so that it remains soap free.
As for soap scum forming on your grout or shower/bath doors, swipe the surfaces with a squeegee after each shower or bath. If soap scum does form, remove it with a non-acidic soap scum remover.


Choosing Your Cleaning Products
As you look for ph neutral stone cleaning products, steer clear of those that have lemon, vinegar or other acidic ingredients as this will dull the stone (at least) and possibly even scratch calcareous stones such as limestone, travertine, onyx, and sandstone.
You also should avoid scouring creams or powders as their abrasives can scratch some stones. Laundry rust removers and toilet bowl cleaners have trace amounts of hydrofluoric acid (HF), which can damage the silicates and other minerals found in all stone, even quartzite and granite.


Our recommendation: Oceancare
Of all the bathroom tile cleaning products on the market, Oceancare is our top recommendation. It forgoes the toxic cleaning components that can pose health risks to families, and still manages to offer superior cleaning capabilities. In other words, these products combine industry leading performance with the ultimate peace of mind. Oceancare products are multi-purpose, reasonably priced, and last longer than most commercial cleaning products. The company's philosophy aligns with our own: providing a clean, safe and healthy home while protecting our environment.
While its uses are diverse, Oceancare offers products that effectively clean both tile and grout – the perfect (yet elusive) solution for bathrooms. This handy chart will help you make wise purchase decisions to maximize your household cleaners, while still remaining within scope to achieve optimal results in every room of your house.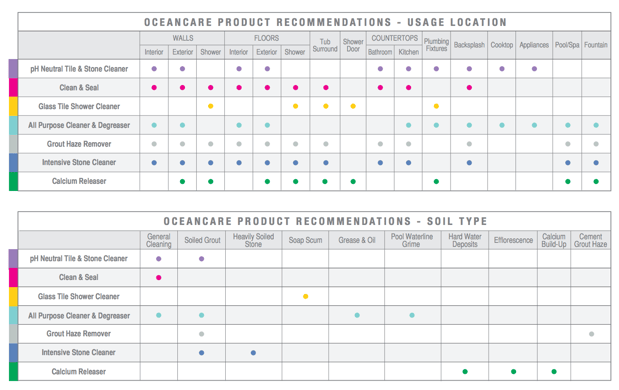 Whether it's just you, or there are five people sharing your bathroom, keeping things tidy can be a struggle for anyone. Oceancare cleaning products are socially conscious solutions that actually work, without scrubbing or making a big mess.
If this inspires you to find ways to keep other surfaces of your house beautiful, check out our Stone Care Guide.