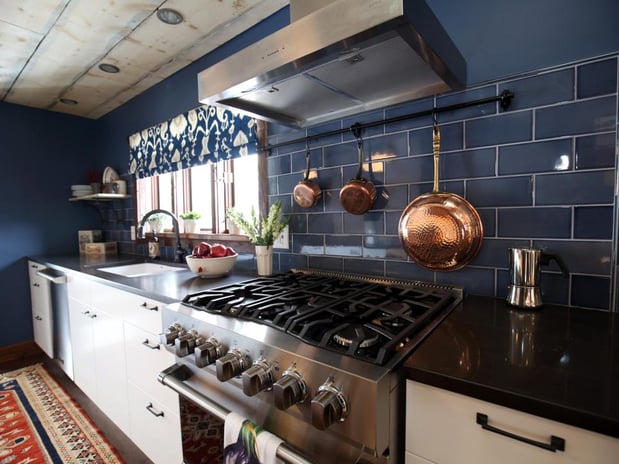 Beautiful homes need beautiful kitchens. If you are remodeling your home, don't overlook this important space! No longer just a back-door room where cooking happens, your kitchen is essentially the place where the family comes together. It's the room where you can both entertain guests in the evenings or relax alone with a cup of tea at the end of a busy day.
Designing Your Perfect Kitchen Space
Many memories are made in kitchens. From the scent of your mother's baking to the first dinner with your partner. From the moments of family chatter to teaching your children how to cook.
Are you looking to update your kitchen, but are struggling to find quality materials that match your style? We have the perfect contemporary kitchen tile materials for you. Now, your kitchen backsplashes, walls and floors can become not just functional, but a thing of beauty and inspiration.
Here is an overview of some of our top-rated tile materials. Each collection has a variety of designs so that you can easily find the one that best suits your home and kitchen space.
Waterjet Stone Mosaics for a Beautiful Kitchen Backsplash
If you've never considered waterjet stone mosaics for your project, you'll be happy to know that this unique kitchen tile design is now more affordable. Today's modern technology allows for stone, glass and ceramic to be cut smoothly and fitted to any shape or size. The most perfect curved shapes and lines can now be attained. Through this technical and precise method of cutting the material, we are able to create patterns with minimal grout joints.
Our white marble waterjet mosaic tile collections are beautiful and elegant. They combine delicate glass with exquisite stone for a sleek, traditional, yet updated look. Your kitchen backsplash will feel even more inviting with the gorgeous stone mosaics. The glass and stone work well together, flowing gracefully in one intertwined pattern design.
If your kitchen is the main place of the home for entertaining, it's important that it's a space that feels welcoming and cozy. Having the Waterstone jet mosaics give it an ethereal feel. It is an ideal way to highlight your kitchen and encourage more conversation and activity here.
Our Cool Porcelain Tiles Collection
In Addition, our wide array of cool porcelain tiles is a popular choice for kitchen floors. We have a full collection of designs, ranging from Petra Grey Muretto to a Taupe Back Field and porcelain that resembles shells, wood, silver and glass. These gorgeous porcelain tiles give your kitchen space the perfect floor to move around and entertain guests.
Porcelain tiles may look similar to stone, but there's a unique difference: Porcelain is usually a tougher, denser substance. That makes it more durable and a great choice for both outdoors and indoors. Made from a mixture of finely ground clay and sand, porcelain is made to last and is stain and scratch resistant.
Inside your home, porcelain is ideal for spaces that are likely to get a lot of wear and tear. In the kitchen, for example, you don't want your floors to suddenly start chipping or getting scratched after so much use. So this is when porcelain is an ideal choice. You can select them with or without the glaze. We have a lot to choose from in our wide collection. Think about what matters to you in terms of design plus durability, and find one you love.
Natural Stone Tiles for Kitchen Backsplashes and Flooring
Another top-rated contemporary collection is our gorgeous stone mosaic tile selection. This natural and elegant product is perfect for achieving beautiful kitchen backsplashes. Available in a variety of combinations, some even have fine mirrored details. Others enchant with mosaic designs and organic artistic forms. They will be the focal point of your kitchen, without being too overbearing.
Natural stone as a design element material is one of the most popular tiles for timeless kitchens. It is a material that is classic and down-to-earth. As you'll notice, our natural stone tiles have a very warm feel.
Choosing the Perfect Decorative Materials for Your Kitchen and Home
Whether you decide to choose waterjet stone mosaic tiles, natural stone tiles or the innovative porcelain tiles, your home will have the added elegance of quality materials. You'll be ready to entertain, enjoy and relax in your new, remodeled space.
These are just a few offerings from our extensive collection of beautiful tiles available online. They are the most popular, top-rated choices by our buyers. If you are getting ready to install your contemporary kitchen tiles, we invite you to come explore our Luxury Stock Collection Catalogs.
Now, you can design the home of your dreams. All you need are the perfect decorative materials for the perfect kitchen.