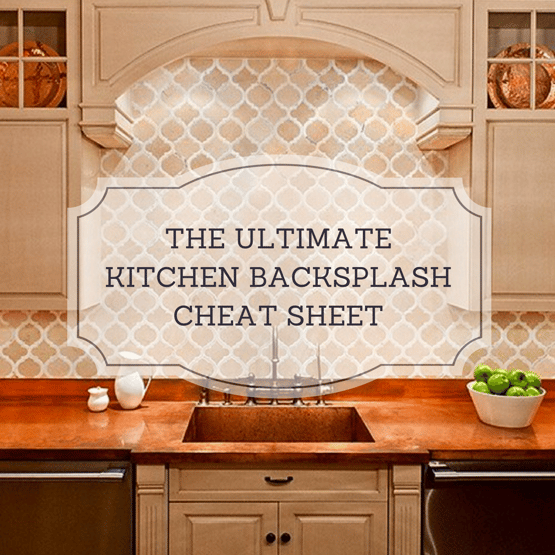 An artfully chosen backsplash can upgrade the look of your kitchen, or even become the stylish focal point for the room. By understanding available tile options, as well as how to balance the backsplash with other elements and bring your kitchen design together, you can discover the backsplash tile solution that is ideal for the room and your style.
Choosing Your Perfect Backsplash Tile
The first factor to consider for kitchen backsplash is the type of tile that you want to use. Here are several kitchen tile ideas. Each option has its unique features and style.
Glass Tiles
For a backsplash that will attract attention, glass tile is an obvious choice, adding shine and elegance to your kitchen. These tiles are also available in a wide variety of colors, sizes and transparencies, as well as styles to perfectly suit your kitchen. Easy to clean, glass has the unique ability to reflect light, which can make a small kitchen appear larger and a dark kitchen brighter. Glass tile does, however, present a few challenges: It is more expensive than ceramic or stone tile, and can be more difficult to install and repair.
Stone Mosaics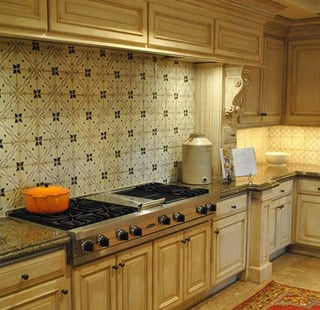 Stone mosaics composed of smaller interlocked pieces of natural stone, such as marble, create a truly unique look. Though somewhat limited in colors to what nature provides, stone tiles can add a natural richness to your kitchen decor. Most types of stone tile are susceptible to water, pigment and acid exposure and require additional maintenance, including regular sealing.
Waterjet
Mosaics

These mosaic designs are created by a waterjet process, which allows for very precise cuts to create intricate mosaic designs. From nature-inspired floral patterns to more exotic-inspired or geometric shapes, waterjet mosaics enable us to use multiple materials (think stone, glass, and metal combined!) and multiple colors to offer a unique backsplash option that will get attention and compliments.
Ceramic Tiles
Ceramic tiles are created by firing clay, minerals and water at high temperature and, for glazed tile, coated then fired a second time. Glazed ceramic tiles have a surface that is both stain- and scratch-resistant. These tile types are also a more affordable option for your kitchen backsplash, are easy to install, and offer the widest variety of colors and styles. Ceramic tile is possibly the most versatile choice, easily matching any kitchen style, though colors can vary between sets of the same ceramic tile.
Ceramic Mosaics
Ceramic mosaics have the same basic features and advantages as ceramic tile, but add more artistry to the style of your kitchen backsplash. The basic materials for these backsplash tiles are created the same way as standard ceramic tiles: with a high-temperature firing of clay, minerals and water. For a more advanced mosaic look, different colors and shapes of ceramic tiles are combined to create stylish patterns. These mosaic backsplashes may be more complicated to install and can also be more expensive.
Regardless of the type of tile you choose for your kitchen backsplash, the wide variety of options available makes it possible to find the perfect tile type, color and style for your kitchen. You can also combine different types of tile, such as glass and stone, to create a truly custom look — or even create your own pattern.
Important Considerations for Your Kitchen Backsplash
Beyond the type of tile that you select to use for your kitchen backsplash, there are other factors you need to consider before making your final decision. These considerations should include the extent to which your chosen color of backsplash style matches, blends in, or stands out from the rest of your kitchen decor.
Blend or Contrast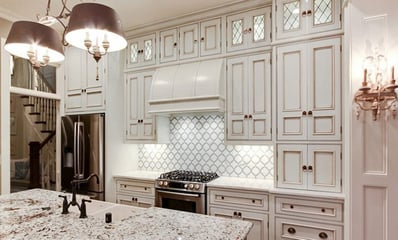 One of the main considerations for your backsplash needs to be the color or colors of the tile in reference to other colors and textures in your kitchen. Obviously, you don't want your tile to clash with your cabinets or flooring (such as using two colors that fight for the focus of attention), but there are various complementary options, depending on your personal taste. Do you prefer the backsplash to blend or contrast with your cabinets?
Kitchen Placement
Another consideration for designing your tile backsplash is how much you want this feature to stand out from the rest of your kitchen decor. You can go with a subtle finishing touch that quietly complements your overall kitchen design, or you can go for a bolder look, with a backsplash that stands out and makes itself the center of attention in the room. For example, in a kitchen that is mostly lighter neutrals, a bright accent color on the backsplash will make a strong design statement.
The "Jewel of the Kitchen"
Selected and installed well, your kitchen backsplash can be the focus of the room. It can add visual interest and style to an otherwise average kitchen space, or even be the focal point of your kitchen design. The backsplash is important when it comes to the kitchen design, since it is at eye-level, and, intended or not, will be a focus of the kitchen. To accentuate the features and style of your kitchen backsplash, additional under-cabinet lighting can be added.
Keeping all of these factors in mind, you can select a tile that has the right look, style and maintenance needs. Are you considering creating a beautiful kitchen tile backsplash for your kitchen? Come explore our decorative kitchen tiles for more inspiration and contact us today!