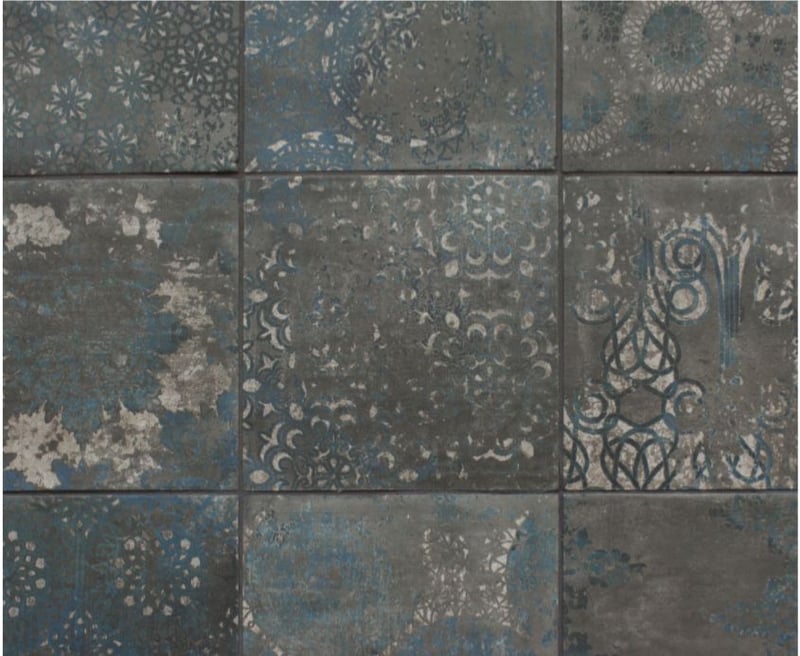 Forget everything you know about what makes tiles beautiful. Yes, ornate glazes and sophisticated edges can be stunning, but there is something oddly comforting about an unfinished, even worn look.
The unfinished trend is quickly taking over in rustic and vintage-inspired settings, where everything from crackle glaze to rust marks deliver refreshing takes on familiar concepts.
Don't be fooled by the term 'unfinished.' This look isn't any easier to achieve than that of modern, finished tiles. If anything, it's more complicated to tread the fine line between unfinished and unkempt than it is to stick with traditional textures or glazes.
Unfinished tile represents a considerable risk — but one that can definitely pay off when implemented correctly. Fortunately, the inherent imperfections of unfinished tile provide the ultimate in variety, with no two designs looking exactly alike. Read on to discover a few of the many opportunities for integrating unfinished concepts into modern tile designs:
Worn Surfaces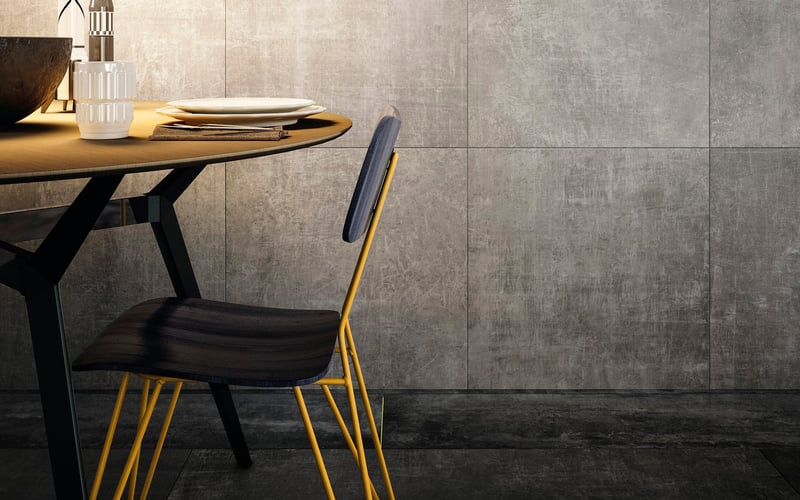 Think of purposefully worn tiles as akin to destroyed denim. Sure, these tiles are a bit rough around the edges, but that slight wear can grant them a delightfully edgy appearance. Porcelain tile, in particular, is amenable to this look, with worn porcelain providing a distinctly urban take on the unfinished concept.
Brick Tile
Largely inspired by historic urban warehouse districts that have recently given rise to trendy apartments, offices, and event centers, brick tiles are now purposefully installed to provide the perfect blend between urban grit and rustic beauty.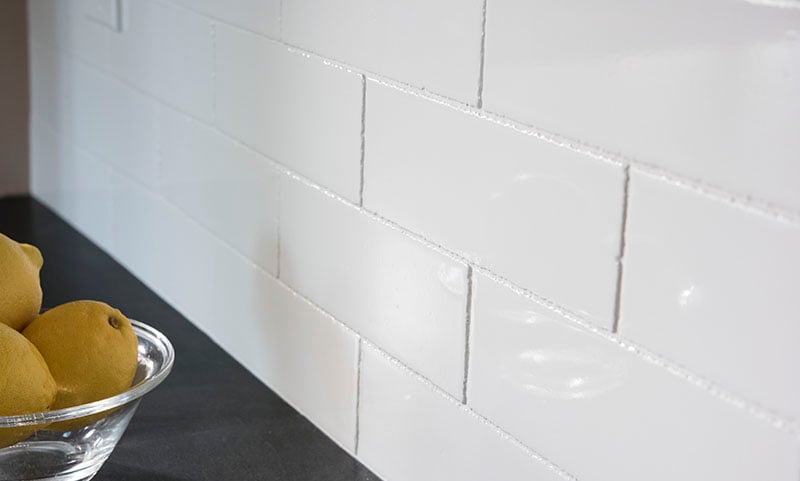 Often used to construct eye-catching accent walls, brick tiles are increasingly seen in residential spaces, where they offer an affordable and easily installed alternative to real brick. These revolutionary tiles can also be used for flooring or to create a traditional look for a fireplace border.
Brick tile is surprisingly versatile. It can be featured in traditional shades of red, in neutrals such as gray and white, or in entirely unexpected colors. Shades of blue and green are increasingly seen with brick tile in modern bathrooms.
Color is just one of several options for personalization. Brick tiles can be oriented vertically or horizontally. They also work well with herringbone or even chevron patterns. While rectangular shapes dominate, brick-inspired tiles can also take on square or even hexagonal shapes. These tiles look beautiful glazed or unglazed — it all depends on how rustic or refined you want to go. The Dakota tiles from Sonoma Tilemakers, for example, capture the timeless appeal of the modern rustic trend.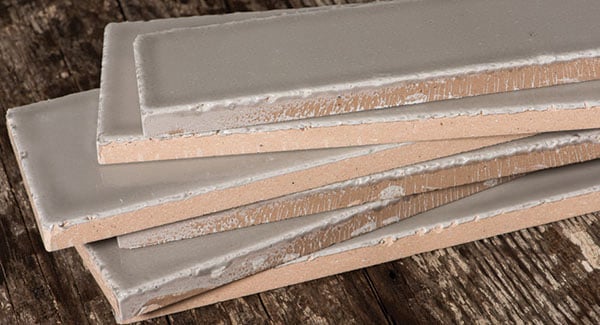 Rust Marks
You go out of your way to avoid rust marks on your fixtures, so why would you purposefully apply them to tile? Turns out, carefully placed rust marks allow for an earthier, more organic look that holds plenty of character. With this rust-inspired look, imperfections are not to be avoided — they hold the key to unique, visually arresting tile designs.
Rust-inspired style works best with dark or bright colors, so be prepared to set those beloved neutrals aside. With dark tile, rust marks can provide an intriguing contrast while still coming across as a purposeful style element. Rust tones also look gorgeous when reserved for the edges of colorful tiles.
Rust imparts a greater sense of accuracy on tiles sourced from or inspired by industrial settings. For example, John Whitmarsh's Container Tiles feature the dings and rust spots expected from containers delivered to San Francisco Bay. These tiles would not be nearly as compelling without their iconic imperfections.
A more elegant look is available via Terre d'Orcia Saturnia porcelain floor tiles, which are inspired by the rustic beauty of the Val d'Orcia region.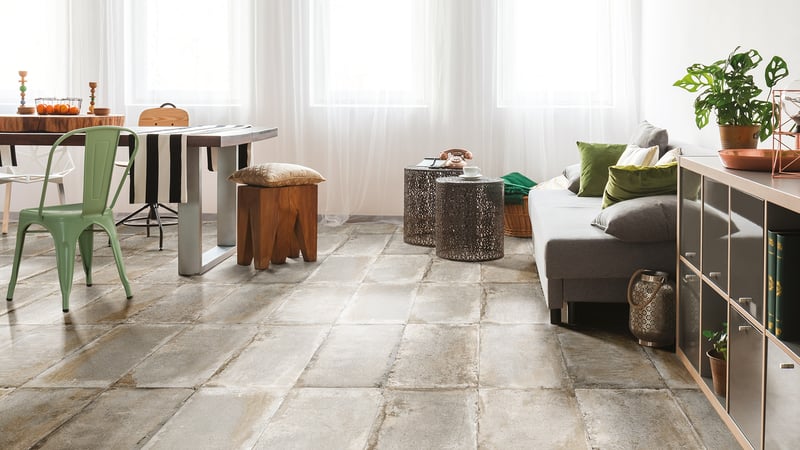 Crackle Finish
The subway tile trend isn't quite over yet, but designers are always looking for different takes on this classic aesthetic. Crackle finish delivers vintage vibes to an otherwise sleek and modern look.
Essentially, the crackle trend involves glass glaze applied to ceramic tiles. When fired at the right temperature, a subtly cracked surface can be achieved to create a look that is delightfully old world without feeling worn out or tired.
Crackle can be incorporated in a variety of tile patterns and styles, but is perhaps at its best with subway tile backsplash in neutral colors. Those small cracks provide just enough texture to keep an otherwise run-of-the-mill concept interesting. While several designers excel with this look, Pratt & Larson's creamy tiles are perfectly cracked to provide visual detail. Amp up the effect with colored grout or commercial stains.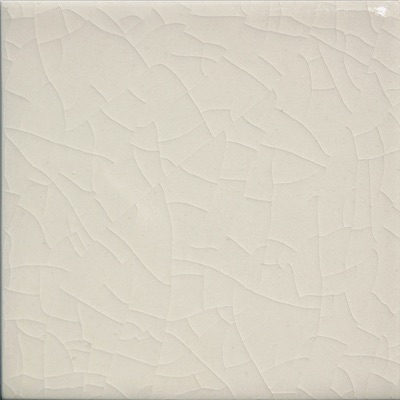 There is considerable appeal in imperfection — sometimes it simply takes a designer with an eye for hidden beauty to draw it out. Don't be afraid to experiment with textures, cracked glazes, or even rust stains. You'll quickly realize that artistry is present in the most unexpected places.
Do you find the unfinished tile trend appealing? Or are you better suited to a different look? Take our Design Style Quiz to find out — or stop by our Denver showroom to discover other unique aesthetics. Contact us today to learn more about our take on today's most influential tile trends.