Design trends don't come out of thin air. They reflect the realities of our daily lives, including both the unique challenges and opportunities we face.
Given all this, the design world's recent evolution should come as no surprise. The pandemic upended all aspects of our lives; it's only fitting that this would influence our stylistic preferences.
While a variety of exciting trends emerged during the COVID era, the most noteworthy is the desire for a peaceful, oasis-like environment. We spend more time at home these days, and as such, we need moments — no matter how brief — of escape. Innovative tiles can deliver exactly that as we've seen with luxurious, yet calming looks from the likes of Arabescato Corchia.
The best styles of 2021 deliver serenity while still pushing the envelope. Hence, our appreciation for these innovative tile trends:
Borderless Rooms
Large-format tile exploded in popularity a few years ago. Enthusiasts quickly realized that by going bigger, they could limit grout lines and create a cleaner, more cohesive look. Until recently, however, tradition dominated this concept. Typically, one style was selected for wall coverings and another for flooring.
That's about to change as the borderless concept builds on the promise of large-format style. Now, the same expansive tiles are being used for both walls and floors. The result? A single, vast expanse of tile that instantly creates a harmonious environment.
Borderless rooms deliver new opportunities for incorporating ethereal concepts. Iris Ceramica's Cosmic Marble, for example, delivers otherworldly vibes. When allowed to take over an entire room, these already spectacular tiles are jaw-droppingly beautiful. Artistic Tile provides a more subtle take on this concept with its Pacific White design.
Dark Kitchens
The all-white kitchen has dominated interior design for some time, but the appeal is obvious: white delivers a crisp, clean look while expanding the perception of space. That being said, many designers are eager to play with a completely different color palette. Hence, the recent shift towards sophisticated black and rich shades of brown.
Dark colors can be appealing in the kitchen, but natural variation keeps this space from looking too heavy. Veined granite, in particular, can be relied on to add a touch of drama. Likewise, dark terazzo delivers subtle hue variations.
Those who prefer dark colors as accents may be better suited to the Chester Plaid collection from Marble Systems. This pattern draws inspiration from the classic tartan look that dominates the fashion world. The textile-oriented look brings practical, yet playful vibes into neutral-dominant kitchens.
Return of Gray
Concrete never went out of style, but gray has become an increasingly popular option for incorporating neutrals. Pantone recently confirmed grey's newfound dominance by announcing the 2021 Color of the Year: Ultimate Gray. This solid shade is described as delivering a "message of happiness supported by fortitude." All this feels apropos for the challenges we face in 2021.
Incorporating the concrete look is easier than ever, thanks to options like Re-Use Calce White. These produce an appealing cement-like look that conveys both strength and style. Meanwhile, the Cementine Cement collection brings a touch of old-world sensibility to modern encaustic design.
Decorative Materials: Your Insider Source for Today's Tile Trends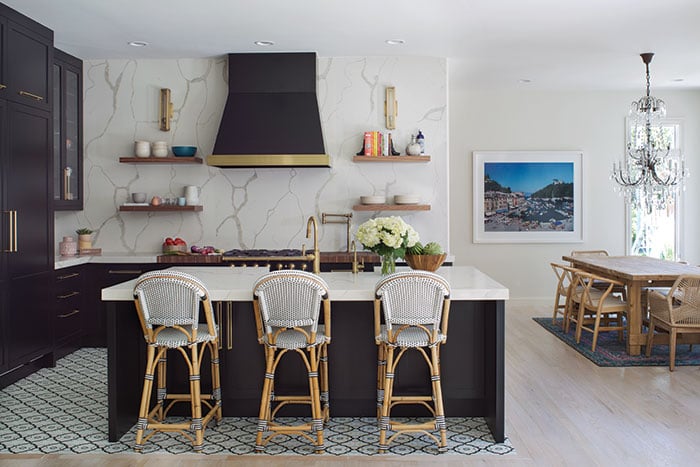 Tile trends move fast, but at Decorative Materials, we can spot the most cutting-edge looks before they take over. We're excited about the blend of function and artistry evident in the colors and patterns described above.
On the hunt for more inspiration? Check out the innovative tile designs from our favorite resource: the 2021 Tile Trends Forecast. Otherwise, feel free to call or email the Decorative Materials team to schedule an appointment in one of our showrooms.