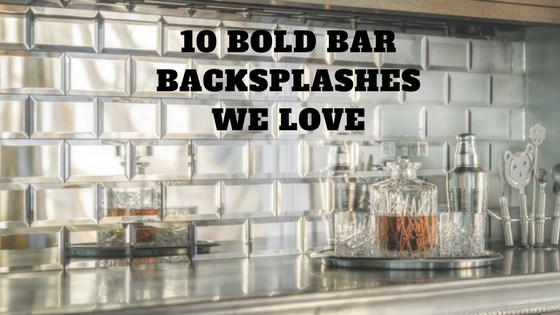 As one of the entertaining hubs of your home, your bar should be a showstopper. This is your opportunity to make a statement with bold concepts or experiment with the latest from the interior design landscape. The right backsplash can serve as a distinctive centerpiece or tie together varying elements to create a cohesive look. Set the vibe with bold backsplash tile, and you'll never struggle to get the party started in the comfort of your own home.
Bold Bar Backsplashes
From unusual patterns to vibrant colors, a variety of elements can be incorporated to create an edgy bar. Many backsplashes are specifically designed to be the center of attention, while others aim to add interest while still drawing visitors' focus to other design elements.
No matter the style or atmosphere you intend to promote in your entertaining space, you can accomplish it with unique tile. Not sure where to start? Consider integrating one of these stunning backplashes into your design:
Reve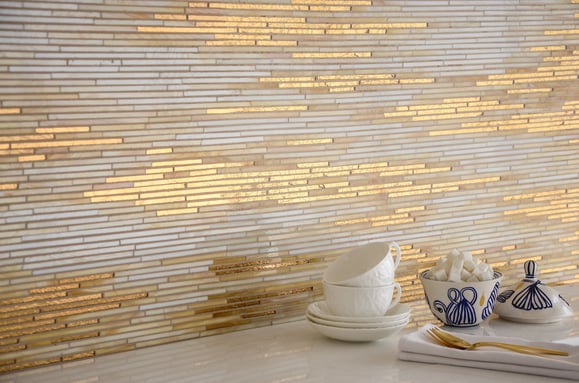 Glitz and glamour set this stunning backsplash apart. The glass mosaic design features alternating sections of gold and white. Undeniably ornate, these unique mosaic tiles are an integral part of Sara Baldwin's of New Ravenna Aurora Collection. Pair with neutrals to scale back the look, or with occasional bursts of jewel tone to bring an even more ornate feel to your bar. No matter how you style this backsplash, you'll be ensconced in luxury whenever you mix a drink or relax with friends.
Molten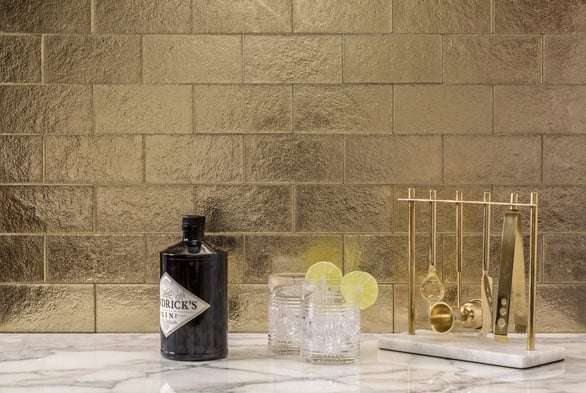 Looking for a simplistic yet trendy take on the gold concept? Combine minimalism with elegance by incorporating gold backsplash from AKDO into your bar area. Exemplified by clean lines, this backsplash is versatile enough to compliment a variety of bar designs, but also sophisticated enough to serve as an unforgettable centerpiece. With tiles this luxurious, you'll never want to leave the bar.
Chatham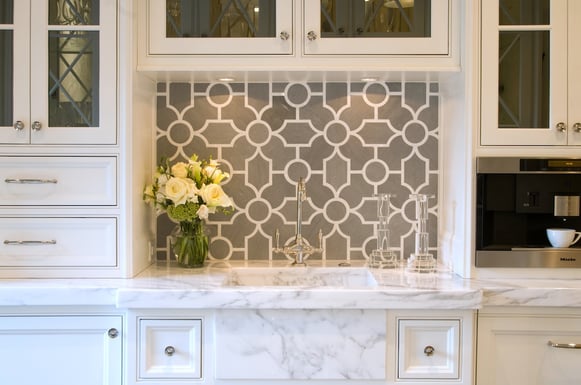 Part of The Silk Road Collection by New Ravenna, the Chathampattern features a hand-cut stone mosaic. Neutral colors call attention to the mosaic's modern geometric design, featuring alternating shapes. This backsplash is bound to attract attention, but without looking busy or overwhelming your bar's design.
Cirque Odyssee Collection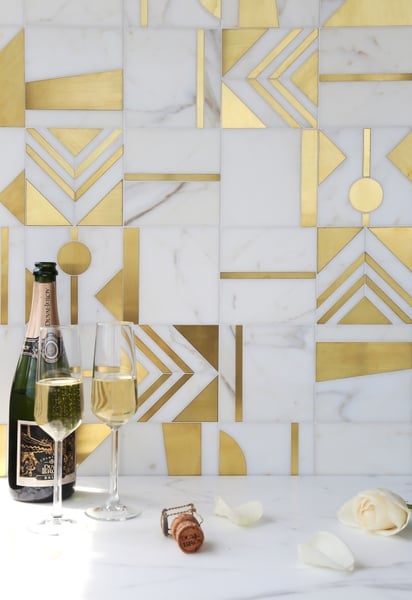 The gilded look gets an Art Deco makeover in the Cirque Odyssee Collection by Mosaique Surface. The Cirque tiles feature a variety of unique geometric patterns, which come together to form an alluring and unforgettable design. With this backsplash as a centerpiece, there is no need for additional decor. It's bound to start conversations while creating an undeniable impression of luxury and grandeur.
Aladdin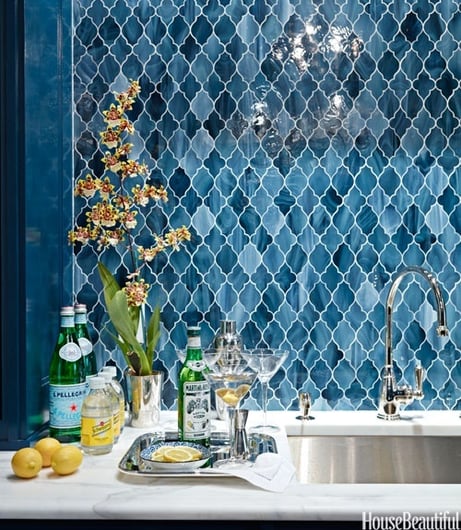 Rich jewel tones and classic mosaic shapes set this unique backsplash apart, and if CERSAIE 2017 is any indication, mosaics are the next big trend in tile. Pair with neutral accessories to ensure that all eyes remain on your bar's stunning mosaic pattern. Only the team at New Ravenna could take art glass to this level of elegance.
Patchwork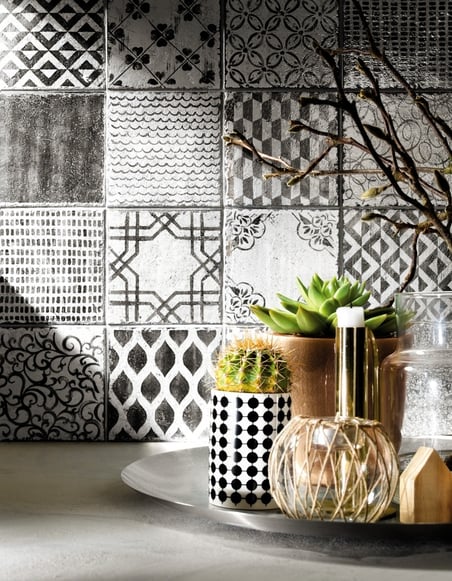 Get in on the patchwork trend, which is currently making waves in the interior design world. This is not your grandmother's patchwork quilt; it's intricate, yet edgy. Each square features a distinctive pattern. A variety of different looks ultimately come together to form a cohesive and visually compelling unit. The right geometric pattern can bring an artistic element to your bar, serving as a key conversation piece. There's no need to look for matching decor; this intricate backsplash can hold its own.
Industrial Glass Ceramic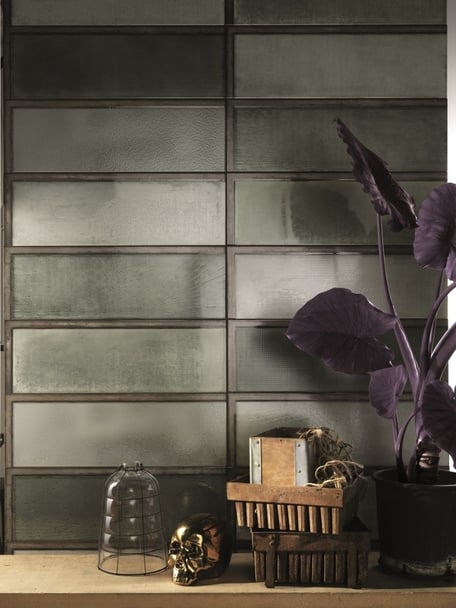 For a grittier take on the backsplash concept, stick with green industrial glass. Constructed from durable and notoriously practical ceramic, this is the ideal complement to a minimalist bar. These rectangular tiles feature muted and varied colors. Their textured look is in keeping with some of the most influential trends in modern tile design.
Mirrored Backsplash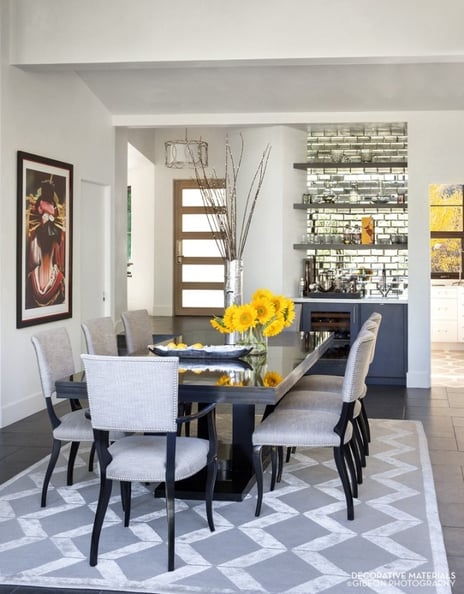 Simple, yet effective, the mirrored look is one of the most significant backsplash trends on the horizon. This classy mirrored backsplash compliments nearly any bar design imaginable. Its genius lies in its effective combination of minimalism and glamour. With a close look, you can see that each tile has a beveled edge to add another reflective facet. Pair with colorful elements to add visual contrast or with neutrals for a clean and modern look.
Zebrano Tile Backsplash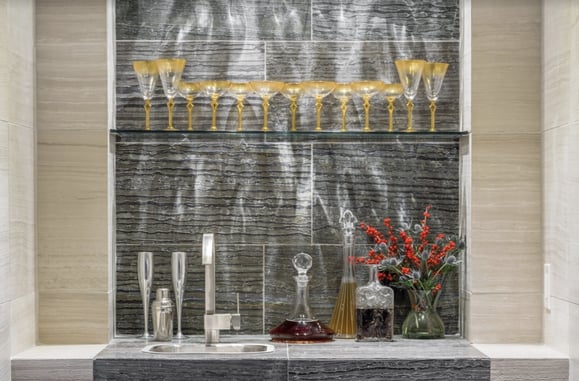 Intricately detailed but not overly busy, Zebrano tile from Artistic Tile is the perfect option if you're hoping to incorporate stone tile design into your bar. The gorgeous Chinese textured marble features burgundy veins, which effectively contrast the underlying olive grey background. The highly tactile pattern will amp up your artistic cred without overwhelming your bar.
Mirrored Bar Backsplash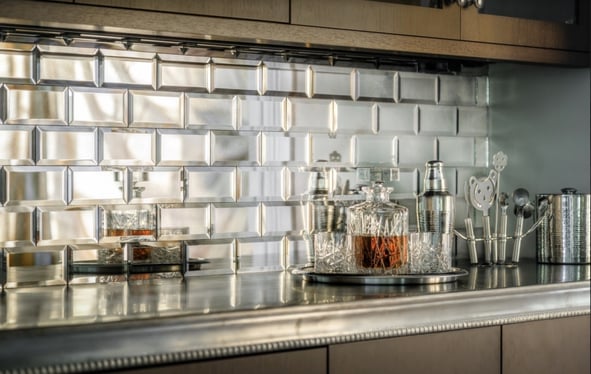 Another backsplash incorporating a stylish, yet simple mirrored design, this geometric look from Artistic Tile provides the perfect backdrop for a variety of bar styles. Its natural sheen looks wonderful when paired with matte decor and fixtures. Few other styles could be so straightforward and yet so visually effective.
Whether you favor jewel mosaics, gilded tiles or a simpler mirrored look, a thoughtful backsplash can make all the difference as you design the entertaining space of your dreams. No matter your preferred selection, you can find beautiful designs at our Denver, Vail or Aspen tile showrooms.
Explore our stocked collection for more tile options. Contact us with any questions and ensure you are prepared for you Decorative Materials visit by checking out our guide.