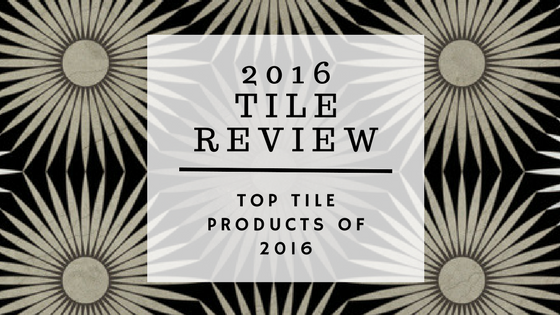 If you're looking for ideas to help you decide which tile to install in your home or business, taking a look at the top tile options of last year can serve as a great source of inspiration as you plan your project. Whether you want modern flooring for your foyer or hallway, or are trying to find a decorative backsplash for your kitchen or bathroom, you'll likely appreciate at least one of trendiest tile choices from 2016. And considering that many of these are predicted to remain popular in 2017, it makes sense to see what's been the most well liked type of tile in the last year. Let this list of trendy tile products guide you as you search for ideas, and then let us know if you need to know more about a particular product.
Best Ceramic of 2016: Castellon
Many people looking for tile have been craving an organic touch to take a bit of a departure from the finishes that have been popular in recent years. That's why Castellon has won the attention and approval of so many people in search of a new, refreshing look for their kitchen or bathroom. Castellon is a glossy ceramic that boasts a handmade touch, which will become obvious when you come to our showroom and see it in person.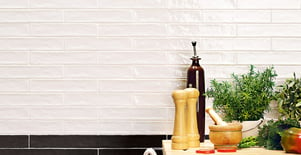 This tile choice has a finish that's both glossy and glassy, with slightly undulating edges that further set it apart from other traditional kitchen tiles you might see on a kitchen or bathroom backsplash. As you can guess, while this option is often used in modern kitchens, it's also perfect for bathrooms. Castellon even comes in a variety of sizes and is set at an affordable price, making it an ideal tile product for projects of all kinds.
Best Mosaic of 2016: Constellation Mosaic From Artistic Tile
If you're in search of modern flooring to showcase in your home, Constellation Mosaic tile could be what you need. This celestial pattern was inspired by the stars in the night sky, as it features multiple stars in contrasting colors against a background of natural stone. It comes in four colorways, so it could suit just about any décor, and it would work great in any commercial or residential interior room. But this tile would also look good on a shower wall if you are looking for contemporary bathroom tiles that double as interesting décor.
It makes sense that this tile has been popular lately, since "Celebrating the Night" was predicted to be a well-liked theme for 2017. This means that you can continue to expect a focus on both cosmic patterns and darker colors, such as navy blue and black. In fact, the design community has been so receptive to this line of tiles that we've decided to add the Constellation Mosaic collection to both our Denver and Basalt showrooms for you to come and see.
Hottest Products of 2016: Industrial Glass
Industrial Glass is supposed to imitate industrial smoked stained glass windows. It happened to be the hottest product of 2016, with our clients clamoring for this really unique product as early as April 2016, during Coverings, when it was still technically in pre-production. Not surprisingly, this year it will still be popular among those looking for a refreshing update on the typical backsplash or wall décor for their home or business.

What makes Industrial Glass so interesting is that it features some variation in color, with green, white and steel being the main color choices. This makes it suitable for most rooms, regardless of the color scheme. It also has a unique texture, including crackled and metallic options. All of this is topped off with a glossy finish that nearly everyone seems to enjoy. It's ideal for both wet and dry areas, so it works well as a modern kitchen backsplash or a decorative backsplash for your bathroom. You can even use it to spruce up the walls of any room by creating a tile wall, since the tiles come together nicely to form wall panels that you won't find in just any house.
Let Us Help
If you're in need of a new look for your residential or commercial space, it's time to browse some modern flooring and backsplash options. These were just some of the most popular choices last year, and they're predicted to be equally enjoyed by many in 2017. Other tile trends to watch in 2017 include large format tiles, tribal and organic prints, and lots of natural stone. But if these tile trends don't interest you, you can also choose a tile that's not as well known, especially if you're looking for a design option that you know your neighbor won't have.
Whether you're in search of decorative mirror tiles, contemporary bathroom tiles, traditional kitchen tiles or something more, we invite you to explore our inspiration gallery for ideas to help with the project you have in mind. Then contact us via this contact form to learn more about these top tile picks!