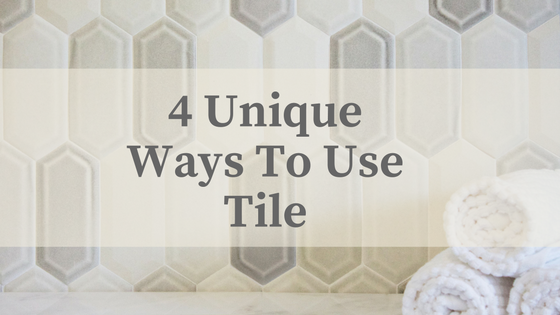 Tile is one of the most practical and beautiful ways to update the finishes in your home. Whether tile is used on a feature wall, living room floor or backsplash, tile is one of the most versatile finishing materials available. Traditionally, you will find tile in the kitchen or bathroom, but when complemented with other decorating materials such as wood and paint, tile can be used practically anywhere in the house, both inside and out.
In this article, we'll take a look at four dynamic ways you can get creative with tile. From creating an eye-catching focal wall to adding a retro feel with glass mosaics, we'll give you lots of inspiration on how to use tile for maximum impact.
Create a Stunning Focal Tile Wall
A focal wall in the entrance to your home can become a true showstopper and will create a great first impression. If you're craving to break away from traditional paints and wallpapers, or you simply cannot decide on a color or style, tile opens up a brand new world of design that you may not have considered. From glittering glass and ceramic to natural stone, tile is the perfect way to turn an ordinary wall into the star attraction of your home.
One of the major benefits of using tile is the variety of options, Unlike wallpaper that comes on rolls and takes up large areas, the variety of sizes, colors and textures of tile allows you to place individual pieces in a number of different configurations and designs.
How about a mix-and-match design using a range of textures and colors, or a wall of beautiful natural stone tiles for that rustic country look? Whatever your personal style or the size of your wall, tile opens up a wealth of design options allowing you to add color, depth and interest to a previously ordinary area.
Create the Perfect Island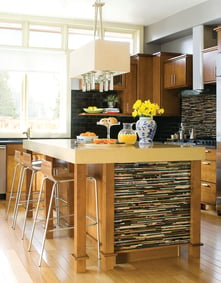 Adding beautiful tile, in either glass or ceramic can add character and elegance to your kitchen island. Depending on the style and shape of your island, an updated look is to tile the front or sides for a more modern look.
Why not choose tile in the same color as your backsplash? Or how about a pop of color with bright and vibrant glass mosaic tiles? For some design inspiration, take a look at some of the magnificent ideas on our blog.
Add a Touch of Industrial Design
If you love contemporary styling and in particular, industrial design, certain tile lend themselves perfectly to this style. Tiles replicating the look and feel of chrome, oxidized metals and concrete can be used separately or together to create unique textures and designs. Industrial-style tile- looks super effective when combined with minimalist furniture, chrome and aluminum light fittings, and sleek tiled or vinyl flooring.
If you are looking for tile that mimics the rough, urban and edgy look of concrete, porcelain tile is a great option. Porcelain tile is extremely versatile and look just at home in the modern loft setting as they do in a palatial townhouse. To warm up the look, simply add fur throws, rugs and other soft furnishings in a range of complementary shades. From a practical point of view, porcelain is very easy to care for and clean
Go Retro With Circular Mosaics
Do you remember lining pennies up in a row when you were younger? The penny round design is a charming glass mosaic tile with a retro twist and the perfect way to jazz up your kitchen. Add to kitchen walls, backsplashes and islands for a look that never goes out of fashion. Available in a range of colors in glass, stone and ceramic, these mosaics catch the light beautifully. They look sharp with painted walls in a contrasting or matching color and will add a touch of retro-chic to your kitchen.
Tile is no longer reserved for just floors or the walls of bathrooms or kitchens. These versatile, practical and stylish materials are breaking out into all areas of the home and the only limit is your imagination. Try adding a striking feature wall with glass mosaics in golds, bronzes and pewters, or how about creating a truly contemporary studio apartment with alabaster porcelain on floors and walls?
Tile offers a wonderful array of options when you are considering a full revamp or even just changing specific elements within a room. Explore our stock collection for more tile inspiration. We update our range regularly to bring you some of the most beautiful tile designs available today.
Related Articles: