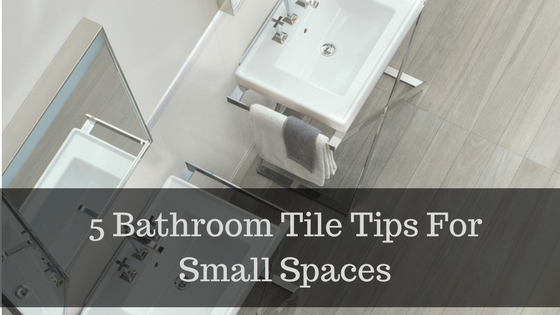 Choosing the best tile for the right area in your home is more complicated than a short trip to a Denver tile showroom. Everything from aesthetics to the size of a room must be considered. Choosing bathroom tile can be especially difficult due to the smaller size of the room, and if a few basic rules aren't adhered to, even the most beautiful contemporary tiles can look cramped and out of place. Fortunately, the following bathroom tile tips can help you prevent these issues.
Three Rules: Diagonal, Lighter and Larger
The main focus in choosing bathroom floor tiles should be on making the room look bigger. When doing this, following the three rules of diagonal, lighter and larger is essential. Following these rules will obviously not make a bathroom physically larger, but much like adding mirrors to a room, it will create the appearance of additional space.
Diagonal: Whether choosing decorative shower tile or bathroom wall tiles, going diagonal will always make the room look larger. It forces you to see from a different perspective, and this is enough to trick your eyes into seeing a large space where there is none.
Lighter: From stone to ceramic tile, choosing lighter colors also gives off the appearance of a larger room. White is a great choice, but other light colors work as well. If the walls and ceiling are also painted a lighter color, the size effect is multiplied.
Larger: Opting for larger tiles, although not too large, makes tiny spaces seem bigger too. This works exceptionally well when large tiles are combined with a diagonal layout.
Keep Bathroom Tile Color Consistent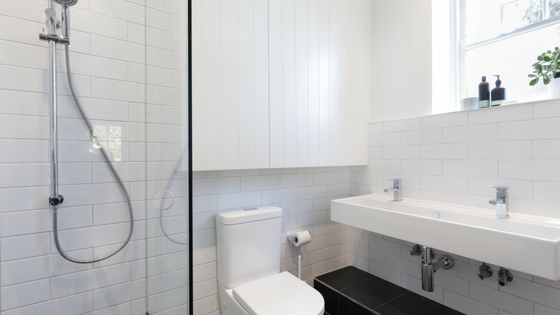 Just as light colors can make a room look larger, non-consistent colors can make it look smaller. Having white bathroom wall tile on one side and darker tile on the other, for instance, essentially chops up the space and makes the abrupt borders especially obvious. Instead, homeowners should opt for similar color schemes to make these boundaries less noticeable.
Whether in a Vail or Aspen tile showroom, it should be easy to choose tiles that are color consistent. One of the most overlooked aspects of staying consistent, though, is the grout. If grouting is done with a bright white mixture to fill in spaces between darker tiles, the borders and boundaries in the bathroom will again become abrupt and create the impression of a smaller room.
Extend Shower Tiles to the Ceiling
Contemporary bathroom tile provides an updated feeling in any bathroom, but extending the shower tiles to the ceiling goes the extra mile by presenting the bath on a grand scale. Just as is the case in staying color consistent with bathroom floor tiles, extending shower tiles completely up the wall will create fewer transitions and less contrast. This produces a more expansive feel.
Additionally, having the shower tile continue up the wall grabs your eyes' attention and draws them upwards. Using this technique, even the smallest showers will look like they belong in a home decor magazine. This trick works especially well with larger tiles, and the combination of these two techniques can counteract the more confined look that darker tiles create.
Utilize Glass Tile in Your Shower
The tile in a bathroom shower has says a lot about the homeowner, and this is why many people install large format tile or choose beautifully colored decorative tile. The aforementioned tips will make the shower and bathroom look larger. Utilizing glass tile in the shower, on the other hand, goes the extra mile.
Glass reflects light better than other types of bathroom wall tile. Just like a mirror, this creates the illusion of extra space in any room. Decorative porcelain tiles and other tiling simply cannot pull this off.
The expansive feeling created by glass tile in the shower can be further increased by opting for either a skylight or frosted window glass. Both will allow natural light to flood over the shower, and this reflected off the glass shower tile creates a more spacious feeling than artificial light ever could.
Porcelain Tile for Your Bathroom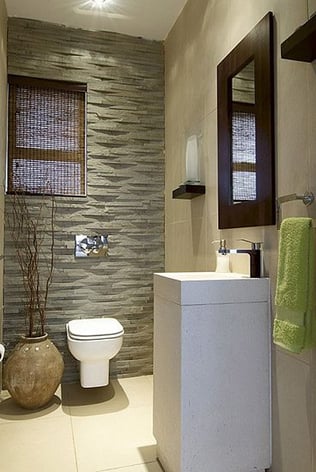 When a homeowner is aiming for the lofty feeling in their bathroom, opting for porcelain tile is certainly the way to go. Unlike stone tile and other options, porcelain tile is available in a seemingly endless variety of colors and textures.
It's also worth noting that, even if it doesn't add to the spaciousness, porcelain is low-maintenance and. It also has a low water absorption rate. This is an important feature to remember, especially for steam showers.
Just because your bathroom might be the smallest room in your house doesn't mean it has to appear confined. When you are considering the design of your bathroom shower or floor tile, a variety of methods can provide that spacious feeling we all appreciate while in this room. Explore our tile inspiration gallery to see the various options you have. When you're ready for the large bathroom you've always dreamed of, contact us today to learn more.
Related Articles: