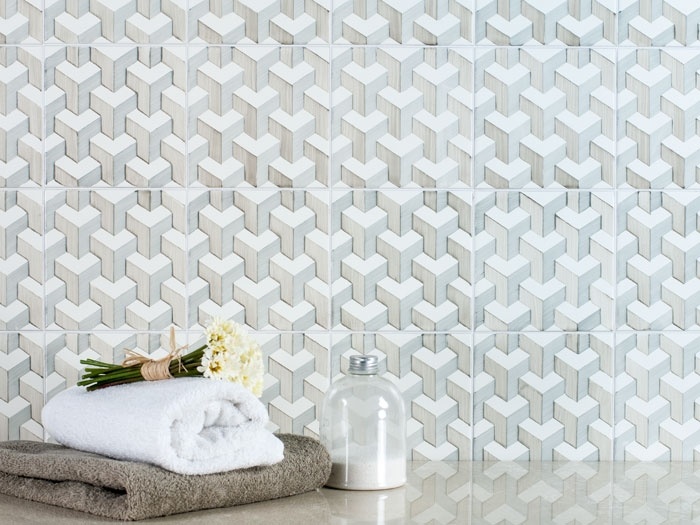 Whether you're an interior designer, an architect, or a homeowner, picking the perfect tile for your client, a jobsite you're working on, or a DIY project at your own home posses a handful of challenges and hurdles. An endless array of options to chose from, applications of certain products, and installation techniques make selecting tile an intimidating decision.
Rest assured, Decorative Materials is here to help! For tile that lasts and keeps your client happy for decades, here are a handful of tips from our very own Margot Hampleman to remember. [NOTE: These tips were originally published by one of our favorite resources, Colorado Homes & Lifestyles.]
These are the five most important things to consider when selecting tile.
1. Are you looking for a high or low maintenance product?
The tile you select should align with the lifestyle you live and the amount of time you want to spend on maintenance. Products like natural stone need to be treated gently and need to be sealed every year. Lifestyles that result in spills, scratches, and hectic schedules aren't tailored to this type of product. Porcelain tile, however, are low maintenance and will not stain like natural stone can. Be sure to give thought to how you will interact with the tile before selecting.
< RELATED: 3 Bathroom Design Tips Inspired By Tile & Natural Stone >
2. What are you looking to spend on the tile project and how quickly does it need to be executed?
Time and money must play a role in your decision-making process when selecting tile. It's important to define a budget and a timeframe before you commit to your tile. Our showrooms and our world-class Design Consultants will help you define budgets and timelines, and then will steer you in the right direction after these two critical pieces of information are determined.
3. You need to know your style...
Everyone has their own style or aesthetic that resonates with them, and getting a clear idea of what you like is very important. Interior designers are fantastic resources to tap during this stage (as they are during every stage of the tile selection process). Other resources include Pinterest and Houzz—two of our favorite go-to platforms online for inspiration, ideas, and style guides. Also, the Decorative Materials Showrooms, Architectural & Design Libraries, and Decorative Materials Design Consultants are professionals at walking you through the different styles and options. Are you a trendsetter? Do you want a rustic look? Do you want the newest product on the market? Are you always drawn to timeless looks? Photos that illustrate your favorite designs, colors, and textures are a great starting point, too.
4. Be sure to get tile samples before selecting.
Samples are a key ingredient to consider when selecting tile. Take the samples to your home, live with them, look at the samples under different lights and during different times of day, and place the samples next to fixtures, color swatches, and applications. You'll be amazed how time spent with a sample will make your decision easier. For custom tile orders, every showroom will supply made-to-order samples that will illustrate color, texture, and variation.
< Here are 5 Tile Trends For 2015 that might help you define your style >
5. Your tile is artwork, and tile installers are artists. Find a quality installer!
Be sure to select an experienced, caring, and responsible tile installer to make your vision and design a reality. Beautiful tile products cannot compensate for careless installation.