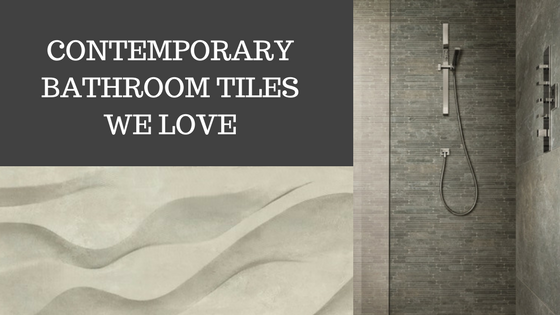 Contemporary bathroom tile gives designers a vast range of options to create dream bathrooms. Whether homeowners want an organic, spa-like feel to their bathroom, or prefer a sleek, avant-garde design, the right tile is available to help them realize their vision.
Choosing bathroom tile can be more challenging for homeowners without the help of a professional. Small bathrooms require different considerations of scale and proportion than larger, master-suite bathrooms. Bathrooms typically use several different types of tile to create a cohesive design, so it's even more important that designers have a diverse range of choices to realize their visions. Below are six fresh and inspiring products
SURFACE
SURFACE offers a variety of options that designers can mix and match to create dynamic tile landscapes within a bathroom. SURFACE offers large-scale mosaic tile that can create a focal point in any bathroom or emphasize a particularly interesting design feature. It also offers dimensional tiles, ELIX + UNEVER, that create a 3D covering for any bathroom wall. Bridging the gap between these two high-impact offerings is a selection of dynamic neutral tiles that complements the rest of the SURFACE offerings.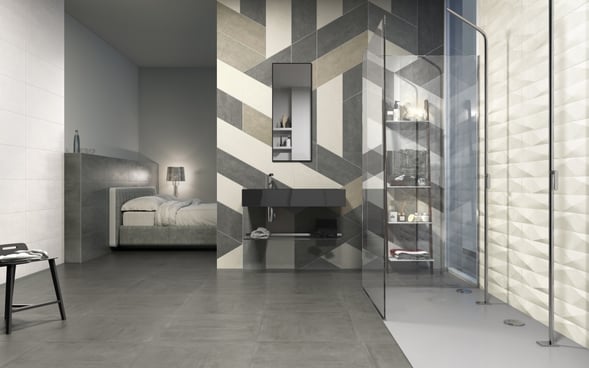 SURAFCE is a forward thinking collection for designers and homeowners who want to experiment with dimensional tiles and high-impact graphics. By choosing tiles within the same SURFACE COLLECTION system, the bathroom's overall design will remain cohesive, but the variety of tiles available will deliver the opportunity for experimentation.
Pietre 3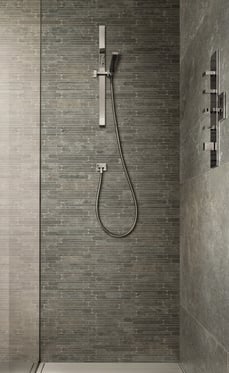 Pietre 3 encompasses multiple shapes but is available in a selection of carefully chosen neutrals that often mimic stone. One of the most innovative is the Mosaico Ellittico, which is a series of ovals shapes that are suggestive of the texture and shape of stone. These features create a luxurious and organic feel for homeowners who want to avoid a sterile atmosphere in their bathroom.
Other Pietre 3 tile shapes use color to divide each square tile into different shapes. When these tiles are laid together in a grid system, the grid of the tile recedes while the pattern created by the contrasting colored shapes dominates the room.
Grasscloth Porcelain
This modern tile evokes the warm, organic feeling of grasscloth recreated on highly durable porcelain tile. The material characteristics of porcelain make grasscloth tile particularly useful in the bathroom because woven cloth wallpaper may not withstand this humid and moisture. Grasscloth allows designers to use a textile that would only be suitable for walls now on floors and shower walls! It's also available in three colors, which offers designers some extra flexibility when building a color scheme.
Industrial Glass Tile
The industrial loft aesthetic remains a popular interior design influence. Many homeowners want to mimic the appearance of old glass but can't source glass that produces the aged aesthetic. Industrial glass tile often imitates the appearance of smoke-stained glass windows. Through the variation of this product, several tiles have a crackled glaze meant mimic old glass, the tiles have a glossy, glassy, high-shine finish. Industrial Glass is available in green, white and steel color options. Color variations among individual tiles make it easy to pair this choice with most other color schemes.
Industrial glass tile is particularly compelling for designers who want to create the appearance of age for their homeowner's bathroom, kitchen or feature wall. However, unlike salvaged materials, industrial glass tile offers the easy availability and superior durability of a modern product. These features make it attractive for bathroom spaces where material sturdiness is key.
Michael Aram for Artistic Tile
The Michael Aram Collection for Artistic Tile is a guest artist collaboration that creates unique tiles with metallic finishes and unusual textures. For designers familiar with Michael Aram's work, these tiles embody many of characteristics found in his metal-ware and home accessory designs. Tiles are available in a textured leaf pattern (Leaf), a textured bubble pattern (Molten), a horizontally textured pattern that mimics scrapped brick (Gotham) and a lightly hammered finish (Field). All patterns are available in a white, steel or bronze gloss.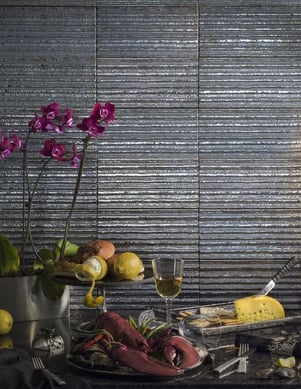 This collaboration offers glam options for designers who want to add metallic finishes into their designs. These visually arresting patterns pack a significant punch, making them a fantastic option for small bathroom or kitchen spaces. A small section of these tiles could also be used in a larger space if combined with a less dynamic tile.
Statuario Porcelain
Statuario porcelain allows designers to have the visual benefits of marble without the weight, cost and maintenance requirements of real stone. This porcelain product is available in slabs up to 63 inches by 126 inches, which helps designers create the appearance of a marble slab. This large slabs also allows for book-matched design, so the veins within the tile can meet at the center to create a visually stunning composition.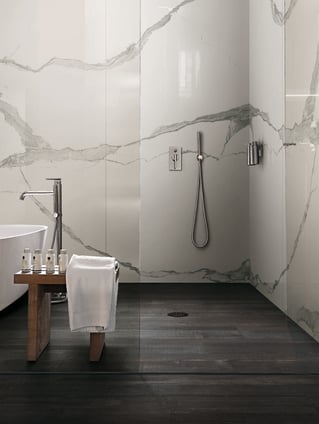 Statuario tiles are only 6mm thick, so they don't require the structural support that a marble slab would. These tiles are also less difficult for the homeowner to maintain regularly. For homeowners who desire the appearance of sleek stone, possibly combined with dark wood, Statuario tile offers a budget-friendly, low-maintenance option.
Manufacturers offer new contemporary bathroom tiles every year. The breadth of options available to designers and homeowners ensures that there is a tile that meets every budget and style preference.
To find out what contemporary bathroom tile can do, explore our inspiration gallery and then come visit one of our showrooms. Or contact us today to get ordering information for the tile of your dreams.