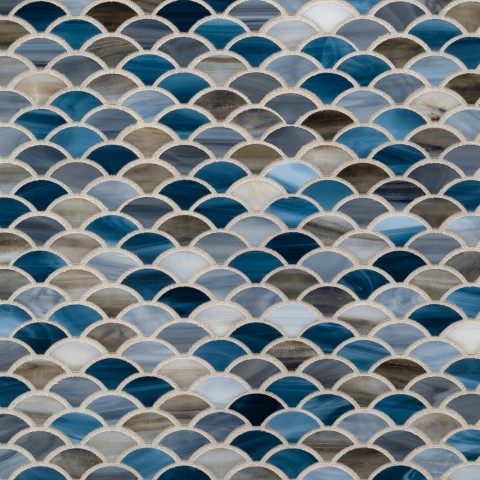 While there's plenty to love about the clean, modern aesthetic of subway tiles, today's homeowners are on the hunt for something a little more intricate. Enter interlocking shapes: a trend that is quickly taking over in homes and businesses all around the world. Interlocking shapes add visual interest without feeling gaudy or excessive. Used as backsplash or for a statement wall, these shapes can make an otherwise bland room instantly feel dressy. Learn more about the appeal of interlocking shapes in the world of tile -- and how you can successfully incorporate this trend in your home.
On Trend: Interlocking Shapes
The right shape can turn a lackluster space into an intricate masterpiece, regardless of color, texture, or size. Interlocking shapes, in particular, grant spaces a modern, yet classic aesthetic. They're intricate, but somehow, they don't feel busy. Depending on which shape you select, interlocking patterns may look sophisticated or edgy. Regardless of the personality they carry, these tiles are bound to attract attention.
The Tile Shapes We Adore
Several shapes lend themselves well to the interlocking trend. The following are just a few of the best options for making a statement with interlocking shapes:
Hexagon
Who needs rectangles? The six sides that make up a hexagon can be visually arresting. Although technically a vintage look, hexagon tiles have been made new again through small details that elevate their traditional appeal. This appealing shape is increasingly seen at interior design expos and even in hotels and restaurants.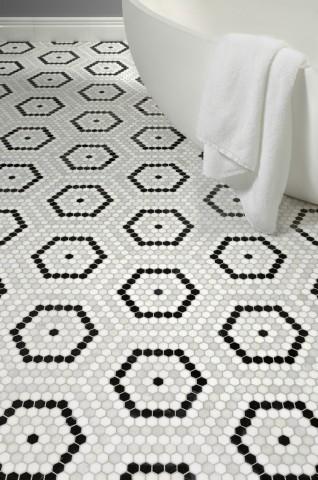 As with many interlocking shapes, hexagon tiles are quite versatile. Long a hit with flooring, the hexagon shape is beginning to make its mark as kitchen backsplash and for statement walls. This playful look can instantly punch up a space without overwhelming it.
While the early 20th century take on hexagon was largely limited to small, one-inch tiles adorning bathroom floors, designers are ready to expand their reach with increasingly ambitious patterns. Today's hexagons tend to be larger and bolder. They remain a hit for flooring but can also make an impression when incorporated into kitchen or bar backsplash. Increasingly, designers favor staggered edges, rather than cutting off tiles to create a straight line. This staggered look works nicely for flooring in open concept spaces; hexagon tiles in one portion of an open concept home can transition seamlessly to a different concept elsewhere.
Fish Scale
Commonly referred to as 'mermaid pattern,' fish scale tile packs a punch when incorporated into a ho-hum bathroom. Typically favored in shades of blue, green, and turquoise, modern fish scale is increasingly being incorporated in neutral-dominant spaces. White fish scale, for example, adds visual interest to a neutral space while still looking clean and modern.
Fish scale patterns need no longer be limited to modern bathroom tile. In the kitchen, for example, fish scales can provide visual interest if their colors contrast the cabinetry or decor. For example, some homeowners love the look of turquoise fish scale alongside white cabinets. Others may be willing to play with a unique ombre look, in which upper tiles begin in a lighter hue, eventually transitioning to a dark shade by the time the backsplash reaches the counter or the floor.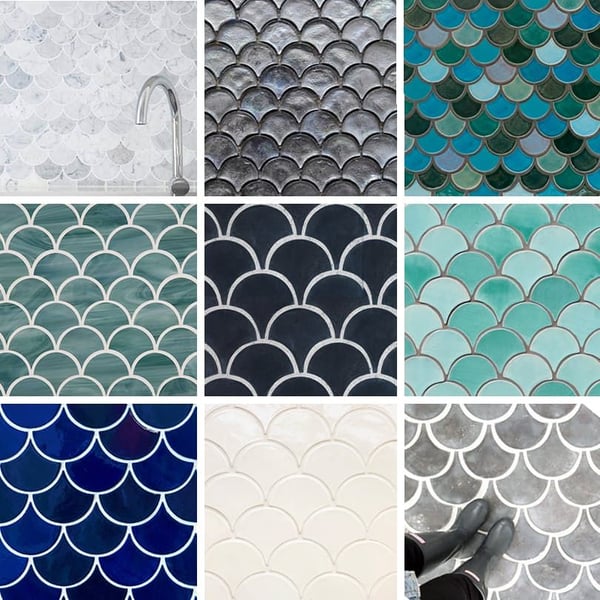 Slight changes to tile layout can completely transform the traditional fish scale look. While most people expect fish scale with the rounded edge facing up, this orientation can be reversed to defy expectations. For an especially ornate look, play with a wave pattern in which the orientation of the rounded edge varies.
Picket
If you're not quite ready to depart from the classic appeal of subway tile but secretly crave something new, you're the perfect candidate for the picket tile trend. Offering an elegant take on the typical subway look, picket tiles consist of rectangles adorned by points on either end -- a bit like a picket fence. When incorporated into backsplash, picket tiles provide the perfect combination of elegance and modernity.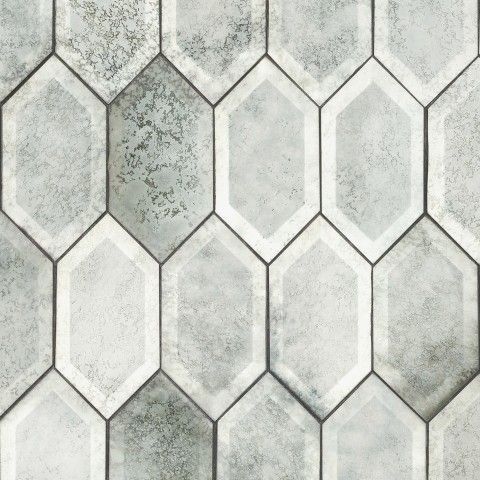 Aligned horizontally, picket look a lot like subway tiles but with a slight edge. In the future, however, expect to see vertically aligned picket tiles, which grant a bolder and more contemporary feel to the spaces they occupy. For a more organic look, pickets can be aligned at an angle. While many people favor patterns strictly made up of picket tiles, they can also outline other shapes, such as large tile squares.
No matter which color or texture you favor, interlocking patterns can provide a sophisticated, yet visually interesting look. Trends such as hexagon, fish scale, and picket tiles allow you to embrace enduring tile trends while also infusing your project with warmth and personality.
Ready to incorporate the beauty of interlocking tiles into your project? You'll find a variety of exciting designs in our Inspiration Gallery. Check out our showroom to see these interlocking designs in person. Contact us today for more information.