It's no secret that Colorado is home to some of the nation's most talented designers. These design thought leaders make our work at Decorative Materials that much more enjoyable.
We especially love working with Kimberly Timmons Interiors (KTI) − an acclaimed design studio based in the heart of Denver. A featured member of the Colorado Homes & Lifestyles 2019 Circle of Excellence, Kimberly has an eye to cater to diverse aesthetics. We're proud to have completed multiple collaborations with this design visionary.
From Humble Origins to an Impressive Career
Kimberly Timmons Beutner, Principal and Creative Director of KTI, was born with a designer's heart. Kimberly can remember the moment a spark for design was ignited inside her. It all started when 8-year-old Kimberly set-out to build a dream home for a children's book character, Miss Hickory, from scratch. Guided by her father's skill as a craftsman, young Kimberly knew she had found her life's purpose.
The dream quickly blossomed from that childhood dollhouse. Timmons-Beutner enrolled in a drafting class which ultimately led her to study at The Art Institute of Colorado.
Her years of study and mastery, coupled with grit and determination, afforded her the opportunity to launch her career. The first years of her career were initially spent focusing on model homes where she garnered great success. Her success in the model homes field, and passion to expand her design reach, opened the door for KTI to expand to include other design studios. KTI's vast Denver office now proudly boasts over two dozen employees across three design studios: hospitality, interior merchandising, and residential. The firm focuses on high-end projects, transforming several of the region's most impressive spaces.
Keeping Up With Design Trends
Just like the evolution of KTI itself, Kimberly and her team believe there is evolutionary potential in every space. Something more can always be cultivated from an existing space. With this vision as their firm's driving belief, they are able to meet the design vision of a variety of clients and are able to keep up with current trends in design. While they tap into magazines to find inspiration, the team believes inspiration doesn't stop there. In fact, design inspiration is all around us – from a hip restaurant in town, a funky hotel lobby, and even the Colorado landscape itself. "Additionally, online resources are just as valuable to KTI designers," says Studio Design Director, Nikki Holt. Instagram, Pinterest, and Houzz are favorites.
Current Influences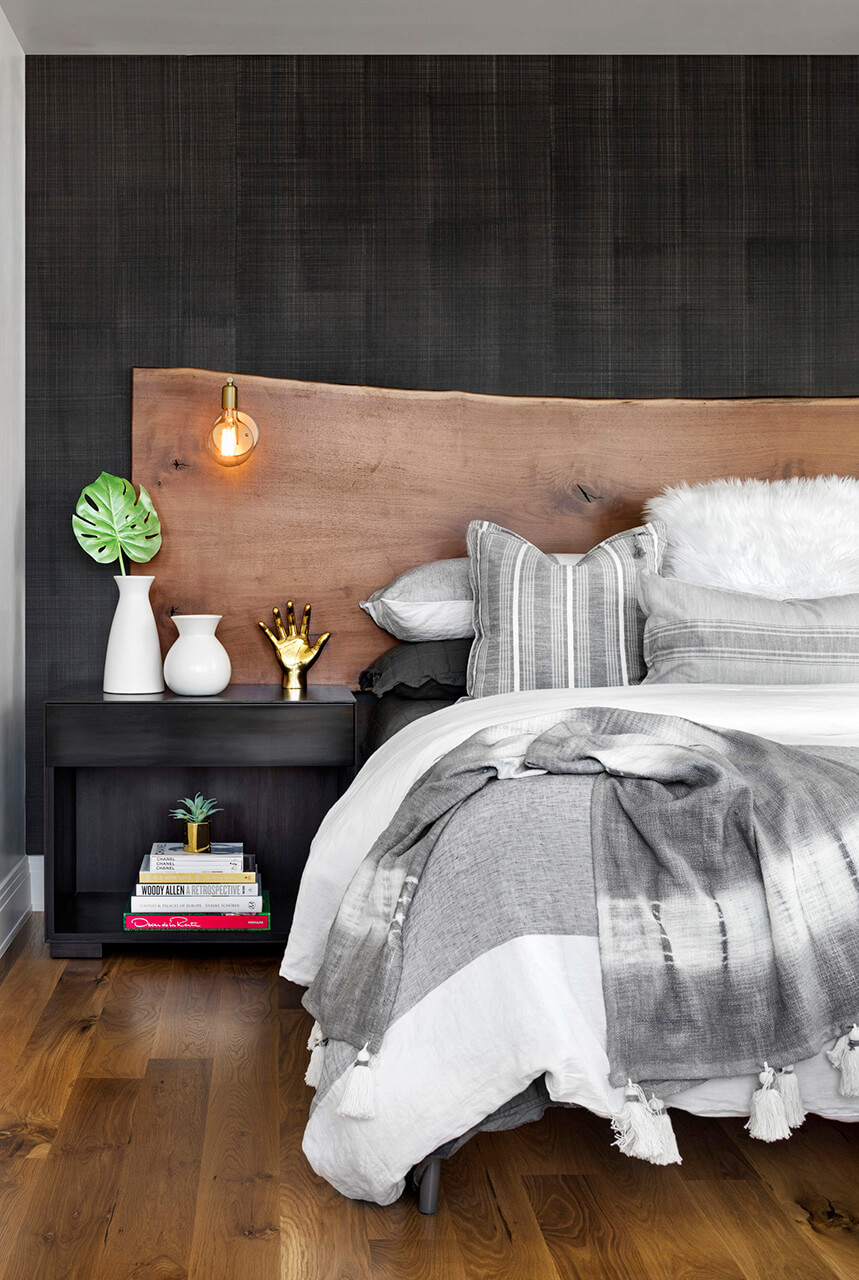 Photo courtesy of Astual Inc.
A firm as versatile as KTI can easily adapt its design approach to successfully meet a variety of design aesthetics. One of the firm's current influences includes farmhouse-inspired designs, which remains classic and timeless. However, they love branching out into more eclectic styles with global influences, contemporary styles, and rustic modern styles to channel their Colorado roots. A recent design, from Denver Life Magazine Designer Showhouse and seen here, proves that KTI has mastered the art of tactfully mixing styles to garner a cohesive look.
Top Projects
While all of the work KTI completes is stunning, the aspect of their business that makes them most proud is the fastidious client relationships they have developed over the years. Clients who were originally hospitality clients have welcomed Timmons-Beutner and her team into their personal homes. Nothing speaks higher praise of the work of KTI than the accolades of loyal clientele.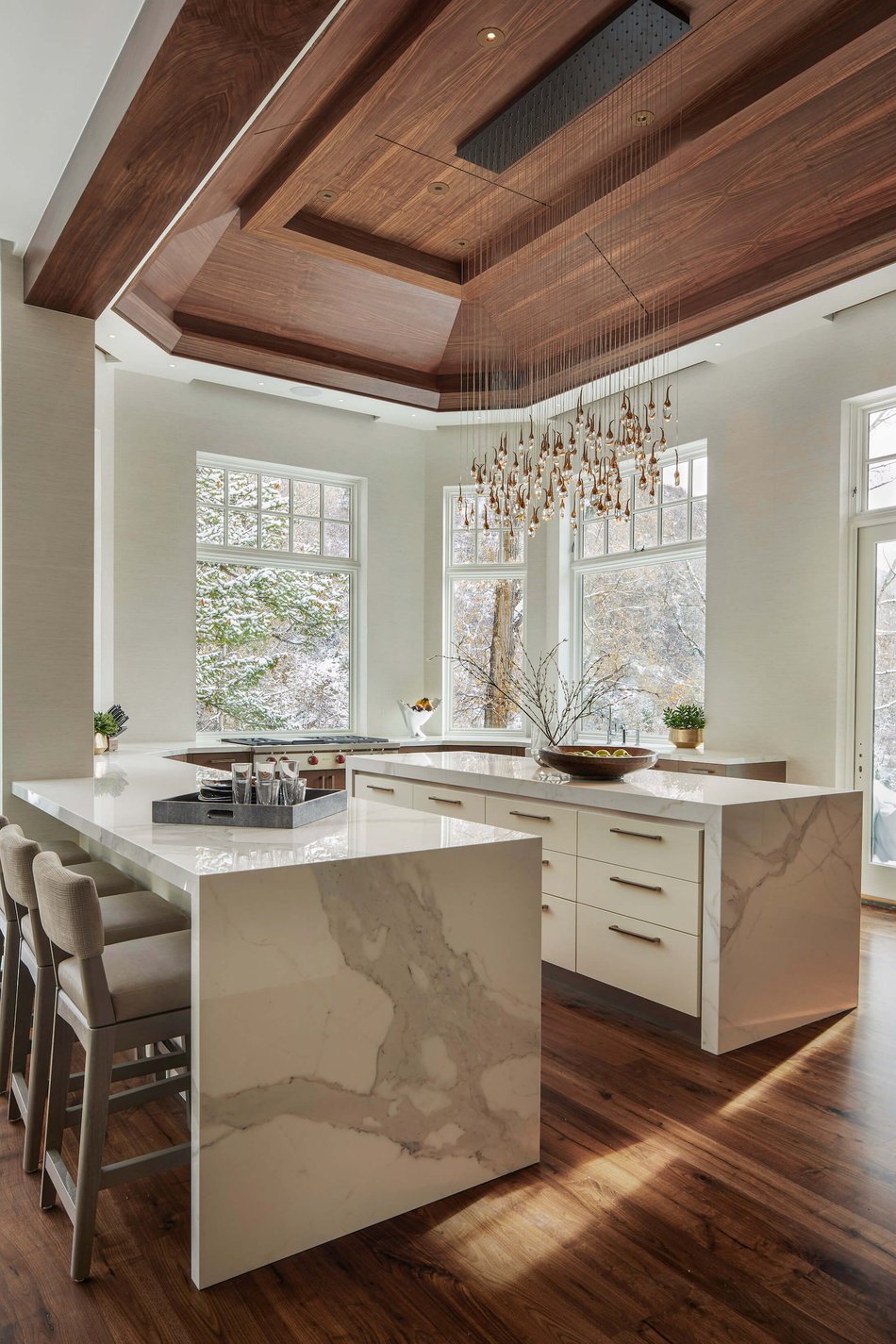 Photo courtesy of David O. Marlow Photography
One such client commissioned KTI to transform his Aspen vacation home into a luxurious retreat. With expansive wood detailing in the vaulted ceiling, saturated with mountain light, this home was one of KTI's Residential Design Studio's proudest projects.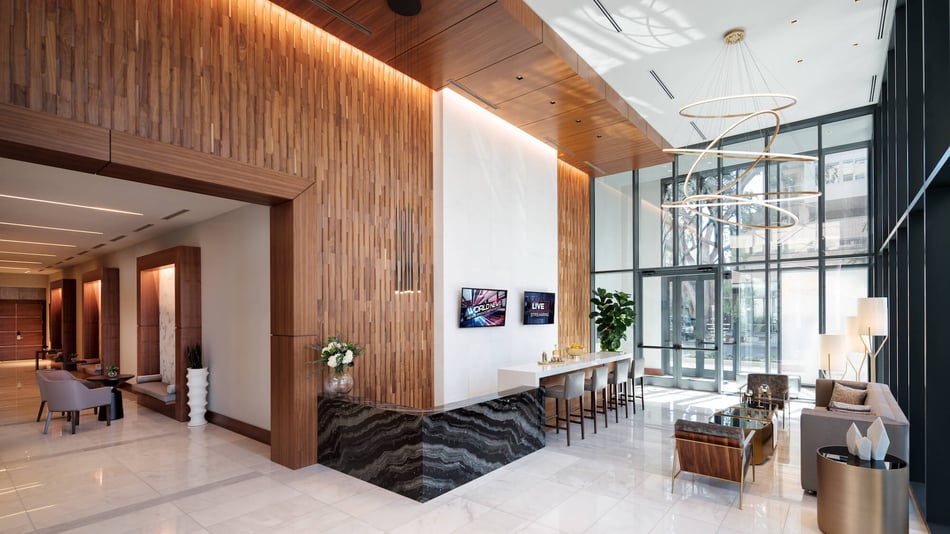 Photo courtesy of David Lauer Photography
The Hospitality Design Studio built an oasis with their execution of The Laurel Cherry Creek Luxury Condos. Boasting the highest views of any residential building and saturated with luxury from the lobby to the rooftop, and every space in between, not a fraction of space was left undersigned in this building.
Working with Decorative Materials
The Decorative Materials touch can be seen in a full gut remodel that KTI completed in Castle Pines. The transitional farmhouse kitchen displays two Decorative Materials tiles, Artistic Tile and AKDO. The oversized, beveled subway tile used in the backsplash, elevates more traditionally used subway tile. In addition, the geometric tile used behind the range, adds visual interest and shows the true versatility of Decorative Materials tile.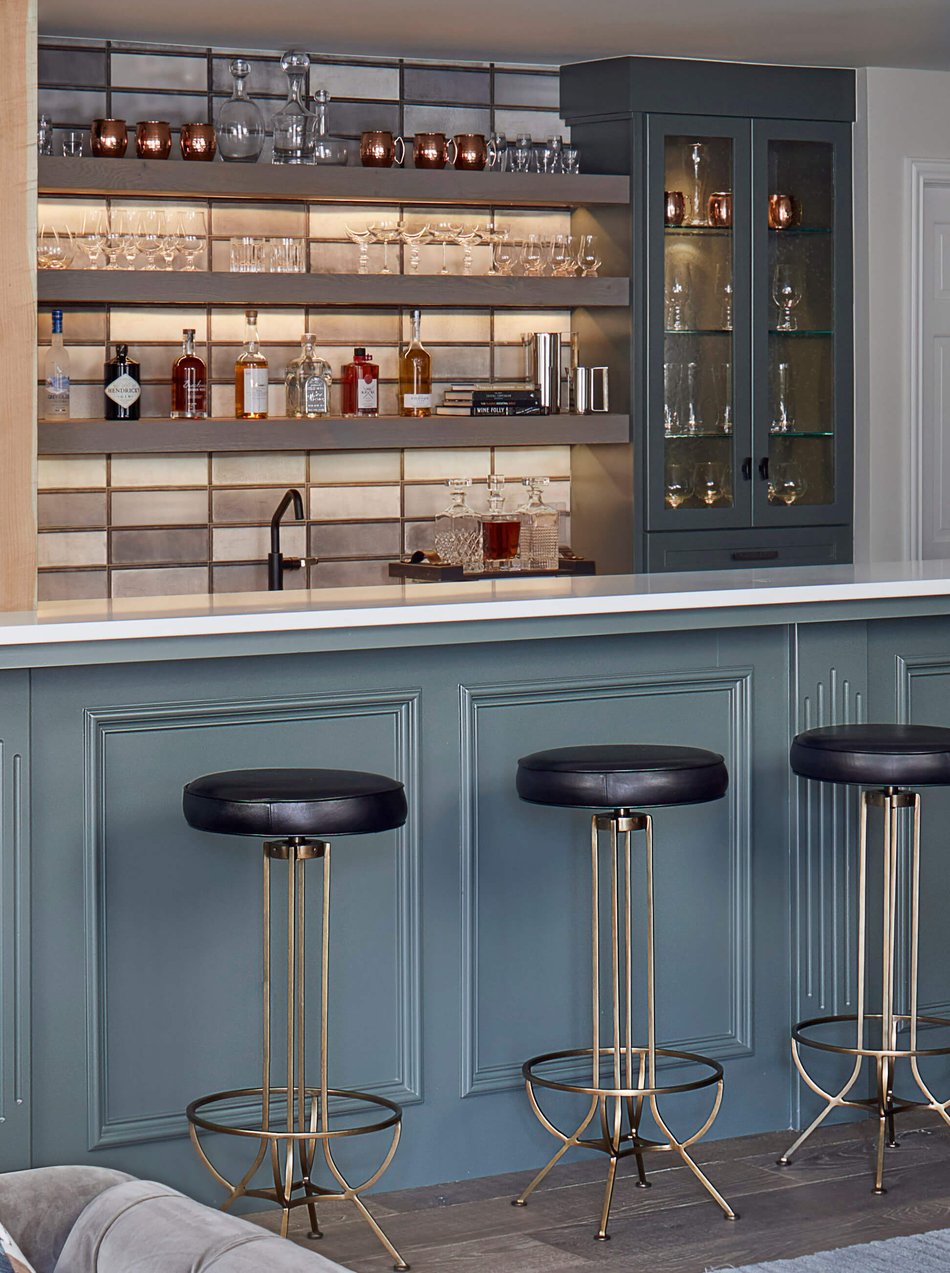 Photo courtesy of S. Brenner Photography
Other highlights include Nomad porcelain tile in the master bath and Industrial Glass Steel tile in the bar. This tile choice gave the bar a more rugged, industrial feel without moving too far away from the transitional farmhouse aesthetic used in the rest of the home.
A Spirit of Giving
Kimberly and her team truly believe everyone deserves to have a home they love because where we spend our time has a profound effect on us. With this value in their hearts, they spearheaded Senior Safe Haven in conjunction with the Denver SMC. This grassroots project allows them to use their design skills to better the community – designing homes for senior citizens experiencing homelessness in the Denver area. To date, they have created homes for 15 grateful recipients and, even more encouraging, 100% of the recipients have maintained long-term placement. This uplifting statistic proves that purposeful design serves a larger motive than just aesthetics; giving every person the sense of pride and security that comes with home ownership truly can change their life trajectory.
We're proud to work with a firm as talented, forward-thinking, and compassionate as Kimberly Timmons Interiors. They are just one of several amazing designers to make the most of Decorative Materials' offerings. To learn more, visit one of our showrooms or contact us online.