From Aspen to Denver and beyond, Decorative Materials has built strong relationships with designers throughout the state of Colorado. One of our most inspiring clients is based in the lovely town of Telluride: ZINQUE Design.
Self-described as a "comprehensive design firm," ZINQUE was founded by Aura Zink and CC Rocque. A memorable portmanteau pulling from their last names, ZINk and RocQUE, led to a name as distinctive as the design services this dream team provides.
Aura and CC have been working together for fifteen years. During that time, they have weathered all kinds of personal and professional challenges. Through all this, they've built an incredibly strong relationship that is reflected in the strength of their design firm.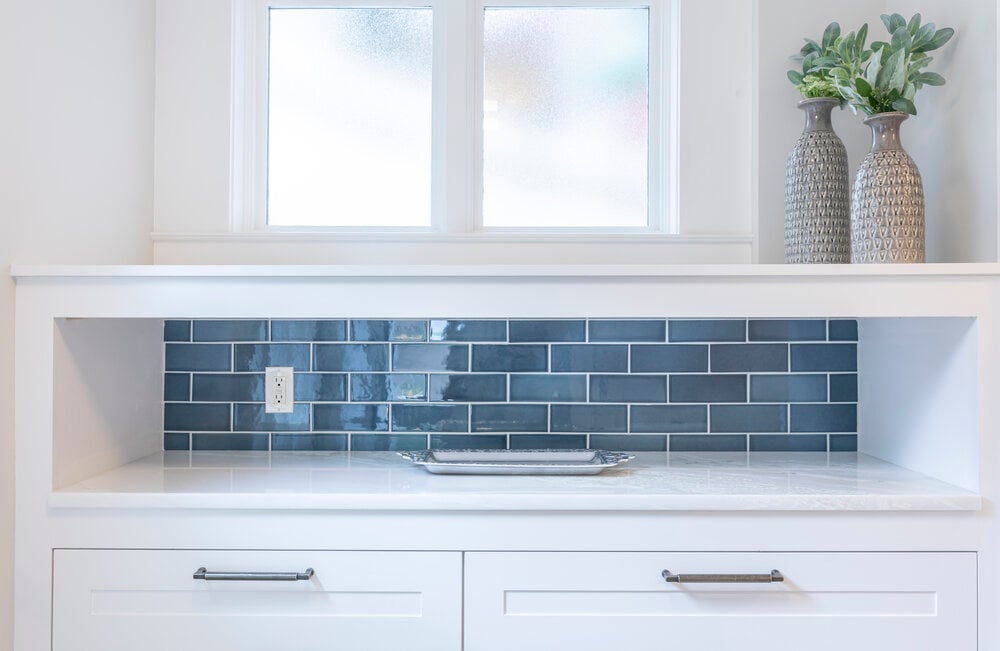 R146 Glaze in a 3"x8" Field Tile
During our recent chat with Aura and CC, we learned that there's more to ZINQUE Design than meets the eye. This studio's work is impressive at first glance but becomes even more meaningful when you understand what a truly remarkable team Aura, CC, and their fellow design experts make.
The ZINQUE Philosophy
Before you can understand what makes ZINQUE so special, it's important to get a sense of their core philosophy: "A residence should represent the life and style of those who reside within it." This motto underscores every project the ZINQUE team takes on. It also reflects our approach at Decorative Materials, so it's easy to see why we enjoy collaborating with ZINQUE so much.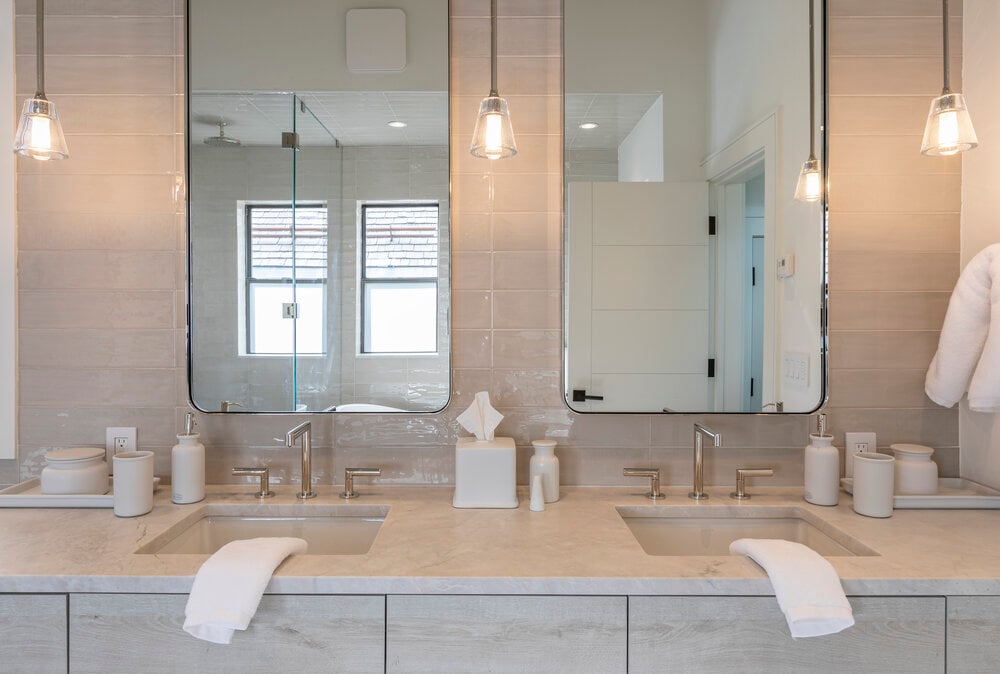 Natura Greige
The Definition of Working Mothers
Aura and CC share not only a passion for interior design, but also an inspiring – and concurrent – journey as mothers. They took on this adventure together, discovering that they were pregnant within just seven weeks of one another.
In many ways, their partnership as interior designers followed a similar trajectory to their experience of parenthood. Both desired greater flexibility and control over their professional lives – and founding a design studio seemed like a natural next step.
As with parenting, this professional progression required a true leap of faith and a lot of hard work – but the "scary and crazy" first nine months of running the firm were truly transformative.
Swift growth allowed CC and Aura to bring on additional designers, plus front desk staff. However, as Aura explains, they eventually needed to put on the brakes. "We realized that there was some value to not growing too quickly. We had to learn to say no."
This discernment has allowed CC and Aura to get through the sleepless nights of the newborn phase – both for their kids and the infancy of their business. Now, their design firm has reached what CC refers to as the "preschool phase of the business," so it's "really fun again."
Getting Back to Travel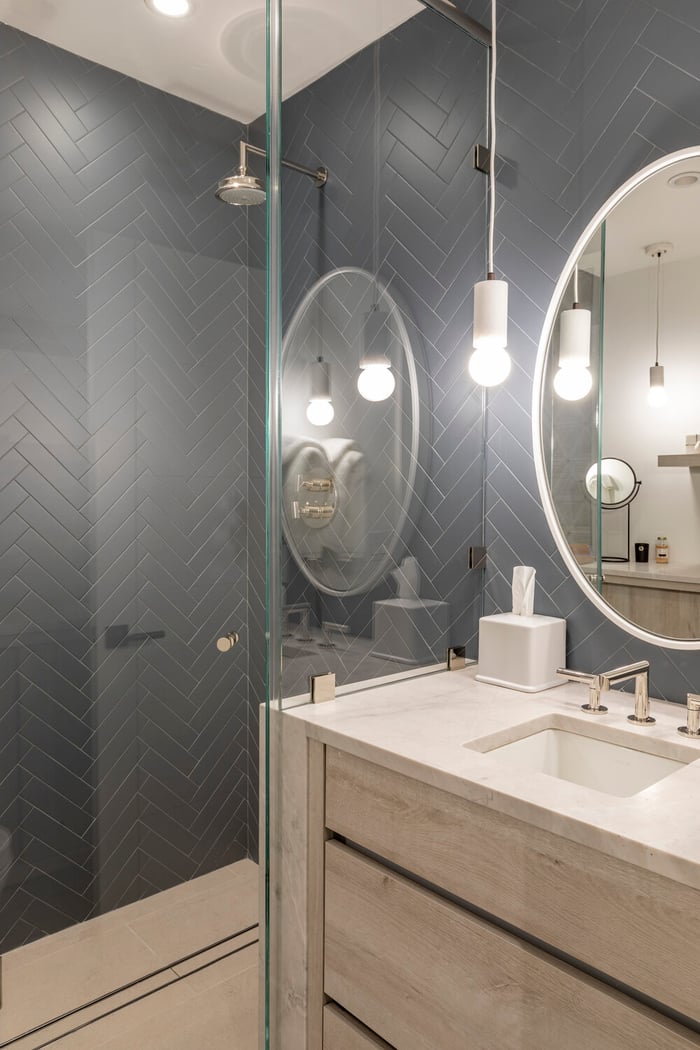 Lugano Denim (Wall) + Pietre 3 Limestone Pearl Natural (Floor)
Needless to say, the pandemic presented a variety of new professional challenges for the ZINQUE team. As CC puts it: "This little thing called COVID has thrown in a few wrenches."
The inability to travel was arguably the greatest roadblock. Fortunately, a Paris trade show provided a wealth of inspiration shortly prior to the lockdown. Takeaways from this experience continued to provide much-needed ideas (not to mention, a mental escape) as COVID took over.
Throughout 2020 and 2021, ZINQUE's designers looked to digital resources such as Instagram or Pinterest for ideas. Aura and CC are thankful for these options, but they're also excited to get back real-world sources of inspiration. As CC explains, concepts that lack photo evidence are always preferable: "If you aren't able to find a photo of it, that's a good thing because it means no one has done it yet."
More recently, ZINQUE's designers have been able to find inspiration in New York. They've also enjoyed working with local artisans. Sourcing materials can be a challenge in a remote location such as Telluride, but the Decorative Materials Architectural & Design Library has become an ultimate resource to the team at ZINQUE.
The Next Step: Integrating Indoor and Outdoor Spaces
Both the ZINQUE and Decorative Materials teams have observed the growing importance of highlighting the natural world in modern designs. ZINQUE aims to draw on this trend by integrating indoor and outdoor spaces.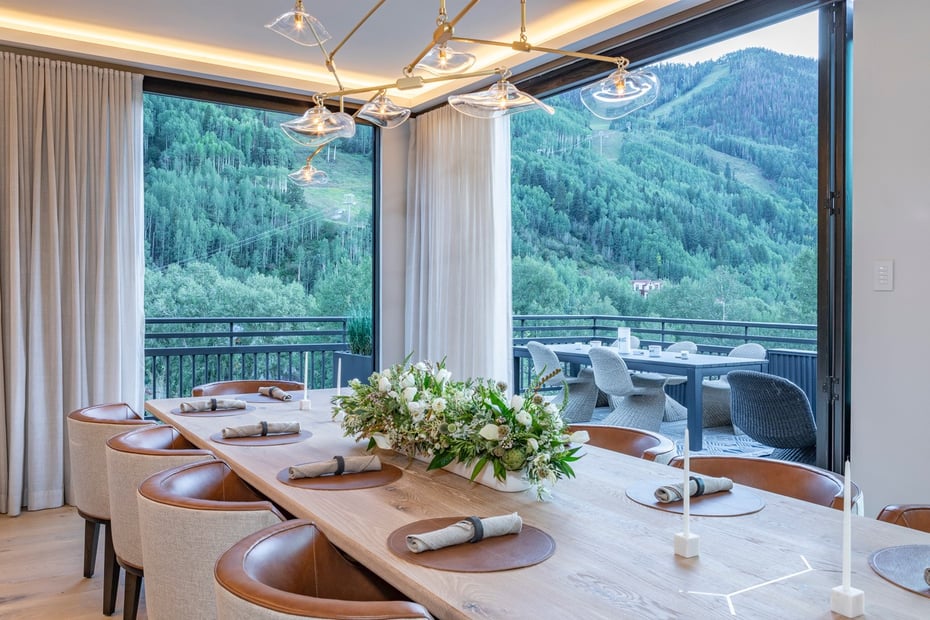 Indoor/Outdoor Dining Area designed by ZINQUE
Collapsible doors and windows will play a key role in bringing this vision to life. Advanced porcelain technology is also crucial, as it provides more bang for your buck without compromising aesthetics.
Of course, stone will always remain a go-to option — but ZINQUE's designers enjoy playing with several options that allow clients to enjoy the best of both indoor and outdoor spaces.
Another exciting development? ZINQUE will be getting a new office space in 2022. Meanwhile, the studio will keep busy with an eclectic array of projects scattered all around town. With so much in store, it should be an exciting year. Aura and CC look forward to building even stronger relationships with their clients, many of whom have turned into genuine friends.
Decorative Materials + ZINQUE Design: The Power of Collaboration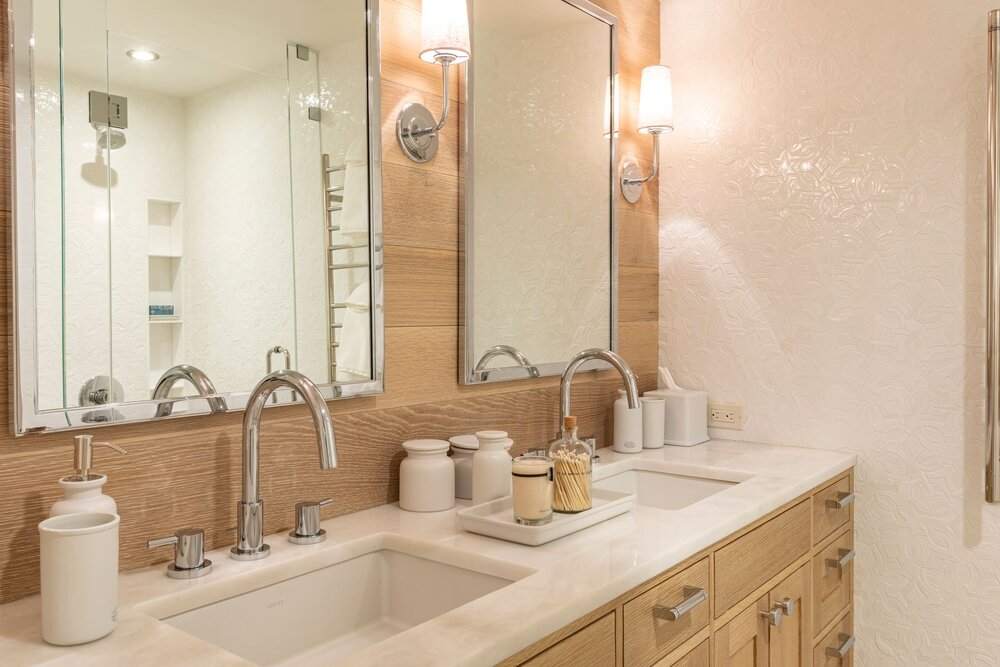 New White Moresque Glossy Flora Ceramic Mosaic
We love ZINQUE's designers and can't wait to keep working with them on a variety of eye-catching projects. We're thrilled that we've been able to help with our architectural library and other digital resources – and we hope we can do the same for other talented designers moving forward.
Whether you want to take advantage of our online resources or check out our showroom in person, we encourage you to get in touch.
Find inspiration from ZINQUE's latest designs by following them on Instagram and Facebook!