Interior design is always in flux, but the pace of change was especially rapid in 2021. From dark, dramatic kitchens to borderless rooms, the goal last year was to simultaneously evoke creativity and calm.
These efforts will continue in 2022, but we're also looking forward to seeing intricate, artistic tiles that tell a story. Biophilic design will be a big deal this year, demonstrating our desire to build deeper connections with the natural world. We've already highlighted the year's top palettes, but now, we'll dive into decorative trends that go beyond color.
Our latest Product Lookbook takes a look at some of the latest tiles + styles we are excited to share as we enter a new year. Check out a few of the many stunning products featured in the Lookbook and learn about three of the themes we expect to prevail in design in 2022.
Inspired Mosaics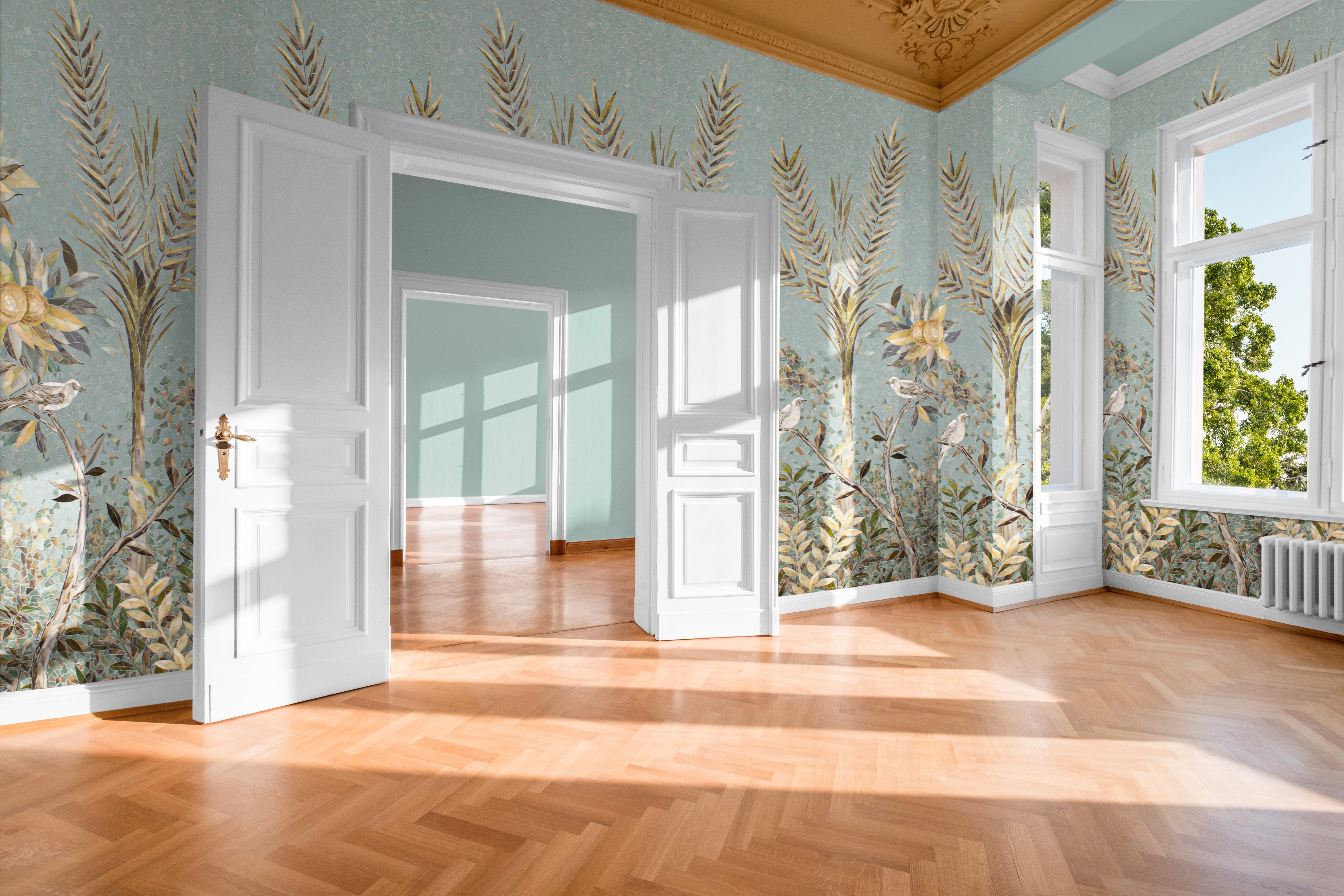 Linda's Garden Blue
We've seen many unique takes on the mosaic concept these past few years, but the look will take yet another step forward in 2022. Increasingly, mosaics will be used to accomplish the stylistic goals that dominated last year.
For example: in 2020 and 2021, we were determined to bring the outside in as we spent more and more time in the digital sphere. Often, this meant incorporating serene shades of green into our favorite styles.
Mosaics up the ante on this outdoorsy aesthetic, as seen with Linda's Garden from New Ravenna. These stunning hand-cut glass tiles are artfully arranged to portray birds, flowers, and other soothing images. They're well-suited to backsplash tile for a spa-like bathroom.
Afi in Celeste + Dolomite
New Ravenna also excels with Femme & Function, achieving a delicate, yet bold look with geometric mosaics. The Afi pattern is among the simplest from this collection, but it still makes its mark with a combination of honed and polished stones.
Another example worth mentioning? Timeless Chapin tiles, which bring extra elegance to the mosaic trend, all while maintaining an understated appearance.
The Story Behind the Product
The more meaningful the tile, the better. We truly believe that every design has a story to tell, so long as we're patient enough to listen. These tile narratives are especially compelling:
Environmental scientist Chris Caskey proved that, with the right mindset, ecological concerns can become interesting opportunities. After looking into the excessive sediment buildup in Colorado's Paonia Reservoir, he decided to extract the clay sediment in hopes of limiting the negative impact on local farm and vineyard irrigation.
The result? Lovely bricks and tiles that promote sustainable design without compromising on aesthetics.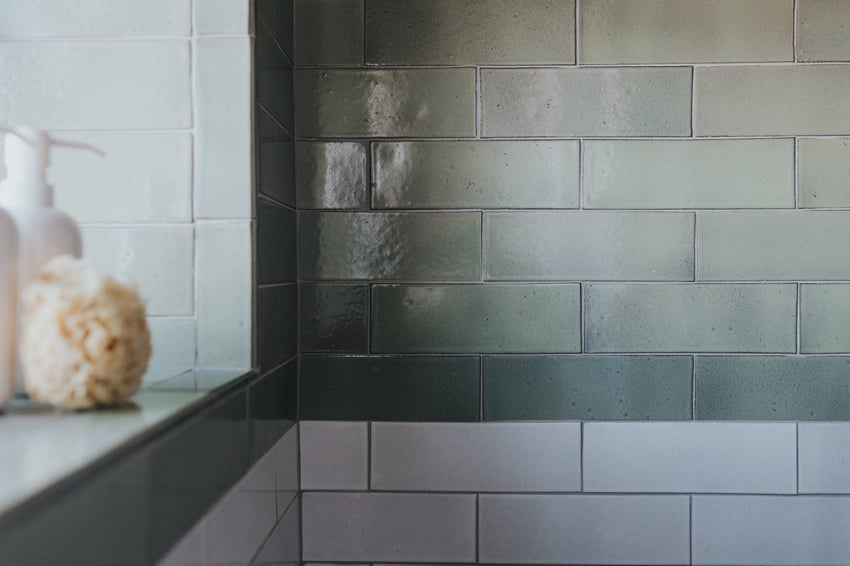 Colorado Clay Installation
Inspired by history's most influential female artists, Femme & Function shines a light on the often-underrepresented contributions from women. The collection focuses on patterns seen in textiles, weaving, pottery, quilting, and embroidery. As New Ravenna's Cean Irminger points out, these practices were previously not regarded as artistic due to their functional nature.
New Ravenna hopes to change the perception of female artistry, in part because so many talented individuals deserve credit — but also because the mosaic discipline in which the tile company specializes has so often been thought of as craft instead of art.
The Japanese art of Kintsugi is stunning to behold, not to mention deeply meaningful. This process makes the most of broken pottery by using gold to mend damaged areas. Lost Stones draws on this concept with carefully repaired slabs. This collection captures Gabriele Salvatori's mission to promote sustainable design.
Vintage Revival
As we face an uncertain future, we increasingly find comfort in the looks of the past. Aesthetics that largely disappeared during the last few decades are on their way back — but with the addition of new elements to keep them interesting.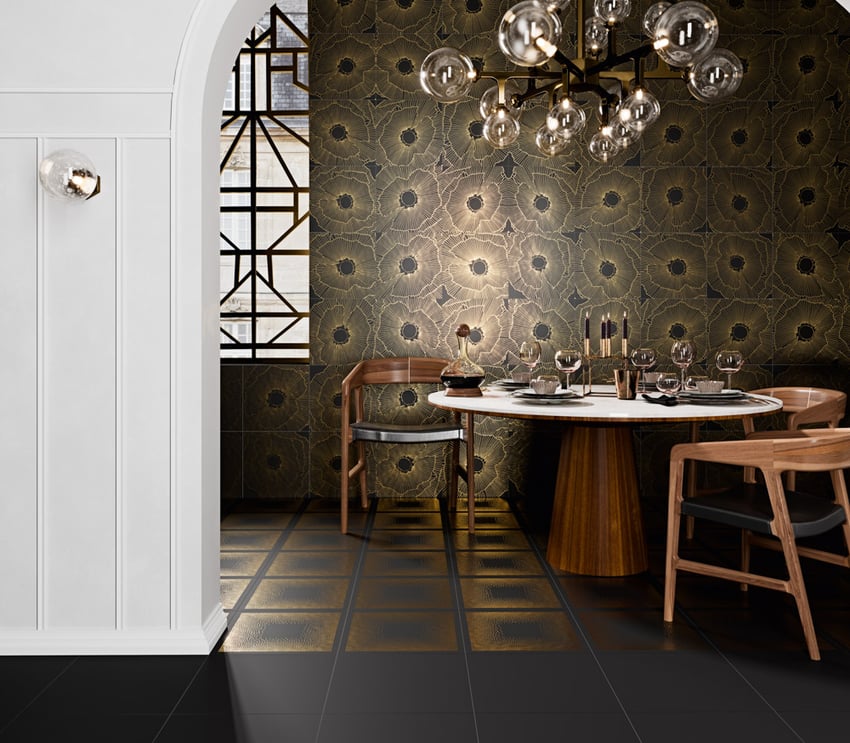 Art Deco Black Spritz & Black Negroni
From 1922 to 2022, we're thrilled to see that the roaring 20's are back with the resurgence of one of our favorite vintage looks: Art Deco. Featuring bold geometrics with shimmering gold décor, these exuberant products make every day feel like a party.
We're also thinking pink this year as our favorite color replaces the neutrals that previously dominated bathrooms. Pink tile bathrooms were a staple of homes built between 1946 and 1966, but this look is back in a big way. What once was retro is now a popular look for trendy, dare we say "hipster" spaces. Take a look at these new pink glazes that are sure to make blush tiles a hot topic in 2022 and beyond.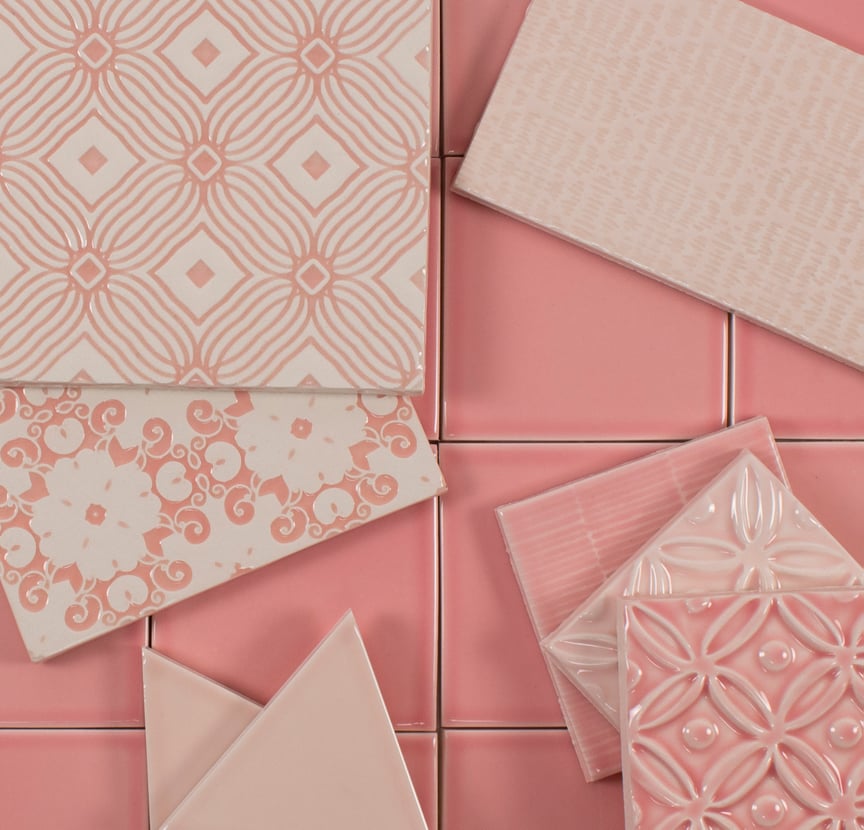 New Pink Glaze Options
Vintage revival doesn't have to exclusively involve 20th century trends. We can look back even further with collections such as Artistic Tile's Moon Cosmati, which draws inspiration from the polychromatic styles that appeared throughout Europe during the Middle Ages.
Navigate 2022 Tiles Trends

with

Decorative Materials
Our new Product Lookbook is available online now! View the full Lookbook and find inspiration from the latest products we can't get enough of.
With such a broad spectrum of styles to explore as we enter a new year, it's tough to know where to start. Look to our experts from Decorative Materials for guidance. We'd love to chat, so get in touch to schedule a visit to one of our showrooms.