Your bathroom should feel like a personal oasis, but that doesn't mean you should be confined to the simple smooth surfaces that once dominated bathroom design. These days, texture is a big deal in every area of the home — and it holds a lot of potential for complementing spa-like bathrooms.
In 2021, we are starting to see textured tiles take over for bathroom flooring, shower surrounds, and more. The Boho Collection captures the appeal of this trend with its bold geometrics and subtle texture. Together, these elements promote a dynamic bathroom that blends the best of vintage and modern style.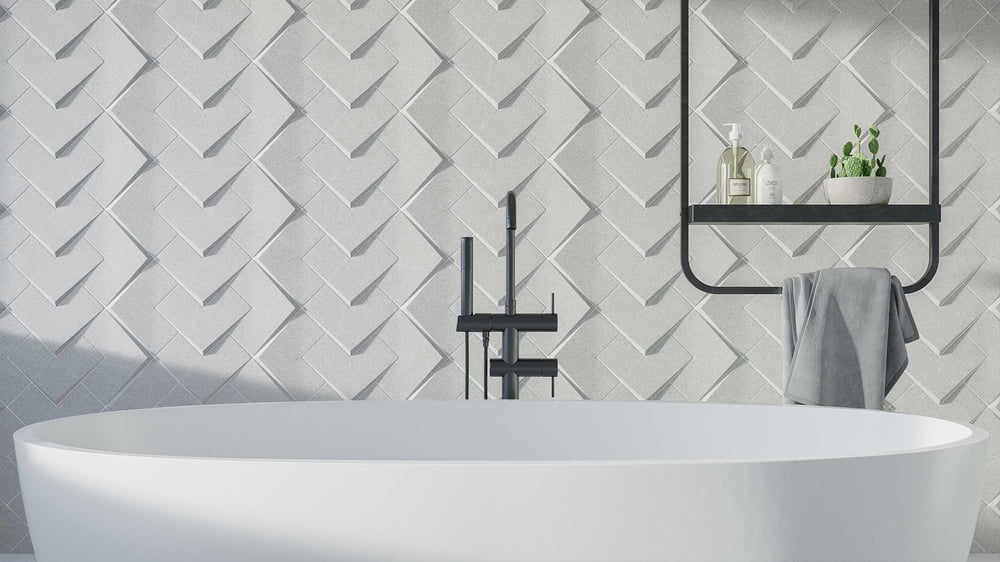 Boho Elle White Matte
Beyond the Boho Collection, we've noticed a variety of unique takes on the texture concept within modern bathrooms. These range from subtle, fabric-inspired designs to statement pieces with bold textural elements. Ceramic and porcelain tiles are among the most popular solutions for integrating texture, as are on-trend neutrals.
With so many intriguing options available, it can be challenging to settle on a concept for your redesigned bathroom. Find inspiration in the following textures:
Sculptural Ceramic
Taking texture from floor to ceiling, sculptural ceramics demonstrate how to create an all-encompassing texture-based look. While there's a place for gloss, matte, and other versatile ceramic designs, texture holds the potential to completely set your bathroom apart, allowing it to make a true style statement.
The Wicker collection boasts several compelling textured ceramic designs, including multiple color options that can add intrigue to your bathroom. We're also in love with Boho Tear from the aforementioned Boho Collection. Featuring delicate shapes and colors, this look calls attention to its subtle texture, which brings a casual take on boho-chic to your bathroom.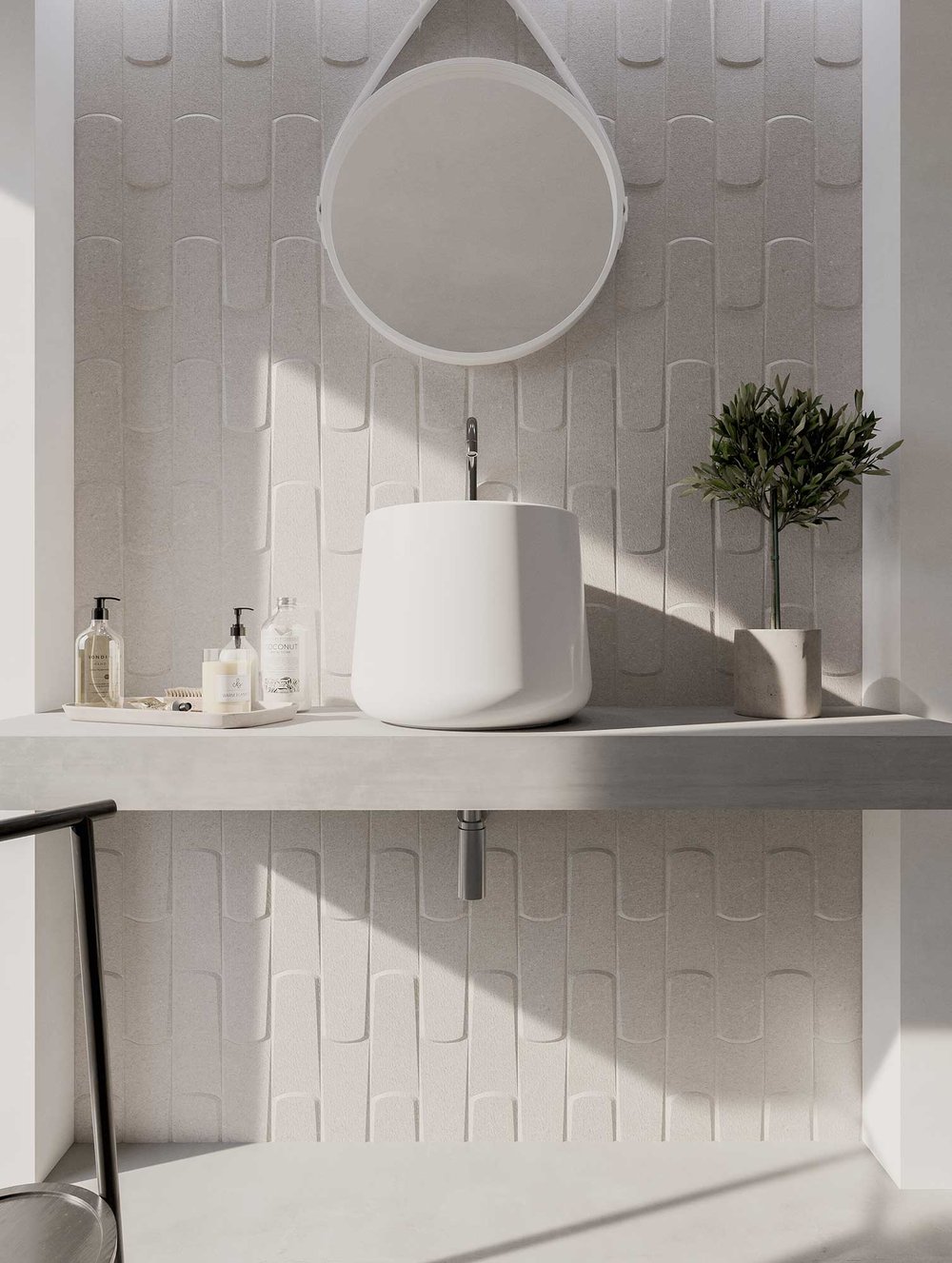 Boho Tear Greige Stone
Artistic Porcelain
While porcelain is typically perceived as a smooth surface, it, like ceramic, can excel when texture is incorporated strategically. This works best when artistic touches are incorporated — especially if these details are intricate. That being said, it's also possible to make a bold statement with texture-oriented porcelain.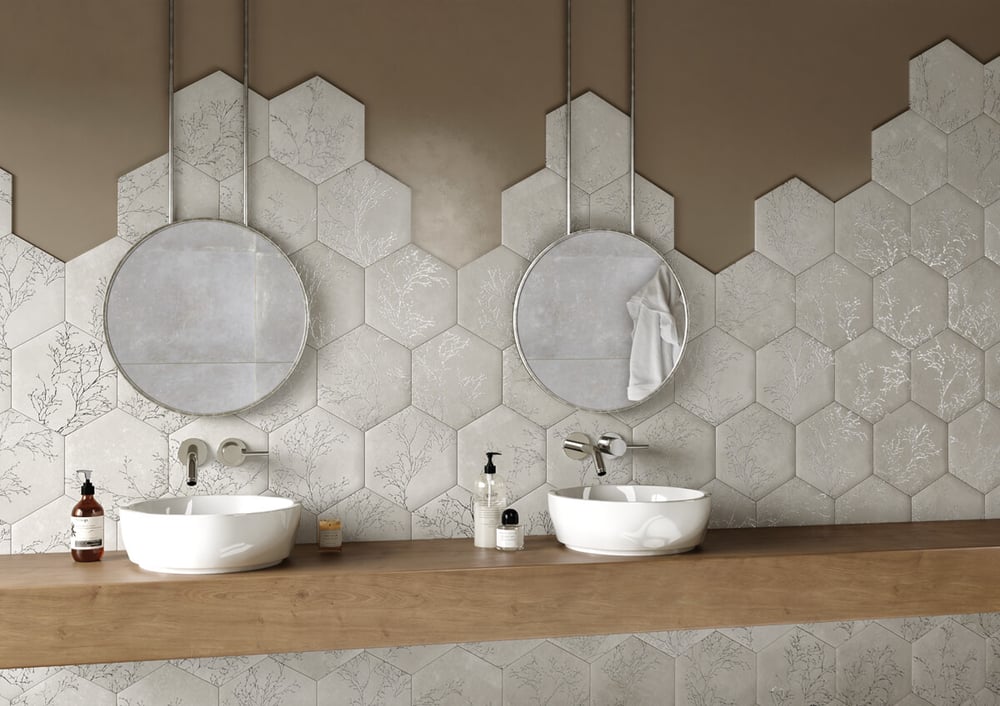 Ozone Ivory
The Ozone Collection looks especially beautiful in Ivory Décor. Meant to feel welcoming and protective, these tiles are perfectly at home within a calming bathroom environment.
Neutral Color Palettes
Texture is most effective when combined with an understated color palette. Opt for neutrals and let texture do the talking. Simple shades of white or grey bring a sophisticated look to your bathroom, while texture keeps it from feeling dull or uninspired. Feel free to play with lighting, which, when implemented correctly, can add extra dimension to any textured look.
The powerful blend of neutral and texture can be seen with the Ambra carved stone from Artistic Tile. Available in multiple neutral colors, this look works especially well in the Gris colorway. If you prefer a lighter, brighter look, try Ambra in Bianco Carrara. Either way, you will be taken aback by the gorgeous flow that this tile's unique texture produces.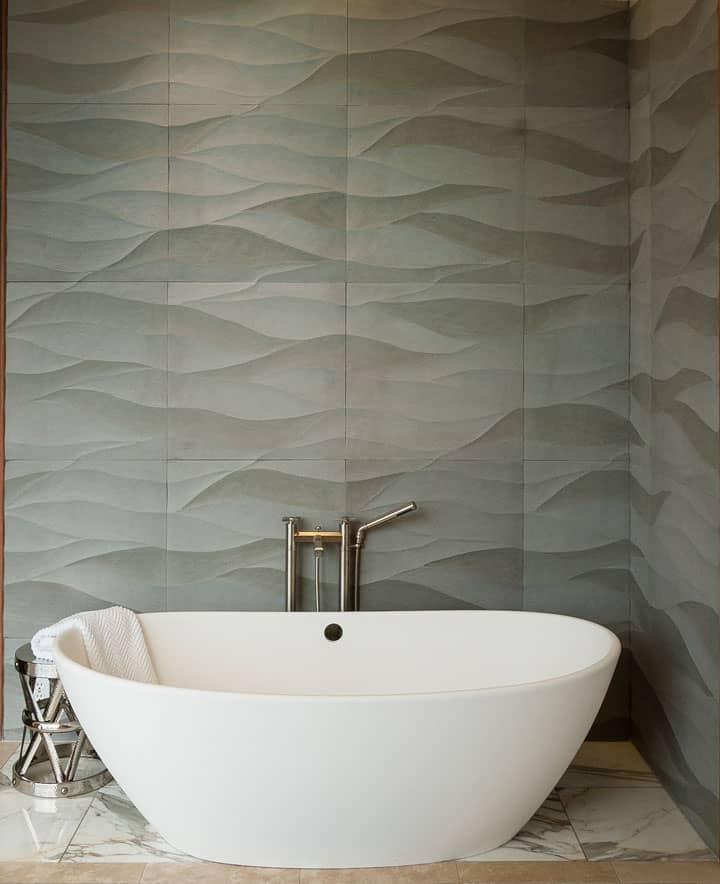 Ambra Gris
As you select the perfect tiles for your bathroom, don't be afraid to play with texture. This addition will bring a refreshingly modern vibe to your project while still allowing it to feel warm and welcoming. You will be amazed by how quickly the simple addition of texture elevates your bathroom.
Texture is one of several exciting trends that promise to shake up interior design. If you'd like to learn more about the other concepts taking over the evolving world of tile, feel free to check out our webinar, which provides a 2021 tile forecast. You're also welcome to visit our showroom to see the latest tile trends in action. Call or contact us online to set up your showroom appointment.